Rinorea angustifolia subsp. natalensis
Rinorea angustifolia (Thouars) Baill. subsp. natalensis (Engl.) Grey-Wilson
Family: Violaceae
Common names: white violetbush, narrow-leaved violetbush (Eng.), witviooltjiebos, smalblaarviooltjiebos (Afr.), ugudha-mfeni, umzungulu (isiXhosa), ithwakela, impicamaguma (isiZulu), litfwakela (Siswati)
SA Tree No: 489
Introduction
A perfect evergreen tree for small to medium-sized gardens; the sweet-scented, creamy white flowers welcome visitors to the garden during early summer.
Description
Description
This shrub or small, evergreen tree can reach a height of 3–6 m in the domestic garden environment and 7–10 m in its natural habitat. The smooth bark is pale grey to brown; the slender branches show lenticels (numerous pores in the stem of a woody plant, allowing exchange of gases between the plant and the exterior).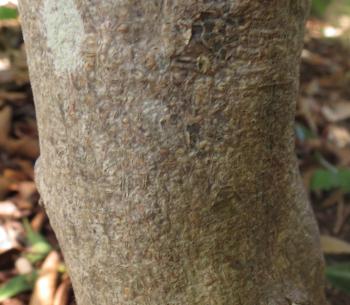 The leaves are narrowly elliptical to oblong-shaped and about 20–60 × 10–20 mm in size and thinly textured. The surface of the leaves is shiny and dark green, opposed to the undersides of the leaves, that show a slightly paler colour. The veining is very significant on both sides of the leaves, the leaf hairs confined to the midrib area.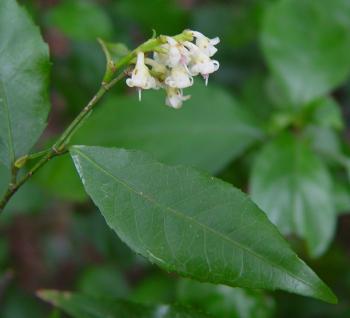 The small, hanging, creamy white flowers are scented and about 10 mm in diameter and are presented in axillary sprays (the upper angle between a leaf stalk or branch and the stem from which it is growing) of 30–40 mm long in early summer, from October to December.
Fruits are protected in a 3-lobed capsule and appear in summer, from November–January.
Conservation Status
Status
According to the website Red List of South African plants, checked on the 2017/02/23, the conservation status of Rinorea angustifolia subsp. natalensis is Least Concern (LC).
Distribution and habitat
Distribution description
Rinorea angustifolia subsp. natalensis is quite widely spread, occuring in the Eastern Cape, KwaZulu-Natal, Limpopo and Mpumalanga. It grows as part of the understory in evergreen forest, also in woodland, where it can be thicket-forming.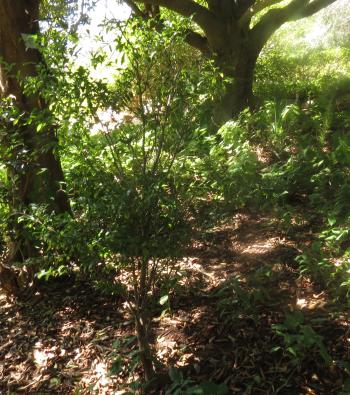 Derivation of name and historical aspects
History
Rinorea is a pantropical genus of shrubs and small trees and belongs to the Violaceae family. The Violaceae contains more than 24 genera. The genus Rinorea contains more than 200 species distributed in the tropics, only this subspecies and two other species, R. domatiosa and R. ilicifolia subsp. ilicifolia occur in southern Africa. The derivation of the name Rinorea is unknown. The specific epithet angustifolia (Latin) means 'narrow-leaved' and refers to the narrow shape of the leaves of the tree. The subspecific epithet natalensis, means 'from Natal', now KwaZulu-Natal.
Ecology
Ecology
Species of the genus Rinorea act as larval host plants for highly specialized Cymothoe butterflies. These butterflies include members which are quite colourful and have a wing span of about 40–70 mm. They also boast a variety of patterns and are distributed throughout tropical Africa and Madagascar. The tree sustains this butterfly species during the larvae stage. The forest floor serves as a good source of feeding for the adults, as they love the decaying vegetation.
Uses
Use
Some species of Rinorea are used in traditional medicine in different parts of Africa. A large number of species in the Violaceae family are of economic importance because they are used in the manufacturing of perfumes (Viola), as garden ornamentals (violets, pansies) and in medicine (Viola, Hybanthus, Rinorea).
Growing Rinorea angustifolia subsp. natalensis
Grow
This tree will grow well in a sunny or semi-shaded area, and can also be successfully grown with taller trees or shrubs, seeing that it grows naturally as an understory in forests. Specimens growing in sunlight, flower better than those in shade.
Propagation is by seed or cuttings. Seeds are best sown fresh; remove the seeds from the dry capsules and soak them for 24 hours, before sowing. Use a general soil mix which consists of 2 parts river sand: 1 part loam: 1 part well-rotted compost. The mix should be sieved well. It is important that the mixture drains well to prevent it from becoming waterlogged. The mixture should be kept moist, but not soaked at all times. The seeds can take up to 2 months to germinate. Cuttings taken in spring and from the present year's growth, yield best results. River sand makes an ideal rooting medium, and a good rooting hormone, will stimulate root development.
To prevent pre-or post-emergence damping off, a fungicide can be applied to the seeds; this will increase the success rate of germination. The dry seed capsules of the tree are dehiscent (the spontaneous opening at maturity of a plant structure, such as a fruit), so it is a good idea to catch the seeds before they fall to the ground and prevent the possibility of them becoming parasitized.
References
Boon, R. 2010. Pooley's trees of eastern South Africa, a complete guide. Flora & Fauna Publications Trust, Durban.
Coates Palgrave, K. 2002. Trees of southern Africa. Struik, Cape Town.
Harris, G. & Harris, M.W. 1994. Plant identification terminology, an illustrated glossary. Spring Lake, Utah.
Raimondo, D. et al. 2009. Red list of South African plants. Strelitzia 25. SANBI (South African National Biodiversity Institute), Pretoria.
Van Wyk, A.E. [Braam] & Van Wyk, P. 1997. Field guide to trees of southern Africa . Struik, Cape Town.
Van Wyk, B., Van den Berg, E., Coates Palgrave, M. & Jordaan, M. 2011. Dictionary of names for southern African trees. Briza Publications, Pretoria.
Venter, F. & Venter, J.A. 2012. Making the most of indigenous trees. Briza Publications, Pretoria.
Von Breitenbach, F. 1990. National list of indigenous trees. Second revised edition. Dendrological Foundation, Pretoria.
Wahlert, G.A. & Ballard, H.E. 2012. A Phylogeny of Rinorea (Violaceae) Inferred from Plastid DNA Sequences with an Emphasis on the African and Malagasy Species. Systematic Botany 37(4): 964–973.
Wikipedia: Cymothoe butterfly. https://en.wikipedia.org/wiki/Cymothoe_(butterfly). Accessed on the 2017/03/15.
Wikipedia: Violaceae. https://en.wikipedia.org/wiki/Violaceae. Accessed on the 2017/03/9.
Credits
Benjamin Festus
Kirstenbosch National Botanical Garden
April 2017
Plant Attributes:
Plant Type: Shrub, Tree
SA Distribution: Eastern Cape, KwaZulu-Natal, Limpopo, Mpumalanga
Soil type: Loam
Flowering season: Early Summer
PH: Neutral
Flower colour: White, Cream
Aspect: Full Sun, Morning Sun (Semi Shade), Afternoon Sun (Semi Shade)
Gardening skill: Average
Special Features:
Attracts butterflies
Fragrant
Medical plant
Useful plant
Horticultural zones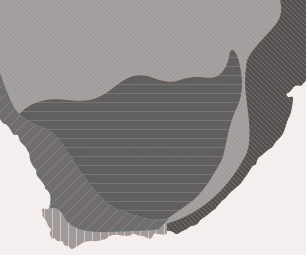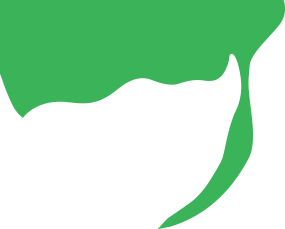 Zone 1 Coastal summer rainfall, frost free
Zone 2 Coastal winter rainfall, frost free
Zone 5 Bushveld summer rainfall, Light frost
Google QR Code Generator