Roella muscosa L.f.
Family: Campanulaceae
Common names: None recorded
Introduction
Roella muscosa is a flat-growing, herbaceous plant, with beautiful, pale icy blue flowers, growing rather inconspicuously among rocks in sand, and is found only on Table Mountain in the Cape Peninsula.
Description
Description
Roella muscosa is a flat-growing, herbaceous, perennial plant. It forms dense mat-like patches up to 1 m across. The stems are slender and woody in the lower section of the plant, becoming more herbaceous and branching in the upper parts. The leaves are crowded, ovate, with a petiole-like base; the margins are toothed.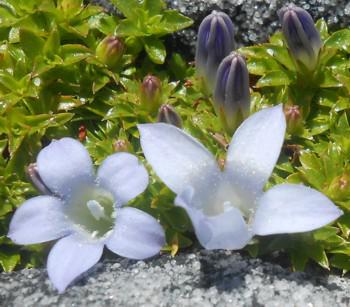 Flowers are regular, sessile, solitary at the tip of stems; bracts are leaf-like. The funnel-shaped, pale blue corolla is divided into five lobes, fused into a long tube, with the base of the tube often fading from pale blue to white. Likewise, the five ciliate calyx lobes are fused into a short tube. Stamens are five, free and inserted at the base of the corolla tube; filaments are triangular at the base, and form a dome over a nectiferous disc; anthers are linear and attached to the filament at its base. The 2-locular ovary is inferior and crowned by the nectiferous disc; the style is rod-like with 2 glands at the base of a 2-lobed stigma. In each locule are numerous ovules. Plants flower from late November to late February.
The fruit is a capsule.
Conservation Status
Status
Roella muscosa is listed as a species of LC (Least Concern) in the latest Red List of South African plants. This means that it is in no immediate danger of extinction. The primary reason for this could be its occurrence on relatively isolated mountain slopes, where it is safeguarded from disturbances such as urban development and habitat destruction. It also occurs within formal conservation areas where the threat from alien vegetation is reduced, due to adequate alien-control measures.
Distribution and habitat
Distribution description
The species is endemic to the Cape Peninsula where is it found only on the upper parts of Table Mountain. It occupies damp, humus or sandy areas among rocks, often in shady areas.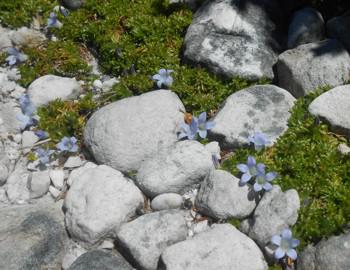 Derivation of name and historical aspects
History
The genus Roella was named in honor of the Dutch anatomist G. Roelle by Linnaeus in 1753. The specific epithet was most likely derived from the Latin word muscosus meaning moss-like, as R. muscosa on first glance, is often mistaken for moss when not in flower. The species was first described in 1781 by Linnaeus' son based on a Thunberg collection from the Cape of Good Hope.
When Adamson revised the genus in 1952, he included specimens from Kogelberg and Stellenbosch under R. muscosa. In recent studies, Cupido (2014) separated these specimens from R. muscosa and described a new species, R. divina. The exclusion on these specimens from R. muscosa, renders it a Cape Peninsula endemic.
Ecology
Ecology
Roella muscosa is likely to have a similar pollination syndrome as other members of this genus. See article on Roella.
Uses
Use
No cultural or medicinal uses are recorded.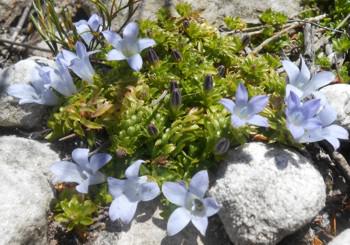 Growing Roella muscosa
Grow
The large flowers are attractive and its growth form is ideal for use as a ground cover in open garden sections among taller plants. Despite this it is not easily propagated and cultivated.
References
Adamson, R.S. 1952. A revision of the genera Prismatocarpus and Roella. Journal of South African Botany 17: 93–166.
Cupido, C.N. 2014. Roella divina sp. nov. (Campanulaceae: Campanuloideae) from the Western Cape Province of South Africa. Nordic Journal of Botany (in press).
Cupido, C.N. & Nelson, L.J. 2012. Floral functional structure, sexual phases, flower visitors and aspects of breeding system in Roella ciliata (Campanulaceae) in a fragmented habitat. Plant Systematics and Evolution 298: 931–936
Leistner, O.A. (ed.). 2000. Seed plants of southern Africa: families and genera. Strelitzia 10. National Botanical Institute, Pretoria.
Raimondo, D. et al. 2009. Red list of South African plants. Strelitzia 25. SANBI (South African National Biodiversity Institute), Pretoria.
Credits
Shaun Pieterse and Christopher Cupido
Compton Herbarium
February 2015
Plant Attributes:
Plant Type: Ground Cover, Perennial
SA Distribution: Western Cape
Soil type: Sandy
Flowering season: Late Summer
PH: Acid
Flower colour: Blue
Aspect: Shade
Gardening skill: Challenging
Special Features:
Horticultural zones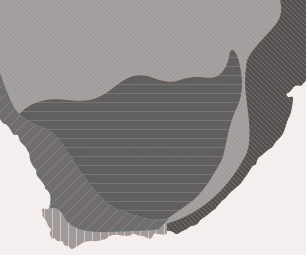 Zone 2 Coastal winter rainfall, frost free
Google QR Code Generator