Ruellia cordata Thunb.
Family: Acanthaceae
Common names: veld violet (Eng.); grasveldviooltjie (Afr.)
Introduction
Ruellia cordata is known by its softly hairy, greyish leaves and showy pink, purple-blue or white flowers with purple streaks, in spring and early summer; it looks very beautiful on a rockery. 
Description
Description
Ruellia cordata is a perennial herb up to 300 mm tall, with 4-angled stems branching from near the base, the stems staying closely and neatly together. It has simple, opposite, hairy, greyish green leaves with a heart-shaped base. The flowers are solitary, in other words, they are not part of an inflorescence. The flowers vary between purple-blue, mauve, pinkish or white; have a funnel-shaped corolla, with 5 lobes that all look similar and each lobe has a dark purple line running down the centre; and 4 stamens that are included in the throat. It has a long flowering season, from spring until midsummer (Sep.–Dec.).
Conservation Status
Status
Distribution and habitat
Distribution description
Ruellia cordata is not endemic to South Africa, it is widely spread in the Eastern Cape, Free State, Gauteng, KwaZulu Natal, Limpopo, Mpumalanga and North West Provinces of South Africa and in the neighbouring countries Mozambique, Zimbabwe and Eswatini (formerly Swaziland). This species grows in grassland and woodland, often in rocky areas, it prefers well-drained soil and full sun, and is a water wise plant.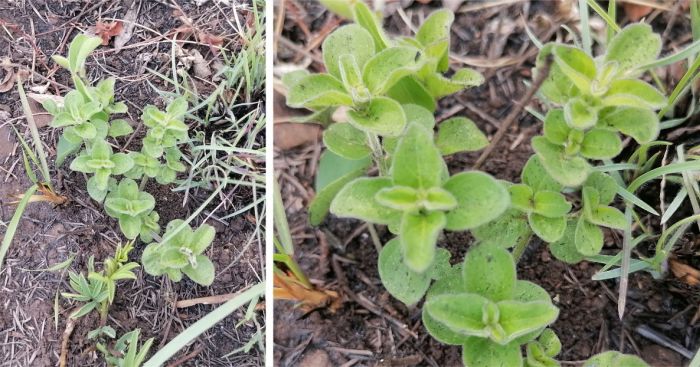 Derivation of name and historical aspects
History
The genus Ruellia is named after Jean de la Ruelle, 1474–1537, French physician and botanist. The species name cordata means 'heart-shaped'.
The genus Ruellia contains 360 accepted species spread through tropical America, Africa, Mascarene Islands, Asia and Australia, with 8 species in South Africa. Some ruellias are popular garden ornamentals, but can become weedy, such as Ruellia simplex commonly called Mexican Petunia.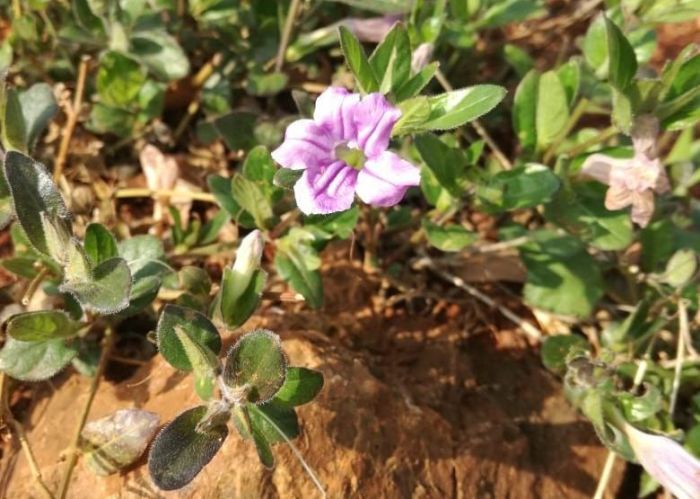 Ecology
Ecology
The leaves are food for the caterpillars of several Lepidoptera (butterflies and moths). It is typically species in the Nymphalinae, such as the larvae of the banded peacock, the lemon pansy, the malachite and the common buckeye butterfly that use Ruellia as host plants. Ruellia cordata grows well in grassland.
Uses
Use
Ruellias are ornamental plants, some are used as medicinal plants but many are known or suspected to be poisonous. Ruellia cordata is used in traditional medicine in South Africa as a love charm and to make a person invisible.
Ruellia cordata can be used in landscaping as a colourful bedding plant or in mixed borders, it is also water-wise and is well-suited to sunny grassland gardens and rockeries. It looks more beautiful when planted amongst grasses in summer.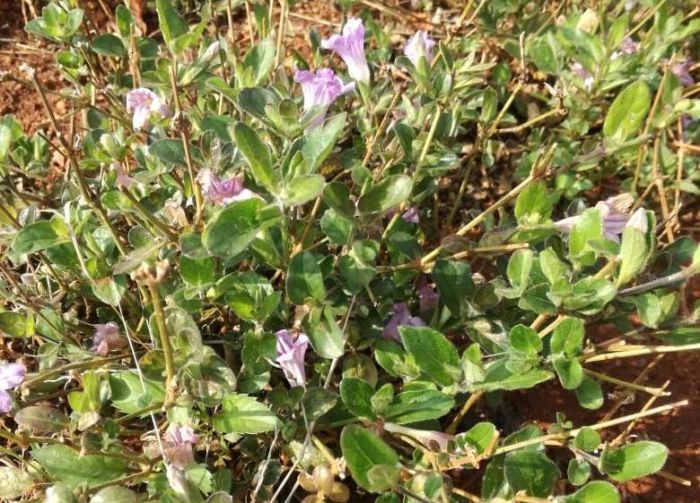 Growing Ruellia cordata
Grow
Ruellia cordata can be easily propagated from cuttings, taken in spring time. With a sharp, clean blade, cut healthy looking stems below a node, 10 to 15 cm long, strip off any leaves near the base of the cutting and remove the flowers. Prepare the tray: put bark chips in the bottom of the tray and mix potting soil and sand and put it on top of the bark chips and water it. Poke small holes in the soil mixture, dip the cut end of the cuttings into the powdered rooting hormone and place the cuttings into the holes made in the rooting medium (potting mix and soil).
Place your tray of cuttings in bright, indirect light and keep them moist. Once the cuttings develop roots, replant them in pots or plant bags filled with moist but not wet, potting soil. To check if the roots have formed or not, pull lightly on the cuttings. If they pop out they are not ready. 
References
Jackson, W.P.U. 1990. Origins and meanings of names of South African plant genera. University of Cape Town.
Kamundi, D.A. 2006. Ruellia cordata Thunb. National Assessment: Red List of South African Plants version 2020.1. Accessed on 2021/09/29
Kirby, G. 2013. Wild flowers of southeast Botswana. Struik, Cape Town.
Plants of the World online. Ruellia Plum. ex L. http://www.plantsoftheworldonline.org/taxon/urn:lsid:ipni.org:names:326011-2. Accessed 13 August 2020.
Pooley, E. 1998. A field guide to wild flowers Kwazulu-Natal and the eastern region. Natal Flora Publications Trust, Durban.
Tripp, E.A. 2010. Taxonomic revision of Ruellia Section Chiropterophila (Acanthaceae): a lineage of rare and endemic species. Systematic Botany. 35(3): 629–661.
Vollesen, K. 2013. Acanthaceae (Part 1). Flora Zambesiaca 8(5) Page 141.
Wikipedia. Ruellia. https://en.wikipedia.org/wiki/Ruellia. Accessed 13 August 2021.
Credits
Noko Molokomme
Pretoria National Botanical Garden
August 2021
Acknowledgements: the author gives special thanks to Caroline Marima for providing the images.
Plant Attributes:
Plant Type: Perennial
SA Distribution: Eastern Cape, Free State, Gauteng, KwaZulu-Natal, Limpopo, Mpumalanga, North West
Soil type: Sandy, Loam
Flowering season: Spring, Early Summer
PH:
Flower colour: Blue, Purple, White, Mauve/Lilac
Aspect: Full Sun
Gardening skill: Easy
Special Features:
Attracts butterflies
Drought resistant
Horticultural zones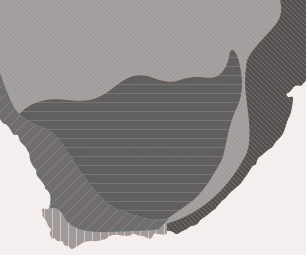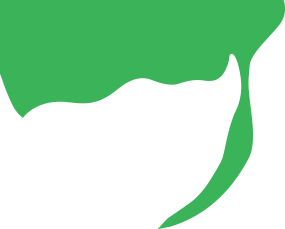 Zone 1 Coastal summer rainfall, frost free
Zone 4 Summer rainfall Karoo and Highveld, Frost in winter
Zone 5 Bushveld summer rainfall, Light frost
Google QR Code Generator