Salvia thermarum Van Jaarsv.
Family: Lamiaceae
Common names: Goudini sage (Eng.)
Introduction
S. thermarum (also sometimes mistakenly called S. thermara), with its pale red flowers and red bracts, makes a beautiful garden specimen. An added bonus is that it produces abundant nectar which attracts sunbirds.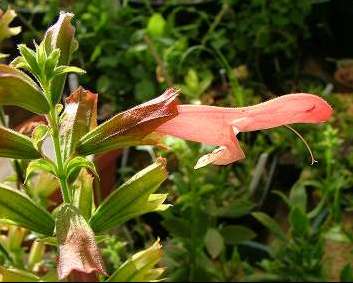 Description
Description
S. thermarum is an erect branched shrub, up to 1m in height with a stoloniferous base. The branches are dark green, up to 3 mm in diameter; the young stems are glandular, hairy becoming smooth with age. The leaves are also dark green with purplish tips, no petiole, not fragrant when crushed, oblanceolate to linear oblanceolate, 20-35 mm x 15 mm, serrated at the apex and entire at base.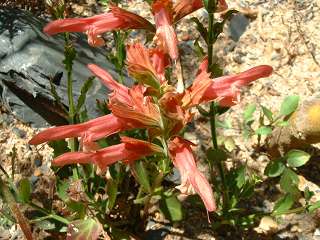 The inflorescence is a short dense raceme 80-10 mm long (not branched); 3 to 4 verticillasters —  whorl of flowers apparently of one cluster, but composed of two opposite axillary cymes, 2-flowered, pale red to deep salmon corollas, 40-50 mm long, with red bracts. S. thermarum could be easily confused with its relative S. granitica, a species confined to an area south of Citrusdal and the Caledon District. But the latter is a smaller shrub, with a mauve-pink corolla, only 20 mm long and elongated racemes.
Ernst van Jaarsveld, who described the species, noticed that the galls on the stems are perhaps the result of a parasitic wasp. They appear as small growths of about 10 mm in diameter, bearing ovate leaves in a compact rosette.
Distribution and habitat
Distribution description
S. thermarum occurs on the lower N slope of the Badsberg (adjacent to Slanghoek Mountains) in fynbos, growing among quartzitic sandstone rock and soil. In its natural habitat, S. thermarum grows in full sun in small groups.
Associated species are: Protea nitida, P. laurifolia, Diospyros glabra, Leucadendron salignum, Montinia caryophyllacea, Othonna parviflora, Oldenburgia paradoxa and Maytenus oleoides.
Derivation of name and historical aspects
History
During a visit to Goudini Spa (about 120kms from Cape Town) in 1998, Ernst van Jaarsveld of Kirstenbosch National Botanical Garden came across this most unusual Salvia. At first he thought it was a form of S. lanceolata sometimes occurring in inland valleys to the north of this site, but research and comparison with herbarium data pointed to a new species which he named Salvia thermarum.
The genus name derives from the Latin verb salvare= to save. The specific name refers to the thermal baths where S. thermarum was found.
Growing Salvia thermarum
Grow
S. thermarum is an excellent specimen for rock gardens or planted in large groups to emphasise the effect of its compact flowers. The open form and flexible stems of this salvia make it a perfect specimen for summer hanging baskets as well. S. thermarum flowers in November (early summer) and the copious nectar will attract sunbirds to your garden.
S. thermarum has proved a bit difficult to grow in cultivation. At the Kirstenbosch salvia bed, we are experimenting with growing S. thermarum in the ground and also in pots sunk in the beds. The sunken pots will then be moved to the nursery during the wet winter months to avoid rotting the stolons.
S. thermarum is easily propagated from cuttings taken in autumn or from the division of stolons. Dip the cuttings in a rooting hormone, and place them in a tray with sand or in a well-draining rooting medium. When the cuttings are rooted, place the young plants in pots and transplant them the following spring in full sun. Add compost dressing or an organic fertiliser.
References
VAN JAARSVELD, E. 1999. Salvia thermara, a new species from the Western Cape, South Africa. Bothalia 29:100-102.
VAN JAARSVELD, E. 2002. The Goudini sage. Veld & Flora, June 2002.
Credits
Paula de la Cruz
Kirstenbosch NBG
January 2005
Plant Attributes:
Plant Type: Shrub
SA Distribution: Western Cape
Soil type:
Flowering season: Early Summer
PH:
Flower colour: Red, Pink
Aspect: Full Sun
Gardening skill: Challenging
Special Features:
Attracts birds
Horticultural zones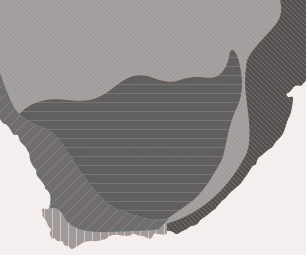 Zone 2 Coastal winter rainfall, frost free
Google QR Code Generator