Scabiosa drakensbergensis
Scabiosa drakensbergensis (B.L.Burtt)
Family: Dipsacaceae
Common names: Drakensberg scabious, pincushion (Eng.); koringblom (Afr.)
Introduction
A bushy scabiosa with large soft green leaves and beautiful, pure white, ball-like inflorescences with flowers packed tightly at the tips of long delicate hollow stems - the shy flowerer of this family but a 'Princess' none the less.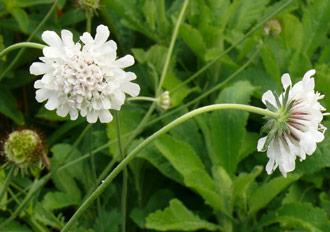 Description
Description
This leafy evergreen perennial herb can produce quite a big lanky spread and can reach a height of up to 1.5 m tall. It has wide, attractive leaves in opposite pairs up the stem. The leaves are more lush in appearance and somewhat less rough to the touch than in other scabiosa plants, and their margins are coarsely toothed with narrow upper segments. The stems are hollow and densely softly hairy.
Flowers are white, with white stamens protruding, and are crowded at the end of slender leafless stalks up to 300 mm long.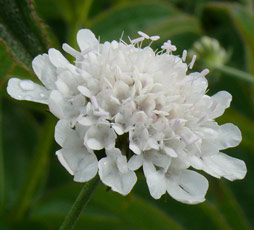 A closer look reveals that each flower head is surrounded at the base by one to two rows of bracts and that the calyx lobes have long bristles. Each flower head is made up of many small flowers and these individual flowers are crowded together, with the looser flowers along the outside having longer petals that form a frilly edge, and the flowers in the centre being much smaller and compact to form a tight button effect. Flowering period is throughout summer, starting in October and usually finishing around April. After flowering, the heads turn into tight, bristly balls that fall apart as the seeds ripen, and these rounded bristle-heads slowly fall apart as the seeds ripen to be blown away by the wind.
Conservation Status
Status
The current conservation status of the plant is 'Least Concern'.
Distribution and habitat
Distribution description
Scabiosa drakensbergensis occurs naturally in rocky places, on margins of scrub and in grassland areas at altitudes of 1 500-2 000 m.
In South Africa it occurs in the Limpopo, Free State, and KwaZulu-Natal provinces.
Derivation of name and historical aspects
History
The plant is named after the Latin word scabiosus, either because the leaves of some species are rough or have a felt-like texture, or for the complaint 'scabies' which was often treated with Scabiosa species.
The specific epithet "drakensbergensis" refers to the area where this species occurs naturally in South Africa.
The family Dipsacaceae comprises 11 genera and 290 species, and occurs throughout the Mediterranean, Middle East, Europe, Africa and Asia. The scabious family consists of annual and perennial herbs with leaves that occur mainly in a basal rosette and are either lobed or divided, and with flowers clustered in dense heads, surrounded by a whorl of single or overlapping bracts. South Africa has 9 species. Related species that are better known are Scabiosa africana, S. incisa and S. columbaria, all of which are popular garden ornamentals.
Ecology
Ecology
Flowers are popular with insects, particularly with bees and butterflies, which in turn attract insectivorous birds - so, this is a wonderful plant to have in a Birds, Butterflies and Bees Garden.
A most rewarding herbaceous perennial that is bound to become as popular for ornamental purposes as the other better known species of Scabiosa. A lovely aspect of the plant is that it bears buds, flowers, unripe and ripe seed simultaneously -- really adding to the enjoyment and display value of the plant in the garden. It can be used on a rockery or in a mixed border in groups of 3 or 5 to give an effective display but can also be massed, to edge a long border.
Uses
Use
Leaves and roots of Scabiosa are known to have medicinal uses. But this scabiosa's value is mainly horticultural. All scabiosa flowers last well in a vase.
Growing Scabiosa drakensbergensis
Grow
Plant in full sun, although it can tolerate some shade for part of the day. Soil must be well drained with plenty of compost. Mulch well, and water regularly. Feed at 8 week intervals with any slow-release or organic fertiliser.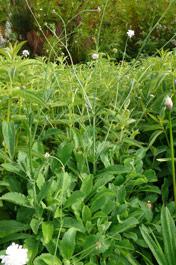 New plants grow fast, flowering usually within their first year. Older plants tend to get untidy. Cut the old long woody stalks right back after flowering. Prune lightly and regularly overall to maintain an informal yet tidy shape. This will encourage the plant to make many new shoots from the base. Also remove dead flowers after flowering to keep it neat. It will do well in the garden for 2 to 4 years after which it should be replaced.
Propagate in spring from seed or cuttings (softwood or herbaceous). You can also lift and replant younger newly-rooted sections where the longer stems have been in contact with the ground.
Scabiosa drakensbergensis has no serious pests.
References
Germishuizen, G. & Meyer, N.L. (eds) Plants of southern Africa: an annotated checklist. Strelitzia 14. National Botanical Institute, Pretoria.
Hardy, B. 1988. Drakensberg flowers. Berg Books, Hong Kong.
Joffe, P. 2001. Creative gardening with indigenous plants. A South African guide. Briza Publications, Pretoria.
Manning, J. 2009. Field guide to wild flowers of South Africa. Struik Nature, Cape Town.
Pienaar, K. 1985. Grow South African plants. Struik, Cape Town.
Pienaar, K. 1984. The South African What flower is that? Struik, Cape Town.
Pooley, E. 1998. A field guide to wild flowers of KwaZulu-Natal and the Eastern Region. Natal Flora Publications Trust, Durban.
Pooley, E. 2003. Mountain flowers, a field guide to the flora of the Drakensberg and Lesotho. Natal Flora Publications Trust, Durban.
Powrie, F. 1998. Grow South African plants. National Botanical Institute, Kirstenbosch, Cape Town.
Leistner, O.A. 2000. Seed plants of southern Africa: families and genera. National Botanical Institute, Pretoria.
Trinder-Smith, T.H. 2003. The Levyns guide to the plant genera of the southwestern Cape. Bolus Herbarium, University of Cape Town.
Van der Spuy, U. 1953. Gardening in South Africa -- The flower garden. Rustica Press, Wynberg.
Walker, J. 1996. Wild flowers of KwaZulu-Natal. W.R. Walker Family Trust, Pinetown, South Africa.
Credits
Cherise Viljoen
Kirstenbosch National Botanical Garden
January 2012
Plant Attributes:
Plant Type: Perennial, Scrambler
SA Distribution: Free State, KwaZulu-Natal, Limpopo
Soil type: Sandy, Loam
Flowering season: Spring, Early Summer, Late Summer
PH: Neutral
Flower colour: White, Cream
Aspect: Full Sun
Gardening skill: Easy
Special Features:
Attracts butterflies
Feeds honeybees
Horticultural zones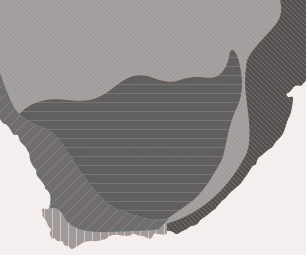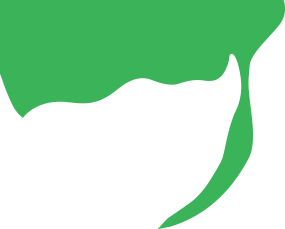 Zone 1 Coastal summer rainfall, frost free
Zone 2 Coastal winter rainfall, frost free
Zone 3 Winter rainfall Karoo, light frost
Zone 5 Bushveld summer rainfall, Light frost
Google QR Code Generator