Schizaea pectinata (L.) Sw.
Family: Schizaeaceae
Common names: curly grass-fern; cockscomb fern, toothbrush fern (Eng.); grasvaring (Afr.)
Introduction
Is it a restio? Is it a sedge? No! It is Schizaea pectinata. When walking in the fynbos of the Western Cape of South Africa, one is likely to come across this low-growing, unusual fern.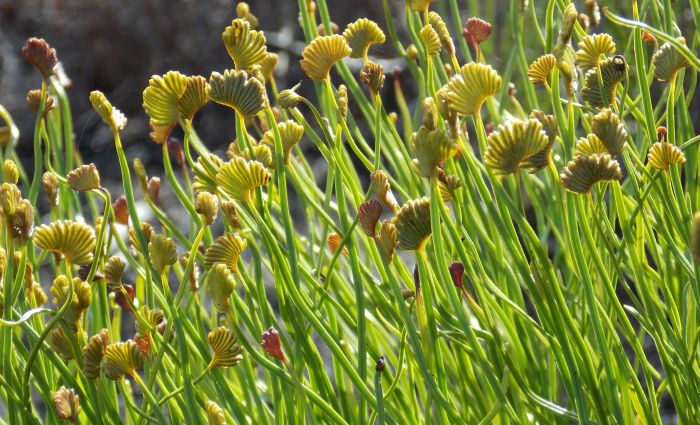 Description
Description
This restio-like fern has an underground rhizome, which is creeping, to somewhat erect. It is low-growing, with the frond reaching a height of 200 mm. Fronds are densely crowded, narrow and tough. Sterile fronds are simple, whereas fertile fronds have comb-like fertile pinnae at their apex. These pinnae are up to 9 mm long and occur on a recurved rachis, pointing the segments upwards like the bristles on a toothbrush.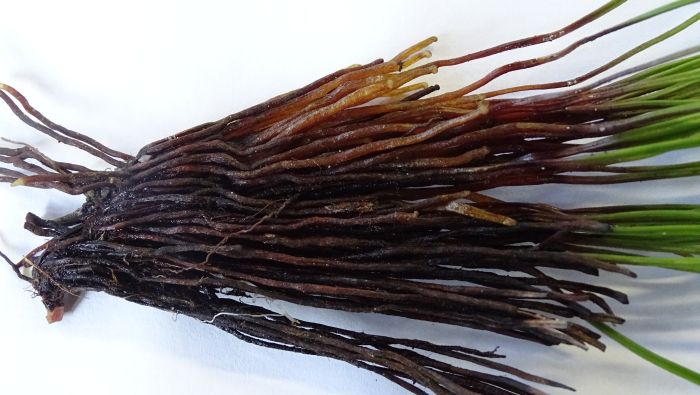 Instead of flowers, ferns produce spores held in sporangia. In Schizaea, these sporangia are held along each side of the upright segments and released as the frond matures. The combs are present throughout the year. On new growth, they are fresh and green, but become hard and brown as the frond ages and decays.
Conservation Status
Status
Distribution and habitat
Distribution description
Schizaea pectinata is found growing on dry mountain slopes in nutrient poor, acidic soil derived from sandstone and quartzites, usually at the base of boulders and cliffs, in sun or partial shade. In the Western Cape, it grows amongst the fynbos vegetation, but it is not restricted to this area, as it occurs sporadically from Clanwilliam to East Africa and Madagascar.
In the Western Cape, these plants experience a Mediterranean-type climate, with cold wet winters and hot dry summers, whereas elsewhere it will experience cooler and moister conditions of the summer rainfall regions. Plants occur at an altitude range from near sea level in the Cape and KwaZulu-Natal, to 1 830 m above sea level, in Zimbabwe and Malawi.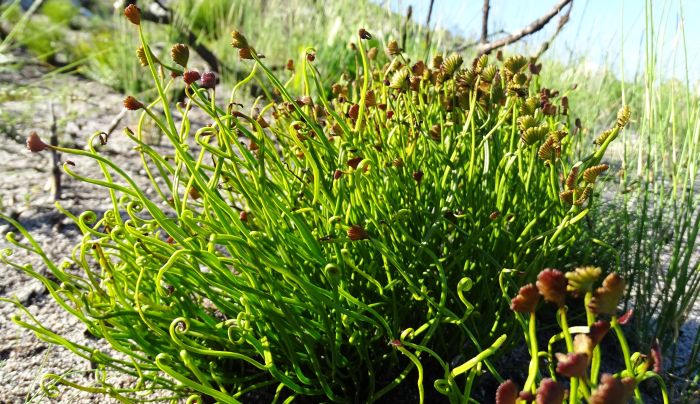 Derivation of name and historical aspects
History
The name Schizaea comes from the Greek word schizein, and means 'to split'. The name refers to the 2-ranked spikes of sporangia. The species name pectinata is derived from the Latin word pectinatus, and means 'like a comb', referring to the fertile fronds.
In the genus, there are 30 species but only 2 occur In South Africa. The second species is S. tenella, which is confined to moist habitats; whereas S. pectinata occurs in dry fynbos scrub. S. tenella is smaller than S. pectinata and the comb-like apex is narrower and does not bend over. S. pectinata is far more distinctive and recognizable when seen in the veld.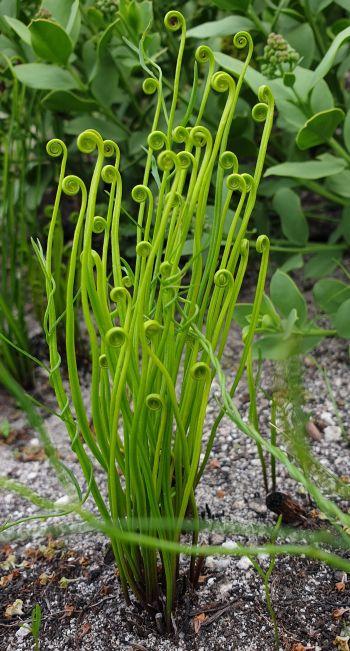 Ecology
Ecology
Schizaea pectinata is an often overlooked fern of grassland and scrub on rocky hillsides. It is noticeable after fires, as the burning-off of the fronds seems to stimulate the growth of new fertile fronds, although fertile fronds are also present throughout the year.
Uses
Use
Plants have been known to be used in dried flower arrangements but other than this, there are no other known uses.
Growing Schizaea pectinata
Grow
The best way to grow ferns is through division, in spring time. Before you begin to divide your fern, ensure that the medium in which it is growing is moist a day or two beforehand.
When dividing the fern, make sure that it is gently dug up. Cut it apart into 2 or 3 clumps. The clump must include a piece of the rhizome and a growing tip from which the fronds will grow. Plant these in a sandy, well-drained medium and keep the medium moist for a few days, until the fern shows signs of new growth.
Ferns do not flower but they can be reproduced sexually from spores. Before sowing the spores, the medium in which the spores are sown, is to be sterilized. This can be done using boiling water. This ensures that fungal spores do not germinate and crowd out the fern being grown.
Peat moss is a good medium to use for germination of ferns. Once spores have been sown, the container needs to be covered with plastic (or glass), allowing for some air space above the medium and sown spores. Keep the germinating spores in a lightly shaded area at a temperature of 20ºC.
Germination can take up to 6 weeks, at which point it will look like a moss growing on the medium. Once the prothalli are well-developed, they can be pricked out into a small container with finely sifted soil, but the container must be covered with plastic or glass, until fronds begin to appear. These developing ferns must be kept in light shade.
Later when potting over, these plantlets need to be potted into a coarser textured, well-drained medium.
References
Bean, A. & Johns, A. 2005. Stellenbosch to Hermanus. South African Wild Flower Guide 5. Botanical Society of South Africa, Cape Town.
Burrows, J. 1990. Southern African ferns and fern allies. Frandsen Publishers, Sandton.
Clarke, H. & Charters, M. 2016. The illustrated dictionary of southern African plant names. Flora & Fauna Publications Trust, Jacana, Johannesburg.
Foden, W. & Potter, L. 2005. Schizaea pectinata (L.) Sw. National Assessment: Red List of South African Plants version 2017.1. Accessed on 2019/07/28
Goldblatt, P. & Manning, J. 2000. Cape Plants. A conspectus of the Cape flora of South Africa. Strelitzia 9. National Botanical Institute, Pretoria & Missouri Botanical Garden, Missouri.
Jackson, B.D. 1900. A glossary of botanical terms. Edition 4. Hafner Publishing Co., New York.
Koekemoer, M., Steyn, H.M. & Bester, S.P. 2015. Guide to Plant Families of southern Africa. Strelitzia 31. 2nd ed., 2nd print. South African National Biodiversity Institute, Pretoria, South Africa.
Manning, J. 2007. Field guide to Fynbos. Struik Publishers, Cape Town.
Manning, J. & Goldblatt, P. 2012. Plants of the Greater Cape Floristic Region 1: the Core Cape Flora. Strelitzia 29. South African National Biodiversity Institute, Pretoria.
Mustart, P., Cowling, R. & Albertyn, J. 1997. Southern Overberg: South African Wild Flower Guide 8. Botanical Society of South Africa, Cape Town.
October, R. 2019. Conversation. Use of Schizaea pectinata. 3 July
Privett, S. & Lutzeyer, H. 2010. Field guide to the Flora of Grootbos Nature Reserve and the Bay Walker Region. Craft Print International, Singapore.
Smith, C.A. 1966. Common names of South African plants. Memoirs of the Botanical Survey of South Africa No. 35. Government Printer, Pretoria.
Credits
Karen Wall
Harold Porter National Botanical Garden
July 2019
Acknowledgements: the author thanks Loretta Floors for taking a few of the photos and Roseline October for providing some of the information about the use of the plant.
Plant Attributes:
Plant Type: Fern
SA Distribution: Eastern Cape, Free State, KwaZulu-Natal, Limpopo, Mpumalanga, Western Cape
Soil type: Sandy
Flowering season:
PH: Acid
Flower colour:
Aspect: Full Sun, Morning Sun (Semi Shade), Afternoon Sun (Semi Shade)
Gardening skill: Average
Special Features:
Good potplant
Wet sites
Pioneer plant
Horticultural zones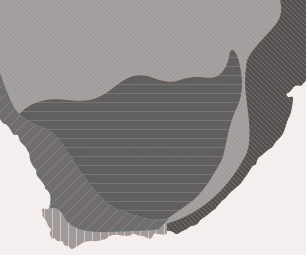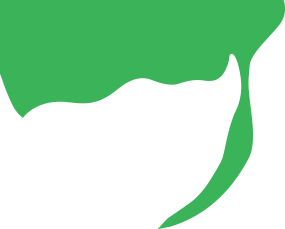 Zone 1 Coastal summer rainfall, frost free
Zone 2 Coastal winter rainfall, frost free
Zone 5 Bushveld summer rainfall, Light frost
Google QR Code Generator