Searsia burchellii (Sond. ex Engl.) Moffett (= Rhus burchellii Sond. ex Engl., R. undulata Jacq. var. burchellii (Sond. ex Engl.) Schonland, R. undulata Jacq. var. tricrenata (Engl.) R.Fern.)
Family: Anacardiaceae
Common names: Karoo kunibush (Eng.); karookoeniebos (Afr.); mokhoamphiri, tshilabele (Sesotho); motshôtlhô (Tswana)
SA Tree No: 379
Introduction
A much-branched, evergreen shrub or small tree with small, glossy, waxy leaves, common in the dry karroid regions of southern Africa, that is frost hardy and drought resistant and does not really need any greater special attention once it is established.
Description
Description
Searsia burchellii is a much-branched, evergreen shrub or small tree that grows up to 5 m high. Bark is granular, grey brownish. Leaves are small, trifoliolate, glossy, waxy, olive green and crowded at the ends of short, spur-like branchlets. Branchlets are sometimes spine-tipped. Small cream-coloured flowers are borne in loose clusters among the leaves in autumn (April–May). Male and female flowers are borne on different plants and only female plants bear fruits. Fruits are ellipsoid, thinly fleshy, green to reddish brown, drupes, somewhat compressed and flattened, 3.7 × 2.2 to 6.3 × 3.7 mm, borne in autumn and winter (May–July).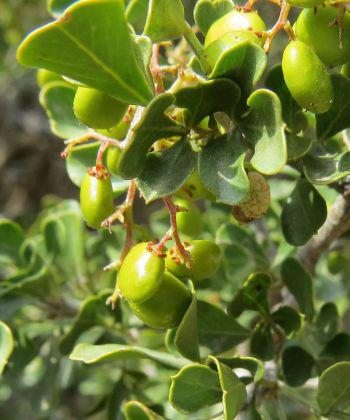 Searsia burchellii is closely related and similar to S. longispina and varies from it by having a less dense, more open, divergent habit without dull yellowish branches and spines, smaller, extremely emarginated (notched at the tip) leaflets and more compressed fruits. It can also be confused with S. glauca, but can be told apart by its spine-tipped, spur-like branchlets, waxy leaflets and ellipsoid fruits.
Conservation Status
Status
Searsia burchellii is listed as Least Concern (LC), according to the Red List of South African plants, and is therefore, not threatened.
Distribution and habitat
Distribution description
Occurs naturally and found widely in the dry areas of South Africa and Lesotho, in the Free State and the Northern and Western Cape Provinces, and ranges towards western parts of Lesotho, and in an area roughly between Kuruman, Quthing, Touws River, Senekal, Calvinia, Cradock and Pofadder. It is common on the rocky hills of the karroid regions of southern Africa. It also occurs in Namibia from Warmbad to Maltahohe.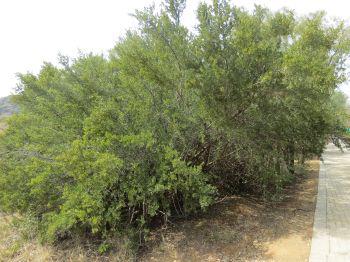 Derivation of name and historical aspects
History
The genus Searsia is named for Paul B. Sears (1891–1990), an American ecologist, who was head of the Yale School of Botany. This species is named after William John Burchell (1782–1863), an English naturalist who travelled in southern Africa and collected thousands of plant specimens, including this species. The vernacular name Kuni or !kuni is the name given this plant by the Khoisan people.
Ecology
Ecology
The autumn flowers of Searsia burchellii attract insects into the garden. Female plants bear fruits which are eaten by birds.
Uses
Use
For horticultural uses and display purposes, this plant can be used as an informal hedge, protection screen or as an element of a bush clump.
In former times, the Khoisan people used the leaves to treat problems during childbirth and chest colds. The branches were used for making bows, as they were resilient, but strong. The small, ripe, dried fruits of Searsia burchellii, and few other species, including S. lancea (karree), S. undulata (kunibush) and S. pendulina (white karree), are edible and used traditionally as important ingredients of mead, also known as honey beer or honey wine. The original Khoisan name for mead was karree and many Searsia species have the common name karree, and are still used as traditional sources of yeast for brewing.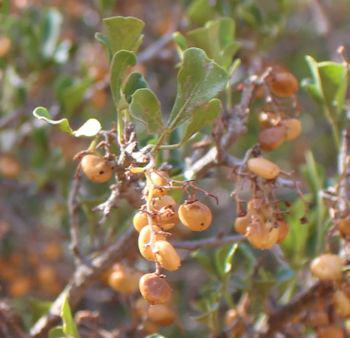 Growing Searsia burchellii
Grow
It is a really tough, drought- and frost-resistant, evergreen shrub, suitable for full sun or semi-shade areas in any garden and does not really need any further special attention once its root system has established.
Searsia burchellii can easily be propagated from seed. Dried ripe seeds can be sown in seedling trays, using a good seedling medium. Always make sure that there is a constant temperature of 20–25°C to speed up the germination of seed. When seedlings have successfully reached the 2-leaf stage, they can be transplanted into individual pots or bags, usually from September–October.
References
Coates Palgrave, K. 2002. Trees of southern Africa. Struik, Cape Town.
Compton, R.H. 1976. The Flora of Swaziland. Journal of South African Botany, Supplementary Volume No 11.
Moffet, R.O. 1993. Rhus. Flora of southern Africa, vol. 19, Part 3, Fascicle 1. National Botanical Institute, Pretoria.
Raimondo, D., Von Staden, L., Foden, W., Victor, J.E., Helme, N.A., Turner, R.C., Kamundi, D.A. & Manyama, P.A. (eds) 2009. Red list of South African plants. Strelitzia 25. South African National Biodiversity Institute, Pretoria.
Smith, C.A. 1966. Common names of South African plants. Memoirs of the Botanical Survey of South Africa No. 35. Government Printer, Pretoria.
Van Wyk, B.-E. & Gericke, N. 2000. People's plants . Briza Publications, Pretoria.
Credits
Stemmer Ngalo
Free State National Botanical Garden  
December 2016
Plant Attributes:
Plant Type: Shrub, Tree
SA Distribution: Free State, Northern Cape, Western Cape
Soil type: Sandy, Loam
Flowering season: Spring, Early Summer
PH: Acid, Neutral
Flower colour: Brown, Green, Yellow
Aspect: Full Sun, Morning Sun (Semi Shade), Afternoon Sun (Semi Shade)
Gardening skill: Average
Special Features:
Attracts birds
Drought resistant
Hedge/screen
Edible plant
Useful plant
Horticultural zones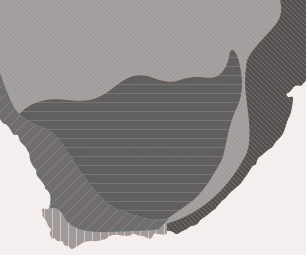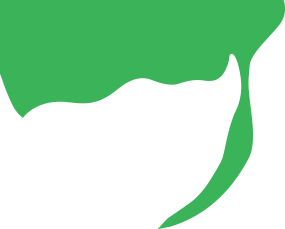 Zone 1 Coastal summer rainfall, frost free
Zone 2 Coastal winter rainfall, frost free
Zone 3 Winter rainfall Karoo, light frost
Zone 4 Summer rainfall Karoo and Highveld, Frost in winter
Zone 5 Bushveld summer rainfall, Light frost
Google QR Code Generator