Searsia glauca (Thunb.) Moffett
Family: Anacardiaceae
Common names: blue kunibush (Engl.); bloukoeniebos (Afr.)
SA Tree No: 383.2
Introduction
Searsia glauca is a sprawling, wind resistant shrub or small tree, that is perfect in harsh coastal conditions, with berries that attract pollinators and birds.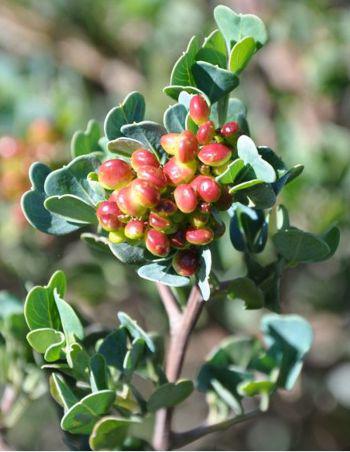 Description
Description
This is an evergreen, densely branched shrub 2–3 m tall, sometimes a small, multi-stemmed tree up to 4 m tall, with branches that are characteristically angular. Older branches, have rough pale grey bark that is slightly fissured, becoming gnarled with age. Stems and branches of this genus have prominent lenticels.
Compound leaves are borne on slender stalks, characteristically consist of three sessile leaflets (trifoliate), with the terminal one being the largest, are scattered or clustered on young reddish branchlets; tips of leaflets are often slightly indented. Leaf colour is glossy green when young, with a resinous coating that dries to leave a grey powdery layer on older leaves, giving them a distinctive bluish hue.
There are separate male and female plants, a phenomenon which is referred to as dioecious, with densely delicate pyramidal sprays (panicles) of flowers up to 50 mm long in late winter, through spring to early summer.The flowers are minuscule, greenish white or pale yellow, in the axils of the leaves (female) or at the end of the branches (male) clusters.The flowers are followed by small, spherical drupe berries (3 mm diameter), green ripening to reddish chestnut-brown in the late summer, and drying to black, through to autumn.
Conservation Status
Status
Searsia glauca is listed as LC (Least Concern) according to the Red List of South African Plants version 2015.1. Accessed on 2015/09/21at http://redlist.sanbi.org.
Distribution and habitat
Distribution description
Searsia glauca is commonly found along the coastline of southern Africa. Although most common near the coast occurring on coastal dunes, bush and along watercourses, it is also found inland among fynbos vegetation.
S. glauca ranges from near Kentani in southern Transkei in the Eastern Cape, down the coast all along to the Cape Peninsula and up to Velddrif in the southwestern Cape. It also occurs further inland, reaching the Little Karoo near Worcester and Oudtshoorn, as well as the Baviaanskloof, near Steytlerville. Occurs along the mountain chain and adjacent highveld from the Soutpansberg in Limpopo, through the Mpumalanga to Swaziland and northern KwaZulu-Natal. Also occurs in Zimbabwe and Mozambique.
Derivation of name and historical aspects
History
Most of the species grown in southern Africa belonging to the genus Rhus, have been placed in Searsia. Searsia was named after Paul B. Sears (1891–1990), who was head of the Yale School of Botany. The specific epithet, glauca, is from the Latin, meaning 'bluish grey or green' which refers to the distinctive colour of the leaves. Other noteworthy species are, Searsia chirindensis, S. lancea, S. leptodictya, S. nebulosa and S. pendulina.
Anacardiaceae is widespread throughout the tropical, subtropical and warm temperate regions of the world, with about 200 species. Boasting economically important exotic species, such as the pistachio nut (Pistacia vera), cashew (Anacardium occidentale), and mango fruit (Mangifera indica).
Other exotic species within the family that are important, are Schinus molle (the pepper tree) and S. terebinthifolius (Brazilian pepper tree) from South America, because of their invasive nature. in South Africa. A few indigenous genera that belong to this family are Harpephyllum caffrum (wild plum) and the marula, Sclerocarya birrea subsp. caffra.
In southern Africa, there are about 91 taxa  of Searsia, including the commonly cultivated karee (Searsia lancea) and witkaree (Searsia pendulina), and with about 80 trees and shrubs, it is the fourth largest tree family.
Ecology
Ecology
Searsia glauca plays an important role as a pioneer species in the ecologically cycle of plant succession, as it is able to establish itself under harsh environmental conditions, such as drought, salt spray and high wind.
Leaves of Searsia species have a resinous smell when crushed. Bees and other insects pollinate the flowers, and birds eat the ripe berries. A wide variety of butterflies breed on various Searsia species. As this shrub is common on dunes, Jackass penguins are often found nesting underneath it. It is also the favoured host of butterfly larvae.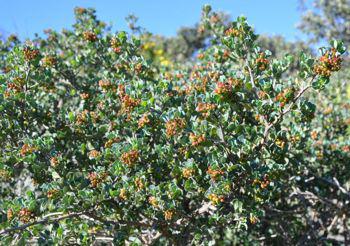 Uses
Use
The fruits of all the Searsia species are edible, if quite sour to the taste and traditional beer can be made from fermenting the fruit. Plants of Searsia glauca are good for conserving soil, preventing erosion, and are often used for stabilizing coastal dunes, as well as being a good garden subjects in harsh coastal environments. Female plants have bunches of currant-sized red or yellow berries, which are sometimes used in flower arrangements.
Growing Searsia glauca
Grow
Fast-growing, low maintenance shrub that does best in full sun. Very well adapted to harsh coastal conditions and so can tolerate poor soil and salty conditions, while still thrive as it is wind and drought resistant Suitable for water-wise gardening, and can also survive frost. Grow as a specimen shrub or in a group. Blue kunibush tends to grow straggly and needs light pruning to keep it shaped well; it can also be shaped to form a small tree and can be clipped into a hedge. If planted closely together, plants will form a solid barrier, making it suitable for use as a screen for unattractive views or to provide privacy, as windbreaks, and/or barriers against noise. Can be grown in a bird- and an insect-friendly garden. Both male and female plants are needed for the females to be pollinated, and therefore bear the berries.
Searsia glauca can be propagated easily from seed or semi-hardwood cuttings.
The seeds usually have a shiny brown colouring when ripe. As soon as the seeds are dry, they can be collected. Sow the ripe seed in autumn in seedling trays, using a well-drained seedling medium. Only lightly cover the seeds and keep them moist, but never too damp. Seeds should start germinating from about four to six weeks after sowing. Transplant the seedlings into bigger containers when they reach the two-leaf stage. Sow fresh seed for best germination results. To improve germination soak the berries till the flesh of the fruit rubs off easily.
Cuttings can be taken in spring and early summer. Make semi-hardwood tip cuttings and use rooting hormone to improve rooting success. Cuttings should develop roots within three to five weeks if placed on bottom heat, after which they can be hardened off without heat and watered less often for two weeks, before being potted up. Because Searsia glauca is so hardy, it does not require any special attention once it has established its root system. Cuttings perform best if they are placed on a heating bench with an automated irrigation system and enough air movement in the greenhouse.
References
Goldblatt, P. & Manning, J. 2000. Cape Plants. A conspectus of the Cape flora of South Africa. Strelitzia 9. National Botanical Institute, Pretoria & Missouri Botanical Garden, Missouri.
Honig, M. 2014. Indigenous plant palettes. Quiver Tree Publications, Cape Town.
Johnson, D. & Johnson, S.1993. Gardening with indigenous trees and shrubs. Southern Book Publishers, Cape Town.
Leistner, O.A. (ed.). 2000. Seed plants of southern Africa: families and genera. Strelitzia 10. National Botanical Institute, Pretoria.
Leistner, O.A. 2005. Seed plants of southern tropical Africa: families and genera. Southern African Botanical Diversity Network Report No. 26. SABONET, Pretoria
Moffett, R.O. 2007. Name changes in the Old World Rhus and recognition of Searsia (Anacardiaceae). Bothalia 37(2):165–175.
Coates Palgrave, K. 1983. Trees of southern Africa, 2nd Revised Edn. Struik Publishers, Cape Town, Johannesburg.
Pooley, E. 1998. A field guide to wild flowers Kwazulu-Natal and the eastern region. Natal Flora Publications Trust, Durban.
Powrie, F. 1998. Grow South African Plants. A gardener's companion to indigenous plants. National Botanical Institute, Cape Town.
Wilkinson, J. 2014. Gardens in the sand: Strandveld gardening. Marina da Gama Garden Club, Cape Town.
Credits
Cherise Viljoen
Kirstenbosch NBG
October 2015
Plant Attributes:
Plant Type: Shrub, Tree
SA Distribution: Eastern Cape, Western Cape
Soil type: Sandy, Loam
Flowering season: Spring, Early Summer, Late Summer
PH: Acid, Neutral
Flower colour: Green, White
Aspect: Full Sun
Gardening skill: Easy
Special Features:
Attracts birds
Attracts butterflies
Drought resistant
Edible plant
Feeds honeybees
Pioneer plant
Horticultural zones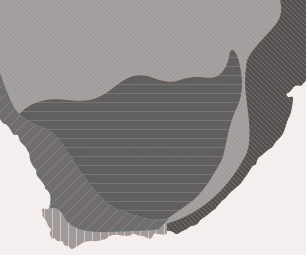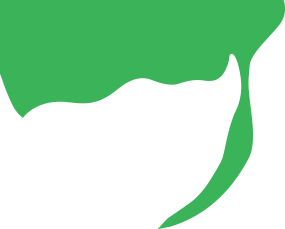 Zone 1 Coastal summer rainfall, frost free
Zone 2 Coastal winter rainfall, frost free
Zone 3 Winter rainfall Karoo, light frost
Zone 4 Summer rainfall Karoo and Highveld, Frost in winter
Zone 5 Bushveld summer rainfall, Light frost
Google QR Code Generator