Searsia incisa (L.f) F.A.Barkley
Family: Anacardiaceae
Common names: rub-rub currant (Eng.); baardbessie (Afr.); unongqutu (isiXhosa)
SA Tree No: 385
Introduction
Rub-rub currant is an attractive shrub, and, as the common name says, it has edible, furry fruits, that need to be rubbed in the hand a couple of times to remove the hairs before eating them.
Description
Description
Searsia incisa is a shrub or small tree about 3–4 m in height. The leaves are very distinctive, dark green and wrinkled, with fine hairs above and the undersurface is covered with wooly whitish hairs; ovate to obovate, the terminal leaflet 12–20 x 10 mm, the lateral leaflets half the size of the terminal leaflet; margins deeply toothed forming almost separate lobes; petiolules absent, petiole up to 10 mm long. The leaflets on one plant can vary greatly. Flowers are small, cream to light green to yellow, with 5-pointed petals facing upwards; flowers are unisex, meaning that each plant will have flowers with a style (female) or stamens (male). Fruit is an ellipsoid drupe, covered in furry brown, pale orange-brown to cream hairs, in clusters, only developing in female plants.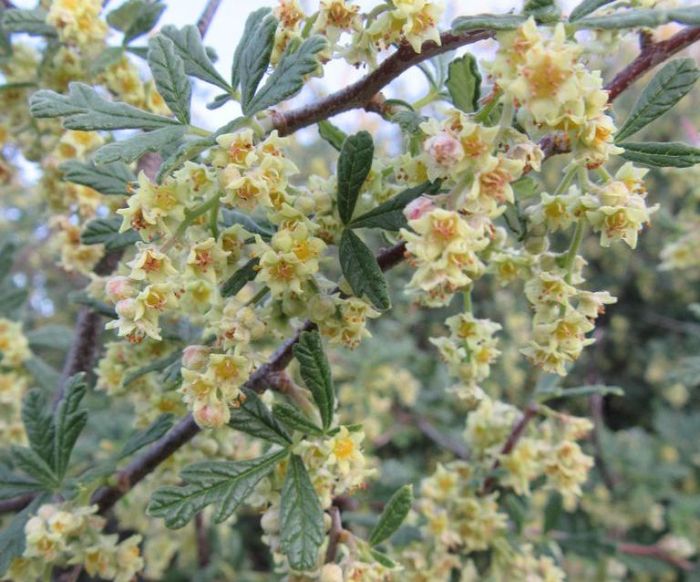 Two varieties are recognised: var.incisa that has deeply incised leaflets and var. effusa with leaves that are merely irregularly and shallowly toothed.
Conservation Status
Status
In the Red List of South African Plants, both varieties of Searsia incisa are assessed as Least Concern (LC), which means no threats are currently posed to this species. Even though this species is not at risk, conservation measures have been taken to make sure there is insurance should anything happen to it in the future. The Millennium Seed Bank Partnership (MSBP) has collected and banked seeds for Searsia incisa, thus ensuring its availability should needs be.
Distribution and habitat
Distribution description
Searsia incisa is endemic to South Africa and is distributed in the Eastern Cape, Western Cape and Northern Cape. It grows in sandy, clay-rich soils, and is found scattered through open scrub and along river banks from Namaqualand to East London. Variety incisa occurs from southern Namaqualand in the Northern Cape to near Worcester in the Western Cape, and flowers in midwinter (July). The variety effusa has a disjunct distribution, with populations in northern Namaqualand, and populations from Worcester to East London in the Eastern Cape, with flowering occurring in winter, spring and early summer (June to December). The plants in the eastern part of the range tend to be less dense in habit, and have larger leaves, and larger and more hairy fruits.
Derivation of name and historical aspects
History
The genus Searsia was named after Paul B. Sears (1981-1990), who was a renowned palaeontologist, ecologist and a head of the Yale School of Botany. The species name incisa means 'deeply cut', referring to the deeply toothed leaves, and the variety name effusa, means 'loose' or 'spread out', perhaps referring to the tendency of plants of this variety to be less densely branched.
Searsia was previously included in the genus Rhus, until DNA studies showed that the Old World species, from Africa, Asia and Europe, are widely separated from the American species of Rhus. In southern Africa there are approximately 80 species of Searsia.
Ecology
Ecology
Searsia incisa flowers are pollinated by butterflies and many other insects. The larval phase for the Phasis thero butterfly use the plant for food. Stock browse on Searsia incisa.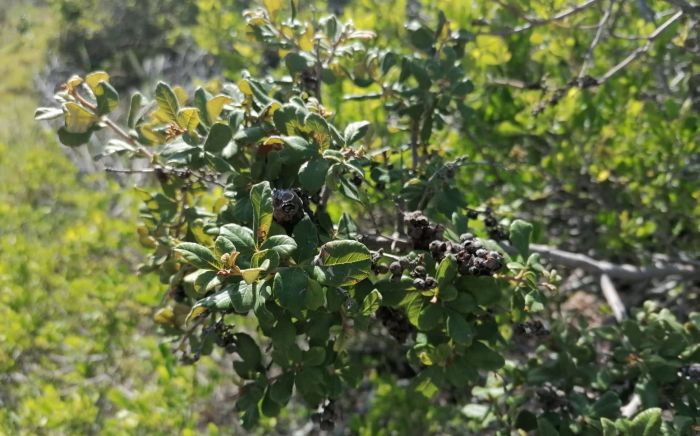 Uses
Use
It has been recorded that Searsia incisa is a medicinal plant. The bark from the roots is scraped, dried and made into powder, which is then mixed with water and drunk to cure internal bleeding and also to heal fractured bones. The fruits are edible, eaten by humans and birds when ripe. In dry areas, most Searsia species provide valuable fodder.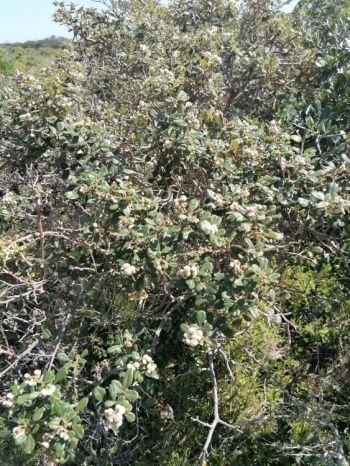 Growing Searsia incisa
Grow
Most Searsia species are not difficult to cultivate, growing quickly from seed, truncheons and cuttings. They are known for being fast growers and low maintenance shrubs.
References
Boon, R. 2010. Pooley's trees of eastern South Africa, a complete guide. Flora & Fauna Publications Trust, Durban.
Dold T, & Cocks M. 2000. Indigenous plant use of the amaXhosa people on the eastern border of the Great Fish River Reserve, Eastern Cape. Annals of the Eastern CapeMuseums. 2000. Vol. 1 : 26-53
Harvey, W. H. 1811-1866. Flora capensis :being a systematic description of the plants of the Cape colony, Caffraria, & Port Natal (and neighbouring territories) Vol. 1 : 509
Moffett, R.O. 1993. Flora of southern Africa: South Africa, Ciskei, Transkei, Lesotho, Swaziland, Bophuthatswana,Namibia, Botswana and Venda. Vol 19, Pt. 3. Fasc. 1: Anacardiaceae.
Moffett, R.O. 2007. Name changes in the Old World Rhus and recognition of Searsia (Anacardiaceae). Bothalia 37(2):165–175.
Treetags, National list of indigenous trees. Accessed 01/03/21. https://www.treetags.co.za/national-list-of-indigenous-trees/.
Van Wyk, B. & Van Wyk, P. 2007. Field guide to trees of southern Africa. Struik Publishers, Cape Town.
Credits
Sibahle Gumede
Millennium Seed Bank Partnership (MSBP)
and Charlie Maimela
February 2021
Acknowledgements: photos of Searsia incisa var. incisa by Steve Cousins and Gawie Malan, from iNaturalist.org.
Plant Attributes:
Plant Type: Shrub, Tree
SA Distribution: Eastern Cape, Northern Cape, Western Cape
Soil type: Clay, Loam
Flowering season: Spring, Early Summer, Winter
PH: Acid
Flower colour: Green, Cream, Yellow
Aspect: Full Sun
Gardening skill: Easy
Special Features:
Attracts birds
Attracts butterflies
Drought resistant
Edible plant
Medical plant
Useful plant
Feeds honeybees
Horticultural zones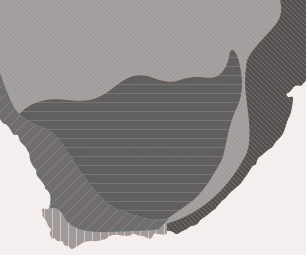 Zone 1 Coastal summer rainfall, frost free
Zone 2 Coastal winter rainfall, frost free
Zone 3 Winter rainfall Karoo, light frost
Google QR Code Generator