Searsia lancea (L.f.) F.A.Barkley
Family: Anacardiaceae
Common names: karee (Eng.); karee, rooikaree (Afr.); mokalabata, monhlohlo, motshakhutshakhu (N.Sotho); inhlangutshane (Siswati); mosinabele, mosilabele (S.Sotho); mosabele, mosilabele (Tswana); mushakaladza (Venda); umhlakotshane (Xhosa)
SA Tree No: 386
Introduction
The karee is a small- to medium-sized evergreen tree that usually grows to a height of 7 m and a width of 7 m but can be larger depending on environmental factors.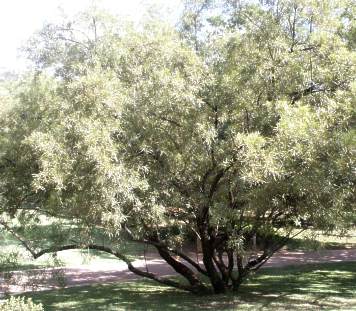 Description
Description
The Searsia lancia is usually a single-stemmed, low branching tree which has a dense, soft, round canopy. The karee has a coarse-textured bark and on older specimens it is dark grey or brown in colour, while on young branches and trees it is a reddish-brown colour. The leaves are trifoliate (a compound leaf with three leaflets), possessing narrowly lanceolate (lance-shaped) leaflets. The leaves are dark green above and paler green below. They do not have any hairs, and the margins of the leaves are entire. The leaves are leathery and are often sickle-shaped.
The small, inconspicuous flowers are presented as much-branched sprays which are greenish-yellow in colour and are produced from June until September. The male and female flowers occur on separate trees. The fruit are small (up to 5mm in diameter), round, slightly flattened and covered with a thin fleshy layer which is glossy and yellowish to brown when ripe. The fruits are produced from September until January.
Distribution and habitat
Distribution description
The karee occurs naturally in Acacia  woodland and along drainage lines, rivers and streams. It is often found growing on lime-rich substrates. The karee occurs from Zambia in the north to the Western Cape in the south. It is found throughout the Free State and in parts of all the other provinces of South Africa except for KwaZulu-Natal.
Derivation of name and historical aspects
History
Searsia was named after Paul B. Sears (1891-1990) who was head of the Yale School of Botany, and lancea refers to the lance shaped leaflets. 
Most of the species grown in southern Africa, belonging to the genus Rhus, have been placed in Searsia. In southern Africa there are about 111 species of Searsia. Searsia lancea belongs to the family Anacardiaceae (the Mango family) which is the fourth largest tree family in southern Africa. This family is composed of at least 80 native tree species. Searsia is easy to recognise, as the leaves are all trifoliate and have a resinous smell when crushed. Common edible fruit and seeds that belong to this family include the mango, pistachio nut and cashew nut. The resinous substance is poisonous in many species such as poison ivy.
Uses
Use
The fruit is eaten by birds such as bulbuls, guineafowl and francolins. Game animals such as kudu, roan antelope and sable browse the leaves of the tree which can serve as an important food source for them in times of drought. The sweetly scented flowers attract bees and other insects to them. Searsia lancea is useful in providing natural soil stabilisation and increasing infiltration of rainwater into the soil, thus reducing erosion and raising the ground watertable.
The leaves of the karee provide valuable fodder for livestock but can taint the flavour of milk if eaten in large quantities by dairy cattle as a result of the resin contained in them. The tree is also an important source of shade for livestock in certain regions. The bark, twigs and leaves provide tannin. In the past the hard wood was used for fence posts, tool handles and parts of wagons. Bowls, tobacco pipes and bows were also made from the wood. The fruits are edible and were once used as an important ingredient of mead or honey beer. The word karee is said to be the original Khoi word for mead.
Growing Searsia lancea
Grow
The karee is an excellent shade tree especially in hot regions such as the Karoo and Kalahari since it is evergreen and drought resistant. Searsia lancea does not have an aggressive root system and can be used near paving and tarred surfaces. Because the karee is hardy, frost resistant and evergreen, it is ideal for establishing a protective canopy for frost sensitive and shade loving plants. It could thus be considered as a possible pioneer plant for establishing a new forest in an area that receives frost. Searsia lancea  is suitable for use as a large hedge along the boundaries of properties such as farms because of its dense growth habit. The density of the plant makes it suitable for use as a screen or barrier against wind, noise, objectionable views or to provide privacy. The karee can adapt well to different soils including those that are poorly drained (which means that it can be planted almost anywhere). Searsia lancea is therefore ideally suited for use as a street tree. Aesthetically the karee is a graceful tree possessing a willow-like appearance due to its drooping habit, and this makes it suitable for use near water e.g. next to a water garden, dam or river.
Searsia lancea can be propagated easily from seed, cuttings or layers. The ripe seed should be sown in seedling trays using a good seedling medium and transplanted into bigger containers when the seedlings reach the two-leaf stage. Cuttings can be taken using young growth from September till October. The tree can grow up to 80 cm a year and is thus fairly fast growing. Because the tree is both drought- and frost-resistant it does not require any special attention once it has established its root system.
References
Coates Palgrave, K. 1983. Trees Of Southern Africa. Struik: Cape Town.
Jackson, W. 1990. Origins And Meanings Of Names Of South African Plant Genera. Rondebosch: University of Cape Town.
Joffe, P. 1993. The Gardener's Guide To South African Plants. 1st edition, Cape Town: Tafelberg Publishers Limited.
Thomas, V. & Grant, R. 1998. Sappi Tree Spotting Highveld And The Drakensberg Tree And Shrub Identification Made Easy. 1st edition, Johannesburg: Jacana.
Moffett, R.O. 2007. Name changes in the Old World Rhus and recognition of Searsia (Anacardiaceae). Bothalia 37(2):165-175
Van Wyk, B. & van Wyk, P. 1997. Field Guide To Trees Of Southern Africa. 1st edition, Cape Town: Struik Publishers.
Venter, F. & Venter J. 1996. Making The Most Of Indigenous Trees. 1st edition, Pretoria: Briza Publications.
Credits
Marc Stern
Witwatersrand National Botanical Garden
June 2002
Updated July 2008
Plant Attributes:
Plant Type: Tree
SA Distribution: Eastern Cape, Free State, Gauteng, Limpopo, Mpumalanga, North West, Northern Cape, Western Cape
Soil type: Sandy, Clay, Loam
Flowering season: Spring, Winter
PH:
Flower colour: Green, Yellow
Aspect: Full Sun, Morning Sun (Semi Shade), Afternoon Sun (Semi Shade)
Gardening skill: Easy
Special Features:
Attracts birds
Hedge/screen
Edible plant
Useful plant
Feeds honeybees
Horticultural zones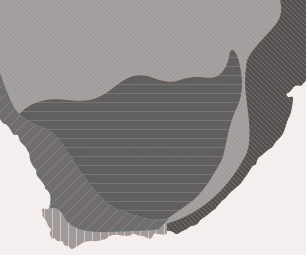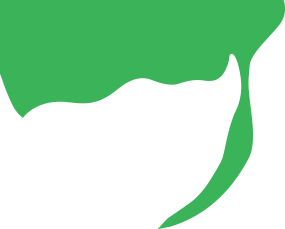 Zone 2 Coastal winter rainfall, frost free
Zone 3 Winter rainfall Karoo, light frost
Zone 4 Summer rainfall Karoo and Highveld, Frost in winter
Zone 5 Bushveld summer rainfall, Light frost
Google QR Code Generator