Searsia leptodictya (Diels) T.S.Yi, A.J.Mill. & J.Wen forma leptodictya
Family: Anacardiaceae
Common names: mountain karee, rock karee ( Eng. ); bergkaree, klipkaree (Afr.); inHlangushane (siSwati); Mohlwehlwe (Northern Sotho)
SA Tree No: 387
Introduction
The mountain karee is an essential 'bird-garden' tree, which also makes a good frost-hardy, and drought-tolerant shade tree. Another special feature is that an intoxicating drink can be made of the fruit!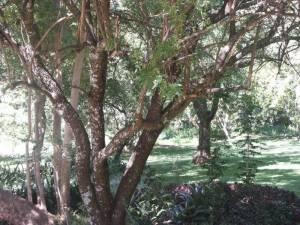 Description
Description
Searsia leptodictya is a shrub or small tree with an irregularly rounded crown. It sometimes has arching branches, which may give it character in a garden. It can reach up to 9 m but is usually a rather scrubby bush of about 3 to 4 m. The bark is rough and dark brown (somewhat like the karee, Searsia lancea.
As with most other Searsia species the leaves are divided into three leaflets. These are thinly textured, bright green, narrow and have toothed margins. If the leaves are crushed, they release a resiny smell. In colder areas, the leaves fall in winter. A useful way to distinguish the mountain karee from other, similar Searsia species is that the two lateral leaflets are at right angles to the terminal one. It is also worth noting that cross-pollination between species occurs, especially in cultivation where several Searsia species may be planted together, out of their natural range. Seedlings with a confusing mix of features then appear in the garden.
The flowers are minute, yellowish and carried in sprays from about December to April. Male and female flowers occur on separate trees. The fruits are tiny drupes (which are single-seeded stone fruit such as plums and cherries) that have a flattened, squarish look. The clusters of fruit have an attractive, almost multicoloured appearance varying from yellow to red-brown. They appear from about March to June. S. leptodictya grows quickly (apparently up to 1 m per year) which is part of its popularity as a cultivated plant.
Distribution and habitat
Distribution description
Its natural distribution stretches across the four northern provinces in South Africa and includes the northern Free State . It is also found in Swaziland, Botswana , Zimbabwe and Mozambique. The mountain karee grows naturally in a variety of habitat types including woodland, forest margins and bushveld. In most cases it prefers rocky hillsides within the habitat. It is frost resistant and also fairly drought resistant which is demonstrated by the fact that the Witwatersrand lies within its distribution and here the winters are cold and dry.
Derivation of name and historical aspects
History
Searsia was named after Paul B. Sears (1891-1990) who was head of the Yale School of Botany and dentata is derived from Latin meaning deeply toothed. The specific epithet, leptodictya, refers to the fine network of veins on the leaf.
Most of the species grown in southern Africa, belonging to the genus Rhus, have been placed in Searsia. In southern Africa there are about 91 taxa in the genus.
Searsia leptodictya is a member of the economically important mango family which has about 200 species world-wide. It has about 75 to 80 trees and shrubs in southern Africa, which makes it one of the largest tree families in the region. The family includes an African icon, the marula tree (Sclerocarya birrea) of southern and tropical Africa . In South Africa, mango fruit production (Mangifera indica from India and South East Asia) is an important part of the agricultural economy of the hot, low-lying regions such as the province of Limpopo. Pistachio nut (Pistacia vera) and the cashew (Anacardium occidentale) are also exotic members of the mango family which have economic significance. Other alien species within the family are important in South Africa because of their invasive nature. These are from South America, namely the pepper tree, (Schinus molle) and the Brazilian pepper tree (Schinus terebinthifolius ).
Ecology
Ecology
Game animals such as giraffe, eland, blue duiker and kudu feed on the mountain karee. While the tree is in fruit, it is alive with birds such as bulbuls, barbets, white-eyes and mousebirds. I have also seen Karoo thrushes performing rather ridiculous-looking, almost balletic leaps from the ground to reach low-hanging trusses of fruit. Birds disperse the seed when it passes through the gut, usually once the bird has moved on elsewhere.
Uses
Use
Domestic animals feed on the tree during times of drought and this apparently does not cause as much tainting of milk, which occurs when stock feed on Searsia lancea. Beer is made from fermenting the fruit, which are edible but sour. Small household articles can be made from the wood. It is commonly used as a street tree as it does not have an aggressive root system.
Growing Searsia leptodictya
Grow
The mountain karee is a very good tree for attracting birds to the garden. Apart from the abundant fruit crop, it is quite "twiggy" and dense and offers hiding places. Remember that you will need to plant a female tree for fruit! Your nursery may be able to help you tell the difference if their trees are in flower. If you have the space, planting several might ensure that you get at least one female. The mountain karee will need to be pruned into a tree shape in the first few years by removing low-growing branches. Alternatively, in a medium to large garden, it may by included as a shrub in an "exclusion zone" (a dense planting that keeps out people and pets!) which helps attract the shyer species of garden birds.
Serasia leptodictya should be grown from seed during summer. The seed needs to be removed from the pulp after harvesting. The seed can be soaked during the night before sowing to help with germination. Sow in seedling trays and cover lightly with sand. It has a good germination rate but the trays should not be allowed to dry out. When the young plants have two leaves they may be transplanted into bags.
Although the mountain karee is able to survive drought and frost in most types of soil (well-drained is best) it would encourage a larger, more stately specimen if water were provided during establishment. Also the addition of fertilizers, such as super-phosphates, at planting and good, composted soil will be a good investment. A full sunny position would be best but light shade is tolerated.
References
Coates Palgrave, M. 2002. Keith Coates Palgrave Trees of southern Africa , edn 3. Struik, Cape Town .
Henderson, L. 2001. Alien weeds and invasive plants . Agricultural Research Council, Pretoria .
Leistner, O.A. (ed.). 2000. Seed plants of southern Africa : families and genera . Strelitzia 10. National Botanical Institute, Pretoria .
Moffett, R.O. 2007. Name changes in the Old World Rhus and recognition of Searsia (Anacardiaceae). Bothalia 37(2):165-175
Pienaar, K. 1996. The ultimate book of trees and shrubs . Southern Book Publishers, Halfway House , South Africa .
Schmidt, E., Lötter, M. et al. 2002. Trees and shrubs of Mpumalanga and Kruger National Park . Jacana, Johannesburg .
Thomas, V. & Grant, R. 1998. Sappi tree spotting. Highveld and the
Drakensberg . Jacana, Johannesburg .
Venter, F. & Venter, J-A. 1996. Making the most of indigenous trees . Briza Publications, Pretoria .
Credits
Alice Aubrey
Walter Sisulu NBG
May 2005
Updated July 2007
Plant Attributes:
Plant Type: Shrub, Tree
SA Distribution: Free State, Gauteng, Limpopo, Mpumalanga, North West
Soil type: Sandy, Loam
Flowering season: Early Summer
PH:
Flower colour: Green
Aspect: Full Sun
Gardening skill: Easy
Special Features:
Attracts birds
Drought resistant
Edible plant
Horticultural zones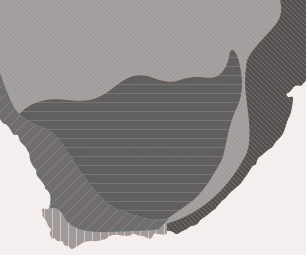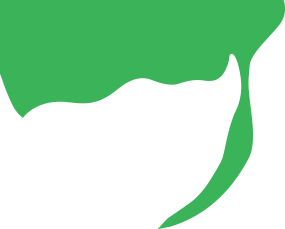 Zone 4 Summer rainfall Karoo and Highveld, Frost in winter
Zone 5 Bushveld summer rainfall, Light frost
Google QR Code Generator