Searsia tomentosa (L.) F.A.Barkley
Family: Anacardiaceae
Common names: bicoloured currant, furry currant, wild currant, current crowberry (Eng), korentebos, korentetaaibos (Afr.) umhlakothi, inhlokoshiyane (isiZulu).
SA Tree No: 394
Introduction
Searsia tomentosa is an attractive, bushy shrub to small tree with multi-coloured foliage, that is commonly known as bicoloured currant. It produces flowers that emit an unpleasant smell, whilst the fruits are small drupes that are densely covered in hairs.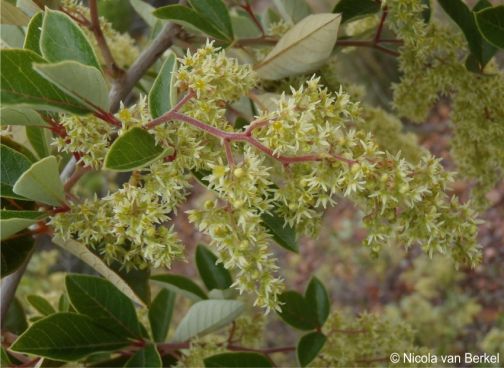 Description
Description
Searsia tomentosa is a much branched, evergreen shrub or small tree up to 6 m. Stem is smooth, greyish to dark brown, branchlets are reddish and hairy when young. The tree has glossy tri-foliate leaves, that are lanceolate-elliptic shaped, margins are entire or roughly toothed. Easily distinguished by its leaflets: the upper surface is dark green or greyish green and glabrous when mature, while it is creamy white and velvety to woolly below. In new apical growth, the leaves are red above. The midrib and margins are yellow or red, with pinnate veins.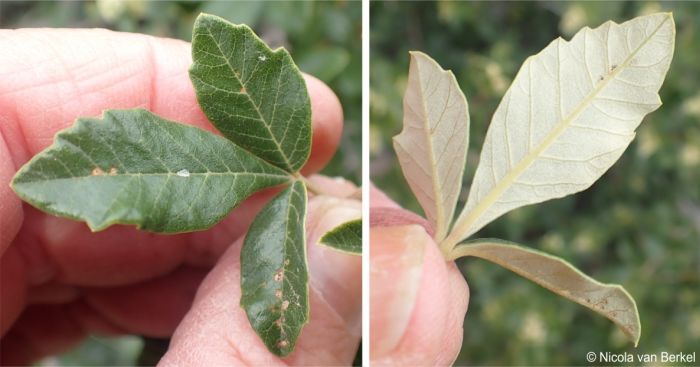 Flowers are miniature, hairy, yellowish white, in dense terminal heads at the end of branches. A dioecious species, male and female flowers are borne on separate trees, the flowers emitting a strong unpleasant or offensive scent that attracts flies, in winter and spring (from July to October). The fruits are drupes (fleshy fruits with a hard seed inside), covered densely in hairs that are creamy-white or grey, borne in clusters at the stem-tip, in late winter, spring and summer (from June to February).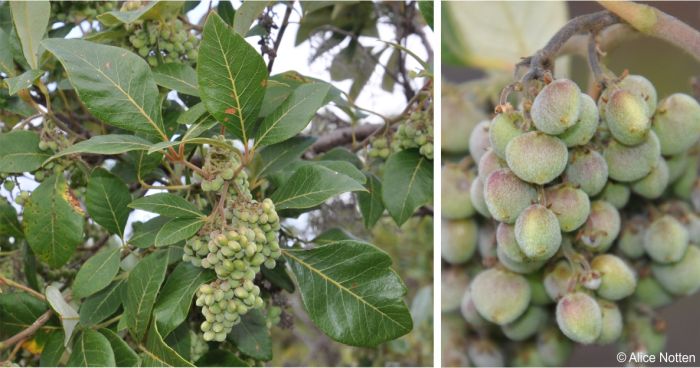 Conservation Status
Status
Distribution and habitat
Distribution description
Searsia tomentosa is not endemic to South Africa, but native to South Africa and Zimbabwe. In South Africa it occurs in the Cederberg and Cape Fold Mountains in the Western Cape, the mountains of the Eastern Cape and Free State, the Drakensberg foothills and Midlands of KwaZulu-Natal, on the Escarpment Mountains in Mpumalanga and the Wolkberg and Soutpansberg in Limpopo. It grows in margins of the forest, in grassland and fynbos, on bushy and rocky sandstone slopes.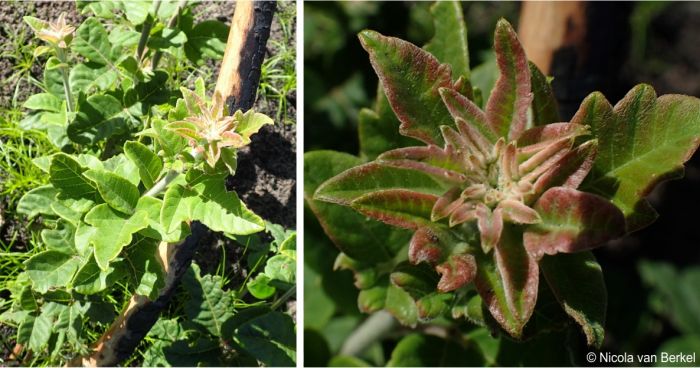 Derivation of name and historical aspects
History
The genus Searsia was previously known as Rhus. A phylogenetic analysis that was conducted using DNA, showed that Searsia is monophyletic and is widely separated from Rhus. Therefore, the genus Searsia was split from Rhus to accommodate certain species that were found to be more closely related to each other than to other Rhus species. Named in honour of Paul B. Sears (1891–1990), who was the head of the School of Botany at Yale University. It belongs to the family called Anacardiaceae (Mango family). The genus Searsia has 120 species,  the majority of which occur in Africa. They can be easily identified by their compound tri-foliate leaves and dense hard wood, which makes species distinctive.
The species name tomentosa comes from the Latin word tomentum, which means 'dense covering of hairs'. It refers to the dense covering of short velvety hairs on the undersidesof the leaves, and on the flowers and fruits.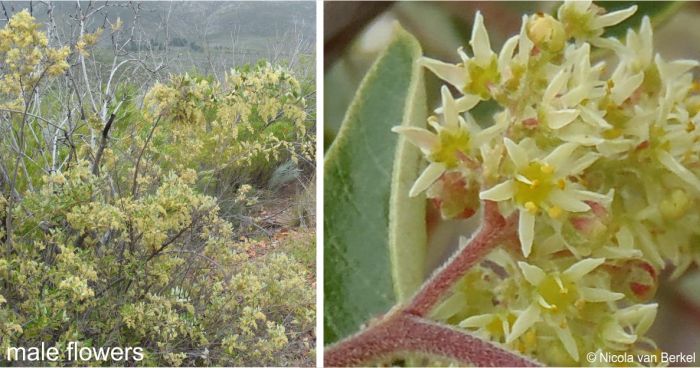 Ecology
Ecology
Searsia tomentosa is a dioecious plant, meaning that the male and female flowers grow on separate plants. Therefore, the plant relies on cross pollination for successful fertilization. It is pollinated by bees and provides food for the bees. It can be planted to prevent soil erosion and stabilize coastal dunes.
Uses
Use
The root bark and wood were historically used for tanning, the wood from the tree is used as firewood and fencing by local communities. The leaves and bark are believed to have medicinal properties and are used to treat diarrhea, stomach aches and skin irritation. Bark is used to make twine. In landscaping, the plant is used as an ornamental and container plant. The fruits are edible.
Growing Searsia tomentosa
Grow
Evergreen bushy shrub to small tree, that grows well in full sun and partial shade. It is drought resistant. The plant can be used as a windbreaker and screening shrub due to its dense growth habit.
Searsia tomentosa can be easily propagated from seeds, they don't require any treatment, if not stored. Before sowing the seeds, they are cleaned by rubbing off the outer parts, then dried in the sun. Seed trays must have good drainage. Place the seed tray in a cool, well-ventilated house. The sun should not shine on the seed tray in the germinating stage. Regularly water the plant until it is fully established. Seed starts germinating from 4-6 weeks. All Searsia seeds are best sown in spring.
References
Boon, R. 2010. Pooley's trees of eastern South Africa, a complete guide. Flora & Fauna Publications Trust, Durban.
Coates Palgrave, K. 1983. Trees of southern Africa. Struik, Cape Town.
Curtis-Scott, O., Goulding, M., Helme, N., McMaster, R., Privett, S. & Stirton, C. 2020. Field guide to the Renosterveld of the Overberg. Struik Nature, Cape Town.
Hyde, M.A., Wursten, B.T., Ballings, P. & Coates Palgrave, M. 2023. Flora of Zimbabwe: Searsia tomentosa. https://www.zimbabweflora.co.zw/speciesdata/species.php?species_id=136840. Accessed on 26/08/23.
Johannsmeier, M.F. 2005. Beeplants of the South-Western Cape, Nectar and pollen sources of honeybees Concil, (revised and expanded). Plant Protection Research Institute, Pretoria, South Africa.
Moffett, R.O. 2007. Name changes in the Old World Rhus and recognition of Searsia (Anacardiaceae). Bothalia 37(2):165–175.
Pooley, E. 2003. Mountain flowers, a field guide to the flora of the Drakensberg and Lesotho. Natal Flora Publications Trust, Durban.
Retief, E. & Meyer, N.L. 2017. Plants of the Free State inventory and identification guide. Strelitzia 38. South African National Biodiversity Institute, Pretoria.
Thomas, V. & Grant, R. 2011. Sappi Tree Spotting: Highlands: Highveld, Drakensberg, Eastern Cape Mountains. Jacana Media.
Van Berkel, N. 2011. Observation of Searsia tomentosa, Outeniqua Mountains, Western Cape. iNaturalist. Online. https://www.inaturalist.org/observations/10915462.
Van Berkel, N. 2017. Observation of Searsia tomentosa, Brenton-on-Sea, Western Cape. iNaturalist. Online. https://www.inaturalist.org/observations/8413595.
Van Berkel, N. 2023. Observation of Searsia tomentosa, Voorsorg, Garden Route, Western Cape. iNaturalist. Online. https://www.inaturalist.org/observations/181742781.
Van Wyk, B. & Van Wyk, P. 2013. Field guide to trees of southern Africa. Struik Publishers, Cape Town, Johannesburg.
Von Staden, L. 2018. Searsia tomentosa (L.) F.A. Barkley. National Assessment: Red List of South African Plants version 2020.1. Accessed on 2023/08/31.
Wonderwalker. 2021. Observation of Searsia tomentosa, Elandshoorn Farm, Uitenhage District, Eastern Cape. iNaturalist. Online. https://www.inaturalist.org/observations/78334379.
Credits
Luyanda Bhengu and Lufuno Nenungwi
Free State National Botanical Garden
October 2023
Acknowledgements: images by Nicola van Berkel, Wonderwalker and Alice Notten.
Plant Attributes:
Plant Type: Shrub, Tree
SA Distribution: Eastern Cape, Free State, KwaZulu-Natal, Limpopo, Mpumalanga, Western Cape
Soil type: Sandy, Loam
Flowering season: Spring, Early Summer, Winter
PH: Acid, Neutral
Flower colour: Cream, Yellow
Aspect: Full Sun, Morning Sun (Semi Shade), Afternoon Sun (Semi Shade)
Gardening skill: Average
Special Features:
Fragrant
Good potplant
Hedge/screen
Edible plant
Medical plant
Useful plant
Feeds honeybees
Horticultural zones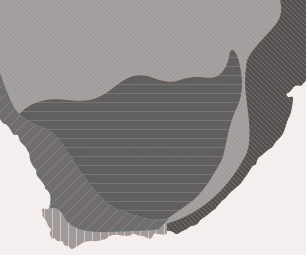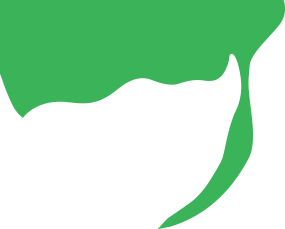 Zone 1 Coastal summer rainfall, frost free
Zone 2 Coastal winter rainfall, frost free
Zone 3 Winter rainfall Karoo, light frost
Zone 4 Summer rainfall Karoo and Highveld, Frost in winter
Zone 5 Bushveld summer rainfall, Light frost
Google QR Code Generator