Selago canescens L.f.
Family: Scrophulariaceae
Common names: canescent selago, bitter bush ( Eng. ); blouaarbossie (Afr.)
Introduction
Selago canescens bursts into flower in early spring when most plants in the garden are still recovering after the cold winter. An added attraction is the butterflies that visit the clusters of mauve flowers on windless, warm days.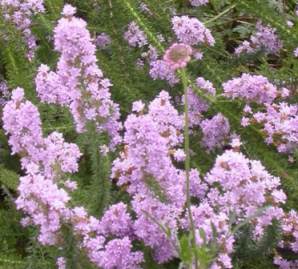 Description
Description
Selago canescens is an evergreen shrub with many long slender branches and grows between 1 and 1.5 m high. The glossy green leaves are short, narrow and soft. They arise in dense tufts along the main branches and side shoots, making the plant attractive throughout the year. Each individual flower is tiny and consists of a thin tube opening into 5 petals. The masses of small flowers in tight clusters along the stem form long mauve spikes that are very attractive and showy when in flower (July-September). The tiny grey seeds ripen about a month after flowering.
Conservation Status
Status
Selago canescens is endemic to the unique fynbos flora, which means it occurs only in the Cape and nowhere else in the world. Luckily it is still common in its natural habitat and not regarded as threatened.
Distribution and habitat
Distribution description
Selago canescens grows naturally on the dry, mostly clay slopes from Cape Town along the east coast to Port Elizabeth. The climate at the Cape is typically Mediterranean with winter rain and dry, hot summers, whereas the eastern parts receive substantial summer rains. Frost is not common along its distribution, but the shrubs do have the ability to resprout after pruning and should be able to survive light frost.
Derivation of name and historical aspects
History
The genus Selago was first described by the Swedish-born naturalist Carolus Linnaeus in 1753. The name is a combination of the words, sel, meaning sight, and jach, meaning salutary that refers to the supposed medicinal properties. The species name canescens is the Latin for 'covered with dense, fine, greyish white hairs'.
There are about 190 species in the genus Selago. It is mainly a southern African genus with most of the species found in the Western and Eastern Cape. A few species occur in Namibia, Botswana, tropical Africa and also in Madagascar.
In a recent taxonomic revision, the genus Walafrida was included in Selago.
Selago canescens is a member of a group of six species from the southwestern Cape, all of which have leaves in fascicles or tufts and inflorescences composed of racemes that are further arranged in elongate or flat-topped panicles. Among these species S. canescens is distinguished by its mostly 5-lobed (not 3-lobed) calyx and narrow primary leaves, 0.5-1.0 mm broad (Manning 2001).
Ecology
Ecology
Butterflies are attracted by the masses of small, tubular purple flowers containing nectar. Many Selago species act as host plants to butterflies of the Lepidochrysops genus commonly known as Ant Blues. These butterflies have an interesting and important association with ants as a survival strategy for their larvae. The female butterflies lay their single egg on the flower bud or ovary of the Selago species where the host ant is active. The young larva bores into the plant ovary, eating the ovules and later emerges from its shelter to attract an ant which carries it into its nest where the larva preys on the ant brood.
The appearance of butterflies is influenced by the availability of plant foods for their larvae. In the Western Cape with cold, wet winters (May to August) and hot, dry, windy summers (late November to March), plant growth is most vigorous in the spring (September to March). Butterflies follow this natural pattern with most species active in spring and early summer.
Uses
Use
Selago canescens is a popular shrub at Kirstenbosch especially in the herbaceous plantings. With its striking early spring colour it is very effective in large, sweeping plantings. In the butterfly bed it is planted with many other mauve flowers such as Scabiosa africana, Vernonia glabra, Polygala fruticosa, Buddleja salviifolia, Pelargonium cucullatum and Geranium multisectum.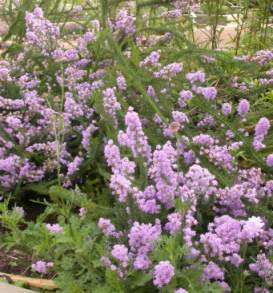 Growing Selago canescens
Grow
Selago canescens grows easily and fast. Plant them in full sun and well-drained, composted soil. For best results water them regularly throughout the year and place a thick mulch on the ground in early summer. Untidy shrubs and stems that become too tall and heavy can be cut back hard to encourage new growth sprouting from the base.
New plants can be propagated from seed or cuttings. Most of the plants at Kirstenbosch are propagated from cuttings that root easily and fast. Tip cuttings are made from the soft side shoots on the main branches in spring and after flowering.
Sow the seeds in March in trays filled with a well-drained potting medium. Germination is usually within a month. Keep the young seedlings in shade and pot into small pots when they are big enough to handle. Plant them out into the garden a few months before flowering to allow the shrubs to grow full and bushy for the best display. Pinch the tips of young plants to encourage bushy growth.
References
Eliovson, S. 1973. South African wild flowers for the garden. Macmillan, Johannesburg.
Leistner, O.A. (ed.). 2000. Seeds plants of southern Africa : families and genera. Strelitzia 10. National Botanical Institute, Pretoria.
Little, J. & Jones, E. 1980. A dictionary of botany. Van Nostrand Reinhold Company, New York.
Manning, J. 2001. Eastern Cape. South African Wild Flower Guide 11. Botanical Society of South Africa, Cape Town.
Pooley, E. 1998. A field guide to wild flowers of KwaZulu-Natal and the Eastern Region. Natal Flora Publications Trust, Durban.
Smith, C.A. 1966. Common names of South African plants. Memoirs of the Botanical Survey of South Africa No. 35.
Credits
Liesl van der Walt
Kirstenbosch
August 2007
Plant Attributes:
Plant Type: Perennial
SA Distribution: Eastern Cape, Western Cape
Soil type: Clay, Loam
Flowering season: Early Summer, Late Summer
PH: Acid, Alkaline, Neutral
Flower colour: Purple, Mauve/Lilac
Aspect: Full Sun, Afternoon Sun (Semi Shade)
Gardening skill: Easy
Special Features:
Attracts butterflies
Feeds honeybees
Horticultural zones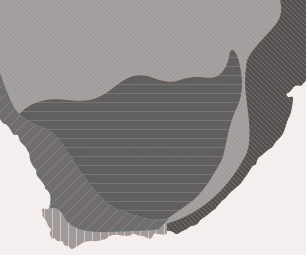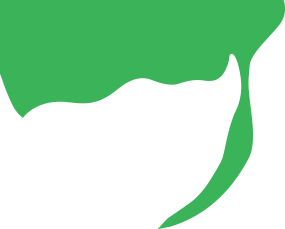 Zone 1 Coastal summer rainfall, frost free
Zone 2 Coastal winter rainfall, frost free
Zone 4 Summer rainfall Karoo and Highveld, Frost in winter
Zone 5 Bushveld summer rainfall, Light frost
Google QR Code Generator