Senecio barbertonicus Klatt
Family: Asteraceae
Common names: succulent bush senecio, Barberton senecio, Barberton groundsel, Barberton coltsfoot, lemon bean bush, finger-leaved senecio
SA Tree No: 738.5
Introduction
When everything else seems dead and dry on the Highveld, this plant flowers in abundance. The deep yellow flowers are sought after by many insects during a time when few food sources are available.
Description
Description
Senecio barbertonicus is a dense bushy perennial shrub reaching heights of 0.5-1.8 m. It is an evergreen succulent with all plant parts glabrous. Younger stems are green turning brown and woody at maturity. Old stems are brittle and rough due to the persistent leaf bases of old leaves. Leaves are green for 3-5 seasons, succulent, bright to dark green and finger-like: up to 55 mm long and 5 mm in diameter, cylindrical, slightly curved and narrowing to a pointed tip, with 3-4 nerves running along the length of the leaf.
Flowering stems protrude above the leaves and bear composite flower heads in small flat-topped clusters. Flowers are all tubular; each subtended by an involucre of 8 bracts, which are 11-13mm long. The sweet-scented bright yellow flowers are up to 8 mm long and 4 mm in diameter.
Fruits are 3.5mm long, cylindrical, ribbed and covered with stiff hairs between the ribs. Pappi are present and consist of numerous bristles, shorter than the flower tubes. The species flowers in winter.
Conservation Status
Status
Distribution and habitat
Distribution description
Senecio barbertonicus grows in rather dry, sandy areas among rock outcrops or clambering over trees and bushes in sand forest, usually in semi-shade. The plant is drought resistant and mildly frost tolerant.
The species is endemic to southern Africa and occurs in Limpopo, Mpumalanga, Gauteng, North-West and KwaZulu-Natal provinces in South Africa; also in Swaziland, Zimbabwe and Mozambique, at altitudes of 35-1675 m above sea level.
Derivation of name and historical aspects
History
Senecio barbertonicus belongs to the Asteraceae (sunflower family). Senecio is derived from the Latin word senex meaning `old man', pertaining to the grey hairs on the seeds.
Although it does not only occur in Barberton in Mpumalanga Province (South Africa), the specific epithet barbertonicus refers to the original specimen, which was collected near Barberton by a banker and keen plant collector, Ernest Edward Galpin between 1889 and 1892.
Ecology
Ecology
Adult Painted Lady butterflies ( Vanessa cardui ) feed on nectar of Senecio barbertonicus - they are attracted by the discoid, sweetly scented flowers.
Uses
Use
The plant has a short flowering period, but its evergreen succulent nature makes it a useful garden plant as well as an easy to grow indoor pot plant. It is a good addition to a butterfly garden, attracting particularly the Painted Lady butterflies for nectar. Because it is resistant to drought, Senecio barbertonicus is very suitable for water wise gardens.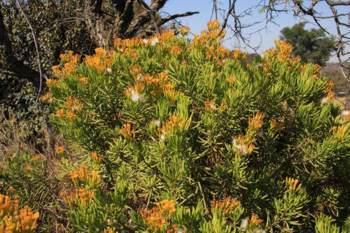 Growing Senecio barbertonicus
Grow
Senecio barbertonicus is easily propagated from softwood cuttings in late spring to summer. Take cuttings of the plant and let them dry for one or two weeks. Plant them directly in the ground or in a pot with well-drained soil. They can be planted in full sun or partial shade. They prefer slightly acidic to slightly alkaline soil, but can also tolerate poor soils. The plant needs moderate amounts of water from spring to autumn. Keep plants dry during winter to prevent them from rotting at the base. Trim them back lightly to maintain a tidy appearance.
References
Germishuizen, G. & Fabian, A. 1997. Wild Flowers of Northern South Africa . Fernwood Press, .
Hermann, P.P.J. & Retief, E. 1997. Plants of the Northern Provinces of South Africa: keys and diagnostic characters. Strelitzia 6. National Botanical Institute, Pretoria.
Hilliard, O.M. 1977. Compositae in Natal . University of Natal Press, Pietermaritzburg.
http://davesgarden.com. Senecio barbertonicus . Accessed on 2014/06/12.
http://insects.about.com. Painted Lady ( Vanessa cardui ). Accessed on 2014/06/11.
http://llifle.com. Senecio barbertonicus. Accessed on 2014/06/19.
http://www.piardino.com. Senecio barbertonicus `Himalaya Highlands.' Accessed on 2014/06/10.
ttp://www.succulent-plant.com. The succulent plant page. Families of succulent plants. Accessed on 2014/06/11.
http://www.smgrowers.com. Senecio barbertonicus. Accessed on 2014/06/10.
http://www.worldofsucculents.com. Senecio barbertonicus. Accessed on 2014/06/10.
http://redlist.sanbi.org/. Red List of South Africa. Accessed on 2014/07/02.
Pooley, E. 1998. A Field Guide to Wild Flowers KwaZulu-Natal and the Eastern Region . Natal Flora Publications Trust, Durban.
Credits
Cynthia Mikateko Baloyi & Marinda Koekemoer
National Herbarium, Pretoria
August 2014
Plant Attributes:
Plant Type: Shrub, Succulent
SA Distribution: Gauteng, KwaZulu-Natal, Limpopo, Mpumalanga, North West
Soil type: Sandy, Loam
Flowering season: Winter
PH: Acid, Neutral
Flower colour: Yellow
Aspect: Full Sun, Morning Sun (Semi Shade), Afternoon Sun (Semi Shade)
Gardening skill: Easy
Special Features:
Attracts butterflies
Drought resistant
Fragrant
Good potplant
Feeds honeybees
Horticultural zones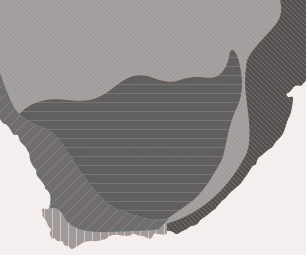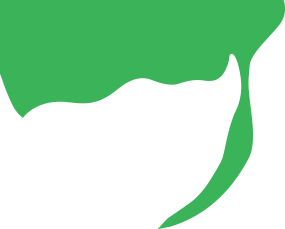 Zone 1 Coastal summer rainfall, frost free
Zone 2 Coastal winter rainfall, frost free
Zone 4 Summer rainfall Karoo and Highveld, Frost in winter
Zone 5 Bushveld summer rainfall, Light frost
Google QR Code Generator