Senecio hederiformis Cron
Family: Asteraceae
Common names: ivy-leaved senecio
Introduction
Senecio hederiformis is a rare and still relatively poorly known species from the high-altitude grasslands of Mpumalanga and Limpopo Province, South Africa. It is likely to make a handsome addition to a number of South African Senecio species already popular in cultivation.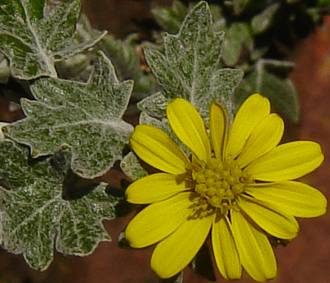 Description
Description
Senecio hederiformis is a perennial herb, but woody around the base of the plant. Stems are slender, densely hairy and hanging or creeping. The leaf shape resembles the leaves of the ivy plant. The leaves are attractively two-coloured: shiny dark green on top and covered in dense white hairs below. Yellow daisy-like flowers are borne on long petioles (flower stalks) in small groups of four or five at the tips of the stems. It flowers from November to June. Seeds are brown, dry, flattened and oval-shaped. The margins are thickened and the seed has bristles at the end. This type of seed is known as a cypsela.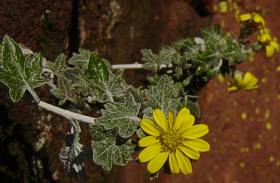 Conservation Status
Status
Senecio hederiformis is not threatened, but it has been included as a species of conservation concern on the South African National Red List in the category Rare (Winter et al. in press), due to its highly specific habitat requirements. Species with very specific habitat needs such as Senecio hederiformis, are known as habitat specialists, and are often very rare due to their particular habitat conditions only being met in a few places. This species is currently not protected in any formal conservation areas.
Distribution and habitat
Distribution description
Senecio hederiformis grows in crevices with humus-rich soils and accumulated leaf litter on cliffs and large boulders in mist-belt grasslands at high altitude (1260-1700 m). It appears to favour the cooler, shady sides of boulders and cliffs and has thus far only been found on quartzitic rock. It is known to occur at only two places: near the summit of the Blouberg, which is near the western end of the Soutpansberg in Limpopo Province, and near the Blyde River Canyon north of Graskop in Mpumalanga. It is likely to occur in suitable habitat in other high-lying areas between these two places such as the Wolkberg and Soutpansberg, but it has not been found there yet.
Derivation of name and historical aspects
History
Senecio is one of the largest genera in the daisy family (Asteraceae), with between 1200 and 1500 species occurring worldwide, and ± 300 in southern Africa. Members of this genus are commonly known as groundsels, ragworts or hongerblom.
Senecio hederiformis was first collected in 1951 by Dr L.E. Codd, former director of the Botanical Research Institute, which later became what is today the South African National Biodiversity Institute (SANBI). The specimen could not be matched to any known species, and it remained unidentified until it was described in 1994 as a new species, Cineraria hederifolia, by Dr Glynis Cron who was preparing a taxonomic revision of Cineraria at that stage. The specific epithet refers to this species' resemblance to ivy, which has the Latin name hedera. It was later realized that the species actually belongs to the genus Senecio, and it was transferred in 2007.
Ecology
Ecology
Despite being discovered in 1951, Senecio hederiformis remains a poorly known species, particularly because it was only realized that it is a new species fairly recently. Not much is known yet about its ecology except that it prefers moist, shady conditions. It tends to produce larger, more distinctly two-coloured leaves and larger flowers when grown in shady areas. Like most yellow-flowered daisies, S. hederiformis is likely to be pollinated by a wide range of insects, including beetles, bees and butterflies. The seeds have fluffy, feather-like structures at their ends (known botanically as a pappus) which enable them to be dispersed by wind.
Uses
Use
No uses have been recorded for Senecio hederiformis, but it has good horticultural potential, provided that its particular habitat requirements are observed.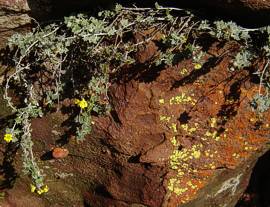 Growing Senecio hederiformis
Grow
Senecio hederiformis has not yet been introduced to cultivation. Its attractive leaves, long flowering period and its creeping habit will lend itself well to being grown in hanging baskets in shady areas.
Senecio species are generally fairly easy to grow from seed or stem or root cuttings. Seedlings can be transplanted when they are about 6 cm tall. Grow S. hederiformis in shaded or semi-shaded areas in well-composted soil with a good layer of organic mulch. Keep well watered.
References
Cron, G.V. 1994. Two new species of Cineraria L. (Senecioneae, Asteraceae). South African Journal of Botany 60: 161-167.
Eliovson, S. 1973. South African wild flowers for the garden, e dn 5. Macmillan, Johannesburg.
Winter, P.J.D., Cron, G.V. & Victor, J.E. In press. Senecio hederiformis. In D. Raimondo, L. von Staden, W. Foden, J.E. Victor, N.A. Helme, R.C. Turner, D.A. Kamundi, & P.A. Manyama (eds). Red List of South African plants. Strelitzia. South African National Biodiversity Institute, Pretoria.
Credits
Lize von Staden
Threatened Species Programme
June 2009
Plant Attributes:
Plant Type: Perennial
SA Distribution: Limpopo, Mpumalanga
Soil type:
Flowering season: Late Summer, Autumn
PH:
Flower colour: Yellow
Aspect: Full Sun, Morning Sun (Semi Shade), Afternoon Sun (Semi Shade)
Gardening skill: Challenging
Special Features:
Horticultural zones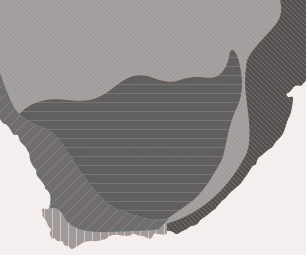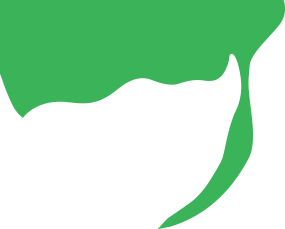 Zone 1 Coastal summer rainfall, frost free
Zone 4 Summer rainfall Karoo and Highveld, Frost in winter
Zone 5 Bushveld summer rainfall, Light frost
Google QR Code Generator