Serruria adscendens (Lam). R.Br.
Family: Proteaceae
Common names: Kleinmond spiderhead
Introduction
Serruria adscendens is an attractive, rounded shrub of slopes and flats, in the coastal fynbos between Betty's Bay and Bredasdorp in the Western Cape. It does not resprout after veld fire; new plants growing from seeds.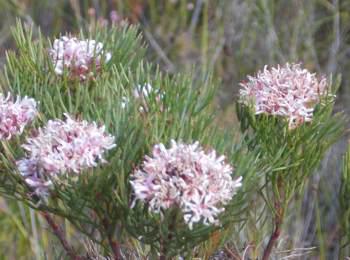 Description
Description
Serruria adscendens is a rounded shrub up to 1 m tall and up to 0.5 m across; main stem 20 mm in diameter. Leaves erect, 25 – 65 mm long and 20 – 25 mm wide, hairless, dissected with 10 – 17 rounded tips with fine points. Flower-head is globose, 20 – 25 mm long and 25 – 30 mm across. They consist of 5 – 25 headlets of 6 – 10 flowers each. Flowers have a strong, sweet scent. Flowers occur in late winter to early spring. The fruit is a nutlet with an elaiosome at the base, a fleshy appendage attractive to ants.
Conservation Status
Status
Kleinmond spiderhead is listed in Red Data Plant List as NT (Near Threatened).
Distribution and habitat
Distribution description
Serruria adscendens is widespread on sandstone soil, flats and slopes from Betty's Bay to Bredasdorp in the Western Cape. It also occurs in the Hottentot-Holland and Groenland Mountains to the Klein River Mountains.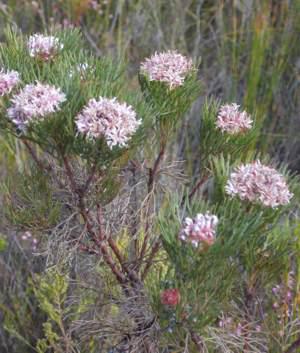 Derivation of name and historical aspects
History
The genus Serruria was named after Dr James Serrurier, professor of botany at the University of Utrecht in the early eighteenth century. The specific name adscendens means 'rising', referring to the branches that grow upward. They call it Kleinmond spiderhead because it is common in Kleinmond and the inflorescence is spider-like.
Serruria is a genus of 55 species in the Proteaceae family. The genus is endemic in the Western Cape. It is one of the curly spiderheads. Their distribution is limited to small specific localities within the region.
Ecology
Ecology
The nut-like fruits are dispersed by indigenous ants that feed on the elaiosome. After the ant's meal, the intact seeds are deposited according to a long-standing natural 'food for dispersal' pact. The non-indigenous ants also feed on the oily parts of the seeds on the ground and then leave the seed there. The seeds die instead of germinating underground. Kleinmond spiderhead is useful in wild garden for attracting birds and useful insects.
Serruria adscendens is pollinated by insects and a night moth.
Uses
Use
Kleinmond spiderhead doesn't have medical properties, but it is popular in the Western Cape for its beauty and it makes a pretty display.
Growing Serruria adscendens
Grow
Serruria adscendens can be propagated from seeds or cuttings.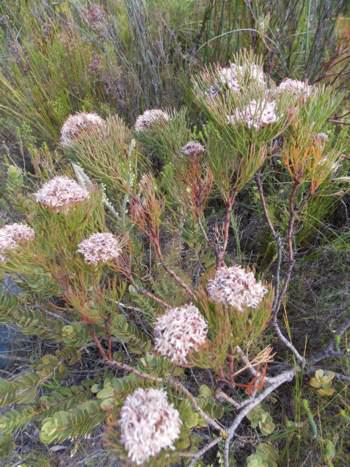 Propagate Serruria adscendens by semi-hardwood or heel cutting. In Harold Porter NBG, this species is propagated by tip cutting, taken from a firm shoot that has completed its growth period, from a healthy and disease free stock plant. Cut about 150 to 200 mm long shoots, removing the leaves on the lower third of the cutting. Dip the cuttings in a solution of rooting hormone for 5 seconds. Commercial rooting agents such as Seradix 2 or the liquid Dip and Grow can also be used. Place cuttings in a well-aerated mixture consisting of equal quantities of peat or milled bark and polystyrene. Rooting takes about 8 – 16 weeks. Rooted cuttings should be hardened off under 50% shade cloth for 4 weeks before being placed in full sunlight.
Sow seeds in late autumn in a well-drained, acidic soil consisting of two parts sand, one part of sifted bark and one part loam. Treat the seed with a smoke treatment; sow seed at the depth of one and half times the size of the seed, then cover the seeds with sand. Place them under 8 0 C night temperature and 20 0 C day temperature. Germination period varies from 1 – 3 months.
References
Germishuizen, G., Meyer, N.L., Steenkamp, Y. & Keith, M. 2006. A checklist of South African Plants . South African Botanical Diversity Network Report No. 41. SABONET, Pretoria.
Matthew, L. & Carter, Z. 1993. Proteas of the World . Bok Books International
Plants of Southern Africa: online checklist. http://posa.sanbi.org . Accessed on 15/10/2014
Protea Atlas Project. www.proteaatlas.org.za . Accessed on 30/09/2014
Raimondo, D. et al. 2009. Red list of South African plants. Strelitzia 25. SANBI (South African National Biodiversity Institute), Pretoria.
Rebelo, T. 1995. Proteas, a field guide to the proteas of southern Africa . Fernwood Press, Cape Town.
Smith, C.A. 1966. Common names of South African plants. Memoirs of the Botanical Survey of South Africa No. 35. Government Printer, Pretoria.
Vogts, M. 1982. South African's Proteaceae: know them and grow them. Struik, Cape Town.
Vogts, M.M. 1958. Proteas, know them and grow them . Afrikaanse Pers-boekhandel, Johannesburg.
Credits
Nosiphelele Patricia Mapukata
Harold Porter NBG
November 2014
Plant Attributes:
Plant Type: Shrub
SA Distribution: Western Cape
Soil type: Sandy
Flowering season: Spring, Early Summer
PH: Acid
Flower colour: Pink
Aspect: Full Sun
Gardening skill: Challenging
Special Features:
Attracts birds
Drought resistant
Fragrant
Feeds honeybees
Horticultural zones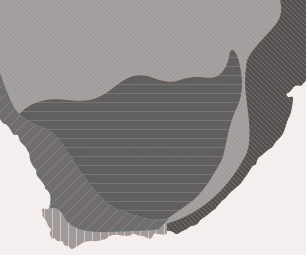 Zone 1 Coastal summer rainfall, frost free
Zone 2 Coastal winter rainfall, frost free
Google QR Code Generator