Serruria candicans R.Br.
Family: Proteaceae
Common names: shiny spiderhead (Eng.)
Introduction
A beautiful fynbos shrublet which produces clusters of silvery pink flowerheads in spring and early summer, that attract many beneficial garden insects.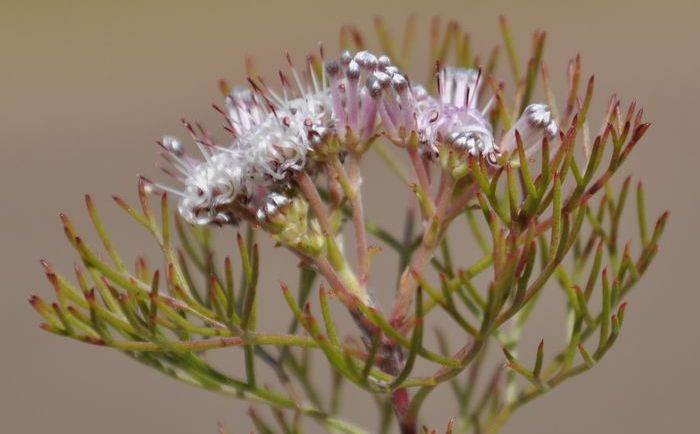 Description
Description
Serruria candicans is an erect, evergreen shrublet that grows from a single main stem of about 10 mm in diameter, reaching 0.8 m high and 0.5 m wide. The leaves are 25-55 mm long and 2–15 mm wide, dissected (deeply divided) with 18–25 tips ending in sharp, fine points, sparsely covered with silver, woolly hairs, and slightly curved upwards.
The inflorescences are 10–25 mm long and 30 mm in diameter, and are comprised of clusters of 10–25 headlets, each containing 6 or 7 individual flowers, on a 5 mm long flower stalk. Flowers are pink with dark tips and silver hairs on the perianth. Serruria candicans begins to produce flowers in midwinter (July) and continues until early summer (December) and releases the seeds 2 months after flowering. The fruits are light, nut-like seeds, sparsely covered with hairs.
Conservation Status
Status
Serruria candicans is a rare species that is assessed as Endangered (EN) on the Red List of South African plants. The 3 large populations of this species are severely fragmented and declining because of ongoing habitat loss and degradation, caused by invasive alien species, pollution and agriculture. According to the Red List, 79% of the subpopulations, which are known from herbarium specimen records, are extinct because of agricultural expansion, industrial development and alien plant invasion.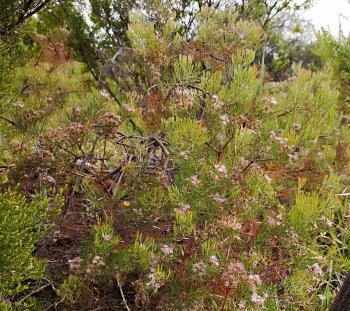 Distribution and habitat
Distribution description
Serruria candicans occurs from the Elandskloof to Slanghoek Mountains and Paardeberg, near Malmesbury. This species is known from only 3 locations, each consisting of large populations of scattered plants. Plants are found growing where fynbos and renosterveld integrate, on flats, sandy slopes and granite.
Derivation of name and historical aspects
History
In the early eighteenth century, J. Serrurier, professor of botany at the University of Utrecht, was honoured, by naming the genus Serruria after him. The species name candicans means 'white', 'hairy' and 'shiny'. The genus Serruria is known by its common name spiderhead or spinnekopbos (spider-bush). The origin of this name is not known, but it is thought that the untidy flowerheads resemble spiders. Or it could come from the wispy hairs on the stems and leaves of some species, that resemble spider webs (Rebelo 2000).
The genus Serruria is comprised of 56 species, which are all endemic in the Western Cape.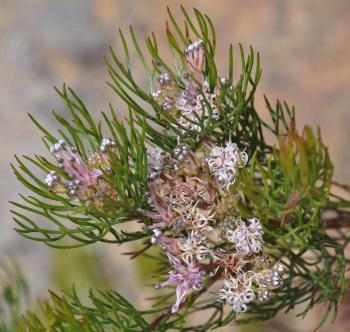 Ecology
Ecology
Serruria candicans produces small, light, nut-like seeds covered with an elaiosome, which ants feed on. This elaiosome is found at the base of the seed and attached to the flowerhead. When the fruits are ripe and drop to the ground, the ants are attracted to the elaiosome and will carry the seeds to their nest underground and remove or eat the elaiosome and leave the seed undamaged in their nest, where it is also protected from fire, birds and other animals. These native ants do no harm to the seeds. Alien invader Argentine ants also feed on the elaiosome, but they do not bury the seed in their nest and the exposed seeds are eaten by rodents, birds or burned by fire. The stored or underground seeds will remain dormant and begin to germinate after senescent plants are removed by fire, and when the soil temperature is cool during the night and hot during the day (longer nights and shorter days typical of autumn in the Western Cape).
Serruria candicans flowers are pollinated by honeybees and other insects. This species regenerates by seed, which means that the plant is killed by fire and new plants arise through the stored (banked) seed, which germinates after the fire.
Uses
Use
Serruria candicans is a good plant for a butterflies or wildlife-friendly garden, as the flowers attract many beneficial insects in the garden, including butterflies, beetles, honeybees and wasps. Plant it with small companion fynbos plants, such as Serruria villosa, Elegia filacea, Thamnochortus cinereus and Syncarpha argyropsis. It is also well suited to fynbos gardens, and gardens on the sandy flats, and is a good water-wise plant after it has established in the garden.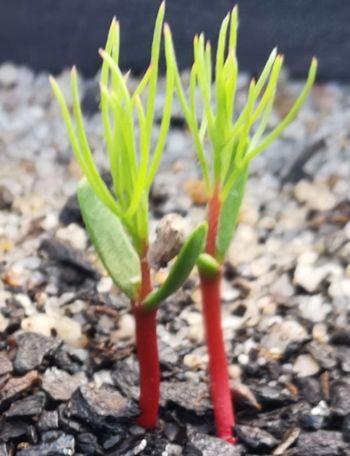 Growing Serruria candicans
Grow
Serruria candicans is propagated by both seed and cuttings. In cultivation, spiderhead bushes are short-lived plants and will have to be re-propagated after 5–7 years. Sow the seed when the temperature has begun to drop to cool during the nights, which is in late summer to autumn (February to April), in the Western Cape. Treat the seeds with systemic fungicides prior to sowing, to prevent pre-and post-emergence damping-off fungi. Use a well-aerated medium and free draining pot and cover the seeds lightly with the sowing medium. Treat the seed with smoke derived from burning dry and green fynbos or use the seed primer discs. Germination takes 3 to 4 weeks. Pot the seedlings in acidic soil, preferably between 5–7 pH levels. However, much of the propagation is done by cuttings, as a result of germination failure because of seeds being collected prematurely.
Collect the cuttings of semi-hardwood material in midsummer and autumn (December to March), and take the cuttings in the morning to reduce moisture loss. Dip your cuttings in fungicidal water for few seconds. Treat with a rooting hormone to stimulate rooting, dipping the cutting in the rooting hormone for at least 5 seconds. Place your cuttings in a well-drained and aerated medium, such as 70% perlite and 30% fine bark or coarse sand and finely milled pine bark. Insert the cuttings in the multitrays with a space between each cutting to allow free air circulation and place them on the heated benches at 25ºC, under the intermittent mist. Regularly treat the cuttings with a fungicide to prevent fungal infections. Remove the dead leaves and wilting cuttings, until your cuttings are rooted. Move the rooted cuttings to the hardening-off house for about 2 weeks and then transfer the cuttings into small nursery pots or bags, using a soil mixture that is a well-drained acidic medium containing coarse sand and finely milled pine bark.
Place the seedlings or rooted cuttings under the shade net in the nursery until they are ready to be planted into the garden, after a period of 1 or 2 years. The net shade reduces the direct sun, which can dry out the soil in the plastic bags and can also prevent scorching.
Mulch the bed to keep the roots cool keep moisture to the soil and reduce the growth of weeds. A layer of about 5 mm thick is advised. Chipping mulch is much recommended as it breaks down very slowly and releases small amounts of nutrients to the plants. Shiny spiderhead does not need pruning, but a bit of pinching of the tips when the plants are still small, gives it a good shape and encourages branching. Serruria candicans is not infected with serious insect pests, but has a short lifespan in the garden.
References
Duncan, G., Brown, N. & Nurrish, L. 2013. Grow proteas. Kirstenbosch Gardening Series. South African National Biodiversity Institute, Cape Town.
Manning, J. & Goldblatt, P. 2012. Plants of the Greater Cape Floristic Region 1: the Core Cape Flora. Strelitzia 29. South African National Biodiversity Institute, Pretoria.
Nurrish, L. & Bavuma, P. Serruria fasciflora Salisb. ex Knight. (Proteaceae). PlantZAfrica. Internet 7 pp. http://pza.sanbi.org/serruria-fasciflora
Rebelo, A.G., et al. 2006. Serruria candicans R.Br. National Assessment: Red List of South African Plants version 2017.1. Accessed on 2019/04/01
Rebelo, T. 2000. Proteas of Cape Peninsula. Protea Atlas Project. National Botanical Institute, Cape Town.
Rebelo, A.G. 2001. Proteas. A field guide to the proteas of southern Africa. Fernwood Press, Vlaeberg, Cape Town.
Vogts, M. 1982. South African's Proteaceae: know them and grow them. Struik, Cape Town.
Credits
Mashudu Nndanduleni
Kirstenbosch National Botanical Garden
April 2019
Plant Attributes:
Plant Type: Shrub
SA Distribution: Western Cape
Soil type: Sandy
Flowering season: Spring, Early Summer, Winter
PH: Acid
Flower colour: White, Pink
Aspect: Full Sun
Gardening skill: Average
Special Features:
Attracts butterflies
Feeds honeybees
Horticultural zones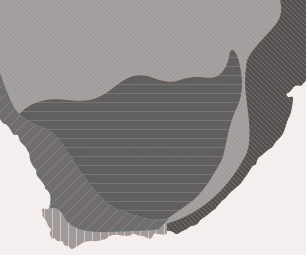 Zone 2 Coastal winter rainfall, frost free
Google QR Code Generator