Serruria elongata (P.J.Bergius) R.Br.
Family: Proteaceae
Common names: long-stalk spiderhead (Eng.); langsteelspinnekopbos (Afr.)
Introduction
Among the elegant fynbos plants belonging to the Proteaceae family is Serruria elongata, also known as the long-stalk spiderhead, with its silvery pink, perfumed flowers in winter and spring.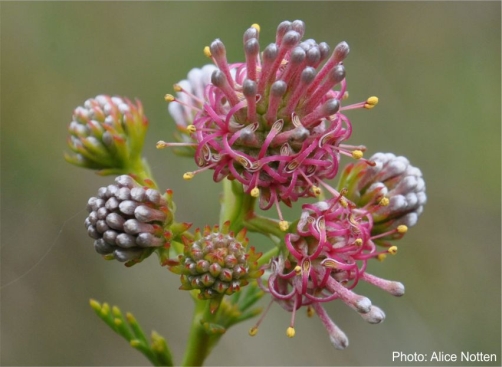 Description
Description
Serruria elongata is one of the perfumed protea family species, known to emit a sweet and delicious fragrance that intensifies at night. It is a single-stemmed shrub branching near the base, 0.5–1.5 m tall and about 0.8 m across. This species is characterized by clustered flower heads on an elongated peduncle, which grows from 50 up to 300 mm in length, giving it its common name. The leaves are dissected, 50–70 mm wide, hairless, and whorled around the base of the peduncle. The main stem grows up to 15 mm in diameter. The inflorescence of this species produces between 2 to 25 headlets of flowers per peduncle, with 15 to 25 flowers in each headlet. The growth of the headlets and the opening of the flowers are basipetal, which means that the flowers grow from the top down. There are no involucral bracts on this plant, although it has hairless floral bracts. The perianth is pink, and densely covered with short, adpressed, silver, silky hairs, looking like they have been frosted. Fruits are small, 6 to 8 mm long, hairy, and have fleshy pedicellate bases. Flowering time is from midwinter to early summer (July to November).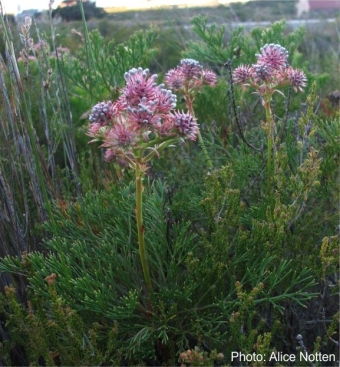 Conservation Status
Status
Approximately 30% of its population has been lost to agriculture, urbanization, afforestation, and alien plant invasions in the past 60 years. The Red List of South African plants classifies the species as Near Threatened (NT) due to these impacts. It is further threatened by naturalized alien invasive ants.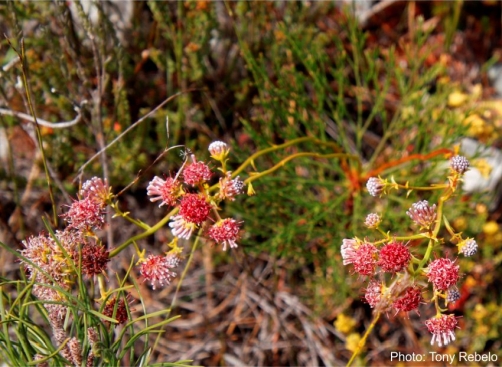 Distribution and habitat
Distribution description
The long-stalk spiderhead is a localised species of the Western Cape Province, South Africa. It is commonly found in the Du Toitskloof, Riviersonderend to Bredasdorp Mountains and on the Elim Flats. Ideally, the species prefers sandstone soils and stony, well-drained slopes with full sun exposure. A patch of fynbos may have hundreds of plants scattered around in it, and in some habitats it can be shaded due to the nature of their inflorescences. The plants growing in mountainous habitats usually have longer peduncles than those growing at the coast.
Derivation of name and historical aspects
History
Early in the 18th century, Dr James Serrurier was a botanist at Utrecht and the genus Serruria was named after him. The species name elongata and its common name, long-stalk spiderhead, are derived from its inflorescence stalk that is elongated and rises high above the leaves. The name spiderhead, from the Afrikaans spinnekopbossie, is given to all serrurias and comes from the way some species have fine hairs on the leaves that look as if a spider has spun its web among them.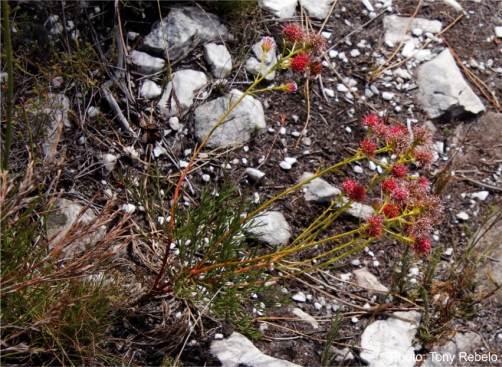 Ecology
Ecology
Not much is known about the pollination of this species, however, the sweet fragrance of the flowers suggests that it may be pollinated by moths. The plants have been observed interacting with other species, mainly the ants which play an important role in the dispersal of the seeds. Chemical stimulants in the fruits attract native ants (Anoplolepis steingroeveri), commonly known as Black Pugnacious Ants. These ants collect and store the fruits underground to protect them from fire and predators. The seeds remain dominant until the next veld fire stimulates germination initiating a new regeneration cycle. Alien ants have a significant impact here since they do not transport seeds to their underground nest, and therefore, the seed is not protected from predation by rodents or the frequent fynbos fires, as native ants do.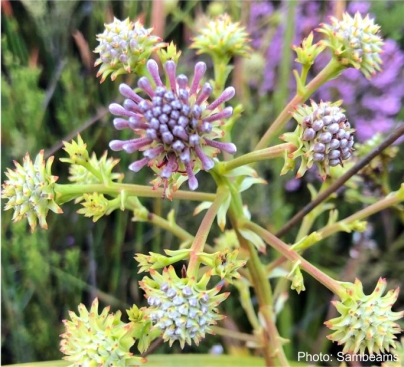 Uses
Use
Surprisingly, this lovely plant is not offered in the nursery trade as a result of the difficulty of collecting viable seeds. Additionally, the serrurias are generally short-lived in cultivation and rarely survive for more than a few years. It would be best suited to fynbos gardens.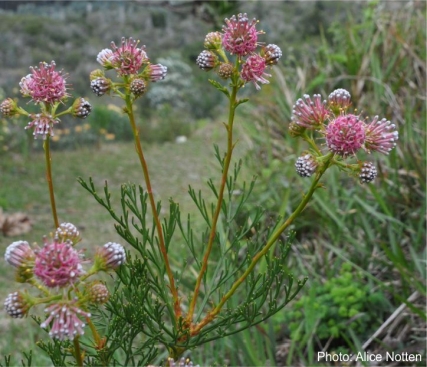 Growing Serruria elongata
Grow
Serruria elongata can make a very ornamental garden shrublet, although it is rarely cultivated. In cultivation, it usually only survives for a few years if successfully cultivated. Throughout the growing season, Serruria elongata requires sunlight and well-drained soils that provide balanced moisture supply. Plants growing in well-watered, elevated and montane habitats tend to have longer peduncles than those growing at the coast that experience more extreme temperatures and strong winds. In the same way as other proteas, serrurias are susceptible to phytophthora diseases, which affect the root system and can kill the plants at any stage of development. Plants are best cultivated where they will receive the least amount of root disturbance. Remove all infected plants from the garden and destroy them completely.
Propagation of Serruria elongata can be done either from the small, russet seeds or from cuttings. Between summer and autumn, take semi-hardwood cuttings from mature plants. Place the stem cuttings in a growing house or greenhouse at a warm temperature and apply rooting hormone to promote root growth. To prevent diseases like phytophthora root rot, treat with fungicide. Transplant the cuttings into a 1kg bag with a soil mixture of fine-milled bark and fynbos sand after three weeks. They should be grown on until they are ready to be planted in the garden.
Sow the seeds in autumn, to allow for higher daytime temperatures and cooler night time temperatures that will trigger germination. Sow seeds in a seed tray with fine-milled bark and fynbos sand in a well-drained medium. Transplant the seedlings into 1kg bags and treat them with a fungicide to prevent diseases. The young plant should be watered in the morning and fed with organic-based fertilizer.
References
Goldblatt, P. & Manning, J. 2000. Cape Plants. A conspectus of the Cape flora of South Africa. Strelitzia 9. National Botanical Institute, Pretoria & Missouri Botanical Garden, Missouri.
JSTOR Global plants online. Serruria elongata. https://plants.jstor.org/compilation/Serruria.elongata. Accessed on 2022/07/15.
Low, A.B. 2016. Hermanus bypass: Terrestrial ecology impact assessment.
Phillipskop Mountain Reserve, Holding heads up high. Serruria elongata. https://www.phillipskop.co.za/flora/serruria-elongata. Accessed on 2022/07/14.
Rebelo, A.G., Mtshali, H. & von Staden, L. 2006. Serruria elongata (P.J.Bergius) R.Br. National Assessment: Red List of South African Plants version 2020.1. Accessed on 2022/07/15.
Rebelo, A.G. 2001. Proteas. A field guide to the proteas of southern Africa, edn 2. Fernwood Press, Vlaeberg, Cape Town.
Rebelo, T. 2021. Observation of Serruria elongata, Grootberg Hiking Trail, Napier. iNaturalist. Online. https://www.inaturalist.org/observations/108576037 & https://www.inaturalist.org/observations/108573979.
Rebelo, T. 2022. Observation of Serruria elongata, Kogelberg Nature Reserve. iNaturalist. Online. https://www.inaturalist.org/observations/115120129.
Rourke, J. & Condy, G. 2009. Serruria elongata (Proteaceae). Flowering Plants of Africa Vol. 61: 56–60.
Rourke, J.P. 1994. Three new species of Serruria (Proteaceae) from the southwestern Cape. Bothalia 24(1): 1-7.
Sambeams. 2022. Observation of Serruria elongata, Fernkloof Nature Reserve. iNaturalist. Online. https://www.inaturalist.org/observations/122949174.
Credits
Nomndeni Nkosi
Kirstenbosch National Botanical Garden
August 2022
Acknowledgements: the author thanks Alice Notten for her guidance, and Tony Rebelo and Sambeams for allowing her to use their pictures in this article.
Plant Attributes:
Plant Type: Shrub
SA Distribution: Western Cape
Soil type: Sandy, Loam
Flowering season: Spring, Winter
PH: Acid
Flower colour: White, Pink
Aspect: Full Sun
Gardening skill: Average
Special Features:
Fragrant
Horticultural zones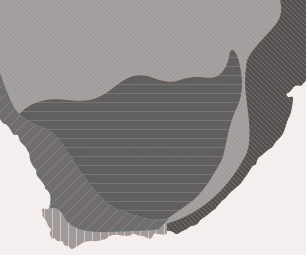 Zone 2 Coastal winter rainfall, frost free
Google QR Code Generator