Smicrostigma viride (Haw) N.E.Br.
Family: Aizoaceae
Common names: no common names known
Introduction
This neat attractive succulent shrublet will make a great addition to a water-wise garden.
Description
Description
Smicrostigma viride is a low-growing shrublet of up to 400 mm high, with smooth, succulent stems which become woody with age. The hooked triangular leaves (in cross section) are fused into pairs at the base, to sheath the stem below.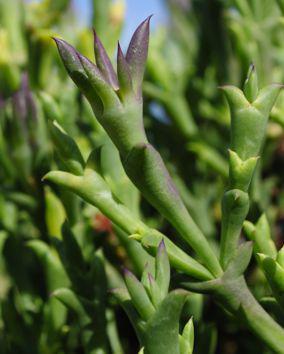 The purple flowers are 25 mm in diameter and appear singly on the stem tips from September to January. The woody fruit capsules store the small, pear-shaped, brown to black, rough-surfaced seeds in seven to ten chambers.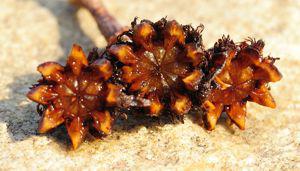 Conservation Status
Status
Smictostigma viride is listed as LC (Least Concern) as it is not used commercially or medicinally and has a stable population that is not threatened with extinction.
Distribution and habitat
Distribution description
Smicrostigma viride occurs from Worcester in the Western Cape  to Uniondale in the Eastern Cape Province. It is most commonly found in the Little Karoo in arid areas north of the Langeberg and Outeniqua Mountains. This species is found in renosterveld or karroid scrub, in areas where the rainfall averages more than 200 mm a year.
In winter these plants experience occasional mild frost, while the average daytime temperatures reaches the mid-twenties. Daytime temperatures in summer could be as high as 44°C. This plant will also be suited for gardens of the Eastern Cape.
Derivation of name and historical aspects
History
The genus name is derived from the Greek word smikros, meaning 'small' and stigma, 'a point', referring to the small stigmas. The species name viride is derived from Latin, viridis which means 'greenish' or 'tending to become green', referring to the leaf colour.
The genus Smicrostigma is monotypic, meaning it contains only one species.
Ecology
Ecology
Once the showy, bright purple flowers open, they do not close again, to attract as many pollinators as possible, such as the sand wasp, green beetles and thrips.
This is unusual for the mesemb family whose flowers usually close up at night. The fruit are highly specialised woody capsules that open when wet, and close when dry. This unique mechanism allows seeds to be released close to the mother plant only when conditions are favourable for germination and seedling survival. Smicrostigma is not known to be grazed by sheep or eaten by ostriches.
Uses
Use
This plant has great horticultural potential and should be introduced as a garden subject. It is drought tolerant, and the plant has a neat appearance with a distinct leaf shape. Other than its gardening potential, no other uses have been recorded.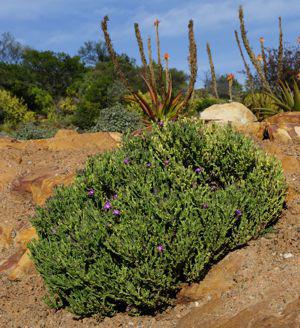 Growing Smicrostigma viride
Grow
Smicrostigma viride can easily be grown from cuttings or seed. Tip cuttings, about 8 cm in length, can be taken in autumn or spring with a sharp knife. Plant the cuttings in a well-aerated medium, such as coarse river sand. Place the container in a warm, but partially shaded area, and keep the soil moist. Check when roots appear at the drainage holes before transplanting in a sandy, loamy soil. Cuttings will need hardening off when transferred from a shady area to direct sunlight.
Harvest the seed when the capsules have dried out. Sow the seeds in spring in a well-drained soil consisting of a sandy loam soil (2 parts sand, 1 part loam and 1 part compost). To increase the germination rate, the seeds are given a 'warm water treatment'; place in boiling water and leave to cool. Soak for twelve hours before sowing. When sowing seed, care should be taken to sow the seed sparingly in the seed tray, and cover with a layer of sand. This will reduce seedlings competing for nutrients, water and light to control fungal diseases. Keep the seed tray moist (use a mist sprayer) and place in a warm, but partially shaded, position. The seeds will germinate within two weeks and should be treated with a fungicide to reduce damping off. When the seedlings reach a height of 10 cm, they should be potted up in a loamy soil and gradually hardened off.
Smicrostigma is ideal for well-drained rockeries and can be planted with companion plants such as the spring-flowering Muir's aloe (Aloe lineata var. muirii), Rhigozum obovatum, masses of Drosanthemum speciosum with bright red flowers, Pelargonium abrotanifolium and the striking partridge-breast aloe (Goniealoe variegata) with its mottled leaves and red flowers which prefer to grow in the shade of shrubs. This plant is also suitable for growing in containers.
Smicrostigma viride is susceptible to white scale attacks; use a horticultural base oil to smother these pests.
References
Jackson, W.P.U. 1990. Origins and meanings of names of South African plant genera. University of Cape Town.
Manning, J. & Goldblatt, P. 2012. Plants of the Greater Cape Floristic Region 1: the Core Cape Flora. Strelitzia 29. South African National Biodiversity Institute, Pretoria.
Smith, G., Chesselet, P., Van Jaarsveld, E.J., Hartmann, H., Hammer, S., Van Wyk, B., Burgoyne, P., Klak, C. & Kurzweil, H. 1998. Mesembs of the world. Briza Publications, Pretoria.
http://Redlist.sanbi.org
Van Jaarsveld, E., Van Wyk, B-E. & Smith, G. 2005. Succulents of South Africa: a guide to the regional diversity. Tafelberg Publishers, Cape Town.
Van Jaarsveld, E. 2000. Wonderful waterwise gardening: a regional guide to indigenous gardening in South Africa. Tafelberg Publishers, Cape Town.
Credits
Shireen Harris
Karoo Desert National Botanical Garden
October 2015
Plant Attributes:
Plant Type: Succulent
SA Distribution: Eastern Cape, Western Cape
Soil type: Sandy, Loam
Flowering season: Spring, Early Summer
PH: Alkaline
Flower colour: Purple
Aspect: Full Sun
Gardening skill: Easy
Special Features:
Drought resistant
Horticultural zones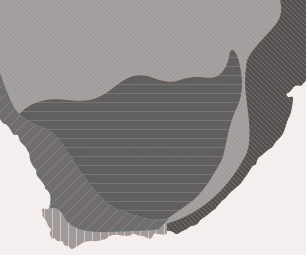 Zone 1 Coastal summer rainfall, frost free
Zone 3 Winter rainfall Karoo, light frost
Google QR Code Generator