Stachys aethiopica L.
Family: Lamiaceae
Common names: African stachys, wild sage (Eng.); katbossie, katpisbossie (Afr.);bokhatha, bolae-ba-litaola, likhobe-tsa-balisana (SSo.)
Introduction
Stachys aethiopica is a vigorous and versatile spring-flowering groundcover, suitable for sun to shade areas.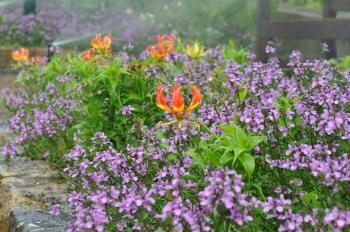 Description
Description
Strongly aromatic, herbaceous, perennial groundcover, sprawling up to 500 mm high and spreading indefinitely. Square-shaped stems, typical of Lamiaceae are sparsely glandular and hairy throughout. The glandular leaves are covered in fine hairs, petiolate, arranged opposite each other along the stem and ovate (egg-shaped), with a toothed margin.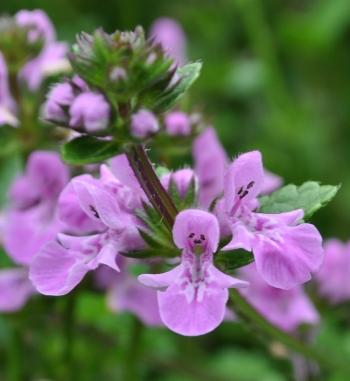 Whorls of 2–6 white, pink or mauve flowers are borne on a short, terminal inflorescence in spring and sporadically through summer. The flowers are 2-lipped with darker spots visible on both corollas; the top corolla is hooded and 4 protruding stamens are visible.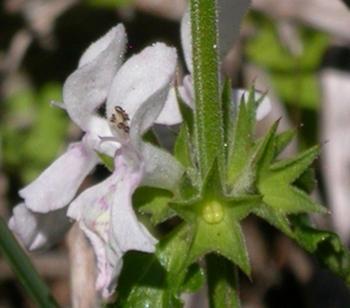 Nutlet seeds are produced and usually dark brown. Fast growing once established and long lived for an herbaceous perennial.
Conservation Status
Status
Distribution and habitat
Distribution description
Stachys aethiopica is found over a wide distribution range, mainly in temperate to subtropical climates. Its distribution range extends from the Western Cape through to the Eastern Cape, Free State, Mpumalanga and Limpopo, and up into tropical Africa. Habitats include scrubland, grassland, fynbos and coastal forest, at altitudes of 5–2 438 m.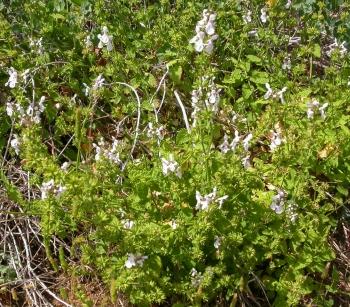 Derivation of name and historical aspects
History
The genus name Stachys is derived from the Greek stachys, meaning 'an ear of grain or corn' and refers to the inflorescence. The species name aethiopica, means of African or Ethiopian origin.
Stachys has approximately 450 species  and is very diverse.
Ecology
Ecology
A myriad of insects visit Stachys aethiopica, including honey bees.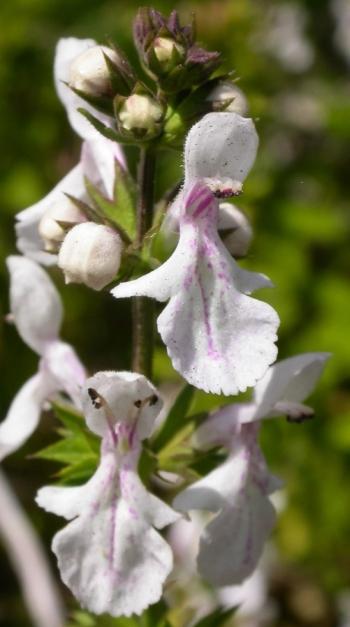 Uses
Use
Traditionally katbossie is used as a medicine to cure feverish delirium. It also makes a very attractive ornamental garden groundcover. It will tolerate light shade to full sun and grows as vigorously in either condition.
Growing Stachys aethiopica
Grow
This stachys is used as a perennial for summer displays. Its low, lush foliage can be used as a groundcover in moist, open beds and can create an attractive cascade of foliage in deep, well-watered containers. 
Young plants are planted out at the end of spring. Stachys aethiopica is easily combined with most flowering perennials and also give good contrast with Fynbos such as Restionaceae, Proteaceae and Ericaceae.
The fast-growing plants can get untidy and after each growth period in summer, plants can be pruned back to retain shape and encourage new growth. From time to time, it will be beneficial to replant propagated plants, to improve the display.
Young plants are easy to propagate from seed or cuttings.
Sow seeds late spring and early summer into a general potting soil mix. Seedlings germinate quickly and seedlings can be transplanted into well-drained, potting soil, once the first pair of true leaves appear.
Take tip cuttings in spring and summer. Cuttings must be without a terminal flowering bud. Place in rooting medium, 50% fine milled bark and 50% polystyrene (perlite, vermiculite, river sand and peat are alternatives). Place under mist or enclose in a plastic bag, to retain humidity. Keep warm, but out of direct sunlight and cuttings should root in 2–4 weeks.
If the planting is established, rooted runners of overgrown plant material can be cut back and replanted.
Because of the hairy and aromatic leaves, the plants do not have any major pest, although mealy bug can settle down near the base of the plant stems and leaves.
Stachys aethiopica tolerates a range of growth environments and soil types. It prefers a well-drained soil that is watered regularly. It will spread rapidly and flower in shade to full sun conditions. Flowering is consistent and improved with good garden cultural practices, like composting or mulching. It is water wise, but not fully drought tolerant. General garden fertilizing can be used to maintain plant health and growth vigor.
References
Bean, A. & Johns, A. 2005. Stellenbosch to Hermanus South African wild flower guide 5. Botanical Society of South Africa, Cape Town.
Burman, l. & Bean, A. 1985. Hottentots Hollands to Hermanus . Wild Flower Guide 5. Botanical Society of South Africa, Cape Town.
Jackson, W.P.U. 1990. Origins and meanings of names of South African plant genera. University of Cape Town.
Manning, J. 2001. Eastern Cape. South African Wild Flower Guide 11. Botanical Society of South Africa, Cape Town.
Manning, J. & Goldblatt, P. 2012. Plants of the Greater Cape Floristic Region 1: the Core Cape Flora. Strelitzia 29. South African National Biodiversity Institute, Pretoria.
Pooley, E. 1998. A field guide to wild flowers Kwazulu-Natal and the eastern region. Natal Flora Publications Trust, Durban.
Pooley, E. 2003. Mountain flowers, a field guide to the flora of the Drakensberg and Lesotho. Natal Flora Publications Trust, Durban.
Van Rooyen, G. & Steyn, H. 1999. Cederberg Clanwilliam & Biedouw Valley South African wildflower guide 10. Botanical Society of South Africa, Cape Town.
Credits
Monique McQuillan
Kirstenbosch National Botanical Garden
February 2018
Plant Attributes:
Plant Type: Ground Cover, Perennial
SA Distribution: Eastern Cape, Limpopo, Mpumalanga, Northern Cape, Western Cape
Soil type: Sandy, Clay, Loam
Flowering season: Spring, Early Summer, Late Summer, Autumn
PH: Acid, Neutral
Flower colour: White, Pink, Mauve/Lilac
Aspect: Full Sun, Shade, Morning Sun (Semi Shade), Afternoon Sun (Semi Shade)
Gardening skill: Easy
Special Features:
Attracts butterflies
Fragrant
Good potplant
Medical plant
Useful plant
Feeds honeybees
Pioneer plant
Horticultural zones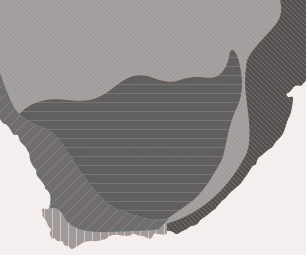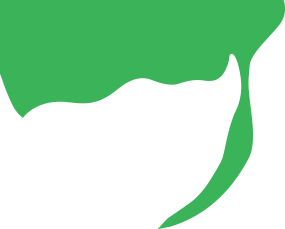 Zone 1 Coastal summer rainfall, frost free
Zone 2 Coastal winter rainfall, frost free
Zone 3 Winter rainfall Karoo, light frost
Zone 5 Bushveld summer rainfall, Light frost
Google QR Code Generator