Steirodiscus tagetes (L.) Schltr.
Family: Asteraceae
Common names: strandveld yellowweed (Eng.) geelkruid (Afr.)
Introduction
A small, wiry-stemmed annual with striking, yellow flowers in spring, endemic to the Greater Cape Floristic Region, and one of the most attractive annuals on the West Coast.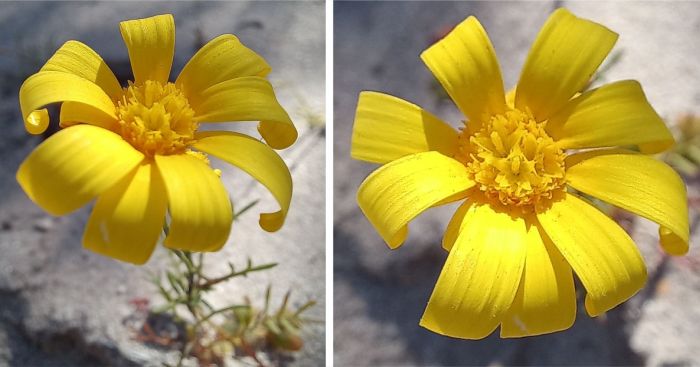 Description
Description
Steirodiscus tagetes is a small annual, characterized by its cup-like, fused involucral bracts, wiry stems, and alternate, finely dissected leaves with linear segments. Plants grow up to 200 mm tall. In spring (Sep. and Oct) they produce daisy-like flower heads with yellow ray- and disc-florets, each flower head solitary, at the tip of a branch. The flower heads are usually bright yellow but may also be tinged orange.
Steirodiscus tagetes is superficially very similar to S. speciosus and S. gamolepis and can be confused with them, however the flower heads are typically larger than those of S. gamolepis and S. speciosus. This species is distinguished by the characteristic compound trichomes on the ray florets. These are tiny, hair-like outgrowths, in a collar around the top of the floral tube and can be seen with a lens.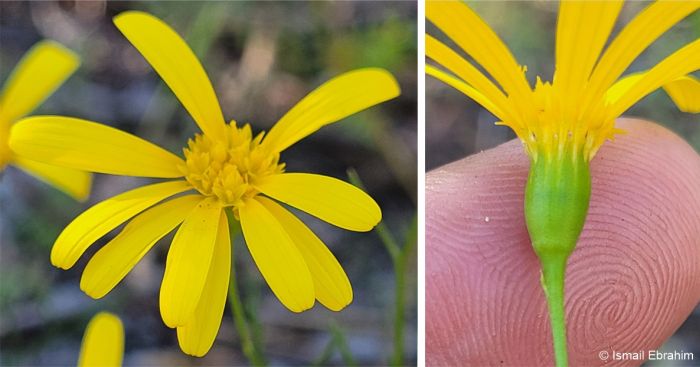 Conservation Status
Status
According to the Red List of South African plants, S. tagetes is assessed as Vulnerable (VU) with only 6 to 8 remaining locations that continue to decline due to ongoing habitat loss, degradation and competition from invasive alien species.
Habitat loss caused by urban expansion is the most severe threat to this species. Population size is said to be decreasing due to coastal development and alien invasive species; this has already caused the loss of more than half of known locations.
Distribution and habitat
Distribution description
Steirodiscus tagetes naturally occurs in the Greater Cape Floristic Region, between False Bay on the Cape Peninsula) and St Helena Bay on the West Coast where it grows on sand dunes near the coast, typically in strandveld vegetation. Major habitats include Cape Flats Dune Strandveld, Atlantis Sand Fynbos, Hangklip Sand Fynbos, and a large population has been spotted in the University of Western Cape Nature Reserve. The rapid expansion of coastal development is continuing to threaten this annual species; the population was formerly widespread but it has lost so much of its habitat on the Cape Flats that it is now locally extinct on the Cape Peninsula.
In its natural habitat it may be found growing with perennials such as Arctotis stoechadifolia, A. acaulis, Felicia elongata, Pelargonium fulgidum, Lampranthus aureus, L. amoenus, Jordaaniella dubia, Pelargonium triste, P. betulinum, P. capitatum and Dimorphotheca tragus, and shrubs such as: Salvia aurea, Felicia filifolia, Metalasia muricata, Agathosma imbricata, Pelargonium gibbosum, P. cucullatum, Senecio halimifolius and Pteronia uncinata.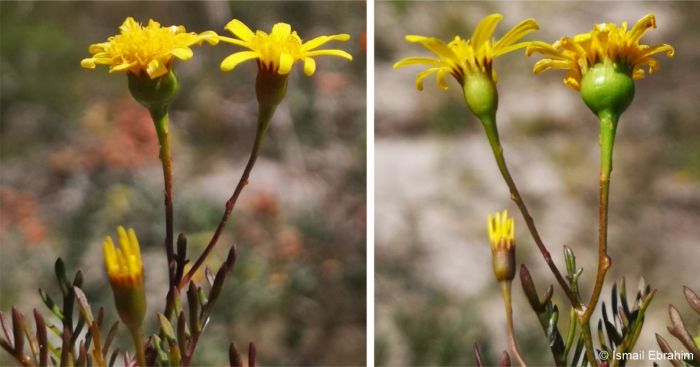 Derivation of name and historical aspects
History
The generic name Steirodiscus is derived from the Greek words steiros, meaning 'sterile' and diskos, meaning 'disc', and is in reference to the sterile disc florets, which fail to develop fruits, found in the first-named species, S. capillaceus. The specific epithet tagetes is named after Tages, who was an Etruscan deity that appeared from the earth during ploughing, perhaps like these opportunistic annuals that pop up in disturbed ground. Tages also taught the Etruscans about the art of divination.
Steirodiscus forms part of the cosmopolitan daisy family, Asteraceae. This is one of the largest and widespread plant families in the world. Many members of the Asteraceae are well-known for their uses as medicine, food and ornamentals. Within the Asteraceae, Steirodiscus falls in the tribe Senecioneae. This tribe consists of more than 3 500 species in the world that are confined to 150 genera. Southern Africa is home to 23 genera with 648 species.
Steirodiscus is a small genus consisting of five species of small, wiry annuals, restricted to the Cape Floristic Region. Lessing created this genus in 1832, for the species Cineraria capillacea, originally described by Linnaeus the younger. This period also saw the genus Gamolepis come into being to describe, amongst others, a wiry annual species as Gamolepis annua Less., which had been called Othonna tagetes by Linnaeus. In 1838 Candolle added Steirodiscus linearilobus to the genus. Schlechter moved Gamolepis tagetes to Steirodiscus in 1899. During this period a further two species, S. schlechteri and S. gamolepis were also described. In 1931, a sixth species S. speciosus was described under Gamolepis by Pillans and moved to Steirodiscus by Nordenstam in 1968. The five species recognised today are: S. capillaceus (Klein Roggeveld yellowweed), S. linearilobus (Klawer yellowweed), S. gamolepis (Tulbagh yellowweed), S. tagetes and S. speciosus (Atlantis yellowweed). Steirodiscus schlechteri and S. linearilobus were found to be the same species, by Manning, Goldblatt and Joubert in 2013, with S. linearilobus described first and thus the current valid name.
Ecology
Ecology
No observations of pollinators have been made, however the structure of the flowerhead shares resemblances with several other yellow-flowered daisies such as Senecio littoreus and Cineraria geifolia. In such species very small amounts of nectar and pollen are produced to be feasted upon by an array of insects, which may include various beetles, flies and bees (John Manning, pers. com).  
Steirodiscus tagetes is an annual species, which means that its life-cycle, from germination, growing, flowering, fruiting and seed-dispersal, only takes one year to complete. Germination, for this spring-flowering species, occurs in the autumn when sufficient moisture becomes readily available, in the form of rain. In several species of Asteraceae, and in other annuals, the role of temperature and the amount or lack of light-availability are also critical factors when it comes to successful germination.
Peak flowering is during September and seeds ripen towards the middle to end of October. This is also the period when the rain in its habitat becomes less frequent. None of the dispersing seeds will start germinating because temperatures will begin to rise and much needed moisture, is in short supply or completely absent. Too high temperatures and a lack of moisture will not induce germination. This species thus dodges the hot, dry summer months and survives the unfavourable conditions as ungerminated seeds in in the seed bank.
The central disc florets of Steirodiscus tagetes are incapable of developing fruit. Proper research will indicate whether this could be attributed to nutritional constraints or congenital sterility.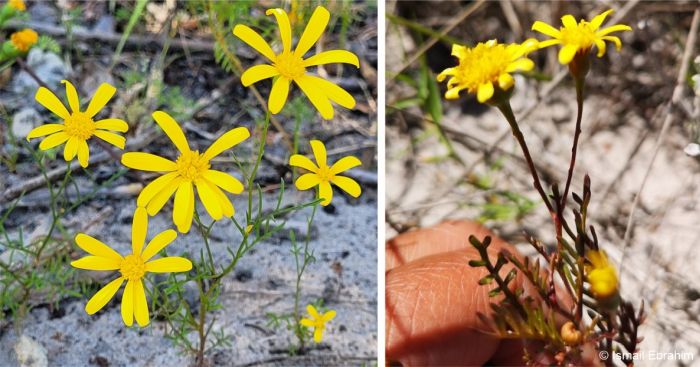 Uses
Use
In Van Wyk (2008) it is reported that geelkruid was utilized as a medicinal plant by the Khoi, San and the Cape Dutch people, according to historical research written up by Van der Stel in1685. These records implied that the leaves were used as rubefacient poultice.
This species also makes for an excellent garden ornamental.
Growing Steirodiscus tagetes
Grow
It is easy to grow the geelkruid from seed of plants that have been in cultivation for a long-time. There are no records available on the success of propagation using freshly harvested seed from the wild and therefore not stated with certainty if indeed any pre-germination treatment of seed would be required. Sow seed in autumn in seed trays or seed beds using a free-draining medium and place in a sunny area. Water the small seeds gently and cover with a thin layer of bark or sand. Prick out seedlings once large enough to handle. Care must taken when seedlings are transplanted to a small pot or bag or into the garden to ensure that they get watered regularly.
Use Steirodiscus tagetes in mixed or en masse plantings in large or smaller flower beds. It is also ideally suited to rockeries and pots, coastal and sandy gardens.
In gardens it will perform well with several annuals such as: Dimorphotheca pluvialis, D. sinuata, Heliophila coronopifolia, Carpanthea pomeridiana, Nemesia strumosa, Senecio elegans, S. arenarius, S. littoreus, Ursinia anthemoides, Cleretum bellidiforme, Arctotis hirsuta, Arctotheca calendula, Zaluzianskya villosa, Felicia dubia, F. heterophylla, F. tenella and Cotula duckittiae.
References
Koekemoer, M., Steyn, H.M. & Bester, S.P. 2015. Guide to Plant Families of southern Africa. Strelitzia 31. 2nd ed., 2nd print. South African National Biodiversity Institute, Pretoria, South Africa.
Le Roux, A. & Schelpe, T. 1997. Namaqualand. South African Wild Flower Guide 1. Botanical Society of South Africa, Cape Town.
Manning, J.C., Goldblatt, P. & Joubert, L. 2013. A taxonomic revision of the small Cape genus Steirodiscus (Asteraceae: Senecioneae). Bothalia 43 (1): 109–113
Oliver, R. 2015. Senecio littoreus Thunb. (Asteraceae). PlantZAfrica. Online. http://pza.sanbi.org/senecio-littoreus.
Oliver, R. 2020. Cineraria geifolia (L.) L. (Asteraceae). PlantZAfrica. Online. http://pza.sanbi.org/cineraria-geifolia
Raimondo, D., Helme, N.A. & von Staden, L. 2016. Steirodiscus tagetes (L.) Schltr. National Assessment: Red List of South African Plants version 2020.1. Accessed on 2021/09/30
Rebelo, A.G., Boucher, C., Helme, N., Mucina, L. & Rutherford, M. 2006. Fynbos Biome. Strelitzia 19. South African National Biodiversity Institute, Pretoria.
Stearn, W. 2002. Stearn's dictionary of plant names for gardeners. Timber Press. Portland, Oregon.
Van Wyk, B.-E. 2008. A review of Khoi-San and Cape Dutch medical ethnobotany. Journal of Ethnopharmacology 119: 331–341.
Credits
Nosipho Ndlovu & Roger Oliver
Kirstenbosch National Botanical Garden
October 2021
Acknowledgements: the authors thank Mr Ismail Ebrahim (CREW) for the use of his pictures and for support throughout.
Plant Attributes:
Plant Type: Bi/Annual
SA Distribution: Western Cape
Soil type: Sandy
Flowering season: Spring
PH:
Flower colour: Yellow
Aspect: Full Sun
Gardening skill: Easy
Special Features:
Good potplant
Feeds honeybees
Horticultural zones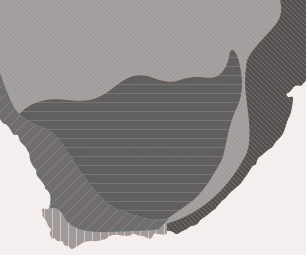 Zone 2 Coastal winter rainfall, frost free
Zone 3 Winter rainfall Karoo, light frost
Google QR Code Generator