Stomatium mustellinum (Salm-Dyck) Schwantes
Family: Aizoaceae
Common names: no English names recorded; kussingvygie (Afr.) (= Mesembryanthemum mustellinum Salm-Dyck, Stomatium pyrodorum (Diels) L.Bolus)
Introduction
In South African history from 1899-1902 British and Boer troops traversed the natural vegetation of the Free State in war. The vegetation they crossed over included karroid outcrops where little succulent plants, called Stomatium mustellinum, are still found today. These little plants are seldom noticed amongst rocks and stones - where they are well camouflaged - unless when flowering, then their vibrant, yellow flowers start to open in the late afternoon.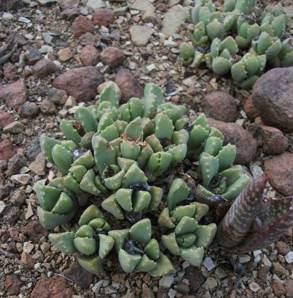 Description
Description
Stomatium mustellinum is a perennial, clump-forming succulent plant. It has 4-6 pairs of small leaves on short branchlets. The two leaves of a pair are often unequal, narrowly triangular and keeled or boat-like towards the apex (Herre 1971: 296). Where the lower surfaces approach the upper surface they sometimes form a chin-like point. The leaf margins and keel have broad "teeth" but this characteristic is variable and less prominent in some plants. The grey-green succulent leaves are rubbery, pliable and reptilian to the touch. The leaves are about 30-40 mm long and 10-20 mm broad.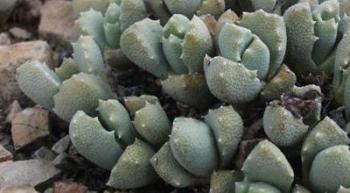 The flowers are solitary on short peduncles without bracts. They are about 30 mm in diameter with many very fine, yellow, narrow and linear, radiating petals surrounding a cluster of stamens in the centre. The calyxis cup-shaped or tubular. The fruit is a capsule with 5 or 6 seed chambers or locules with winged, expanding keels. Seeds are fine, light brown and about 1 mm in size. Stomatium mustellinum is summer-flowering.
Conservation Status
Status
The status and criteria done by assessor P.M Burgoyne indicates the species as "Least Concern", and the population trend as stable.
Distribution and habitat
Distribution description
Found in semi-karoo vegetation and endemic to South Africa. These are terrestrial plants found growing in karroid outcrops which are found in and around grasslands and koppies in parts of the Free State..(Strelitzia 19:383). Amongst perennial grasses, in and around rocky, gravelly, dolerite soil, in small shallow depressions Stomatium mustellinum clumps grow amongst other plants such as Ruschia spinosa, Euphorbia mauritanica, Crassula nudicaulis, Avonia (= Anacampseros ) ustulata and Searsia ciliata in sun or partial shade. It is also found in the Northern Cape Province.
In its natural environment Stomatium mustellinum experiences extreme weather conditions with low winter and high summer temperatures. They are hardy plants and survive well with little moisture in areas with fluctuating rainfall patterns.
Derivation of name and historical aspects
History
The name Stomatium is derived from the Greek stomation which means open mouth and refers to the leaves which have a mouth-like appearance.
Ecology
Ecology
Stomatium mustellinum, as a succulent plant, is well adapted to the dry, rocky karroid kopies where it grows. The short root system and fleshy leaves are an adaptation to survive water loss. These plants are often seen in clusters, growing in small colonies. Their flowers are scented and open in the late afternoon attracting insect pollinators.
Uses
Use
Stomatium mustellinum is easy to grow as it is an adaptable species. It has great horticultural potential as a rock/succulent garden specimen or as a container plant.
Growing Stomatium mustellinum
Grow
Stomatium mustellinum can be propagated by division of clumps or by sowing seed. When sowing, mix the fine seed with fine sand for more even distribution. Try sowing seed in small containers using a gravelly soil to ensure good drainage. Divisions of clumps should be planted in relatively small containers keeping in mind the size of the plants and roots. Do not plant small succulent plants in large containers as this can cause them to "drown". Keep divided plants dry at first and water after a week or two. Seed stores well.
References
Herre, H. 1971. The genera of the Mesembryanthemaceae . Tafelberg, Cape Town.
Mucina, L. & Rutherford, M.C. (eds) 2006. The vegetation of South Africa, Lesotho and Swaziland. Strelitzia 19. South African National Biodiversity Institute, Pretoria.
Smith, C.A. 1966. Common names of South African plants. Memoirs of the Botanical Survey of South Africa No. 35.
http://posa.sanbi.org.
http://Redlist.sanbi.org
Credits
Leanne Kessler
Free State National Botanical Garden
May 2013
Plant Attributes:
Plant Type: Succulent
SA Distribution: Eastern Cape, Free State, Northern Cape
Soil type: Sandy, Loam
Flowering season: Spring, Early Summer
PH: Acid, Neutral
Flower colour: Yellow
Aspect: Full Sun
Gardening skill: Average
Special Features:
Drought resistant
Feeds honeybees
Horticultural zones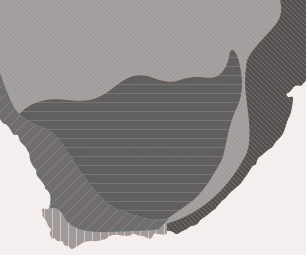 Zone 3 Winter rainfall Karoo, light frost
Zone 4 Summer rainfall Karoo and Highveld, Frost in winter
Google QR Code Generator