Streptocarpus aylae T.J.Edwards
Family: Gesneriaceae
Common names: Msikaba streptocarpus (Eng.); Msikaba tongviooltjie (Afr.)
Introduction
This exciting ornamental, with its strap-shaped leaves in a central rosette and lilac to mauve bell-shaped flowers, was recently discovered and named from cliffs along the Msikaba River in the northeastern Eastern Cape. It shows potential as an indoor perennial and for breeding and development of new cultivars.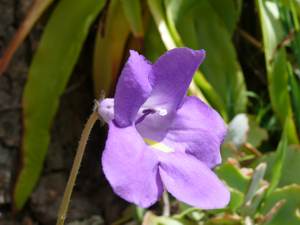 Description
Description
The plants are solitary perennials about 30-40 cm in diameter, have a central rosette from a rhizome, usually growing vertically or on ledges from which the leaves droop.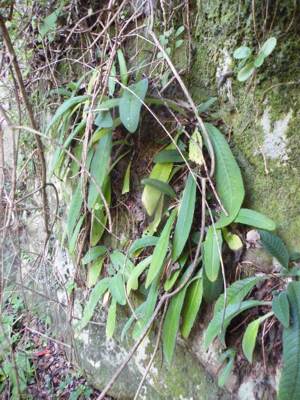 The green leaves are leathery and fleshy, oblong (base wedge-shaped), broadening towards the end (obovate) 8-30 cm long and 3-7 cm broad with prominent veins on the lower surface.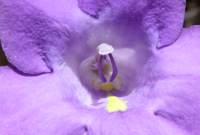 The inflorescence carries one to two flowers on a slender flower stalk (peduncle) 12-19 cm long. The flowers, which are supported by a 5-lobed calyx, are bell-shaped (campanulate), and five-lobed; the tube is 2 to 3 cm long and about 1,7 cm wide at the throat, lilac with a bright yellow oblong cross-shaped marking on the base of the tube; the lobes are rounded, lilac and about 2 cm across. The stamens arise from the base of the tube, the white filaments about 12 mm in length bearing dark purple anthers.
The elongated capsule is about 10-18 cm long, and the small seeds less than 1 mm in diameter.
Conservation Status
Status
Streptocarpus aylae is only known from two sites in the lower Msikaba River Gorge. However, although certainly very localized, the plants are locally common on the moist vertical cliffs which are part of the Msikaba Nature Reserve. Both sites are difficult to reach and large portions are inaccessible due to their position on vertical cliff faces above the river. Plants have also been well established in cultivation. The conservation status is Least Concern, due to the occurrence of the species within the borders of a reserve.
Distribution and habitat
Distribution description
Only two sites have been identified along the lower Msikaba River, not too far from the Indian Ocean. The first along a side stream of the Msikaba River (Edwards et al. 2008), and more recently a second, much larger population was discovered at Donkerpoort (main river system) by the author and his party on a rubber canoe expedition exploring the lower Msikaba River in April 2012. The lower Msikaba Gorge consists of rocky, mineral-poor quartzitic sandstone cliffs. The author observed the plants, sometimes in dense stands on the vertical rock face, sharing their habitat with other species such as Crassula multicava, C. orbicularis, C. streyi, Gasteria croucheri subp. pondoenis, Plectranthus ernstii, Rhipsalis baccifera and Streptocarpus modestus as well as the two ferns Pleopeltis macrocarpa and Oleandra distenta. The gorge is narrow and shady in parts. Streptocarpus aylae is one of several plant species confined to the sandstones of the northern parts of the Eastern Cape and southern KwaZulu-Natal, known as the Pondoland Centre of Endemism (Van Wyk & Smith 2001). The climate in the gorge is subtropical, with warm moist summers and moderate dry winters (frost absent). Rainfall occurs mainly in summer and ranges between 1000 and 1250 mm per annum.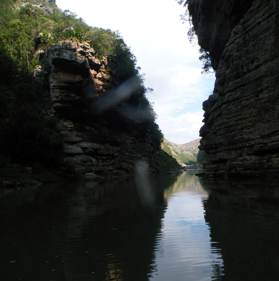 Derivation of name and historical aspects
History
Streptocarpus alyae was discovered and named by the botanist and Streptocarpus specialist, Trevor Edwards (presently in Australia). He named the species for his daughter Ayla who accompanied him on the expedition during which it was discovered (Edwards et al. 2008). The genus Streptocarpus is well centered within the moist eastern parts of South Africa and with its main centre of diversity in southern KwaZulu-Natal. The species shows horticultural potential, especially as pot and bedding plants.With its large bell-shaped flowers S. aylae is a welcome newcomer to the horticultural industry and it will certainly be used in developing new cultivars.
Ecology
Ecology
The short, broad, bell-shaped flower differs from most other Streptocarpus flowers which are tubular and pollinated by a long-tongued fly (Stenobasipteron weidemanni ) (Potgieter & Edwards 2005). The bell-shaped flowers certainly would demand a specialist pollinator, hitherto unknown. The small seeds (less than 1 mm diameter) are carried in elongated pods, released during summer time, and wind-dispersed. The plants grow in shallow soil (usually moss-covered) on sandstone bedrock (lithophyte). The leaves are well adapted to store moisture but during dry winters they die back.
Uses
Use
The plants have ornamental value and are grown at Kirstenbosch National Botanical Gardens from where they have been distributed. They grow easily, not unlike the other frequently grown Streptocarpus species.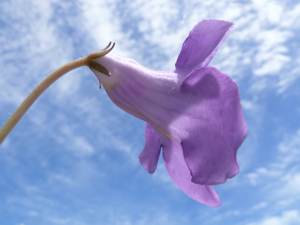 Growing Streptocarpus aylae
Grow
Streptocarpus aylae is easily grown and its propagation and cultivation is not unlike that of most other Streptocarpus species with a basal rosette. See the write-up by Cherise Viljoen under Streptocarpus baudertii of the current series. It grows best as a pot plant in a well-drained peat-rich soil mixture in a shady position. Keep moist during spring and summer but reduce watering during the cooler dry winter months. The plants can either be grown from leaf cuttings or seed. Cuttings root best during spring or summer. Seed is best sown during the same seasons. For information on growing plants from cuttings, refer to the write-up of S. modestus under the current series. The young plants grow fairly fast. For best results, re-pot annually. Plants react well to an organic fertiliser which can be added to the watering.
The plants are best grown in subtropical coastal gardens or as house plants in cold regions (Van Jaarsveld 2010), requiring shade.
References
Edwards, T., Huges, M., Moller, M. & Bellstedt, D. 2008. New Streptocarpus species (Gesneriaceae) from South Africa. Botanical Journal of the Linnean Society 158: 743-748.
Potgieter, C.J. & Edwards, T.J. 2005. The Stenobasipteron weidemanni (Diptera, Nemestrinidae) pollination guild in eastern southern Africa. Annals of the Missouri Botanical Garden 92: 254-267.
Van Jaarsveld, E.J. 2010. Waterwise gardening. Struik, Cape Town.
Van Wyk, A.E. & Smith, G.D. 2001. Regions of floristic endemism in southern Africa: a review with emphasis on succulents . Umdaus Press, Hatfield, Pretoria.
Credits
Ernst van Jaarsveld
Kirstenbosch National Botanical Garden
June 2013
Plant Attributes:
Plant Type: Perennial
SA Distribution: Eastern Cape
Soil type: Sandy
Flowering season: Early Summer
PH: Acid
Flower colour: Mauve/Lilac
Aspect: Shade
Gardening skill: Average
Special Features:
Good potplant
Horticultural zones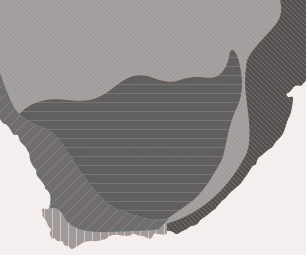 Zone 1 Coastal summer rainfall, frost free
Google QR Code Generator