Streptocarpus confusus Hilliard
Family: Gesneriaceae
Common names: Cape primrose (Eng.)
Introduction
A unique species of the genus Streptocarpus, exhibiting two special subspecies of unifoliate and monocarpic characteristics, boasting a large leaf with lovely lilac blooms, flecked with a hint of yellow in the throat of each flower.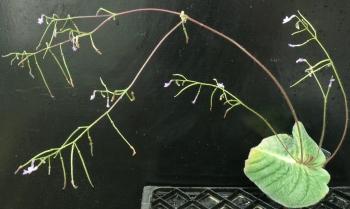 Description
Description
Streptocarpus confusus is a monocarpic (flowers once, then dies), unifoliate plant, that grows up to 300 mm wide and reaches a similar height. One large leaf growing from the ground, exhibits a dark green upper surface and a purplish red lower surface, softly hairy, sometimes glandular and the leaf margin is notched with rounded teeth. The inflorescence stalks are brownish green, softly hairy, up to 300 mm long and arise from the base of the midrib of the leaf, just above the root.
The flowers, typical of all species of Streptocarpus, have a 5-lobed calyx (in S. confusus lobes are linear) supporting a tubular corolla, which opens out to a 5-lobed mouth.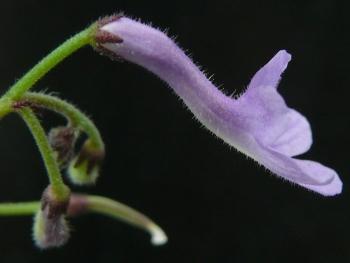 Flowers usually 20–30 mm long, pale violet to whitish, throat is white with yellow specks, hairy — some hairs glandular, elongates into greenish brown fruit. Bracts are linear, brown or green and are softly hairy. Subsp. confusus produces flowers that are less than 25 mm long and seeds 0.5–0.7 mm long, whereas subsp. lebomboensis is differentiated by significantly larger flowers of 35–55 mm long and a 2-lobed stigma.
Flowering time is in summer, between October and March.
Conservation Status
Status
According to the SANBI Red List of South African plants database, S. confusus subsp. confusus is listed as Least Concern (LC) and subsp. lebomboensis is listed as Data Deficient (DDD), because of insufficient information.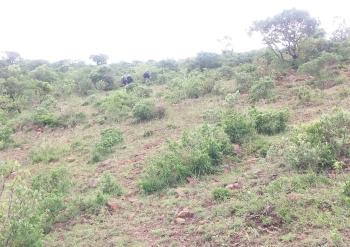 Distribution and habitat
Distribution description
Streptocarpus confusus is known to prefer drier climates, as compared to other Streptocarpus species. It is found in forests, on the walls of kloofs or rocky banks. Distribution is typically along eastern parts of KwaZulu-Natal (KZN), from the northern parts of Durban (Lilani to Nsuze River) up to Swaziland and to the eastern parts of former Transvaal. S. confusus subsp. confusus is found in, Limpopo and Mpumalanga. S. confusus subsp. lebomboensis is found in KZN, along the Lebombo Mountains, in Mozambique and Swaziland, exhibiting a preference for rock faces in partly shady areas.
Derivation of name and historical aspects
History
The genus name Streptocarpus originates from the Greek words streptos, meaning 'twisted' and carpus, meaning 'fruit', alluding to the general description of twisted seed capsules of these plants. Streptocarpus has approximately 51 species found in South Africa.
S. confusus shares a very close similarity with S. haygarthii, differing only in the shape of the corolla limb. In S. confusus the upper and lower lip are contiguous, forming a distinct sinus feature (corolla tube opening), whereas in the latter,  the upper lip and lower lip are distinctly divergent. These 2 species generally have longer seed capsules than other species of Streptocarpus and are both uniquely monocarpic and unifoliate. S. confusus hybridises naturally when growing with other species, albeit it is not a very common occurrence. It is important to note that in areas of high anthropogenic disturbances, 'swarms' of Streptocarpus hybrids are observed.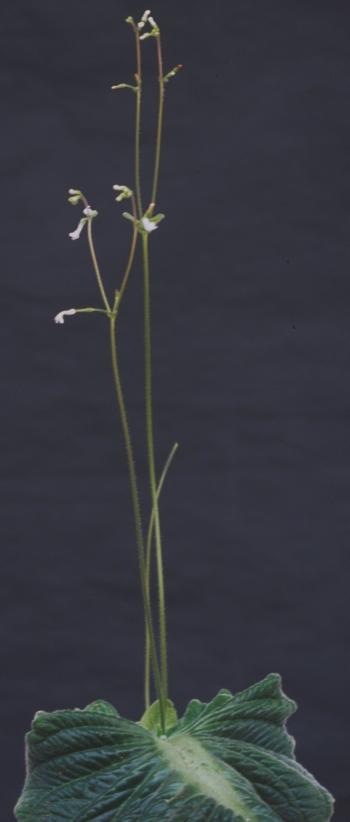 Ecology
Ecology
The pollinators and pollination methods of the S. confusus and its subspecies are not yet well understood (Prof. D. Bellstedt pers. com. 2018). Streptocarpus confusus is known to prefer a drier climate. In general observations of Streptocarpus species, it was found that a variety of species were found growing together in wet forest regions, whereas S. confusus occurred in isolation or with a few individuals of one other Streptocarpus species.
The primary peduncle of S. confusus usually arises from the hypocotyl (below cotyledons) in its typical habitat. Further north, in habitats wetter than KZN, it develops from the base of the midrib of the leaf, along the upper surface, indicating a certain adaptation to different climatic environments.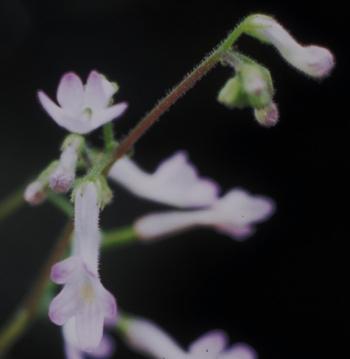 Uses
Use
Streptocarpus plants are used to treat birth pains, in traditional Zulu medicine. Nishii et al. (2015), indicated that the economic value of the global trade of Streptocarpus species was more than $30 million, attributed to the plants' ornamental and decorative value. There are also many global horticultural organisations and societies, such as 'The Gesneriad Society' and 'Dibleys Nurseries', that focus on various uses of the plants of this genus.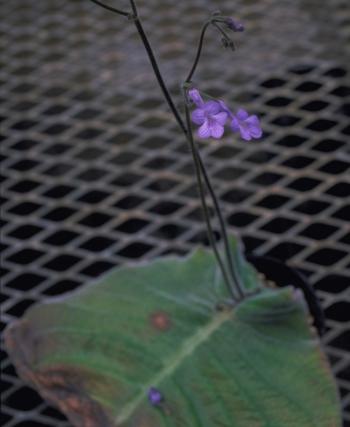 Growing Streptocarpus confusus
Grow
Streptocarpus confusus is found in shady areas of forests, usually along rocky banks and prefers a dry climate. Very little information is known about growing Streptocarpus confusus or its subspecies. These tips and points could, however, be applied when attempting cultivation or propagation. A very important point to note for this species, is that the soil should be well-drained and not constantly watered.
Monocarpic species such as the S. confusus generally takes 1.5–2 years to grow, thereafter flowering, producing seeds and dying off. If plants are grown indoors with natural 'window' light, they exhibit natural blooming patterns. If a tube light is used in the cultivation process, many flowers are produced across the spring and summer seasons, with only occasional blooming for the rest of the year. 
When growing Streptocarpus from seed; distribute seeds evenly across a moist soilless medium. Do not cover seeds with soil or other mixtures. Ensure this medium is only slightly 'damp' and not saturated with water. Cover the vessel and after 3–8 weeks you should observe sprouting.
Leaf cuttings are the most appropriate method for Streptocarpus propagation. Cut leaves into 5 cm sections and place into a pot/vessel containing a soilless mix. Leaves may be cut horizontally or vertically. Take note that when propagating during the spring and summer months, it takes just a couple of months to produce new plants, whereas during winter propagation, plants are produced after a longer period. Successful propagation is achieved by placing young plants not too deeply into the soil and in small-sized pots.
Hybridisation: If hybridised with rosette-shaped Streptocarpus species, half of the offspring will produce multiple leaves during early stages; of these seedlings a quarter are monocarpic.
References
Burtt, B.L. & Hilliard, O.M. 1971. Streptocarpus, an African plant study. University of Natal Press, Pietermaritzburg.
Martens, D. Streptocarpus subgenus Streptocarpus. The Gesneriad Reference Web: The Gesneriad Society. http://www.gesneriads.info/gesneriad-genera/streptocarpus/, accessed 8 February 2018.
Nishii, K., Hughes, M., Briggs, M., Haston, E., Christie, F., De Villiers, M.J., Hanekom, T, Roos, W.G., Bellstedt, D.U. & Moller, M. 2015. Streptocarpus redefined to include all Afro-Malagasy Gesneriaceae. Taxon 64 (6): 1243–1274.
Okuto, T. 2018. The Gesneriad Reference Web: The Gesneriad Society. http://www.gesneriads.info/genera/streptocarpus-confusus/, accessed 8 February 2018.
Pooley, E. 1998. A field guide to wild flowers Kwazulu-Natal and the eastern region. Natal Flora Publications Trust, Durban.
Viljoen, C. 2015. Streptocarpus primulifolius. (Gesneriaceae). PlantZAfrica. http://pza.sanbi.org/streptocarpus-primulifolius, accessed 8 February 2018.
Credits
Renira Boodhraj
Custodians for Rare and Endangered Wildflowers (CREW) - KZN
March 2018
Acknowledgments: The author thanks the Gesneriad Society and Toshijiro Okuto, and Mrs Cherise Viljoen, Senior Horticulturist at SANBI-Kirstenbosch, for allowing the use of their images.
Plant Attributes:
Plant Type: Epiphyte
SA Distribution: KwaZulu-Natal, Limpopo, Mpumalanga
Soil type: Loam
Flowering season: Spring, Early Summer
PH:
Flower colour: White, Yellow, Mauve/Lilac
Aspect: Shade
Gardening skill: Challenging
Special Features:
Good potplant
Indoor plant
Medical plant
Horticultural zones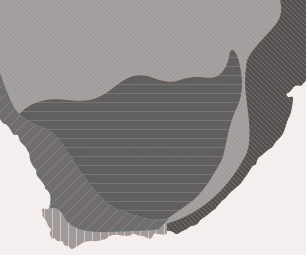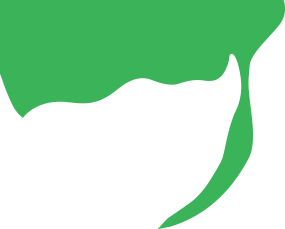 Zone 1 Coastal summer rainfall, frost free
Zone 4 Summer rainfall Karoo and Highveld, Frost in winter
Zone 5 Bushveld summer rainfall, Light frost
Google QR Code Generator