Streptocarpus dunnii Hook.f.
Family: Gesneriaceae
Common names: red nodding bells Cape primrose (Eng.); olifantsoor (Afr.)
Introduction
Streptocarpus dunnii is a star in its own right. Its bright orange-red trumpet-shaped flowers render it beautiful and exceptional, as most Streptocarpus species have shades of mauve, pink or blue flowers.
Description
Description
Streptocarpus dunnii is unusual in that it is stemless and unifoliate, i.e. it produces only one leaf in its life. This single leaf is oblong, hairy on both surfaces, has conspicuous wrinkled folds and is large, normally 500-600 × 200mm, growing continuously. The bright orange-red flowers are produced at the base of the leaf on stalks about 300mm long in a very dense inflorescence. Flowering time is from November until February. Very fine, small seeds are produced after flowering in long capsules that twist open when dry, thereby releasing the seeds in large quantities. This plant grows in medium to bright but indirect light.
Although this plant may live for several years before flowering, it is monocarpic and will die down after flowering and setting seed.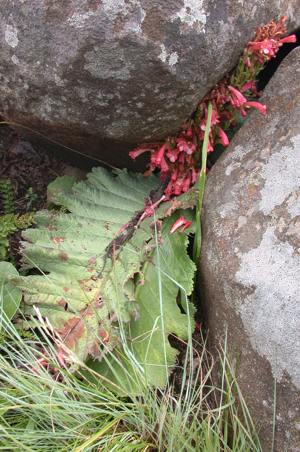 Conservation Status
Status
Streptocarpus dunnii is Red Listed as LC (Least Concern) and is therefore at low risk of extinction.
Distribution and habitat
Distribution description
This plant is found in damp grasslands of southern Mpumalanga and some parts of Swaziland. Although plants grow in open areas exposed to full sun, they are usually found growing in shaded places under rocks or wedged between boulders or crevices.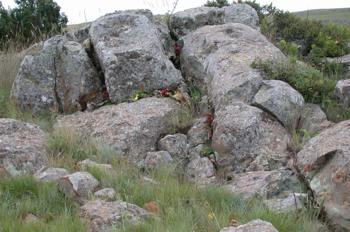 Derivation of name and historical aspects
History
The genus name Streptocarpus comes from the Greek word strepto (twisted) and karpos (fruit) alluding to the spiral form of the capsule. Streptocarpus dunnii is named after E.J. Dunn, who was a late-nineteenth century geologist.
Streptocarpus belongs to the family Gesneriaceae named after Swiss scholar Konrad Gesner in 1963, 30 years after his death. This is a large family of mostly tropical and subtropical herbs, with ±130 genera, and ±2900 species worldwide. Only one genus, Streptocarpus, with ±50 species, occurs in South Africa.
In 1826, the collector James Bowie took the first plants of Streptocarpus rexii to the Royal Botanic Gardens, Kew in England. As more species were introduced to cultivation, different Streptocarpus hybrids were produced. Since S. dunnii is the only Streptocarpus with orange-red flowers, it can be assumed that all the hybrids with deep pink, dark red and orange-coloured flowers have this species as one of their great, great, grandparents. Today new hybrids are still being introduced to the huge and growing pot-plant market.
Ecology
Ecology
Due to the colour of the flowers, it is suspected that this species is pollinated by birds which would make it unusual as most of the species are self-pollinating.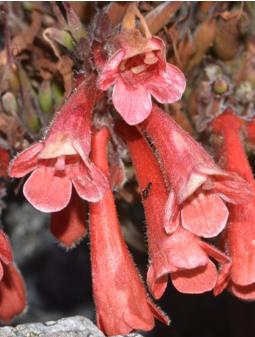 The very small seeds are wind-distributed. Prof Dirk Bellstedt, who took some of the images on this page, reports that they are pollinated by malachite sunbirds ( pers.comm.)
Members of the Gesneriaceae are often epiphytic (growing on trees) or lithophytic (growing on rocks).
Uses
Use
Most Streptocarpus species have great potential for use as indoor plants in South Africa and some as garden plants. Unfortunately, the endemic nature of S. dunnii implies that it has very specific growth requirements which are virtually impossible to replicate in the average home garden.
However, there is a wonderful variety of Streptocarpus hybrids in all shapes and sizes with striking flower colours and forms which make very popular, easy to grow indoor plants.
Growing Streptocarpus dunnii
Grow
These plants will grow best in a pot indoors with bright yet indirect light. Avoid watering too much as this will result in the plant rotting, and fungal problems. Rather allow the plant to dry out and then water only when absolutely necessary. This species is susceptible to fungus and will rot if water drops remain on the leaves after watering. Therefore, rather avoid wetting the leaves while watering, or place the pot in a shallow tray instead of watering from the top but do not allow the plant stand in water. During the warm summers, when they are actively growing, they might need quite regular watering. In winter they `rest' and during this slight dormancy they need very little water, so be sure to reduce the amount given and observe their changing requirements carefully in autumn.
All propagation is best done in spring which is the start of the growing season. Streptocarpus dunni can only be grown from seed, as leaf cuttings will not be successful because of the plant's monocarpic nature. When the twisted capsules have dried, the seeds will be ready for collecting. Store the seed in a warm dry place till spring. When sowing, mix a pinch of the dust-like seeds with a small amount of sand to assist with scattering them evenly. Use a well-drained medium that is not too coarse. Cover with a very thin covering of sand, keep out of direct sun but in a warm area. Germination usually takes 3-4 weeks. It is important not to allow the seedlings to dry out, so water regularly with a fine spray. Plant the seedlings into small pots once they are big and strong and then reduce the watering to only when the soil is dry.
Mealy bug and aphids are the most troublesome pests of Streptocarpus , so always have your organic insecticide handy in case of an outbreak. If caterpillars are causing damage, they can either be hand collected or also sprayed with a suitable insecticide.
Fungal infections are also a cause for concern. If fungus is found on any part of the plant, treat immediately with a suitable fungicide. Check the environmental conditions — the plant may be overwatered, underwatered, in too-deep shade, or there is poor air circulation, or possibly the plant requires fertiliser to give it the boost required to fend off infection.
References
Germishuizen, G. 1997. Wild Flowers of Northern South Africa. Fernwood Press, Cape Town.
Hay, R., McQuown G. & Beckett, K. 1974. The Dictionary of Indoor Plants in colour . Peerage Books, London.
Hilliard, O.M. & Burtt, B.L. 1971. Streptocarpus An African Plant Study. University of Natal Press, Pietermaritzburg.
Hyam, R. & Pankhurst, R. 1995. Plants and Their Names . Oxford University Press, Oxford.
Leistner, O.A. (ed.). 2000. Seeds plants of southern Africa: families and genera. Strelitzia 10. National Botanical Institute, Pretoria.
Onderstall, J. 1994. Transvaal Lowveld and Escarpment . Botanical Society of South Africa, Cape Town.
Smith, C.A. 1966. Common names of South African plants . Memoirs of the Botanical Survey of South Africa No. 35 .
Credits
Cherise Viljoen and Sisanda Velembo
Kirstenbosch National Botanical Garden
November 2013
Plant Attributes:
Plant Type: Perennial
SA Distribution: Mpumalanga
Soil type: Loam
Flowering season: Early Summer, Late Summer
PH: Neutral
Flower colour: Red, Orange
Aspect: Shade
Gardening skill: Challenging
Special Features:
Good potplant
Indoor plant
Horticultural zones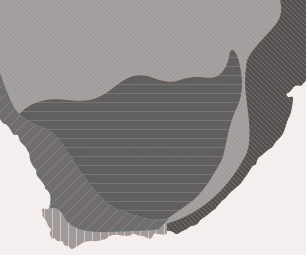 Zone 1 Coastal summer rainfall, frost free
Google QR Code Generator