Syncarpha vestita (L.) B.Nord.
Family: Asteraceae
Common names: strawberry everlasting (Eng.); rooisewejaartjie, sewejaartjie, strooiblommetjie (Afr.)
Introduction
This beautiful plant has prominent, showy, red and orange flower heads that in bud are reminiscent of a bowl of strawberries, borne above erect stems covered in large velvety leaves. It is attractive wherever it grows, be it in the garden or the wild.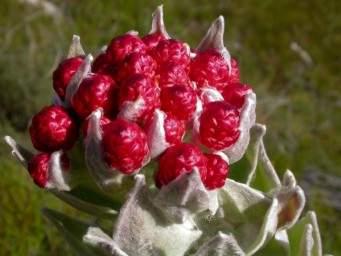 Description
Description
Syncarpha eximia is a perennial shrub up to 1.5 m tall. It is robust and single-stemmed with thick, felted, silvery leaves that overlap on the stem. The elliptic-shaped leaves are arranged in rosettes which start at the base of the plant and become progressively smaller up the stem.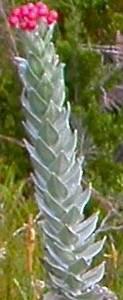 The flower heads are conspicuous and borne in groups at the tips of the stems. They lack ray florets and range from 20 to 25 mm in diameter, resembling ripe strawberries in both shape and colour. Bright orange florets with orange stamens are surrounded by rosy, papery bracts. Flowering time is in summer, usually between November and March.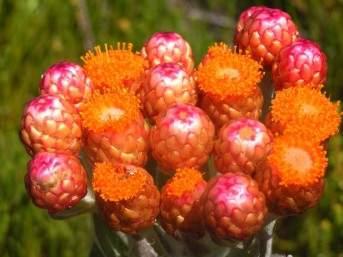 Conservation Status
Status
Distribution and habitat
Distribution description
Syncarpha eximi a grows on rocky, cool and moist south-facing sandstone slopes in fynbos vegetation. It is endemic to the Western and Eastern Cape provinces of South Africa, growing mainly in the Langeberg but also as far as the Tsitsikamma and Outeniqua Mountains.
Derivation of name and historical aspects
History
A specimen collected in South Africa was given to Carl Von Linnaeus by Carl Gustav Ekeberg in the 1700s. Linnaeus named it Gnaphalium eximium, the giant cudweed.
In Greek, syn means united and karphos, any small dry body, and it is thought that the name might refer to the dry bracts which are united into a cone-like structure.
According to the botanist, Bertil Nordenstam, the adjective eximius (-a, -um) means remarkable, strikingly unusual, distinguished, excellent, most beautiful etc., and indeed this is one of the most striking species in the genus. The large strawberry-like rounded capitula are really 'eximia'. He also suggests that Strawberry Hill, near Heidelberg (Cape), is named after the plant.
There are about 30 species, most of which were earlier known as Helipterum and some as Helichrysum. Most of the species are confined to the Western Cape.
Ecology
Ecology
Syncarpha eximia is known to have long-erect stems, a habit possibly associated with predation by rodents. It is thought that the species is pollinated by insects such as butterflies and beetles. In nature, the species acts as a fire ephemeral, with seed dormancy being broken by the smoke of a fire. Thereafter, copious numbers of seedlings appear. The Afrikaans name, sewejaartjie, refers to the fact that the plant usually disappears from the veld about seven years after a fire.
Uses
Use
Many Syncarpha species are used medicinally in Africa. Syncarpha eximia, as well as S. speciosissimum and S. variegatum are used in the Western Cape region as remedies for jaundice and biliousness, liver disease, croup and diphtheria.
Most Syncarpha species are decorative but S. eximia is one of the most attractive everlastings and has great horticultural potential. The bright red-orange flower heads are important in the dried wild flower industry.
Growing Syncarpha eximia
Grow
Although Syncarpha eximia is desirable for any garden, it is probably not suitable for very cold gardens even though it is tolerant of light frost. The best place for the strawberry everlasting is in a cool, moist part of the garden, where it can obtain sunlight and have good drainage. It usually shows up well in a rockery.
Wind (or at least air movement) is an important requirement for the strawberry everlasting. It should be watered sparsely but regularly, particularly in the dry winter months inland. Once established, it is drought resistant.
Syncarpha eximia is difficult to propagate from stem cuttings so the best way to grow it is from seed. Use mature seeds which are darker (black). Clean the seeds and pre-soak them in smoke water or with smoke discs for 24 hours, allowing them to swell up and be plump or fully formed. This stimulates germination. After being soaked, the seeds become transparent and slimy. Sow seeds in early autumn, in a sandy, generally well-drained soil medium that does not contain too much compost. A little added humus for moisture retention helps the plant through summer. Full sun and light will ensure successful germination. Although germination is slow, growth is rapid once they pop up. If grown in pots, the speed of growth is dependant on pot size.
References
Germishuizen, G. & Meyer, N.L. (eds) 2003. Plants of southern Africa: an annotated checklist. Strelitzia 14. National Botanical Institute, Pretoria.
Manning, J. 2007. Field guide to Fynbos. Struik Publishers, Cape Town.
Nordenstam, B. 2003. Further contributions to the genus Syncarpha (Compositae-Gnaphalieae). Compositae Newsletter 39: 52-57.
Pienaar, K. 1985. Grow South African plants . Struik, Cape Town..
Trinder-Smith, T.H. 2003. The Levyns Guide to the plant genera of the south western Cape. Bolus Herbarium, UCT, Red Roof Design CC, Cape Town
Website of the Linnean Society: http://www.linnean.org/index.php?id=297. Accessed 15 December 2007
Credits
Waafeka Vardien
Compton Herbarium
February 2008
Plant Attributes:
Plant Type: Shrub
SA Distribution: Eastern Cape, Western Cape
Soil type: Sandy
Flowering season: Early Summer, Late Summer
PH: Acid
Flower colour: Red, Orange
Aspect: Full Sun
Gardening skill: Challenging
Special Features:
Attracts butterflies
Medical plant
Horticultural zones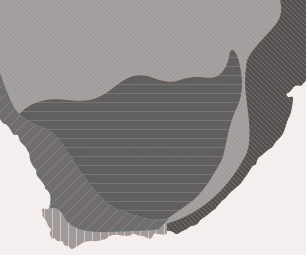 Zone 1 Coastal summer rainfall, frost free
Zone 2 Coastal winter rainfall, frost free
Google QR Code Generator