Syncolostemon macranthus (Gürke) M.Ashby
Family: Lamiaceae
Common names: long-flowered sagebush, long-flowered pink plume
Introduction
An attractive, shrubby perennial, with bright pink to mauve flowers, in summer.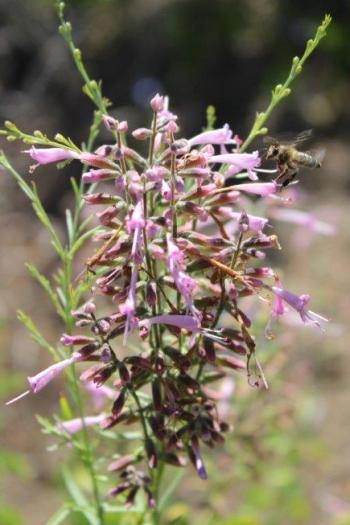 Description
Description
Like most species of Lamiaceae, Syncolostemon macranthus is an aromatic, straggling, soft shrub that grows up to 1.0–2.5 m high. The stems have stiff, short and prickly hairs. The leaves are oppositely arranged, ovate to lanceolate, 20–45 × 12–20 mm, with finely toothed margins; base obtuse to cuneate and apex acute to obtuse; petiole 2–8 mm long.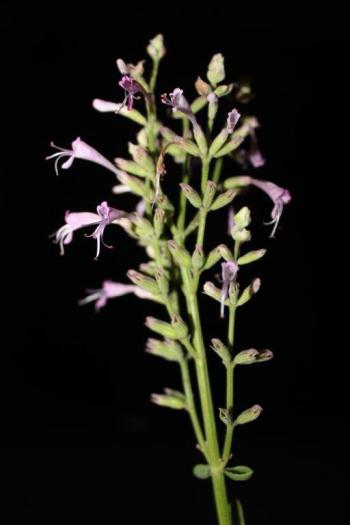 Inflorescence is simple or usually branched, 80–180 mm long, with clusters of long, tubular flowers, 4–18 mm apart; bracts 3–5 × 3–4 mm. Calyx is cylindrical, 9–10 mm long.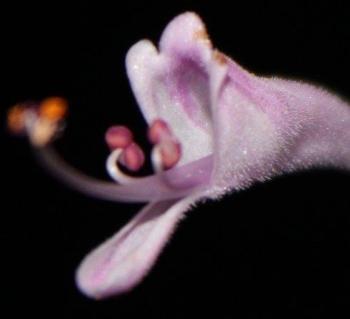 Flowers are pink to pale mauve or purple, 25–30 mm long, gradually widening at the mouth to 5–6 mm, lower lip longer, up to 3–5 mm, usually bent downwards at maturity, upper lip short. Stamens well exserted and often coiled; 2 upper filaments arising from ± half way up the corolla tube. Style well exserted.
Flowering time is in summer (from October to April) with a peak in late summer (March). Fruit is an oblong, semi-terete nutlet.
Conservation Status
Status
This species is a Drakensberg endemic and is regarded as rare because it has a narrow distribution range, but it is not considered to be threatened and therefore, Syncolostemon macranthus is red listed as Least Concern (LC).
Distribution and habitat
Distribution description
Syncolostemon macranthus has a restricted distribution, occurring in KwaZulu-Natal and the eastern Free State, in the Drakensberg Mountains between Cathedral Peak and Van Reenen's Pass. It inhabits mountain slopes, margins of stream banks, moist gullies, grassy scree slopes, fairly damp grass slopes and forest margins. It is near endemic of the floristic region known as the Drakensberg Alpine Centre. Grows well in summer rainfall areas, but can also adapt very well in cold, wet winter and hot, dry summer, but requires sufficient water. It cannot tolerate frost, but does slowly bounce back after frost.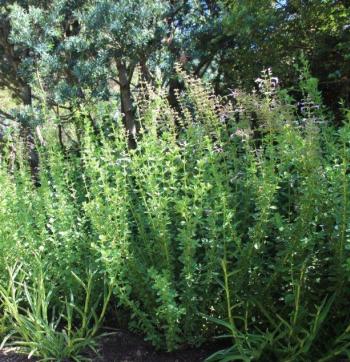 Derivation of name and historical aspects
History
In 1898, a German botanist Gürke, in the Berlin Botanical Museum, described Orthosiphon macranthus. The genus was later transferred to Syncolostemon by Ashby, in 1935. The name Syncolostemon refers to the structure of the stamens, syn- meaning 'united', kolos, 'stunted', and stemon 'pillar', referring to the lower pairs of the filament which are attached to the flower tube. The species name macranthus means 'long-flowered' from the Greek, makros meaning 'long', 'tall', 'high', 'deep' or 'far' and anthos 'flower' and refers to the long flowers. 
Syncolostemon macranthus and S. latidens were noted to have the uppermost calyx tooth broadly ovate as in Hemizygia, formerly recognised as a separate genus, making the two species intermediate between Syncolostemon and Hemizygia. The family Lamiaceae consists of more than 240 genera and 6 500 species. Syncolostemon and Hemizygia after being merged into the one genus, Syncolostemon, enlarged the taxon, which currently consists of 44 species with 39 species, only known to occur in southern Africa. S. macranthus is mostly closely related to and confused with S. latidens, S. densiflorus and S. rotundifolius.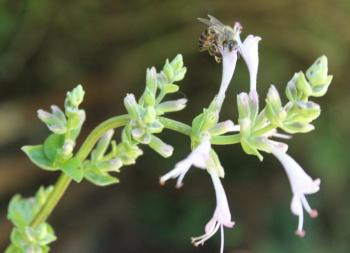 Ecology
Ecology
Syncolostemon macranthus has been observed to have been visited by bees and other small insects, more especially on hot days, and long-tongued flies have been spotted visiting the flowers in its natural habitat.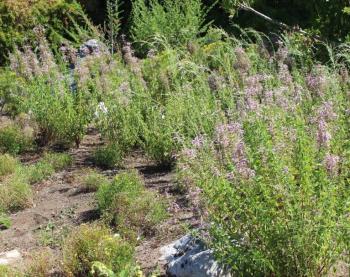 Uses
Use
There are no recorded traditional or medicinal uses, but Syncolostemon macranthus is widely used for its beautiful shape and lush flowers in the garden, mostly used on the margins of the garden and as back filler behind lower shrubs and ground covers, in full sun. Its foliage is pleasantly aromatic, and can be used in potpourri.
Growing Syncolostemon macranthus
Grow
Syncolostemon macranthus is a decorative plant that is easy to grow, and ideal for either planting in the garden or as a potted specimen. Plant them densely together for thick and compact foliage in garden beds. This species performs very well in well-drained, composted rich soil and requires occasional water in summer. Feed with an organic fertilizer to improve the plant quality, in early spring. Pinch out spent inflorescence to encourage new growth and buds. Prune the tips of the branches to control and encourage growth. Few pests attack these plants
Syncolostemon macranthus is effectively propagated vegetatively by means of cuttings from softwood or herbaceous cuttings (tip and stem cuttings), in summer. To perform a successful propagation, you need to have a sterilized pair of secateurs/cutting tool, sterilizing agent, plastic bag, root stimulant/hormone powder and healthy and disease-free, mother stock. Take cuttings at the coolest time of the day, preferably mornings, when the plant is vigorous. Collect cuttings and dip them in water to prevent shock. Prepare well-drained soil, such as river sand mixed with perlite, sifted back, vermiculite or pebbles. Sterilize soil to prevent any soil-borne diseases, then make a cutting of 80 mm cutting below the node, remove a third of the leaves from the bottom to reduce transpiration/loss of moisture. Apply a rooting hormone and set the cuttings in the medium. Keep the cuttings in a warm, humid area with good air movement and keep the soil moist, but not wet. Rooting takes place after 2–3 weeks and once well-established, transplant cuttings into containers and water regularly until they are mature. Harden off in a semi-shaded area where there is sufficient flow of air. Established plants can be transplanted into larger containers or into the garden.
Sow seeds in a controlled environment, using well-drained soil in a seed tray. Use coarse bark at the bottom of the seed tray for better drainage. Add well-drained soil on top, water the medium well before sowing, spread the seeds on the surface of the media, then slightly cover with river sand and place in warm humid area with less wind Germination should take place in 4 to 5 weeks.
References
Codd, L.E. 1976. The genus Syncolostemon (Lamiaceae). Bothalia 12,1: 21–27.
Codd, L.E. 1985. Flora of southern Africa. Volume 28. Part 4. Lamiaceae family. Botanical Research Institute, Department of Agriculture and Water Supply.
Retief, E. & Condy, G. 2009. Syncolostemon maranthus. Flowering Plants of Africa 61: 108–111.
Dictionary of botanical epithets: http://www.winternet.com/~chuckg/dictionary.html, accessed 1/2/17.
Plants of southern Africa: an online checklist. http:posa.sanbi.org, accessed 1/2/17.
Raimondo, D. et al. 2009. Red list of South African plants. Strelitzia 25. SANBI (South African National Biodiversity Institute), Pretoria.
Dyer, R.A. 1975. The genera of southern African flowering plants, Vol. 1: Cotyledons. Department of Agricultural Technical Services, Pretoria.
Credits
Mpendulo Gabayi    
Kirstenbosch National Botanical Garden
February 2017
Plant Attributes:
Plant Type: Perennial, Shrub
SA Distribution: Free State, KwaZulu-Natal
Soil type: Sandy, Loam
Flowering season: Early Summer
PH: Neutral
Flower colour: Pink, Mauve/Lilac
Aspect: Full Sun
Gardening skill: Easy
Special Features:
Fragrant
Good potplant
Feeds honeybees
Horticultural zones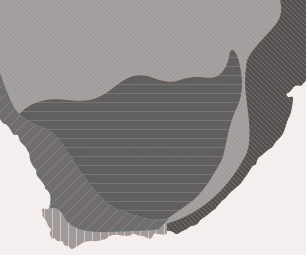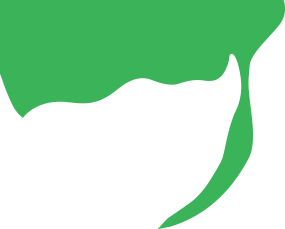 Zone 1 Coastal summer rainfall, frost free
Zone 2 Coastal winter rainfall, frost free
Zone 5 Bushveld summer rainfall, Light frost
Google QR Code Generator