Thamnochortus bachmannii Mast.
Family: Restionaceae
Common names: Namaqua thatching reed, steenbok reed (Eng.); steenboksriet (Afr.)
Introduction
Eye-catching bronze-brown flowerheads nod in the breeze as the sun sets over the distant mountains-they capture the rays and turn them into a fire dance. This spectacular restio will enrapture one. Compact and neat, Thamnochortus bachmannii will be an exciting addition to any garden.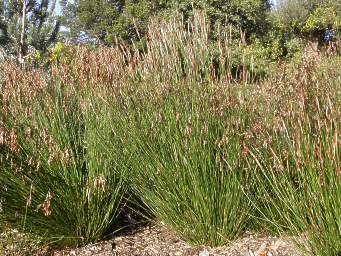 Description
Description
Thamnochortus bachmannii is an evergreen, dwarf perennial restio that grows up to 1 m tall with a width of about 0.5 m. The culms (leaves) form a tufted, compact plant having a pleasing structural shape. It commonly grows in a dense population, displaying its bronze-brown inflorescence to full advantage. Flowerheads are made up of spikelets. Male flowerheads are identified by their pendulous spikelets whereas, the female spikelets are upright. The male flowers develop earlier than the female flowers so that there is plenty ripe pollen available when the female flowers reach maturity. Small papery, golden seeds are produced in spring.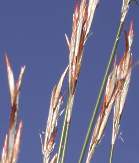 Conservation Status
Status
The Threatened Species Programme (Wendy Foden pers. comm.) recorded this species as a Least Concern as it is widespread and appears not to be threatened.
Distribution and habitat
Distribution description
The steenboksriet covers the floristic regions of the Northern and Western Cape to Namaqualand. Its distribution covers areas as far south as False Bay to its northern boundary, Hondeklip Bay, in Namaqualand. Inland it occurs in the Worcester Valley and at the foothills of the Cederberg. Growing conditions include well-drained Table Mountain sandstone flats or acid coastal sand. It is typically a sandveld species and is quite abundant, often common on sand flats in well-drained localities. The sandy flats are usually comprised of deep sand and the plants are never subjected to being waterlogged. Plants should grow well in a variety of garden situations, including coastal areas.
Derivation of name and historical aspects
History
The genus Thamnochortus is quite large and there are approximately 33 species growing mostly in the southern part of South Africa. It forms part of the restio family, which is widespread throughout the southern hemisphere and can be found in places as far apart as Australia, Madagascar, Indo-China and Chile. The genus name is from the Greek thamno - meaning bush, and chortus meaning green herbage.
This species bachmannii, is named after Dr F.E. Bachmann who collected several new species on the Sandveld along the West Coast, while he practised medicine in Darling and Hopefield from 1883-1887.
The family name, Restionaceae, refers to the Latin restis, which means cord or rope.
Ecology
Ecology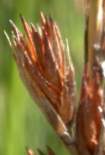 Small insignificant flowers are surrounded by large, bronze-brown bracts. Male and female flowers are on separate plants. The male plants are comprised of 6-10 pendulous tassels, whereas the females have 2-5 upright spikelets with the rigid bracts forming a cone shape. The plants are wind pollinated with the male inflorescences swaying in the wind releasing pollen, while the female flowers catch the pollen from the air in their bracts and funnel it towards the small, fringed styles. The plants produce a large amount of small winged seeds in October or November. Once ripe, the bracts open and the seeds readily fall out and are dispersed by wind.
Many seeds that are produced are not viable, a common characteristic of most species of Thamnochortus. The seed is stored in the upper layer of the soil and after stimulation from fire and smoke, germinate. These seedlings produce the new generation of plants as older plants are killed by the flames.
Uses
Use
Thamnochortus bachmannii is limited as a grazing substitute due to its high tannin content and plants are grazed only as a last resort by cattle and sheep. It is used locally with T. punctatus as thatching, said to make a superior roof, which will last up to 50 years. Many restios are now being sold by the commercial cutflower industry and this species, with its attractive flowerheads, although with relatively short stems, has potential. The area in which this species will excel, is in the garden. As it is a medium-sized plant with good compact structure it will be an interesting addition to small gardens as an accent plant or could be planted as a group in larger gardens, displaying its bronze flowerheads en masse. Large groups provide shelter for wildlife such as reptiles and ground birds. It has an ideal height as a filler planting between other fynbos species.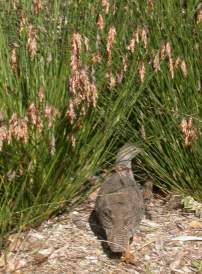 Growing Thamnochortus bachmannii
Grow
The ideal conditions for this species is full sun, well-drained and composted sandy soil with plenty of air movement. The plants adapt to a wide variety of soil types.
Plant young plants at the beginning of the rainy season, as they require regular watering during the first six weeks after planting. After this initial period the plants can survive with little additional watering, but grow better with a normal garden-watering regime. They may be fed with organic fertilizers and foliar feeds.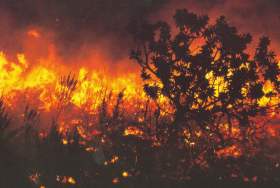 Plants are propagated from seed. Seed must be treated with smoke or 'Instant Smoke Plus' seed primer to germinate. Seed can be sown thickly in an even layer, covering the soil in the seed tray. Sown seed should then be lightly covered with sand, placed in a warm, well-lit area and lightly watered. The seed tray should be kept moist, but not wet. Germination should occur in approximately four weeks. Prick out seedlings when they have developed juvenile leaves and plant into larger containers using a well-drained sandy loam or fynbos mix.
Thamnochortus bachmannii is at its best when planted in groups where their rippling movement caused by wind make them particularly attractive. Suggested companion plants include ericas, Geranium incanum, Phylica ericoides, Helichrysum cymosum and Proteaceae. Its neat appearance suggests that it would make a good container plant, as long as it gets sufficient watering.
References
Brown, N., Jamieson, H. & Botha, P. 1998. Grow restios. Kirstenbosch Gardening Series. National Botanical Institute, Cape Town.
Haaksma, E.D. & Linder, H.P. 2000. Restios of the Fynbos . Botanical Society of South Africa, Cape Town.
Jackson, W.P.U. 1990. Origins and meanings of names of South African plant genera.. University of Cape Town Printing Department.
Leistner, O.A. (ed.). 2000. Seed plants of southern Africa : families and genera, Strelitzia 10. National Botanical Institute, Pretoria.
Linder, H.P. 1991. A review of the southern African Restionaceae. Contributions from the Bolus Herbarium No. 13.
Linder, H. P. 2006. African Restionaceae 4. CD, Bolus Herbarium, Department of Botany, University of Cape Town , Rondebosch.
Credits
Monique Twine and Lusindiso Xulubana
Kirstenbosch National Botanical Garden
May 2006
Plant Attributes:
Plant Type: Restio
SA Distribution: Northern Cape, Western Cape
Soil type: Sandy
Flowering season: Spring
PH: Acid, Neutral
Flower colour: Brown
Aspect: Full Sun
Gardening skill: Easy
Special Features:
Drought resistant
Horticultural zones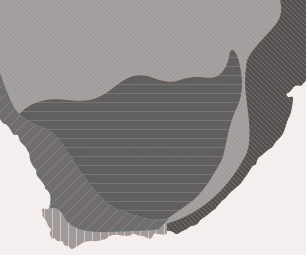 Zone 2 Coastal winter rainfall, frost free
Zone 3 Winter rainfall Karoo, light frost
Google QR Code Generator