Thesium viridifolium Levyns
Family: Santalaceae
Common names: green root-thug
Introduction
A much-branched, densely leafy shrub bearing attractive, small, white flowers that are crowded in dense rounded heads at the tips of the branches.
Description
Description
Thesium viridifolium is an erect, much-branched, densely leafy, hemiparasitic shrub, which grows up to 500 mm tall. The leaves are linear, acute and up to 20 mm long, bright green when young and turning black when old. They are spreading, slightly convex above, bluntly keeled below with scaly margins.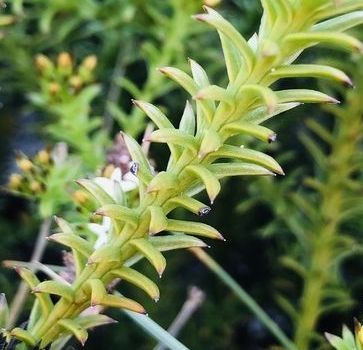 Small, white, star-shaped flowers are crowded in dense rounded terminal heads in winter to early summer (July to December). The leaf-like bracts have fairly wide translucent margins and are as long as the flowers. The perianth tube is long, narrow with lobes about half as long as the tube, spreading at the tips, obtuse or somewhat acute and densely bearded at the apex. Stamens are inserted near the top of the tube and the anthers have attaching hairs and short filaments. The style is long, a little shorter than the perianth tube. The fruits are globose, seated on a pale swollen base, the ribs not conspicuous.
Conservation Status
Status
There appear to be no threats to the survival of Thesium viridifolium in the wild at present and it is assessed as Least Concern (LC). Seeds of Thesium viridifolium were collected at Glencairn in 2019, and half of the collection will be shipped to the Millennium Seed Bank Partnership (MSBP) in the United Kingdom for long-term storage, and the other half will be kept in the country and used for restoration purposes.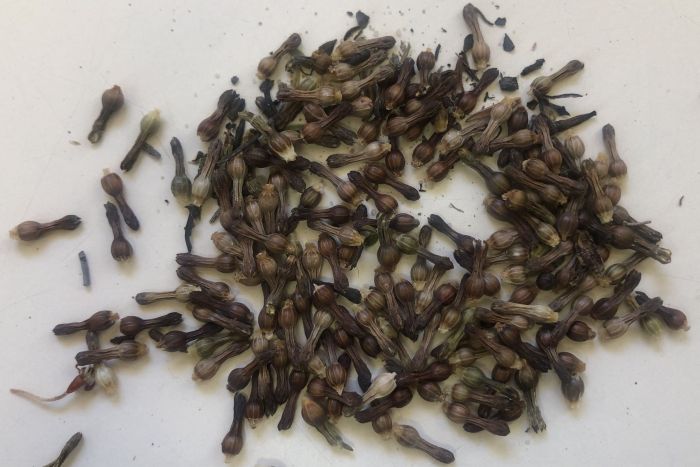 Distribution and habitat
Distribution description
Thesium viridifolium is distributed on rocky slopes and sandy flats from the Cape Peninsula to Caledon, in the Western Cape.
Derivation of name and historical aspects
History
There are about 300 species of Thesium in Africa, Asia, Europe and South America, with 178 species occurring in southern Africa. Thesium is a large genus of Old World root-parasitic herbs of the family Santalaceae, with small, linear or scale-like leaves and nut-like fruits Thesium is the largest member of the Santalaceae, also known as the sandalwood family.
The genus name Thesium is derived from the Greek thes, meaning 'a hired labourer', referring to the simple appearance of these plants. The species name viridifolium is derived from the Latin viridis and folius meaning 'green leaves', referring to the bright green leaves of this species.
Thesium viridifolium is often confused with T. capitatum, but these two can be easily distinguished because T. viridifolium has a longer and narrower perianth tube than T. capitatum. Thesium viridifolium has shorter perianth lobes and the stamens arise higher up in the tube and the style is longer. Another distinguishing feature is that the perianth segments in T. capitatum are acuminately pointed, whereas in T. viridifolium the apex is shorter and not as sharply pointed. According to Levyns (1940), on the Cape Peninsula, T. viridifolium is restricted to the southern half of the Cape Peninsula and T. capitatum ranges from the summit of Table Mountain to the Cape Of Good Hope Nature Reserve.
Ecology
Ecology
Thesium viridifolium flowers from July to December and reaches its peak around August. This plant has a sweet scent, which attracts bees, flies and small crawling insects, such as ants and bugs. Some of these insects feed on the seeds, leaving holes in the seedpods. This plant plays a vital role in preventing soil erosion because of its adaptation to survive on sandy mountainous slopes and its ability to spread.
Thesiums are hemiparasites because, although they contain chlorophyll, they are parasitic on the roots of other plants and take some nourishment from their host plants.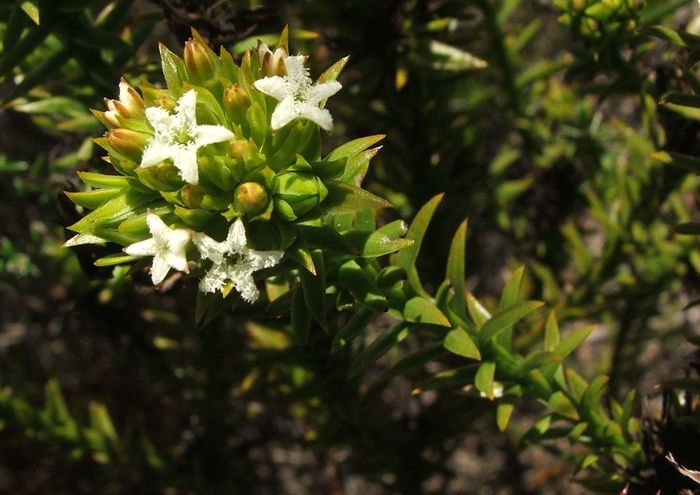 Uses
Use
Thesium viridifolium has a great horticultural potential in the landscape industry, because of its beautiful white flowers that are crowded in dense rounded terminal heads, making the plant more attractive. It is ideal for fynbos gardens or water-wise, winter rainfall gardens and is suitable for containers.
Although there are no references for Thesium viridifolium having any medicinal uses, the stems of related plants, T. carinatum (jakkalstee), T. macrostachyum (lidjiestee), T. spicatum (lidjiestee) and T. strictum (teringtee) are used to make medicinal teas in the Cederberg.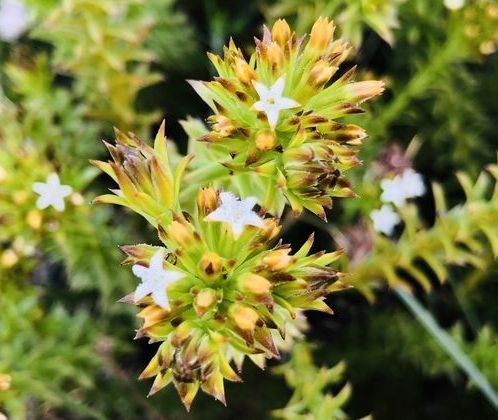 Growing Thesium viridifolium
Grow
Grow Thesium viridifolium in full sun exposure and in well-drained acidic soils. Feed with compost applied as a mulch, use a slow-release fertilizer, or apply very low doses. It may be propagated from seeds or cuttings taken from new growth of the plant, and treated with a rooting hormone suitable for softwood cuttings. Sow seed in late summer to autumn, treat the seeds with smoke to increase the number of seedlings and a fungicide treatment will also increase the number of surviving seedlings. Pot up into a sandy, acidic soil medium suitable for fynbos plants.
References
Jackson, W.P.U. 1990. Origins and meanings of names of South African plant genera. University of Cape Town.
Maytham Kidd, M. 1983. Cape Peninsula. South African Wild Flower Guide 3. Botanical Society of SA, Cape Town.
Levyns, M.R. 1940. The two new species of Thesium and some notes of the other species. Journal of South African Botany 6: 73–78.
Mashego, K.S. & le Roux. M.M. 2018 A taxonomic evaluation of the Thesium confine species complex (Santalaceae). Bothalia - African Biodiversity & Conservation, 48(1).
Trinder-Smith, T.H. 2006. Wild flowers of the Table Mountain National Park. Botanical Society, Cape Town.
Van Wyk, B.-E. & Gorelik, B. 2017. The history and ethnobotany of Cape herbal teas. South African Journal of Botany 110: 18–38.
World Flora Online: Thesium viridifolium Levyns. Published on the Internet; http://www.worldfloraonline.org/taxon/wfo-0001134472 Accessed on 5 November 2019
Credits
Naomi Mdayi
Millennium Seed Bank Partnership
November 2019
Acknowledgements: many thanks to Gigi Laidler for granting permission to make use of her image of Thesium viridifolium for this article.
Plant Attributes:
Plant Type: Parasitic, Shrub
SA Distribution: Western Cape
Soil type: Sandy
Flowering season: Spring, Early Summer, Winter
PH: Acid
Flower colour: White
Aspect: Full Sun
Gardening skill: Challenging
Special Features:
Drought resistant
Fragrant
Feeds honeybees
Horticultural zones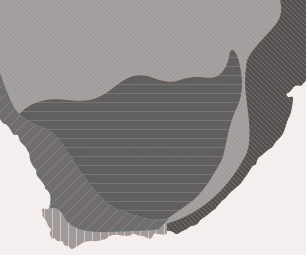 Zone 2 Coastal winter rainfall, frost free
Zone 3 Winter rainfall Karoo, light frost
Google QR Code Generator