Trichocephalus stipularis
Trichocephalus stipularis (L.) Brongn (= Phylica stipularis L.)
Family: Rhamnaceae
Common names: dogface (Eng.); hondegesiggie (Afr.)
Introduction
A hardy, rounded shrublet, with evergreen dark foliage, starry pink flowers in white-woolly, rounded flowerheads in autumn and winter followed by reddish, furry fruits.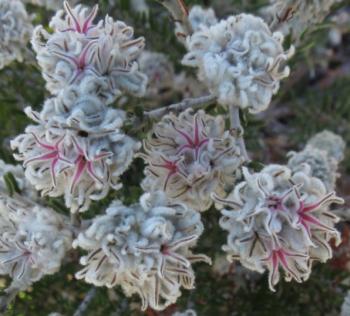 Description
Description
Trichocephalus stipularis is a bushy, much-branched shrub that grows up to 900 mm high, with tough branches that are covered with white fur. The leaves are small, 7–15 mm long, short-stalked, spreading, smooth above and leathery. The base is heart-shaped and the margins are rolled under (revolute), which covers the lower surface of the leaf. The stipules are 2–3 mm long, dry, brown, linear-lanceolate and awl-shaped. The petiole is small and tomentose (densely covered with short, woolly hairs).
The flowers are five-horned, pink, in solitary, rounded capitula, honey-scented and densely white-hairy on the outside. Flowering is from autumn to spring (May–Sep.), and is followed by reddish seed capsules, about the size of a hazel nut, that have markings that suggest the shape and features of a dog's face (hondegesiggie in Afrikaans).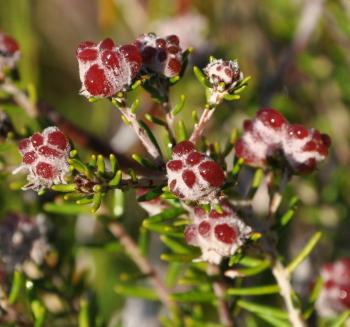 Conservation Status
Status
This species is not threatened and thus has a conservation status of Least Concern (LC).
Distribution and habitat
Distribution description
Trichocephalus stipularis occurs on sandy flats and lower slopes, in the southwestern and southern parts of the Western Cape of South Africa, from the Cedarberg Mountains to Knysna. It is  a component of fynbos.
Derivation of name and historical aspects
History
Trichocephalus means 'woolly head' and derives from the Greek, trichos, meaning 'hair' or 'wool' and cephalus, meaning 'head' and refers to the woolly flowerheads. The specific epithet stipularis, means 'is furnished with stipules' or 'well-developed stipules'.The common names dogface and hondegesiggie describe the resemblance of the fruits to a face of a dog.
The genus Trichocephalus belongs to the family Rhamnaceae, and was described by A.T. Brongniart in 1826. There is only one species currently recognised.
The genus Trichocephalus, was until recently, part of the genus Phylica. It was initially treated as a separate genus, then sunk into Phylica as a result of the 1942 revision by Pillans, and is currently regarded as having sufficient differences to justify it being placed in a separate genus. Its main differences from Phylica, aside from the genetic differences, are having stipules and pubescence on the ovary and nectar-secreting disc. Phylica is a large genus of about 180 species, and most of them are restricted to South Africa, and these species are also components of fynbos.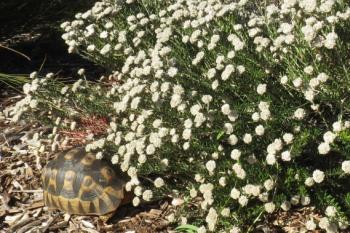 Ecology
Ecology
Trichocephalus stipularis has small, hardy, leathery leaves and rolled margins, which enables it to survive in dry and windy environments, and makes it drought tolerant.
The flowers attract bees, butterflies and beetles. Tortoise feed on the leaves.
This species has a persistent rootstock, and although it is burned and appears dead after a fire, it survives and resprouts from the rootstock.
Uses
Use
No cultural uses have been reported, but this hardy shrub with its pretty pink and white-woolly flowers makes a good cutflower or 'green', and is extensively used in the specimen displays at Kirstenbosch National Botanical Garden, where it performs well for long periods.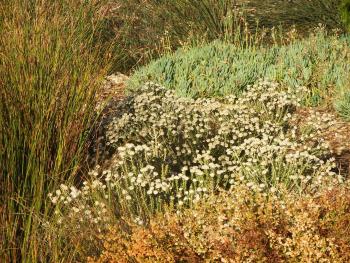 Growing Trichocephalus stipularis
Grow
Trichocephalus stipularis is best propagated from seed in autumn or spring, which is the easiest method to use. Soak the hard seeds in hot water of about 80ºC, until the water cools, and then sow in a well-drained growth medium. It is always a good idea to dust the seeds with a suitable fungicide to prevent pre-emergence damping off, but this is not essential.
Take cuttings in autumn or spring. This species is a resprouter, so it is best to take rootstock cuttings where the cutting is pulled off at the base of the plant, so that there is a heel from the rootstock. Top and stem cuttings do also root, but not as well.
It requires a position in full sun in well-drained, sandy soil. Trichocephalus stipularis is perfect for the fynbos garden and is water-wise and drought-tolerant in the winter-rainfall area, when established. It is excellent when planted in groups, where its bright white flowerheads make it more outstanding. Good companion plants include ericas such as Erica curvirostris, E. plukenetii and E. mammosa, Phylica ericoides, Metalasia aurea and species of Leucospermum and Serruria, Pelargonium betulinum, and restios such as Elegia stipularis, E. capensis, E. tectorum and Thamnochortus insignis, which enhance and add good value to the structure and texture in the fynbos garden.
References
Foden, W. & Potter, L. 2005. Trichocephalus stipularis (L.) Brongn. National Assessment: Red List of South African plants version 2015.1. Accessed on 2016/06/02.
Goldblatt, P. & Manning, J. 2000. Cape Plants. A conspectus of the Cape flora of South Africa. Strelitzia 9. National Botanical Institute, Pretoria & Missouri Botanical Garden, Missouri.
iSpot southern Africa https://www.ispotnature.org/species-dictionaries/sanbi/Trichocephalus%20stipularis
Manning, J. 2007. Field guide to Fynbos. Struik Publishers, Cape Town.
Richardson, J.E., Fay, M.F., Cronk, Q.C.B. Bowman, D. & Chase, M.W. 2000. A phylogenetic analysis of Rhamnaceae using rbcL and trnL-F plastid DNA sequences. American Journal of Botany 87: 1309–1324.
Richardson, J.E., Weitz, F.M., et al. 2001. Phylogenetic analysis of Phylica L. (Rhamnaceae) with an emphasis on island species: evidence from plastid trnL-F and nuclear internal transcribed spacer (ribosomal) DNA sequences. Taxon 50 (2): 405–427
Stearn, W.T. &. Stearn, E.R. 1992. Stearn's dictionary of plant names for gardeners. Cassell Wellington House, Strand, London.
Credits
Ramadimetja Junia Maleka
Kirstenbosch National Botanical Garden
June 2016
 
Plant Attributes:
Plant Type: Shrub
SA Distribution: Western Cape
Soil type: Sandy
Flowering season: Spring, Autumn, Winter
PH: Acid
Flower colour: White, Pink
Aspect: Full Sun
Gardening skill: Average
Special Features:
Attracts butterflies
Drought resistant
Fragrant
Good potplant
Feeds honeybees
Horticultural zones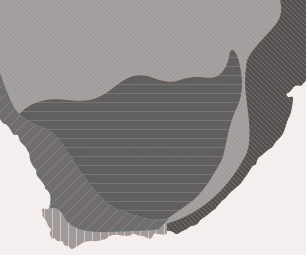 Zone 2 Coastal winter rainfall, frost free
Zone 3 Winter rainfall Karoo, light frost
Google QR Code Generator