Tridactyle bicaudata (Lindl.) Schltr. subsp. bicaudata
Family: Orchidaceae
Common names:
Introduction
Anyone who has had the pleasure of walking in the dry forests which occur along the eastern coast of Africa, will have noticed the sometimes large clumps of leaves and roots of this orchid hanging from the trunks and branches of the tree.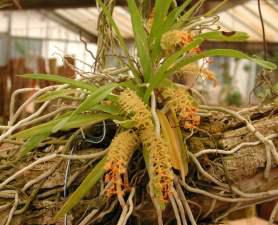 Description
Description
This orchid, with its grey roots snaking along tree branches, and numerous tough, erect or semi-pendulous stems, forms large untidy clumps in the trees. The leathery leaves, in two distinct rows, vary between 30 and 120 mm in length and between 7 and 12 mm in width. From October to February several flower spikes appear between the lower leaves and each carry 12-16 small, star like, yellowish brown, waxy flowers in two rows. The plants are fairly slow growing and can live for quite a long time.
Conservation Status
Status
Although Tridactyle bicaudata is not at present threatened, the indiscriminate removal of the forest habitat for agriculture, housing and other uses could result in the plant becoming infrequent in the future. All Orchidaceae are specially protected and may not be collected without a permit from the provincial conservation authority.
Distribution and habitat
Distribution description
This plant has a wide distribution from the southern Cape along the eastern seaboard to Limpopo Province and on into tropical Africa on trees in the dry forests. It grows easily in coastal gardens but would require the protection of a glass house in areas which experience frost.
Derivation of name and historical aspects
History
The name Tridactyle means three fingered, and refers to the shape of the lip of the flower. There are 30 species which occur in tropical Africa, of which four occur in South Africa. Tridactyle bicaudata has two subspecies: subsp. bicaudata is found in the shade of forests and subsp. rupestris grows on rocks in the full sun.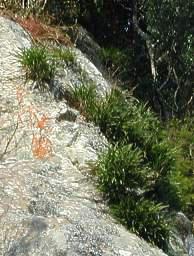 Ecology
Ecology
The roots of this plant have special cells that are specially adapted to quickly absorb any moisture and nutrient that might condense on the bark of the tree on which it is grows. The yellow-brown flowers which give off a slightly vanilla scent, probably attract night-flying moths which pollinate the flowers.
Uses
Use
The plant is used by Zulus as a protective charm. It is also an interesting addition to an orchid collection.
Growing Tridactyle bicaudata
Grow
Plants should be purchased from reliable specialist nurserymen, or from friends who have plants growing in their gardens. This is a very forgiving plant, provided that it is grown in the correct way. Because it grows on trees, it will not tolerate being confined to a container where the growing medium retains any moisture at all.
Propagation is always by division. With a sharp pair of secateurs, a mature piece of stem with sufficient roots is cut from the parent plant. In a frost-free garden, the plant is attached to a slab of bark or tied directly onto a suitable tree with string, making sure the roots are pressed against the bark. In a glasshouse grow the plant on a bark slab that hangs in a well-ventilated section.
Water these plants regularly with the frequency related to the prevailing weather conditions. i.e. hot weather-often; cool weather-less frequently. In the garden, water the plants only during hot, dry conditions and in both cases do not water during the winter months.
Feed with a liquid plant food every month during summer.
Apart from a species of caterpillar, this plant has very few enemies. An annual spring spraying with a contact insecticide is all that is required to keep your plant pest free.
References
Germishuizen, G. & Meyer, N.L. 2003. Plants of southern Africa : an annotated checklist. Strelitzia 14. National Botanical Institute, Pretoria .
Jackson, W.P.U. 1987. Origins and meanings of names of South African plant genera. University of Cape Town Ecolab, Rondebosch.
Leistner, O.A. (ed.). 2000. Seeds plants of southern Africa : families and genera. Strelitzia 10. National Botanical Institute, Pretoria.
Pooley, E. 1998. A field guide to wild flowers of KwaZulu Natal and the eastern region. Natal Flora Publications Trust, Durban.
Schelpe, E.A.C.L.E. 1966. An introduction to the South African orchids. Purnel, Cape Town & Johannesburg.
Stewart, J., Linder, H.P., Schelpe, E.A. & Hall, A.V. 1982. Wild orchids of southern Africa. Macmillan, Johannesburg.
Credits
B.B.Tarr
KwaZulu/Natal National Botanical Garden
October 2005
Plant Attributes:
Plant Type: Epiphyte, Orchid
SA Distribution: Eastern Cape, KwaZulu-Natal, Limpopo, Mpumalanga, Northern Cape, Western Cape
Soil type:
Flowering season: Early Summer, Late Summer
PH:
Flower colour: Brown, Yellow
Aspect: Full Sun, Shade, Morning Sun (Semi Shade)
Gardening skill: Challenging
Special Features:
Fragrant
Horticultural zones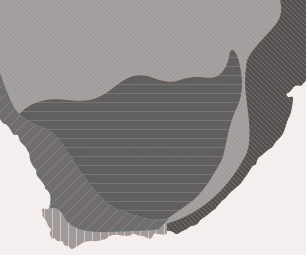 Zone 1 Coastal summer rainfall, frost free
Zone 2 Coastal winter rainfall, frost free
Google QR Code Generator