Trimeria grandifolia subsp. grandifolia
Trimeria grandifolia (Hochst.) Warb. subsp. grandifolia
Family: Salicaceae
Common names: wild-mulberry, big ears, big-leaf trimeria (Eng.); grootblaarwildemoerbei, grootblaarysterhout, wildemoerbei, lindeboom (Afr.); idlebe-lendlovu, igqabela, umnqabane, itabatane, igqabi, ilitye (Xho.); idlebelendlovu (Zul.); sicandzamatje, mahlebe (Swa.); muhasha-phande, mufhanza, tshilaphithi (Ven.)
SA Tree No: 503
Introduction
This is a fast-growing, small to medium-sized, single stemmed tree, with decorative foliage that truly resembles the forest raisin tree, as well as the mulberry tree, mainly with its fruits and leaves. It has an attractive pale grey-brown trunk and usually forms an irregular canopy.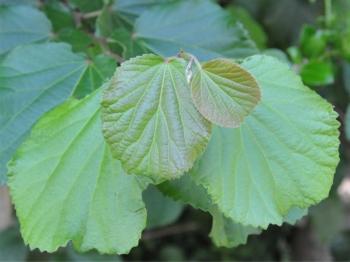 Description
Description
Trimeria grandifolia subsp. grandifolia is a small to medium-sized tree, that grows 3 to 10 m tall. It is semi-deciduous, they lose their foliage for a very short period, when the old leaves fall off and new foliage growth is starting. The bark is grey-brown and smooth when young, becoming flaky as it ages.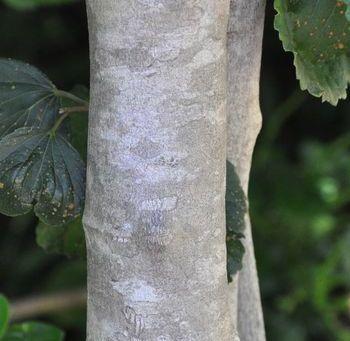 The leaves are simple, large, alternate and almost circular or broadly obovate, 40–110 mm wide, with a dentate margin of 'saw-like' teeth, a pointed drip tip and 5–9 distinct veins that start from the leaf base. The young leaves are velvety and lose the hairs with maturity, becoming shiny and dark green.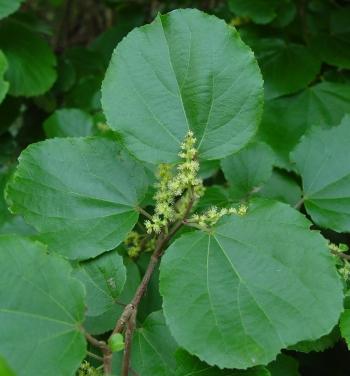 The inconspicuous flowers are small, greenish white, with parts in 4 or 5, in both male and female flowers, as they are unisexual (having either stamens or pistils, but not both) and are borne on separate trees, from early spring to midsummer (Aug. –Feb.).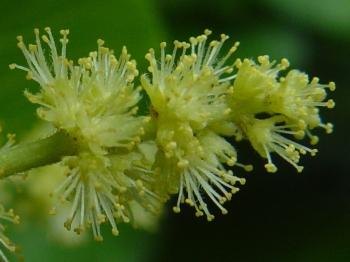 Male inflorescence is a panicle, up to 90 mm long.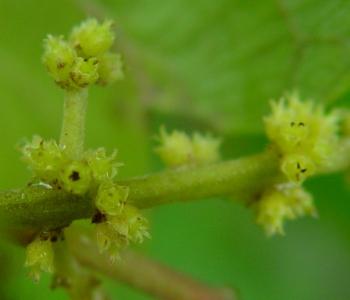 Female inflorescence is a spike, sometimes branched, up to 80 mm long.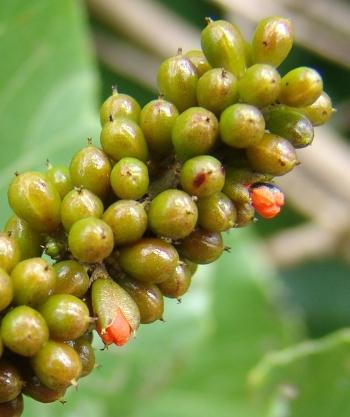 The fruit is a small, berry-like capsule, in tight clusters that resembles a mulberry, turning yellow to bright pinkish red in late summer to autumn, from February to April. Fruits split to release 1 or 2, black seeds with a red aril.
This tree can be confused with the forest raisin (Grewia lasiocarpa) when not in flower or fruit, but they can be told apart by the number of veins in the leaf, the forest raisin having no more than 3. It also superficially resembles the mulberries (Morus spp.) but they are not related.
Conservation Status
Status
The conservation status for Trimeria grandiflora subsp. grandifolia is Least Concern (LC) according to the Red List of South African plants, as checked on 09 March 2018.
Distribution and habitat
Distribution description
This species occurs in Mozambique and South Africa, distributed in the following Provinces: Eastern and Western Cape, Free State, KwaZulu-Natal, Limpopo and Mpumalanga. It is found in medium to high altitudes, at the margins of evergreen forests, as well as in swamp- and low lying forests.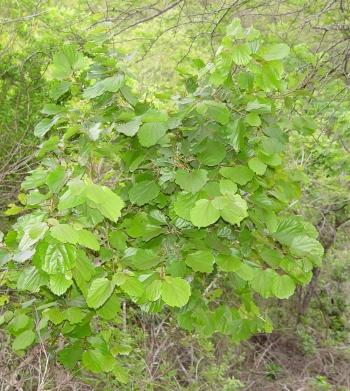 Derivation of name and historical aspects
History
The name Trimeria is derived from the Greek words tris and meris, meaning 'three part' and refers to the three-part flower of the type species. The name grandifolia, means 'with large leaves' and is derived from the Latin words grandis and folius, meaning 'large' and 'leaf' and basically refers to the large leaves of the tree. The vernacular names are prompted by the shape of the leaves and the manner in which the fruits appear on the trees.
Trimeria is a small genus of 5 species that occur in southern Africa to tropical East Africa. There are 2 species that occur in South Africa: Trimeria grandiflora subspecies grandiflora and T. trinervis, the latter occurring in Eastern Cape, KwaZulu-Natal and Mpumalanga, and distinguished from T. grandiflora by its 3-merous flowers and smaller, 3–5 veined leaves.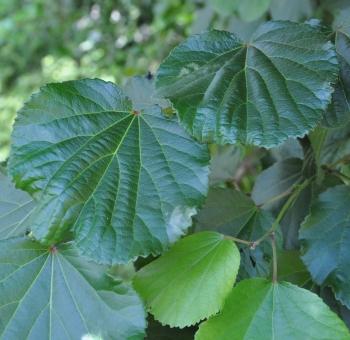 Ecology
Ecology
The wild mulberry tree attracts birds, butterflies and insects. The caterpillars of the African leopard and the common orange tip butterflies eat the leaves. Birds eat the fruits.
As they are dioecious one must plant 1 or 2 specimens with at least one male amongst the trees, to ensure that cross pollination occurs and viable seeds are produced.
Uses
Use
Medicinally, it is believed that back in the day, an infusion of the leaf from this tree would be taken for abdominal problems and to treat coughs.
It has tough wood but not that much used, except for making yoke keys. The wood is not hard enough for it to be used for timber.
Growing Trimeria grandifolia subsp. grandifolia
Grow
Trimeria grandiflora can be propagated by seed, sown in spring or summer, or by cuttings. Hardwood cuttings must be taken from the trees when they are dormant, i.e. when they have no leaves. Use a rooting hormone powder for hardwood stems and plant in a well-drained potting medium consisting of fine bark, sand and compost (fine bark 2: river sand 2: compost 2). Adding a slow-release fertilizer will promote growth.
The tree grows well in partial shade as well as in full sun, but does not perform as it should in full shade, becoming leggy and less shapely than those that get more sunlight. It will tolerate a little drought and has moderate resistance towards frost, but performs better in frost-free areas. This tree usually starts fruiting in its 8th year in cultivation and in the wild just less than 5 years. Regular composting will support a fast growth rate. This tree makes a good garden subject and is suitable for small gardens, as it does not take up much space.
References
Boon, R. 2010. Pooley's trees of eastern South Africa, a complete guide. Flora & Fauna Publications Trust, Durban.
CJM Growers; http://cjmgrowers.co.za/cjm/html/trees__g-z_.html, accessed 9 March 2018.
Coates Palgrave, K. 1983. Trees of southern Africa. Struik, Cape Town.
Flora of southern Africa: 5315 9. Trimeria. Accessed via POSA online http://posa.sanbi.org/flora/results_browse.php?src=FloraSA&taxon=genno=3658
Foden, W. & Potter, L. 2005. Trimeria grandifolia (Hochst.) Warb. subsp. grandifolia. National Assessment: Red List of South African plants version 2017.1. Accessed on 2018/03/09.
Quattrocchi, U. 2012. CRC world dictionary of medicinal and poisonous plants: common names, scientific names, eponyms, synonyms, and etymology. CRC Press, Massachusetts.
Smith, C.A. 1966. Common names of South African plants. Memoirs of the Botanical Survey of South Africa No. 35. Government Printer, Pretoria.
Stearn, W. 2002. Stearn's dictionary of plant names for gardeners. Timber Press, Portland, Oregon.
Credits
Sisanda Alakhe Velembo
Kirstenbosch National Botanical Garden
April 2018
Plant Attributes:
Plant Type: Tree
SA Distribution: Eastern Cape, KwaZulu-Natal, Mpumalanga, Western Cape
Soil type: Sandy, Loam
Flowering season: Early Summer, Late Summer
PH: Acid, Neutral
Flower colour: Green, Yellow
Aspect: Full Sun, Morning Sun (Semi Shade), Afternoon Sun (Semi Shade)
Gardening skill: Average
Special Features:
Attracts birds
Attracts butterflies
Medical plant
Horticultural zones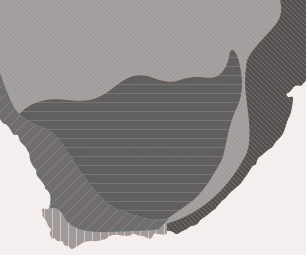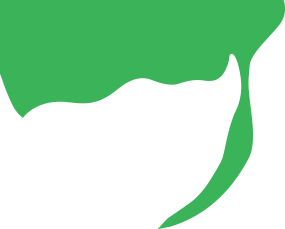 Zone 1 Coastal summer rainfall, frost free
Zone 2 Coastal winter rainfall, frost free
Zone 4 Summer rainfall Karoo and Highveld, Frost in winter
Zone 5 Bushveld summer rainfall, Light frost
Google QR Code Generator