Triumfetta annua L.
Family: Malvaceae
Common names: bur weed, lesser cockle bur, annual triumfetta (Eng.); klitsbossie (Afr.); umhlabangubo (isiXhosa)
Introduction
Fully grown fruits are an important character used to identify Triumfetta annua; a herb or shrub, with yellow flowers and fruits with soft, hooked spines.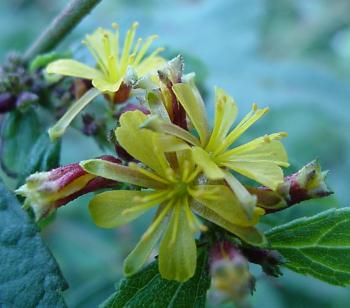 Description
Description
Triumfetta annua is a spreading, annual herb or shrub, 0.1–9 m tall. The stems are slender, branching from the base, with 1 or 2 rows of hairs. Roots are woody. Leaves are alternate, simple, sometimes lobed, ovate, soft, with simple hairs and serrulate margins. The inflorescence is made up of small, 1–5-flowered cymes clustered together at the nodes. Sepals 5, pale yellow, linear; petals 5, shorter than sepals, yellow; stamens 4–12. Flowering season is in summer. The fruit is a capsule with soft, hooked spines. Seeds ripen in autumn.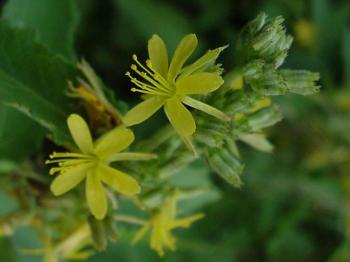 Conservation Status
Status
According to the Red List of South African plants, Triumfetta annua is listed as Least Concern (LC), i.e. it is not threatened.
Distribution and habitat
Distribution description
Triumfetta is a pantropical genus widespread in warm countries of the world. In southern Africa it occurs in Botswana, North West, Mpumalanga, Gauteng, Swaziland, KwaZulu Natal, Limpopo and Namibia, at an altitude of 330 to 2 100 m. It grows in open sour bushveld, grasslands, mixed woodland, forest stream banks and cultivated land. It is found on alluvial, stony/rocky sandstone, loam, humus rich clay-loam, gravelly silt, or granite, in full or partial shade, full sun and also in intensely hot conditions; also found in well drained, very dry or poorly drained conditions.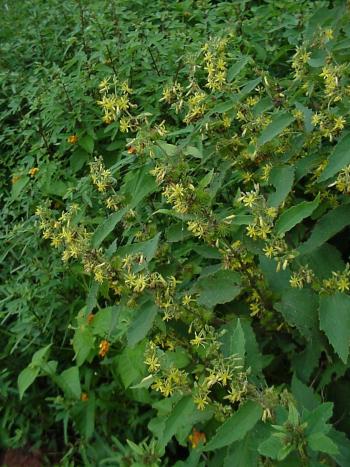 Derivation of name and historical aspects
History
The genus Triumfetta was named by Charles Plumier, in memory of Giovani Battista Trionfetti (1655–1708), an Italian botanist and professor of Botany at the University of Rome and Director of the botanical garden of the university. Triumfetta annua has an annual life cycle, hence the specific epithet annua.
Triumfetta belongs to the family Malvaceae, the hibiscus or mallow family, in the order Malvales, and the genus was formerly under the family Tiliaceae. There are about 100 species of Triumfetta worldwide. In southern Africa it is represented by 12 species. It has two forms, T. annua forma annua and T. annua forma piligera both  of which have since been sunk under one name, Triumfetta annua.
Ecology
Ecology
Triumfetta annua grows in the wild or as a weed in cultivated land. The fruits are burs with specially adapted hooks or barbs that cling to clothing and fur, and seeds are dispersed when the burs attach themselves to passing animals. It is pollinated by bees or self-pollinated.
Uses
Use
In East and southern Africa, the young leaves are harvested, cooked as a mucilaginous spinach-like relish and eaten as a leafy vegetable. In West Africa the bark of young green stems called 'slimy sticks', are harvested and used to extract a mucilaginous exudate for preparation of a slimy soup called 'nkwi'. The soup is taken as an appetizer, energy food for new mothers or baby food.
Growing Triumfetta annua
Grow
Triumfetta annua is rarely cultivated, and if grown it is for its 'slimy sticks'. It is grown from seed or cuttings. Sow the seed on a hot-bed early in spring. Transplant each into a separate pot filled with light, fresh soil. Water them frequently. Shade them from the sun until they have taken root. As with with other Triumfetta species, make the cuttings 15–20 cm long, harvested from the top end of the stems, plant in shade, in circles with spacing of 10–15 cm. Tie the cuttings to a taller plant for support to ensure that they grow upright, irrigate regularly especially during dry periods. New shoots develop, grow fast and continue to develop, allowing harvest throughout the rainy season.
References
Collevatti, R.G., Campos, L.A.O. & Da Silva, A.F. 1998. Pollination ecology of the tropical weed Triumfetta semitriloba Jacq. (Tiliaceae), in south-eastern Brazil. Revista Brasileira de Biologia 58:3. http://dx.doi.org/10.1590/S0034-71081998000300004
Dyer, R.A. 1975. The genera of southern African flowering plants, Vol. 1: Cotyledons. Department of Agricultural Technical Services, Pretoria.
Foden, W. & Potter, L. 2005. Triumfetta annua L. National Assessment: Red List of South African plants version 2014.1. Accessed on 2015/08/26.
Grubben, G.J.H. & Denton, O.A. (eds) 2004. Plant resources of tropical Africa 2. Vegetables. PROTA Foundation, Wageningen, Netherlands. Backhuys Publishers, Leiden, Netherlands. CTA, Wageningen, Netherlands.
Wilkes, J. 1829. Encyclopaedia Londinensis, or, Universal Dictionary of Arts, Science and Literature. Vol. 24. London. http://www.omnilexica.com/?q=triumfetta+annua#.Vd2mNE0cSUk. Accessed on 28 August 2015
Credits
Nonkululo Phephu
National Herbarium, Pretoria
November 2015
Plant Attributes:
Plant Type: Perennial, Shrub
SA Distribution: Gauteng, KwaZulu-Natal, Limpopo, Mpumalanga, North West
Soil type: Sandy, Clay, Loam
Flowering season: Early Summer
PH: Acid
Flower colour: Yellow
Aspect: Full Sun, Shade, Morning Sun (Semi Shade), Afternoon Sun (Semi Shade)
Gardening skill: Easy
Special Features:
Edible plant
Feeds honeybees
Horticultural zones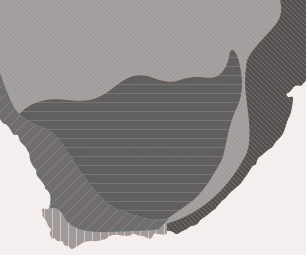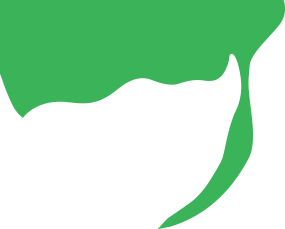 Zone 1 Coastal summer rainfall, frost free
Zone 4 Summer rainfall Karoo and Highveld, Frost in winter
Zone 5 Bushveld summer rainfall, Light frost
Google QR Code Generator