Triumfetta sonderi Ficalho & Hiern.
Family: Malvaceae
Common names: Sonder's truimfetta (Eng.); waaierbossie, maagbossie, rolbossie, spinnekopbossie, tolbossie (Afr.); mokuku (Sepedi)
Introduction
A beautiful shrub from the grasslands, with small, star-shaped, light yellow flowers and attractive rounded, pinkish-red, hairy fruits.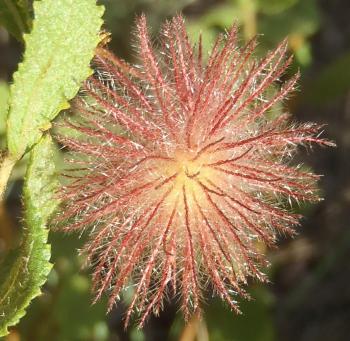 Description
Description
Triumfetta sonderi is a small, erect, slender, branched shrub 0.5-1 m tall. It has a woody rootstock and long slender stems covered in stellate (star-like) hairs. It is deciduous, dying back in winter and sending out new growth every spring. Leaves are alternate, simple, ovate with an acute apex and shallowly toothed margins, and are roughly hairy on both sides.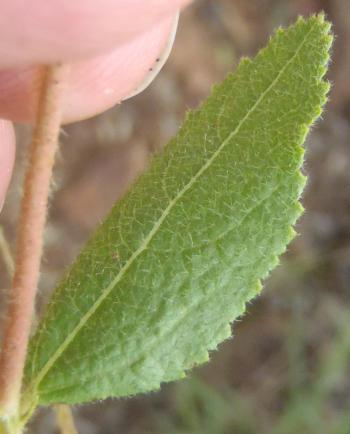 The flowers are small, star shaped, with light yellow petals and numerous stamens. They are produced in 2-4 flowered inflorescences during summer, from November to March. Fruits are attractive, pinkish-red, globose, up to 40 mm in diameter, bristly and covered with long fine hairs. The fruits remain on the bush for a long time, some fall off when they are ripe and lie on the ground, while some remain, dry, on the plant until it dies off in winter.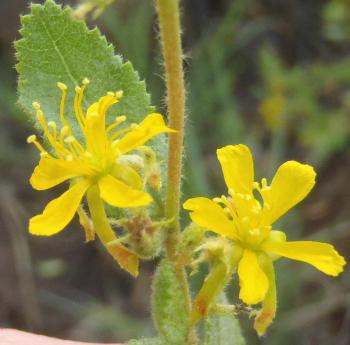 Conservation Status
Status
Triumfetta sonderi is Red Listed as Least Concern (LC). It has a stable wild population and is not facing any threats.
Distribution and habitat
Distribution description
This plant occurs naturally Botswana and in South Africa where it occurs in the North West, Limpopo, Mpumalanga and Gauteng provinces and can be seen in the Pretoria, Magaliesburg, Waterberg area. Plants grow in warm sunny open grassland, woodland, roadsides and rocky areas in sandy or loamy soil.
Derivation of name and historical aspects
History
The genus Triumfetta is named after Prof G.B Trionfetti (1658 1708), an Italian professor of botany in Rome and director of the botanical garden. The specific name sonderi is derived from the name of a German botanist Dr Otto Wilhelm Sonder (1812-1881).
Ecology
Ecology
In its natural habitat, Truimpheta sonderi flowers are often visited by beetles (Tragocephala sp., Neochila sp.), ladybirds, butterflies (plain tiger, clear-spotted acraea, garden acraea) and honey bees that feed on the pollen, thus pollinating the flowers.
The ripe, dry seeds are light and fluffy and are blown about by the wind and the seeds are thus dispersed. This is the origin of its Afrikaans common names waaierbossie, rolbossie and tolbossie, which mean 'the one that is blown about'.
Uses
Use
Roots of this plant are used in traditional medicine to retain the placenta and to treat stomach troubles.
The soft bark of this plant is used to weave baskets and ropes.
Truimfetta sonderi is recommended as a summer garden subject.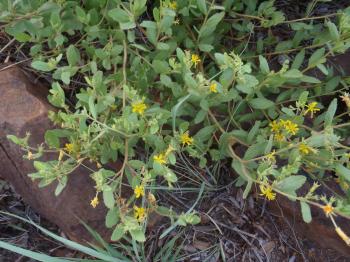 Growing Triumfetta sonderi
Grow
Grow Triumfetta sonderi in a sunny spot in sandy or loamy soil. It is also suitable for rockeries and containers. It is fast-growing, frost hardy and drought resistant.
Triumfetta sonderi can be propagated by seeds. The seeds must go through a dormant winter period. Collect them when the fruit colour changes to brown, harvest the seeds by removing them from the bristly capsule without causing any damage to the seeds. Plant the fertile seeds in a mixture of equal parts of coarse river sand and potting soil in spring or summer, from October to March. Place the seedling container in a shady spot and water once a week. Germination takes place after 6-10 days. Transplant the seedlings into nursery bags or any container when they are at least 100 mm in size.
References
Beentje, H.J. 1994. Kenya trees Shrubs and lianas. National museums of Kenya, Nairobi.
Letty, C. 1962. Wild flowers of the Transvaal. Wildflowers of the Transvaal Book Fund.
Germishuizen, G. & Clarke, B. 1997. Illustrated guide to the wild flowers of Northern South Africa. Fernwood press.
Retief, E. & Herman, P.P.J. 1997. Plants of the northern provinces of South Africa: keys and diagnostic characters. Strelitzia 6. National Botanical Institute, Pretoria.
Smith, C.A. 1966. Common names of South African plants. Memoirs of the Botanical Survey of South Africa No. 35. Government Printer, Pretoria.
iSpot southern Africa: http://www.ispotnature.org/species-dictionaries/sanbi/Triumfetta%20sonderi?nav=search
Credits
Refilwe Maria Malatji
Pretoria National Botanical Garden
June 2016
 
Plant Attributes:
Plant Type: Shrub
SA Distribution: Gauteng, Limpopo, Mpumalanga, North West
Soil type: Sandy, Loam
Flowering season: Early Summer, Late Summer
PH: Neutral
Flower colour: Yellow
Aspect: Full Sun
Gardening skill: Easy
Special Features:
Attracts butterflies
Drought resistant
Medical plant
Useful plant
Feeds honeybees
Pioneer plant
Horticultural zones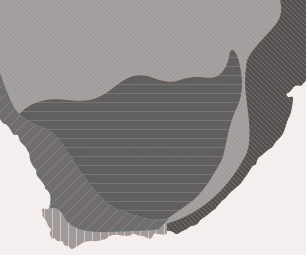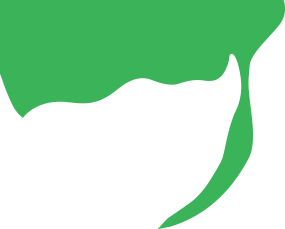 Zone 1 Coastal summer rainfall, frost free
Zone 4 Summer rainfall Karoo and Highveld, Frost in winter
Zone 5 Bushveld summer rainfall, Light frost
Google QR Code Generator