Ursinia abrotanifolia (R.Br.) Spreng.
Family: Asteraceae
Common names: lace-leaf ursinia (Eng.); fynkruie, lammetjieskruie (Afr.) [= Sphenogyne abrotanifolia R.Br.(Prassler 1967)]
Introduction
An extremely easy-to-grow and showy summer display bedding plant with charm and versatility underutilized by home gardeners.
Description
Description
This faintly grey, evergreen, herbaceous perennial has a neat bushy habit 0.2-0.5 m high. New soft herbaceous shoots sprout from the semi-woody perennial stem. The attractive feathery leaves, 20-50 mm long, are divided nearly to the midrib into two or three narrow divisions, but not separated into distinct leaflets. The flower heads have a charming tendency of drooping while in bud and straighten as the flowers come into bloom, presenting themselves at their best. Solitary, yellow flower heads, 20-30 mm in diameter when fully open, are borne on elongate naked peduncles during spring through to late summer. A typical characteristic of Ursinia species are the bracts with a dry, transparent papery border, found at the base of the flower head, of which U. abrotanifolia has 5 in a single row. The seeds are attached to a papery parachute which aids their dispersal by the wind.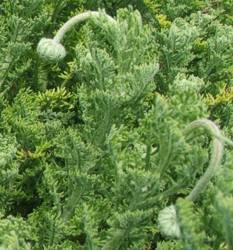 Conservation Status
Status
Ursinia abrotanifolia is a species of least concern (LC) and is widely distributed in protected mountainous areas.
It had previously been identified as a Global weed, although the reference source was not specific. As in most such cases it may have been considered an economic weed from the point of view of agriculture, horticulture and the turf industry.
Distribution and habitat
Distribution description
The lace leaf can be found in damp, winter rainfall areas on sandstone slopes in the south Western Cape and is recorded in areas from Bainskloof to the Hottentots Holland Mountains at altitudes of 460–1300m.
Derivation of name and historical aspects
History
Ursinia is a variable genus consisting of annuals and dwarf perennials. Almost 40 species occur in South Africa. The most decorative of the Ursinia species are said to be found in the southwestern Western Cape such as the spring annual U. cakilefolia or the perennial U. sericea.
Ursinia commemorates Johannes Heinrich Ursinus (1608–1667), a German botanical author on the family Asteraceae (=Compositae) and theologian. He authored Arboretum Biblicum.
The species was given the second part of its name (specific epithet) abrotanifolia, as it has leaves resembling the herb, Artemisia abrotanum, southernwood or southern wormwood.
Ecology
Ecology
Not much is known about the pollination of this Ursinia but, like many other members of the Asteraceae family, Ursinia species are visited by common pollinators or perhaps pollen thieves like monkey beetles, bees and butterflies. Seeds are lightweight and dispersed by wind with the aid of the papery scales at their tips.
Uses
Use
Ursinia abrotanifolia is a very elegant plant for the garden and can feature in pots, rockeries and open beds. They make fantastic bedding and border plantings, adding colour contrast and softer texture to garden design. Additionally they are water wise.
Growing Ursinia abrotanifolia
Grow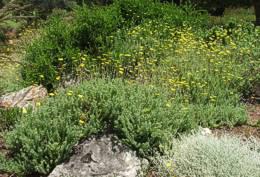 Ursinia abrotanifolia is an elegant versatile herbaceous plant that can be grown as a perennial but will perform best in its first two or three years of growth. It requires well-drained sandy-loam soils and a full sun position, although it will tolerate very light shade. If the soil is too stodgy and wet it may cause the roots to rot. If it does not get enough direct sun, excess moisture on the leaves may cause fungal infections and the plant may rot. This plant is remarkably adaptable in that it can grow in both a very hot and dry garden provided it gets well established during the cool winter months, and in a lush, moist garden. It is hardy and can withstand very short periods of drought.
This plant is surprisingly easy to propagate, especially from cuttings. Propagate from newer, soft shoots or semi-hardwood cuttings. Rooting hormone is not necessary, but will speed up the rooting process. Place cuttings in a moist, not wet, environment such as a clean container or pot partially filled with a mix of 50% milled bark and 50% coarse sand, and water lightly.
Allow container to drain a while, and then cover the container with an airtight plastic bag to retain humidity. Place in a light, warm area away from direct sunlight. Cuttings should root in 14–21 days. It should be noted that a single clone planted in isolation will not produce any seed. It will need to be grown alongside a number of other genetically different plants to produce viable seed.
Propagation from seed should take place in autumn and seems to be most successful when the seeds have been treated with smoke beforehand. This amazing germination trigger we have found has a marked effect on the germination of all manner of plants–even those that would never naturally encounter fires. This can be done using the Kirstenbosch smoke disks available at the Kirstenbosch seedroom.
Soak the seeds in a smoke solution for 24 hours and sow either directly into the ground (preferable) or in a seed tray of well-drained, sandy soil. Cover the seeds with about 5 mm of pure river sand. Although not tested, stratifying the seeds in the fridge for a couple of weeks should also stimulate uniform germination. Germination will normally happen within 2–3 weeks. If in a tray, carefully prick out the seedlings only after they have produced their second set of true leaves.
Plant directly into a pot or in the ground. Plants will respond dramatically to modest doses of organic fertilizers such as fish emulsion or pelleted chicken manure. Kelp-derived growth stimulants also help with plant health and vigour.
This plant seems not to attract many pests. Snails are always a problem, however. The main cause of premature death is rotting caused by excessively wet leaves or soil.
If you are planning to maintain the plant as a perennial, regular pruning is required. Prune back the plants by ¼ at the very end of spring as summer temperatures start to rise (even if the plants are still in flower!). This pruning will relieve the water burden on the root system and promote a second flush of growth that will be better adapted to the hot summer conditions.
Take care not to prune too hard: if cut back to bare stems the plants may not resprout at all! A further, but light pruning at the end of summer, just as the temperatures start to drop, will again reduce the leaf mass and re-invigorate the plant to sprout again for the winter months. Very little watering is required in winter, unless conditions are dry.
If one plans to actively grow the plant in summer, dripper irrigation is recommended as this will keep the leaves dry and infection free.
Plants are slow to get going in their first 2 to 3 months from seed or cuttings but build up pace quickly and grow very vigorously especially during summer.
References
Burman, L. & Bean, A. 1985. Hottentots Holland to Hermanus. South African Wild Flower Guide 5. Botanical Society of South Africa, Cape Town.
Eliovson, S. 1960. South African wildflowers for the garden. Howard Timmins, Cape Town.
Goldblatt, P. & Manning, J.C. 2000. Cape plants. A conspectus of the Cape flora of South Africa. Strelitzia 9. National Botanical Institute, Pretoria.
Jackson, W.P.U. 1990. Origins and meanings of South African plant genera. University of Cape Town Printing Department.
Leistner, O.A. (ed.). 2000. Seeds plants of southern Africa : families and genera. Strelitzia 10. National Botanical Institute, Pretoria.
Mustart, P., Cowling, R. & Albertyn, J. 1997. Southern Overberg. South African Wild Flower Guide 8. Botanical Society of South Africa, Cape Town.
Powrie, F. 1998. Grow South African plants. National Botanical Institute, Kirstenbosch, Cape Town.
Prassler, M. 1967. Revision der Gattung Ursinia. Mitteilungen der Botanischen Staatssammlung München 6: 363-478. Smith, C.A. 1966. Common names of South African plants. Memoirs of the Botanical Survey of South Africa No. 35.
Stearn, W.T. 2002. Stearn's dictionary of plant names for gardeners. Timber Press, Oregon.
Van der Spuy, U. 1971. Wild flowers of South Africa for the garden. Hugh Keartland, Johannesburg.
Credits
Monique McQuillan
Co-author Adam Harrower
Kirstenbosch National Botanical Garden
March 2010
Plant Attributes:
Plant Type: Perennial
SA Distribution: Western Cape
Soil type: Sandy, Clay, Loam
Flowering season: Spring, Early Summer, Late Summer
PH: Acid, Neutral
Flower colour: Yellow
Aspect: Full Sun
Gardening skill: Easy
Special Features:
Attracts butterflies
Feeds honeybees
Horticultural zones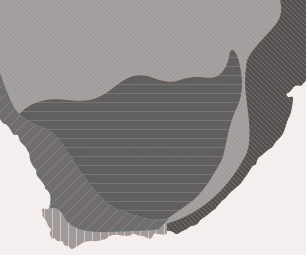 Zone 1 Coastal summer rainfall, frost free
Zone 2 Coastal winter rainfall, frost free
Zone 3 Winter rainfall Karoo, light frost
Google QR Code Generator