Ursinia chrysanthemoides (Less.) Harv.
Family: Asteraceae
Common names: parachute daisy, coral ursinia (Eng.); pokkiesbos, bergmagriet (Afr.)
Introduction
A showy upright or mat-forming spring flowering perennial with daisy flowers in various colours.
Description
Description
Evergreen perennial, woody subshrub, up to 1 m tall, or mat-forming and rooting at the nodes. Leaves pinnatipartite to bipinnatipartite, glabrous or pubescent. Flower heads radiate, large, solitary on long peduncle; outer involucral bracts with membraneous, triangular, acuminate apices, inner bracts with ovate or rounded, silvery appendages; ray florets white, yellow, bright orange or sometimes red, often with a reddish brown reverse; disc florets yellow or with purple tips, paleae with prominent scale-like appendages that fold over the developing disc florets creating a shiny disc. Fruits modified to wind dispersal with a biseriate pappus of large outer scales and filiform inner scales. Flowers in winter to early summer (June to October).
The species as recognised is extremely variable (Magee et al. 2014) and its delimitation is currently being investigated as part of a taxonomic revision of Ursinia subgenus Ursinia (Magee et al. in prep.). There are three main forms which are sometimes available in cultivation:
1. A mat-forming form with pale to bright yellow (sometimes cream-coloured) ray florets and prostrate or procumbent branches which often root along the nodes. This form occurs naturally in the southern Cape, often near the coast.
2. A shrubby form with more or less upright, white-hairy branches and bright orange ray florets. This form occurs throughout Namaqualand.
3. A rare red-rayed form currently treated as variety geyeri. In the wild the ray florets of this form vary from yellow to orange or crimson-red.
Conservation Status
Status
According to the website http://redlist.sanbi.org, checked on 17 Novmeber 2015, the conservation status of this plant is Least Concern (LC).
Distribution and habitat
Distribution description
The species as currently recognised, occurs throughout Namaqualand on rocky hills and extends into the Cape Peninsula and the Eastern Cape, where it is found in sandy soils often near the coast. The rare red-rayed form, once considered to be a distinct species, Ursinia geyeri (Bolus & Hall, 1967), is restricted to the foothills of the Swartruggens Mountains. It is interesting to note that in addition to the striking red-rayed individuals both yellow- and orange-rayed individuals also co-occur in the latter population.
Derivation of name and historical aspects
History
The genus Ursinia commemorates Johan Heinrich Ursinus of Regensburg, 1608-67, German theologian and author of Arboretum Biblicum. The specific epithet chrysanthemoides, is derived from its resemblance to members of the genus Chrysanthemum, also of the family Asteraceae.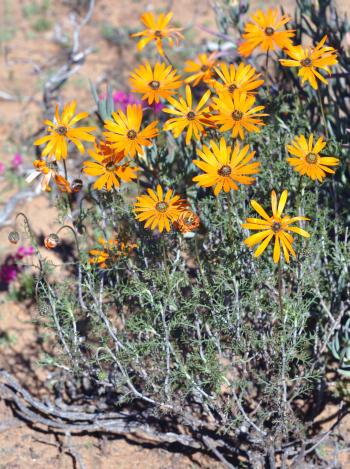 Ecology
Ecology
The flower heads have a conspicuously shiny inner disc when young. This is because the scales that surround the florets (called paleae) have transparent, rounded appendages which fold over the developing inner florets. These probably protect the young florets as well as aid in pollinator attraction and is unique to the species in Ursinia subgenus Ursinia (Prassler 1967; Magee et al. 2014).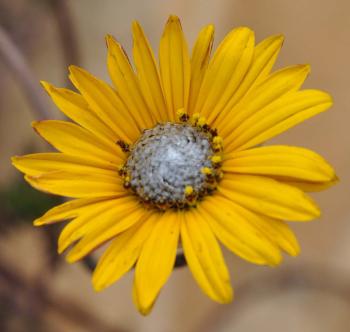 The flowers attract many insect visitors, but monkey beetles are particularly fond of them.
The fruit, as in the rest of the genus, is adapted to wind dispersal. When mature the large, white pappus scales on the top of the fruit spread open like a parachute, and are easily picked up by the wind.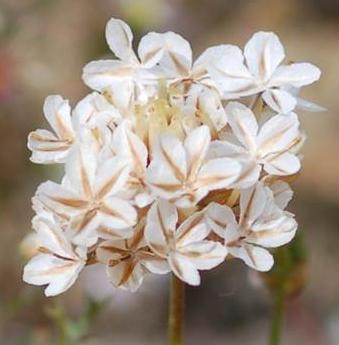 Uses
Use
No ethnobotanical uses of this species have been recorded.
Growing Ursinia chrysanthemoides
Grow
The plants are hardy, drought resistant, late winter- or spring-flowering, herbaceous perennials that can be treated as annuals. The taller shrubby forms can be placed towards the middle or back of a flowerbed, whereas the mat-forming form can be used as a groundcover in the front of a bed or, as it is often used in Kirstenbosch National Botanical Garden, sprawling over a rockery. They can also be grown in containers. They are best grown in full sun and in well-drained soil, with regular watering in winter and spring. The plants can quickly become untidy and somewhat woody and will benefit from being cut back or replaced every year. The mat-forming plants are often found along the coast and are as such perfect groundcovers for coastal gardens.
As indicated by Harrower (2008) for the red-flowered form, the plants are easily propagated from seed or from cuttings. See Ursinia chrysanthemoides var. geyeri for comprehensive cultivation and propagation advice.
References
Bolus, H.M.L. & Hall, H. 1961. A new species of Ursinia. Journal of South African Botany 27: 253, 254.
Harrower, A. 2008-07-28. Ursinia chrysanthemoides var. geyeri. Internet 4 pp. http://www.plantzafrica.com/planttuv/ursiniachrysgey2.htm, accessed on 17 November 2015
Jackson, W.P.U. 1990. Origins and meanings of names of South African plant genera. University of Cape Town.
Prassler, M. 1967. Revision der Gattung Ursinia. Mitteilungen der Botanischen Staatssammlung München 6: 363–478.
Magee, A., Boatwright, J.S. & Mucina L. 2014. Four new species of Ursinia (Asteraceae, Anthemideae) from South Africa, with an updated key to the genus in Namaqualand. Phytotaxa 177, (3): 137–145.
Credits
Anthony Magee and Jaimie Poovan
Compton Herbarium
December 2015
Plant Attributes:
Plant Type: Ground Cover, Perennial, Shrub
SA Distribution: Eastern Cape, Northern Cape, Western Cape
Soil type: Sandy, Loam
Flowering season: Spring, Early Summer, Winter
PH: Acid, Neutral
Flower colour: Red, White, Cream, Yellow, Orange
Aspect: Full Sun
Gardening skill: Easy
Special Features:
Attracts butterflies
Drought resistant
Good potplant
Feeds honeybees
Pioneer plant
Horticultural zones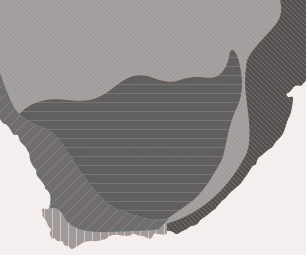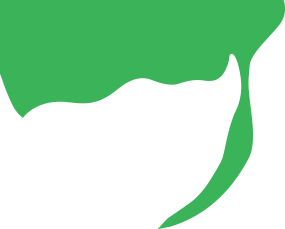 Zone 1 Coastal summer rainfall, frost free
Zone 2 Coastal winter rainfall, frost free
Zone 3 Winter rainfall Karoo, light frost
Zone 5 Bushveld summer rainfall, Light frost
Google QR Code Generator