Ursinia speciosa DC.
Family: Asteraceae
Common names: Namaqua-ursinia (Eng.); Namakwa-ursinia (Afr.)
Introduction
Ursinia speciosa will brighten up any garden during late winter or early spring with its showy orange or yellow flowers.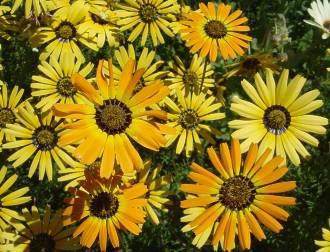 Description
Description
This sprawling annual grows up to 30-45 cm. The leaves are predominantly bipinnatisect (twice divided or lobed) and vary between 20 and 50 mm in length. The lobes are linear.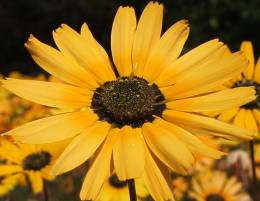 The radiate flower heads have a diameter of 25-50 mm and are solitary on long terminal peduncles (stalks). The ray florets are yellow or orange and the florets of the central disc are dark. The involucral bracts surrounding the flower head are green with rounded, papery tips. The fruits are crowned by five white papery scales and by bristles.  Flowering is from August to October.
Conservation Status
Status
Ursinia speciosa is currently not threatened and has a status of Least Concern (LC).
Distribution and habitat
Distribution description
Ursinia speciosa is common in Namaqualand and southwards to Hopefield where it frequents sandy slopes and flats. There are currently 39 species in this genus of which 38 occur in southern Africa and the remaining one in North Africa.
Derivation of name and historical aspects
History
The German physician and botanist, Joseph Gaertner, named the genus Ursinia after Johann Heinrich Ursinus of Regensburg (1608-1666) who produced the work Arboretum Biblicum. The specific name speciosa is derived from the Latin word for showy.
Ecology
Ecology
As an annual species, this ursinia completes its entire life cycle in a year. This means it grows, flowers, sets seed and dies within a single season.
Being a winter-rainfall species which blooms during late winter and spring, it functions best at low temperatures when it can make sufficient use of the early rains and cool temperatures.
During the flowering season, very showy 'speciosa' flowers are on parade to attract the desired pollinators. With pollination concluded, the species is ready to embark on its next big mission which is to ensure that seed survives the harsh heat of summer.
The species is also well adapted to ensure distribution over a vast area. The seed is incredibly light in weight and has a tuft of papery scales at the tip. This helps to disperse seed by wind. 
Uses
Use
No uses of this species have been recorded.
Growing Ursinia speciosa
Grow
This annual is very easy to grow. Sow seed during autumn (March) in seed beds or seed trays using a light, well-draining medium which is placed in a sunny position. The medium should be levelled and well-watered beforehand. When using a medium that has been used before, it is best to dig the soil over first.
Sow the light seeds evenly on a windless day, water gently, and cover with a thin layer of sand. This very light seed can also be mixed with sand to facilitate sowing. Seed can also be sown directly into garden beds, but germination could be erratic. There will also be fierce competition with fast growing weeds.
The seed will germinate within the first two weeks. Seedlings are pricked out from the beds/trays as soon as they are large enough to be handled.
Preparing large flowering beds often involves rotorvation to loosen up and aerate the compacted soil. Add organic fertilizer and well-rotted compost and use the rotorvator to work it into the soil. Level the soil out by using an iron rake.
To help suppress the development and growth of weeds or other unwanted plants, it could be beneficial to apply an additional mulch-layer of compost.
Transplanting is a crucial stage and care needs to be taken that these seedlings are well watered so that they can get properly established.
This species will thrive when planted in full sun. For better results, ensure that seedlings are planted close together and north-facing, as the flower heads turn to follow the sun.
As of mid-August, this species gradually starts to flower and to come into full bloom towards the end of August. This continues throughout the month of September towards almost mid-October when seed is virtually ready for harvesting.
The Namaqua-ursinia with its warm colours of yellow or orange is equally suitable for en masse or mixed plantings in small or larger flower beds. The following annuals may be propagated and cultivated under the same conditions, and normally complement this ursinia very well: the dainty sky-blue Heliophila coronopifolia (blue flax), the tallish Senecio elegans  (wild cineraria), the multi-coloured Dorotheanthus bellidiformis (Livingstone daisy), Arctotis hirsuta (gousblom), the bright orange Dimorphotheca sinuata (Namaqualand daisy), D. pluvialis (white Namaqualand daisy), bright blue Felicia dubia (dwarf felicia) and blue F. heterophylla. Other annual ursinias which could be useful include the yellow Ursinia anthemoides  (marigold) and U. cakilefolia (orange or lemon).
References
Cowling, R. & Pierce, S. 1999. Namaqualand: A succulent desert. Fernwood Press, Cape Town.
Goldblatt, P. & Manning, J. 2000. Cape plants. A conspectus of the Cape flora of South Africa. Strelitzia 9. National Botanical Institute, Pretoria & Missouri Botanical Garden, Missouri.
Le Roux, A. 2005. Namaqualand : South African Wild Flower Guide 1. Botanical Society of South Africa, Cape Town.
Powrie, F. 1998. Grow South African plants. A gardener's companion to indigenous plants. National Botanical Institute, Cape Town.
Raimondo, D. Von Staden, L., Foden, W., Victor, J.E., Helme, N.A., Turner, R.C., Kamundi, D.A. & Manyama, P.A. (eds) 2009. Red List of South African plants. Strelitzia 25. South African National Biodiversity Institute, Pretoria.
Stearn, W. 2002. Stearn's dictionary of plant names for gardeners. Timber Press, Portland, Oregon.
Credits
Roger Oliver
Kirstenbosch National Botanical Garden
September 2011
Plant Attributes:
Plant Type: Bi/Annual
SA Distribution: Northern Cape, Western Cape
Soil type: Sandy, Loam
Flowering season: Spring, Winter
PH: Neutral
Flower colour: Yellow, Orange
Aspect: Full Sun
Gardening skill: Easy
Special Features:
Good potplant
Horticultural zones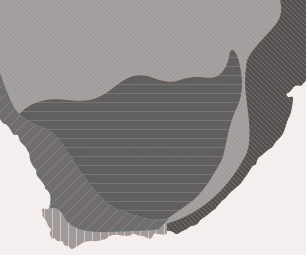 Zone 2 Coastal winter rainfall, frost free
Zone 3 Winter rainfall Karoo, light frost
Google QR Code Generator