Vigna vexillata var. vexillata
Vigna vexillata (L.) A.Rich var. vexillata
Family: Fabaceae
Common names: wild cowpea, narrow-leaved wild sweetpea (Eng.); wilde-akkerboontjie, wilde-ertjie (Afr.); mgcenga (siSwati); isikhwali, ubombo, umcwasibe, umnxwasibe (isiZulu)
Introduction
Vigna vexillata var. vexillata is a perennial, creeping or climbing herb, with beautiful and pleasantly scented, whitish to mauve or dark pink flowers with yellowish nectar guides. It has a distinctive flower shape, designed to hug visiting pollinators. The pods are linear and contain nutritious seeds.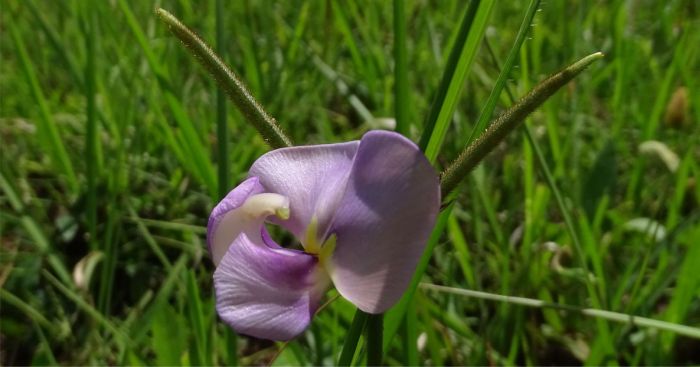 Fig. 1. Flower and young fruits of Vigna vexillata var. vexillata. Photographed by Marinda Koekemoer.
Description
Description
Vigna vexillata  var. vexillata is a creeping or climbing herb, with perennial stems and a spindle-shaped root. The stipules and stipels are egg-shaped to linear and sparsely hairy. The leaflets are arranged in threes (tri-pinnate); the leaflet stalk (rhachis) is up to 17 mm long with hairs similar to those on stems; the petiole is up to 82 mm long; the leaflets are either narrowly or broadly egg-shaped, diamond-shaped or linear, with a wedge-shaped or rounded base and a pointed or slightly blunt tip, up to 120 mm long and 46 mm wide, and with short, stiff, or soft appressed hairs.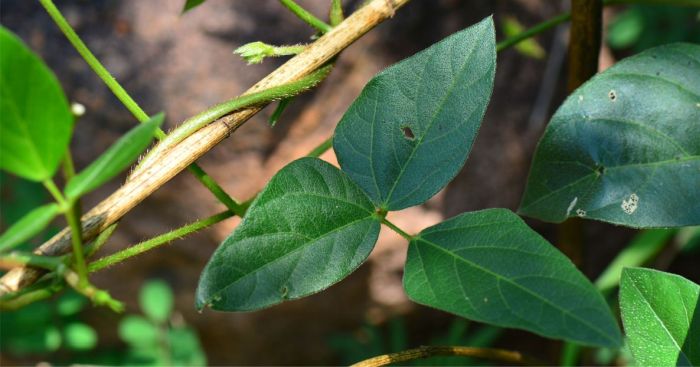 Fig. 2. A tri-pinnate leaf of Vigna vexillata var. vexillata showing typical egg-shaped leaflets with wedge-shaped (rounded) bases and the twining stems. Photographed by Jonathan Swart.
The inflorescence is axillary, up to 180 mm long and with 2–3 flowers; the flower stalks are up to 2 mm long; petals are whitish-cream, mauve, pink, purple or pale with yellow nectar guides; the calyx is sub-equally lobed with the lobes often longer than the tube and covered with short stiff or soft brownish hairs; the pea flowers consist of a large standard petal that is asymmetrically rounded and with a notched apex, two wing petals that are more or less egg-shaped and a beak-like keel with a hollow spur (pocket) on the left-hand petal and the keel tip is twisted to the right through 180°. Nine anther filaments are united and one free and curved to the right. The ovary is attached directly at its base (i.e. sessile), is densely covered with soft, short hairs and curved upwards and to the right. The pods are cylindrical, up to ca. 120 mm long and 5 mm wide, densely covered in short, soft, or fine hairs, or almost without hairs, approximately 25-seeded. The seeds are kidney-shaped or square, up to 6 mm long and 3 mm wide, dark red to maroon to darkish-brown and mottled black to maroon.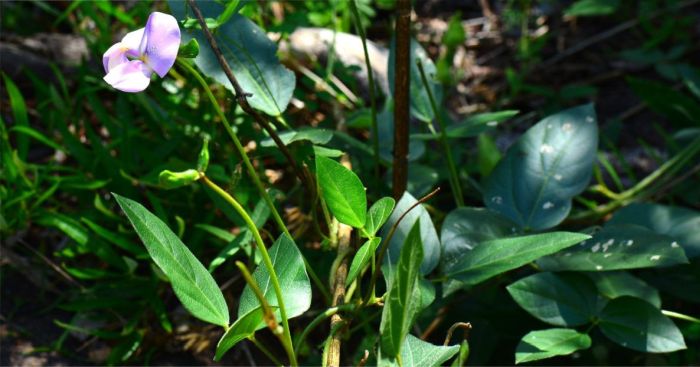 Fig. 3. Long peduncles of Vigna vexillata var. vexillata. Photographed by Jonathan Swart.
Conservation Status
Status
Vigna vexillata var. vexillata is currently determined as Least Concern (LC) according to the Red List of South African Plants.
Distribution and habitat
Distribution description
Vigna vexillata var. vexillata is indigenous to Africa and is found from northern to eastern tropical Africa and southwards to South Africa where it occurs on the eastern side of the country, in Limpopo, North-West, Mpumalanga, Gauteng, Free State, KwaZulu-Natal and the Eastern Cape Provinces. This species is also found in Central and South America, and southern Asia.
This taxon is naturally found in grasslands with dispersed trees, thickets, bushlands, in deserted cultivated land and even forests at altitudes ranging from 0–2 500 m and prefers southern slopes. Its optimal mean annual temperature ranges between 20–28 °C, mean annual rainfall between 1 300–2 100 mm but can survive in areas with lower or higher rainfall. It prefers full sun exposure with soils that have light or medium to adequate water content. It can also survive in water-logged or even poor soils, which is a useful trait in environmental rehabilitation.
Derivation of name and historical aspects
History
Vigna vexillata was first described in a pre-Linnean publication by Johann Jakob Dillenius as Phaseolus flore odorato, vexillo amplo patulo (plant with fragrant flowers, the standard widely spreading) in Hortus Elthamensis vol. 2 (1732) based on material collected in Havana. Then in 1753, Dillenius' species was named according to the binomial system as Phaseolus vexillatus L. by Linnaeus in his Species Plantarum. Linnaeus used the plate painted by Dillenius in 1732 as its type. In 1824, Savi established the genus Vigna into which P. vexillatus was transferred by Achille Richard in 1845.
The genus Vigna is named in honour of Italian botanist Domenico Vigna (d. 1647), who was a professor of botany and Director of the Botanical Garden of Pisa. The specific epithet vexillata means 'having a standard petal', referring to the widely spreading standard petal.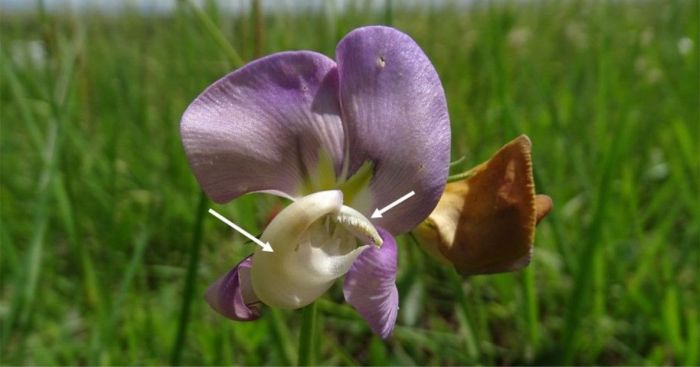 Fig. 4. A close-up of a Vigna vexillata var. vexillata flower showing the yellowish nectar guides on the standard petal, twisted keel beak and hairy style protruding from the keel tip. Photographed by Marinda Koekemoer.
Ecology
Ecology
One of the most interesting and outstanding characters of Vigna vexillata var. vexillata is its "hugging" pollination mechanism which aids in cross-pollination by an insect of a specific size. During this process, the most common pollinators (bees), land on the left-hand wing petal of the flower and climb down into the flower to reach and extract the sweet nectar at the base of the ovary. During this stage, the pressure of the pollinator's body causes the left-hand wing petal to push against the spur on the keel petal, pressuring the keel petal to twist and revolve around the insect's body to hug it while rubbing the pollen onto a specific, lateral area of the visitor's body. If the body of the pollinator already has pollen from a previously visited flower of the same species, it will be rubbed onto the currently visited flower, hopefully leading to cross-pollination. This mechanism plays a role in preventing V. vexillata from hybridising with other species because the lateral placement of the pollen is unlike that of other species where the pollen is rubbed directly onto the abdomen of the pollinating agent. This limits the mixing of pollen from V. vexillata with those of other, related species.
The seeds of V. vexillata have a significant defense mechanism and resistance to pest attacks due to the presence of a dipeptide, para-aminophenylalaline, which can fight off predators such as parasitic beetles. Furthermore, V. vexillata can survive in drought-prone areas and can thus perform well when cultivated in drier areas.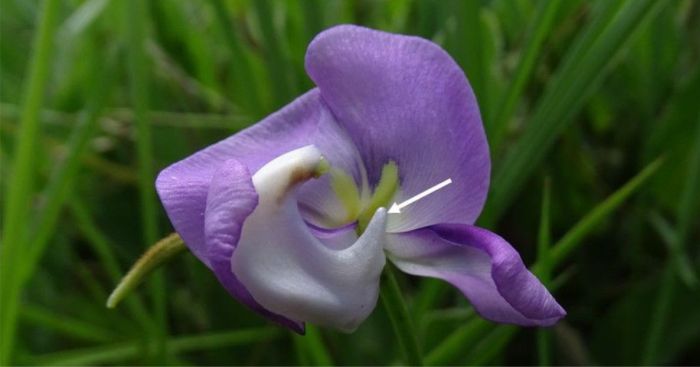 Fig. 5. A close-up of a Vigna vexillata var. vexillata flower showing the twisted keel beak with the spur on the left-hand keel petal. Photographed by Marinda Koekemoer.
Uses
Use
This species is generally used as a fodder for animals and food for humans. Vigna vexillata var. vexillata is cultivated mainly as a root crop in many parts of the world, particularly in Asia (Bali, East Timor, India, and Indonesia) and Africa. The most useful trait for feeding on the species is due to the high protein (15%) content in the plant tubers, making it highly nutritious. It is fast-growing and can therefore quickly populate the soil and provide the necessary nutrients through Nitrogen fixation in the roots. The flowering stage occurs within three to four months followed by the subsequent ripening of the seeds, which takes approximately one month post flowering. By the time the fruits ripen, the roots are also ready for harvesting. In Africa, V. vexillata is cultivated mainly for its nutritious seeds although the roots are also consumed.
Fig. 6. Mature seeds of Vigna vexillata var. vexillata. Photographed by Marianne le Roux.
Growing Vigna vexillata var. vexillata
Grow
Vigna vexillata var. vexillata can be grown in both a garden bed and a spacious container. The seeds take about 10 days to germinate. Select an appropriate planting location in full sun and ensure that the area is not prone to flooding as the plant takes more time to grow where there is too much water. Cylindrical plant pots have been successfully used (330 mm diameter, 300 mm depth) containing a commercial plant potting soil mixture.
For both the container and garden bed methods, it is advisable to scarify the seeds before planting. The process of scarification is used to soften the seed coat by eliminating the seed testa with a tool such as a scalpel. Other forms of scarification include freeze-thaw, heat, mechanical (e.g., using some sandpaper to lightly damage the seed coat), and acid scarification.
Before planting in the garden bed, sprinkle a small amount of water to moisten the soil. Use a stick to create suitable planting holes with the same planting measurements mentioned above and put the seeds in the soil with the seed eye facing downwards. Then sprinkle soil and water to cover the seeds. When V. vexillata matures, stems tend to twine and find support on surrounding vegetation. For this reason, use a stick (approximately, 1.2 m long) on which the crop can twine. Irrigation twice per week is sufficient in both planting techniques.
References
Birch, A.N.E., Fellows, L.E., Evans, S.V. & Doherty, K. 1986. Para-aminophenylalanine in Vigna: Possible taxonomic and ecological significance as a seed defence against bruchids. Phytochemistry, 25: 2745–2749.
Charters, M.L. 2006–2016. The Eponym Dictionary of South African plants. Published online at http://www.calflora.net/southafrica/1Titlepage.html
Dillenius, J.J. 1732. Hortus elthamensis t. 234/302. Cornelius Haak, London.
Fredrick, J.S. 2015. How to grow cowpea as a leafy vegetable in your small garden. https://dengarden.com/gardening/Growing-Cowpeas-Black-Eyed-Peas-as-a-Vegetable.
Karuniawan, A. & Lawn, R.J. 2007. Comparative study of indigenous Vigna vexillata (L.) A. Rich. accessions from different latitudes in Indonesia and Australia. Plant Genetic Resources Newsletter (Biodiversity International/FAO).
Karuniawan, A., Iswandi, A., Kale, P.R., Heinzemann, J. & Grüneberg, W.J. 2006. Vigna vexillata (L.) A. Rich. cultivated as a root crop in Bali and Timor. Genetic Resources and Crop Evolution 53: 213–217.
Kimura, E. & Islam, M.A. 2012. Seed scarification nethods and their use in forage legumes. Research Journal of Seed Science, 5: 38–50.
Linnaeus, C. 1753. Phaseolus. Species plantarum, Vol. 1. Laurentius Salvius, Stockholm.
Maréchal, R., Mascherpa, J.M. & Stainier, F. 1978. Etude taxonomique d'un groupe complexe d'espèces des genres Phaseolus et Vigna (Papilionaceae). Boissiera 28: 1–273.
Miller, I. & Williams, W. 1981. Tolerance of some tropical legumes to six months of simulated waterlogging. Tropical Grasslands 15: 39–43.
Ogundiwin, E., Thottappilly, G., Akenova, M., Ekpo, E. & Fatokun, C. 2002. Resistance to cowpea mottle carmovirus in Vigna vexillata. Plant Breeding 121: 517–520.
Pienaar, B.J. & Kok, P.D.F. 1991. The Vigna vexillata complex (Fabaceae) in southern Africa. South African Journal of Botany 57: 236–245.
Plants of the World Online. Vigna vexillata var. vexillata. Accessed: 28-10-2021. http://plantsoftheworldonline.org/taxon/169741-3.
Raimondo, D., Von Staden, L., Foden, W., Victor, J.E., Helme, N.A., Turner, R.C., Kamundi, D.A. & Manyama, P.A. (eds) 2009. Red list of South African plants. Strelitzia 25. South African National Biodiversity Institute, Pretoria.
Richard, A. 1845. Fanerogamia o plantas vasculares. In D. Ramon de la Sagra (ed.), Historia fisica, politica y natural de la Isla du Cuba, 10: 191. Bertrand, Paris.
Useful Tropical Plants Database. Vigna vexillata. Accessed: 2021-10-14. http://tropical.theferns.info/viewtropical.php?id=Vigna+vexillata.
Vanderborght, T. 1989. Some observations on seedlings of Vigna vexillata (L.) A. Rich. (Fabaceae). Bulletin du Jardin botanique national de Belgique/Bulletin van de Nationale Plantentuin van Belgie 59: 179–187.
Verdcourt, B. 1971. Leguminosae (part 4) subfamily Papilionoideae. Flora of Tropical East Africa. Crown Agents, London.
Credits
Ofentse Mmako & Marianne le Roux
National Herbarium, Foundational Biodiversity Sciences Division
March 2022
Acknowledgements: the authors thank Jonathan Swart and Marinda Koekemoer for providing images and Linda Willemse for assisting with images.
Plant Attributes:
Plant Type: Climber, Perennial, Scrambler
SA Distribution: Eastern Cape, Free State, Gauteng, KwaZulu-Natal, Limpopo, Mpumalanga, North West
Soil type: Loam
Flowering season: Spring, Early Summer, Late Summer, Autumn
PH:
Flower colour: Purple, White, Pink, Cream, Mauve/Lilac
Aspect: Full Sun
Gardening skill: Easy
Special Features:
Drought resistant
Fragrant
Good potplant
Edible plant
Medical plant
Pioneer plant
Horticultural zones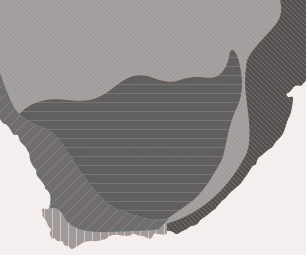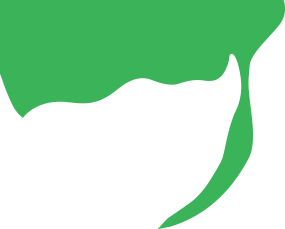 Zone 1 Coastal summer rainfall, frost free
Zone 4 Summer rainfall Karoo and Highveld, Frost in winter
Zone 5 Bushveld summer rainfall, Light frost
Google QR Code Generator