Zanthoxylum humile (E.A.Bruce) P.G.Waterman
Family: Rutaceae
Common names: hairy knobwood (Eng.); harige knophout, harige perdepram (Afr.); monokwane (Sepedi)
Introduction
The hairy knobwood is dressed in a layer of short, grey hairs along its branches and armed with dark, sharp thorns, as if it is fully aware of its medicinal properties and is preventing everyone from overexploiting it. This plant has phytochemical properties capable of treating common wounds, snakebites, sore throats and even the worst pain, the toothache! A small but confident shrub, portraying a 'bring-it-on' attitude; they are not afraid of being browsed by game, for they can browse at their own risk. The plant thrives in open woodland of the KwaZulu-Natal, Limpopo, Mpumalanga Provinces and extends as far as Zimbabwe and Mozambique. With such a distribution range to cover, the plant decided to split into two, with male plants only yielding flowers and distinguished from the females which bear both flowers and fruits. It is not concerned much about its looks, with the branches appearing a bit scattered and making it not the most ideal potted plant.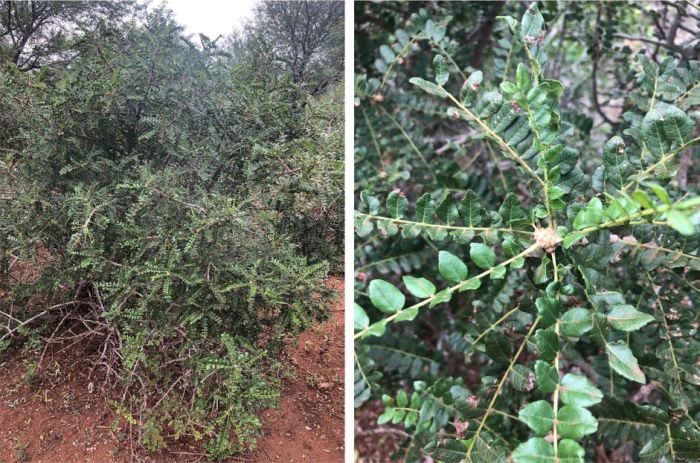 Description
Description
A deciduous, suckering subshrub, reaching a maximum height of 3 m, with scattered branches. The branches are armed with thorns and both the branches and leaf stalks are covered with grey hairs, becoming smooth. The plant has compound, opposite-alternate leaves measuring up to 160 mm long, with 4–14 pairs of leaflets and one unpaired leaflet at the tip. The leaves are strong smelling.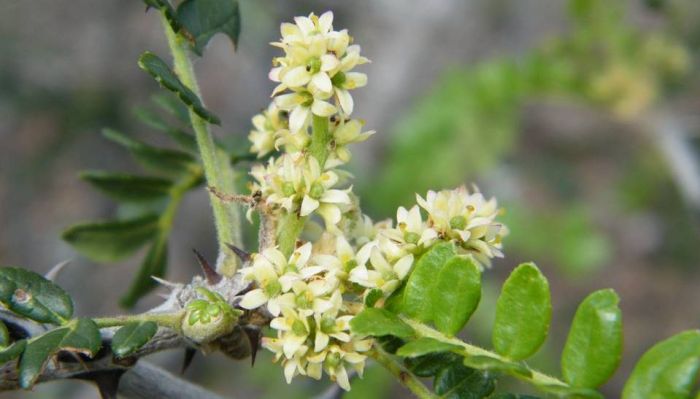 Zanthoxylum humile is a dioecious plant, meaning that it bears male and female flowers on separate trees. Flowering takes place in spring to summer. Flowers are scented, greenish yellow, in a raceme inflorescence, in which the flowers are borne vertically on the same stalk. The plant produces a smooth, gland-dotted fruit, red-orange when ripe, which splits in half to release a shiny black seed.
Conservation Status
Status
According to the Red List of South African plants, Zanthoxylum humile is assessed as Least Concern (LC).
Distribution and habitat
Distribution description
Zanthoxylum humile is found in open montane woodland of KwaZulu-Natal, Limpopo and Mpumalanga Provinces (Germishuizen & Meyer 2003). It extends towards the southeastern parts of Zimbabwe (Schmidt et al. 2002). It is also recorded in Mozambique (Ribiero et al. 2010). The plant is capable of surviving on poorly drained, loamy soil, in open full sun.
Derivation of name and historical aspects
History
Zanthoxylum is derived from the Greek words, xanthos, which means 'yellow' and xylon, 'wood', given to the genus because several species have a yellow wood, and humile, means 'lower' or 'humbly', in reference to the height of the plant.
The genus Zanthoxylum has a wide distribution around the world, in warm, temperate and subtropical regions, making it one of the largest genera in the Rutaceae family, with 212 species (Nhiem et al. 2019). There are several other noteworthy species possessing medicinal properties, such as Zanthoxylum amartum, Z. americana, Z. capense, Z. ekmanii, Z. monogynum, Z. nitidium, Z. ovalifolium, Z. panamense, Z. rhoifolium, Z. setulosum, Z. sprucei and Z. zynthoxyloides. This genus has been extensively studied and has a wide range of chemical compounds, with much interest placed on its alkaloid compounds. Alkaloids possess the following biological activities: antibacterial, anti-inflammatory, antimalarial, antiviral, and cytotoxic activities (Nhiem et al. 2019). In Kenya, the leaves and roots of Zanthoxylum gilletii are used to treat both breast and skin cancers (Ochwang et al. 2014). Zanthoxylum fruits are used in Cameroon to treat anemia disease and sickle erythrocytes. The use of Zanthoxylum fruits is also noted in India and southern Japan for chemopreventive effects (Lee & Lim 2011). In southern Africa, Zanthoxylum capense (small knobwood) is used to treat chronic cough (Semenya & Maroyi 2012), stomachache, toothache, infertility, snake bites and also as a paste to treat sores by Zulu people (Hutchings 1996; Kondlo 2012). The phytochemical screening of Z. humile has tested positive for the presence of alkaloids, coumarins, flavonoids, glycosides, saponins and terpenoids validating its medicinal use (Papo 2017). The presence of these compounds in several members of the genus were also highlighted by Nhiem et al. (2019).
Ecology
Ecology
The leaves of Zanthoxylum humile are browsed by game, such as kudu, klipspringer and grey duiker. The fruits are eaten by various bird species, resulting in the dispersal of the seeds.
Uses
Use
In Limpopo Province, the Ga-Mashashane people use the root bark of Zanthoxylum humile to treat colds, flu and sore throat (Papo 2017). The plant is used to treat impotence by the Bapedi traditional healers (Semenya & Maroyi 2013). In Zimbabwe, a root decoction is used to treat erectile dysfunction, diarrhea, hypertension and diabetes (Dzomba & Gwizangwe 2013). In Mozambique, the root bark is used to treat toothache and applied topically for wounds and burns (Ribiero et al. 2010).
Growing Zanthoxylum humile
Grow
It is not often seen in cultivation and little is known on the propagation and cultivation of Zanthoxylum humile. The seeds are recalcitrant, and difficult to germinate. Harvest the seeds in autumn, when the fruits split open, and sow them as soon after harvesting as possible. Soak the seeds in a bit of hydrochloric acid, about 15% volume with distilled water, for about 15 to 20 minutes (G. Nichols pers. comm. 2021). Scratch the outer coat of the seed with sandpaper, without harming the embryo inside, this mimics the digestive system of a bird and weakens the seed coat (G. Nichols pers. comm. 2021). Soak the seeds in lukewarm water for 24 hours (Onszaden n.d). Sow in a well-drained, fertile soil medium, a mix of 1:1 sand and leaf-litter is recommended by Geoff Nichols. Place the seed tray at 20–25ºC. Keep the soil moist. Expect 50 to 70% germination, some should come up in just over a week, and the rest a week or so later (G. Nichols pers. comm. 2021). Transplant the seedlings when they reach the 2-leaf stage.
Instead of treating with acid, one could try cold treatment, as is used for Z. piperitum (Japanese pepper), where, after scratching and soaking the seeds, the sown tray is placed in a fridge for 3 months (Onszaden n.d).
Plant into the garden in spring or summer, in well-drained, fertile soil, in full sun. The plant is probably hardy, drought resistant, pest free and easy to grow with little pruning required (Burncoose Nurseries n.d.).
Take note that it is a devilish plant, with spines strong enough to pierce clothing and soft shoes. But, it is a good wildlife-friendly plant, feeding game and birds, and gives good muthi (G. Nichols pers. comm. 2021).
References
Burncoose Nurseries. Zanthoxylum piperitum purple-leaved. https://www.burncoose.co.uk. Accessed on 2021/04/15.
Dzomba, P. & Gwizangwe, I. 2013. TLC separation, antimicrobial and anti-inflammatory activity of extracts derived from Zanthoxylum humile roots. International Journal of Research in Ayurveda and Pharmacy 4(4): 482–486.
Foden, W. & Potter, L. 2005. Zanthoxylum humile (E.A.Bruce) P.G.Waterman. National Assessment: Red List of South African plants version 2020.1. Accessed on 2021/04/12.
Germishuizen, G. & Meyer, N.L. (eds) 2003. Plants of southern Africa: an annotated checklist. Strelitzia 14. National Botanical Institute, Pretoria.
Hutchings, A., Scott, A.H., Lewis, G. & Cunningham, A.B. 1996. Zulu medicinal plants: an inventory. University of Natal Press, Pietermaritzburg.
Kondlo, M. 2012. Zanthoxylum capense (Thunb.) Harv. (Rutaceae). PlantzAfrica. Online. http:// http://pza.sanbi.org/zanthoxylum-capense
Lee, J. & Lim, K.T. 2011. Inhibitory effect of phytoglycoprotein (24 kDa) on hepatocarcinogenesis in Nnitrosodiethylamine-treated ICR mice. Journal of Pharmacy and Pharmacology 63: 840–848.
Nhiem, N.X. et al. 2020. Alkaloids and their pharmacology effects from Zanthoxylum genus. In K. Sharma, et al. (Eds.), Bioactive compounds in nutraceutical and functional food for good human health. IntechOpen. DOI: 10.5772/intechopen.91685.
Ochwang'I, D.O., et al. 2014. Medicinal plants used in treatment and management of cancer in Kakamega County, Kenya. Journal of Ethnopharmacology 151: 1040–1055.
Onszaden. Winter Hardy Japanese Pepper (Zanthoxylum piperitum). https://onszaden.com/zanthoxylum_piperitum. Accessed on 2021/04/15.
Papo, L.A. 2017. The ethnobotanical, antimicrobial and phytochemical screening of selected medicinal plants from Ga-Mashashane, Limpopo, South Africa. M.Sc. Dissertation, University of Johannesburg, Johannesburg.
Rajamani, P. et al. 2011. Chemoprotective influence of Zanthoxylum on hepatic carcinogen metabolizing and antioxidant enzymes and skin papillomagenesis in murine model. Indian Journal of Experimental Biology 49: 857–863.
Ribeiro, A. et al. 2010. Ethnobotanical survey in Canhane Village, district of Massingir, Mozambique: medicinal plants and traditional knowledge. Journal of Ethnobiology and Ethnomedicine 6: 33.
Schmidt, E., Lötter, M. & McCleland, W. 2002. Trees & shrubs of Mpumalanga and Kruger National Park. Jacana, Johannesburg.
Semenya, S. et al. 2013. Herbal medicines used by Bapedi traditional healers to treat reproductive ailments in the Limpopo Province, South Africa. African Journal of Traditional, Complementary Alternative Medicines 10(2): 331–339
Credits
Lesiba Papo

National Herbarium, Pretoria

May 2021
Acknowledgements: The author thanks Geoff Nichols for sharing his knowledge on the cultivation of this plant species.
Images by: Fraser Gear, Geoff Nichols, Penny English and Troos van der Merwe, as credited.
Plant Attributes:
Plant Type: Shrub
SA Distribution: KwaZulu-Natal, Limpopo, Mpumalanga
Soil type: Sandy, Loam
Flowering season: Spring
PH:
Flower colour: Green, White, Cream
Aspect: Full Sun
Gardening skill: Average
Special Features:
Attracts birds
Drought resistant
Fragrant
Medical plant
Useful plant
Horticultural zones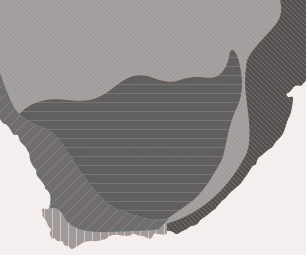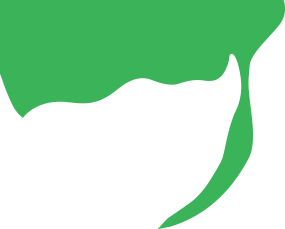 Zone 1 Coastal summer rainfall, frost free
Zone 5 Bushveld summer rainfall, Light frost
Google QR Code Generator