Ziziphus rivularis Codd
Family: Rhamnaceae
Common names: false buffalo-thorn, river buffalo thorn, river jujube (Eng.); rivierblinkblaar, vals-wag-'n-bietjie (Afr.); mukhalu-vhufa, mulalantsa (Tshivenda)
SA Tree No: 448
Introduction
Ziziphus rivularis is drought-resistant and has attractive, glossy, olive-green foliage with variable venation, as well as an attractive grey stem. This is the only South African Ziziphus without thorns. It was quite sad for me, that when I was looking for specimens in Kirstenbosch National Botanical Garden, I found that one of the trees was defaced because some people had carved their initials into a branch. Unfortunately, what this kind of tree carving does, is to destroy the tree's beauty for as long as the tree lives. It also makes the tree vulnerable to harmful diseases and infections that enter the tree via the carving, so this is just a plea to people to not carve anything on our beautiful trees.
Description
Description
Ziziphus rivularis is a fast-growing, small tree or large shrub that grows up to 7 m tall, with a spread of up to 4 m. It is an evergreen to semi-deciduous, multi-stemmed tree. The bark is smooth and whitish, becoming dark grey in colour.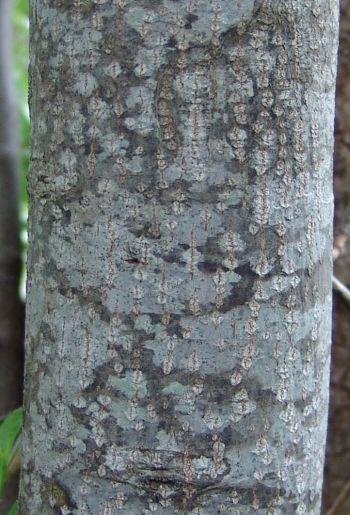 The leaves are glossy, lanceolate to ovate-lanceolate, with sparse hairs on younger leaves, but becoming hairless at maturity. They are simple, alternate and spirally arranged.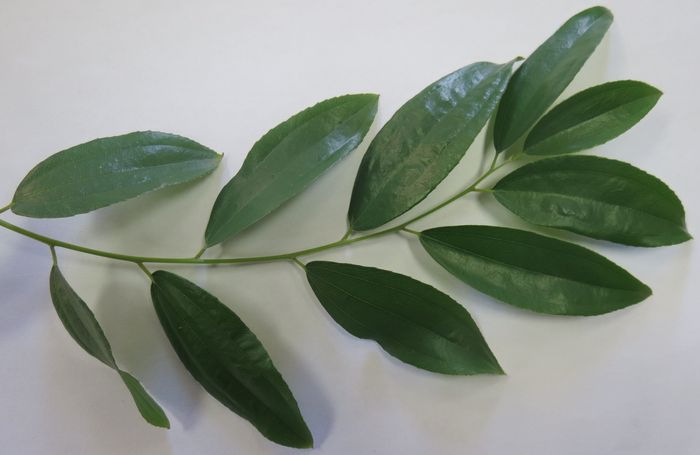 The leaves have distinctive parallel venation on both upper and lower surfaces of the leaf.
The inconspicuous flowers are small, yellowish and come in small, compact axillary heads that do not have peduncles (a stem supporting an inflorescence). The flowers appear in early to midsummer, from November to January.

They are followed by shiny, spherical, yellow fruits that ripen to dark brown. The fruits are solitary on each leaf axil, containing up to 3 seeds, in late summer, from January to May.
Conservation Status
Status
Ziziphus rivularis is not threatened, and is listed as Least Concern (LC) according to the Red List of South African plants.
Distribution and habitat
Distribution description
Ziziphus rivularis commonly occurs in bushveld, along stream banks and watercourses, often among rocks. It is found in KwaZulu-Natal, Limpopo and Mpumalanga, but is not endemic (native and restricted to a certain place) to South Africa, as it is also found in Mozambique. Most species of Ziziphus are distributed in the warm-temperate and subtropical regions throughout the world.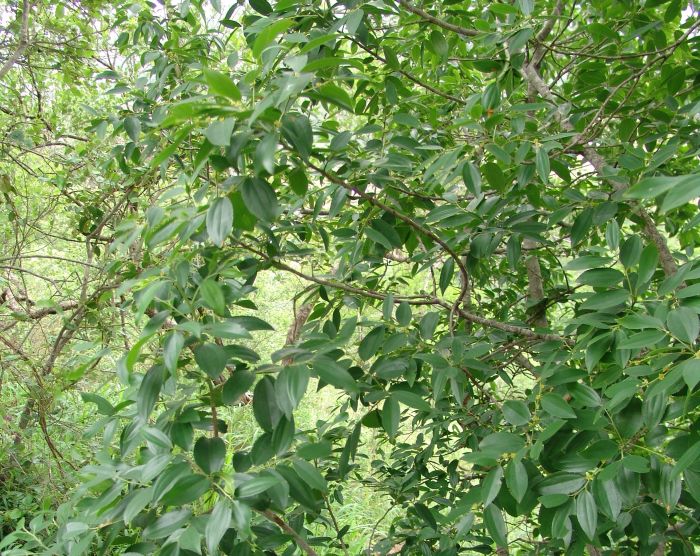 Derivation of name and historical aspects
History
The genus name Ziziphus is derived from the Arabic name zizouf, (zizyphon in Greek), which is the name for the lotus tree or jujube tree, Ziziphus lotus, with dark red edible fruits and known since ancient times, and the origin of the 'jujube' sweet. The species name rivularis is Latin meaning 'from or near rivers', because of the tendency of this species to grow near streams and watercourses.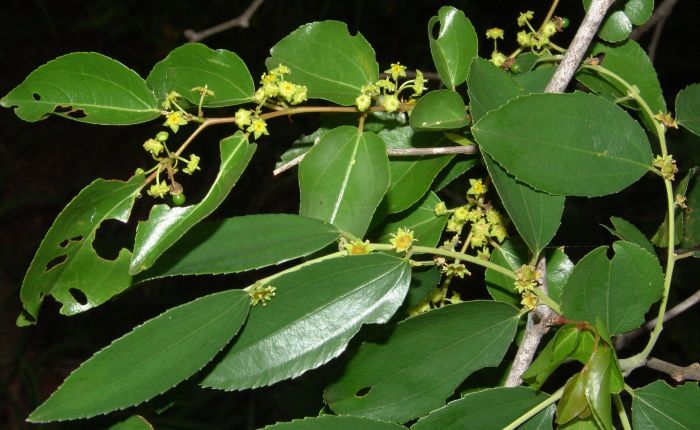 There are about 40 species in the genus Ziziphus, most are spiny shrubs and small trees, with 5 species native to southern Africa and 3 naturally occurring in South Africa, namely Z. zeyheriana (dwarf buffalo-thorn), Z. rivularis and Z. mucronata (buffalo-thorn). One of the common names for Z. rivularis is false buffalo-thorn, 'false' because the tree lacks the spines typical of the other 2 species, and it also lacks the edible fruit.
Ziziphus rivularis closely resembles Z. pubescens (small jujube) that is found in forested areas in neighbouring Mozambique. They differ mainly in Z. rivularis leaves becoming hairless, the ovary is 3-celled and the flowerhead is sessile and is made up of 1-5 flowers, whereas Z. pubescens leaves keep their pubescence, the ovary is 2-celled and the flowerhead has a short peduncle and several flowers.
Ecology
Ecology
The fruits of Ziziphus species are an important source of food for birds. The birds eat the whole fruit and vomit the seeds unbroken, dispersing the seeds in the best conditions for germination. This type of seed dispersal is called ornithochory, where birds eat and disperse seeds. Mammals and fishes also assist in seed dispersal.
The leaves are used as a source of food by Lepidopterans, mainly the Bucculatrix zizyphella and Endoclita malabaricus, both types of moths.
Uses
Use
Both Ziziphus mucronata and Z. zeyheriana are used in traditional medicine, for health benefits, and their fruits are edible. There are no records indicating that Z. rivularis is also used medicinally, however, it is much rarer than the widespread Z. mucronata, and it is possible it is used in a similar way. The fact that the fruits are dispersed by birds, fishes and mammals, suggests that they are edible, however, there is no record of whether or not it is safe for human consumption.
Growing Ziziphus rivularis
Grow
These trees grow easily from seeds and cuttings, however, it is best to propagate from seed. Sow fresh seed in spring or autumn in any type of soil, as they grow in most types of soils.
May also be propagated by means of grafting. Grafting is a horticultural technique used to join parts from 2 or more plants so that they appear to grow as a single plant. In grafting, the upper part of one plant called the scion, grows on the root system (rootstock) of another plant. When grafting, always select the healthiest and uninfected scions from current season's growth, early in the morning, when the temperature is cool. Take cuttings of new growth that is mature and avoid immature specimens, as immature growth will dehydrate and wilt.
This tree is half hardy to frost and does best in warm climates and can be used as a windbreaker. It is also bird friendly, so it will make a useful addition to the garden when the purpose is to attract or benefit wildlife. It grows in full sun and is a low maintenance plant, requiring moderate watering. It makes a good garden subject and is suitable for small gardens.
References
Coates Palgrave, K. 1997. Trees of southern Africa. Struik, Cape Town.
Codd. L.E. 1958. Ziziphus rivularis Codd. Bothalia 7: 31-33
De Winter, B., De Winter, M. & Killick, D.J.B. 1966. Sixty-six Transvaal trees. Botanical Research Institute Department of Agricultural Technical Services, Pretoria.
Foden, W. & Potter, L. 2005. Ziziphus rivularis Codd. National Assessment: Red List of South African plants version 2017.1. Accessed on 2019/06/14.
Hahn, N. 1994. Tree list of the Soutpansberg. Auspices of the Western Soutpansberg Conservation Working Group, Pretoria.
iScanTree, Ziziphus rivularis. http://iscantree.co.za/ziziphus-rivularis-vals-wag-n-bietjie-false-buffalo-thorn/. Accessed 14 June 2019.
Jackson, W.P.U. 1990. Origins and meanings of names of South African plant genera. University of Cape Town.
Johannesburg Zoo, Plant of the month: June 2019, Ziziphus zeyheriana. http://www.jhbcityparks.com/index.php/plant-of-the-month-mainmenu-101. Accessed 14 June 2019.
Keith Kirsten's Plantinfo. Ziziphus rivularis. http://plantinfo.co.za/plant/ziziphus-rivularis/. Accessed 14 June 2019.
Operation Wildflower, Albums, Ziziphus rivularis. https://www.operationwildflower.org.za/index.php/albums/genera-q-z/ziziphus/ziziphus-rivularis-jw-1649. Accessed 14 June 2019.
Pooley, E. 1993. The complete field guide to trees of Natal, Zululand and Transkei. Natal Flora Publication Trust, Durban.
Random Harvest, Ziziphus rivularis. https://www.randomharvest.co.za/en-us/South-African-Indigenous-Plants/Show-Plant/PlantId/115?Plant=Ziziphus%20rivularis. Accessed 14 June 2019.
Credits
Sisanda Velembo
Kirstenbosch National Botanical Garden
July 2019
Plant Attributes:
Plant Type: Shrub, Tree
SA Distribution: KwaZulu-Natal, Limpopo, Mpumalanga
Soil type: Sandy, Loam
Flowering season: Early Summer, Late Summer
PH:
Flower colour: Green, Yellow
Aspect: Full Sun
Gardening skill: Average
Special Features:
Attracts birds
Hedge/screen
Feeds honeybees
Horticultural zones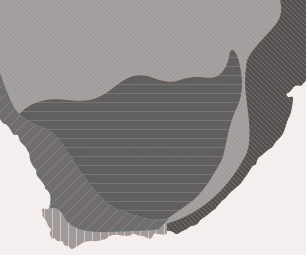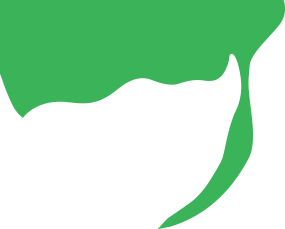 Zone 1 Coastal summer rainfall, frost free
Zone 2 Coastal winter rainfall, frost free
Zone 3 Winter rainfall Karoo, light frost
Zone 5 Bushveld summer rainfall, Light frost
Google QR Code Generator