Acmadenia kiwanensis I.Williams
Family: Rutaceae
Common names: Kiwane porcelain flower
Introduction
An interesting aromatic shrub with vibrant pink flowers, that grows among the relict fynbos of the Eastern Cape, between the Keiskamma and Chalumna Rivers.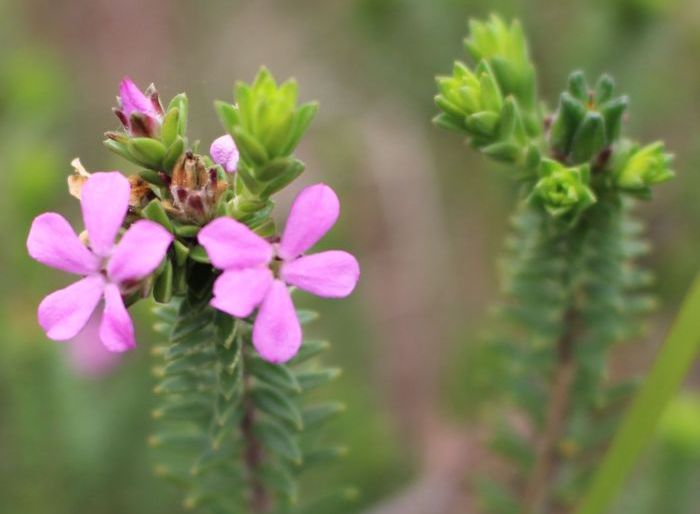 Description
Description
Acmadenia kiwanensis is a small shrub, single-stemmed at the base, growing 300–500 mm tall. Numerous branches, almost roughly spreading out (which might be the result of cattle trampling) are woody, and greyish brown. Branchlets, also numerous, are erect and somewhat clustered, and covered with short, white hairs at first. Leaves are 7–14 mm long (including the petiole which is 1.0–1.5 mm long), and 1.5–2.2 mm wide. The longest leaves are narrower and vice versa. The leaves are lanceolate to linear-lanceolate, acute, alternate. Flowers are pink, solitary, at the tip of branchlets, 10 mm in diameter, with 5, spreading, obovate, apiculate petals. Flowering in winter, spring and summer (August to March) or sporadically through most months of the year.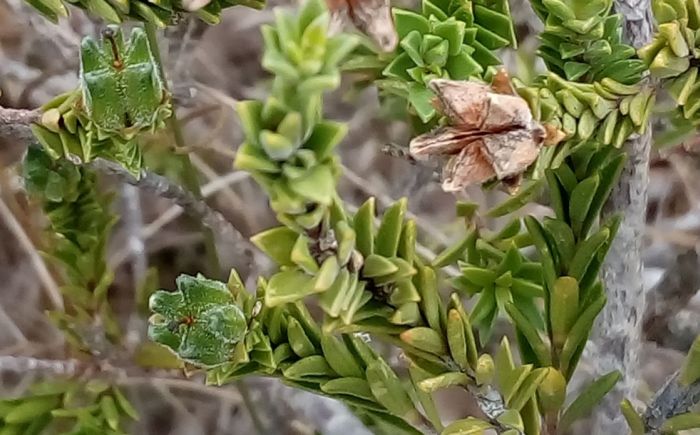 Fruit 5-carpellate, 6.5 mm long, 4.5 mm in diameter; carpels light green at base, dark green on tip, with short fine hairs on the sides, and short horns, 1.5 mm long. Seed black, shining, 4.5 mm long and 1.9 mm wide.
When leaves are crushed they have a pleasant sweet smell.
Conservation Status
Status
In the Red List of South African plants, Acmadenia kiwanensis is assessed to be Critically Endangered (CR). The population is declining because of overgrazing and inappropriate fire management. Seeds have been banked with the Millennium Seed Bank Partnership for ex situ conservation. Living plant material, which was collected for the Kwelera NBG, did not survive transplantation, and currently the Garden is targeting seeds so that it can be successfully propagated.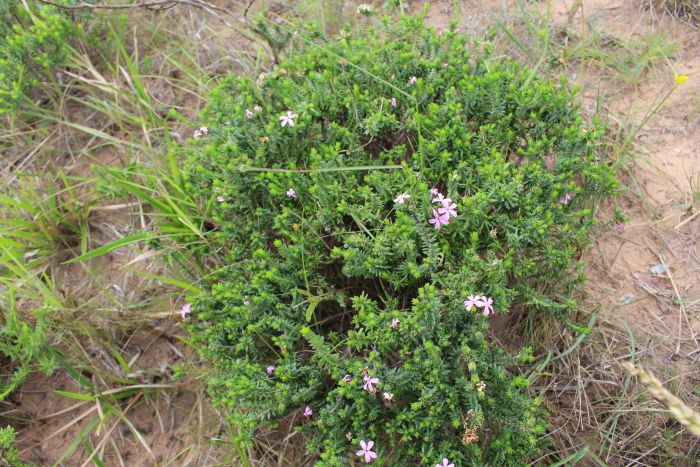 Distribution and habitat
Distribution description
Acmadenia kiwanensis is endemic to South Africa and occurs in the Eastern Cape, between the Keiskamma and Chalumna Rivers, within 8 km of the coast. It is found growing in relict fynbos habitat mixed with grassland, in shallow soil, on flat quartzitic sandstone beds. In their natural habitat they are fully exposed to the sun. The surrounding area is fairly heavily grazed by cattle and frequently burned.
Derivation of name and historical aspects
History
The genus Acmadenia has 33 species that occur in the Western Cape and in the southern parts of the Eastern Cape. The genus name, Acmadenia, is derived from the Greek akme, which means 'highest point' and aden, meaning 'glands', referring to the glands on the anthers. The species name kiwanensis is derived from the type locality, Kiwane, in the Eastern Cape, where this species was first collected.
Acmadenia kiwanensis was first noticed by an Agricultural Officer in 1952. Derek Comins, who was in charge of the Botanical Research Unit in Grahamstown at the time, found it in 1956 on the slopes above the Kiwane River and sent specimens to Pretoria and Grahamstown. It looked so different from any other Acmadenia and its locality was so much further east than any of the others, that it prompted Ion Williams, who was working on the Rutaceae, to investigate and collect fresh material in 1976, which resulted in his description of A. kiwanensis as a new species in 1978.
Its nearest close relative is Acmadenia obtusata, about 200 km away, growing on limestone near Port Elizabeth.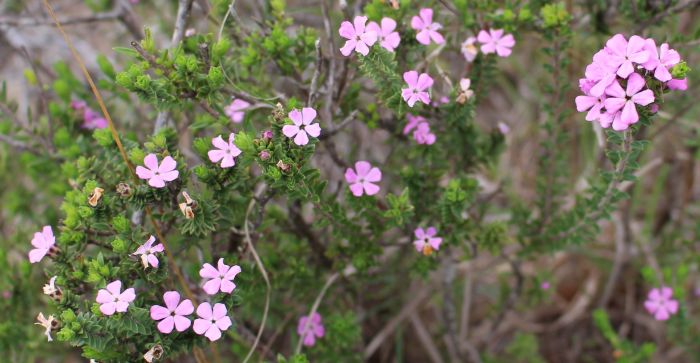 Ecology
Ecology
This eye-catching plant with pretty pink flowers, seems to attract a lot of insects and that the flowers produce nectar, shows that it is pollinated by insects. Regrowth happens by seed, which is dispersed by catapult mechanism; when the fruits are ripe, the seeds are shot out of the capsule. The leaves have a sweet smell when crushed, which is caused by aromatic oils in the leaves. The MSBP ex situ officer has observed the shrub to bear flowers throughout the year in different intensities, with the most flowers showing in the months of August to March. MSBP observations were done in 2018/2019. They have no persistent rootstock and therefore, it is very doubtful that they can survive veld fires.
Uses
Use
Acmadenia kiwanensis attracts a lot of insects, includingn bees, because of its nectar-rich flowers. It would make an attractive garden plant and be useful in landscaping because of the long flowering period, and its bright green leaves. There are no known medicinal uses.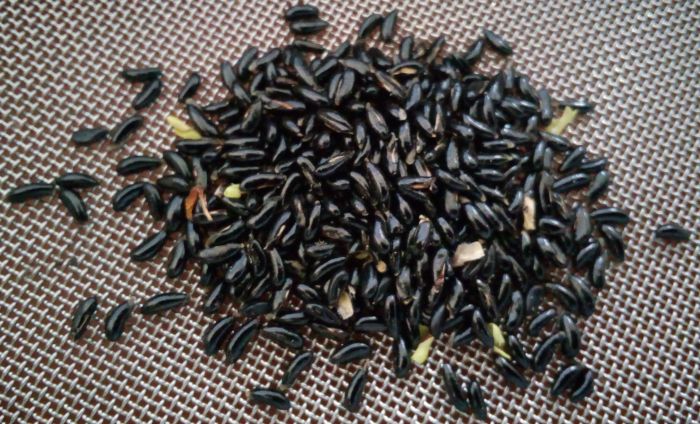 Growing Acmadenia kiwanensis
Grow
At the time of writing, Acmadenia kiwanensis has not yet been propagated or cultivated at Kwelera National Botanical Garden. Other species of Acmadenia are known to grow well from seeds or cuttings when conditions are right, but a lot of skill is needed to cultivate them. A. kiwanensis did not survive uprooting and transplantation in the Kwelera National Botanical Garden, which could have been a result of damaged or disturbed roots.
To propagate acmadenias in general: sow seed seed in autumn, in trays filled with a well-drained sowing medium such as one of equal parts sand, loam and compost. Keep moist and place in a well lit area with good air circulation. Germination should occur in 1 to 2 months and seedlings pricked out into individual pots/growbags filled with fynbos medium when 4 true leaves have developed.
Take tip cuttings from the current year's growth, make a clean cut below a node and dip the base in a rooting hormone. Plant in a well-drained medium, and place in a well-aerated propagation unit with bottom heated benches at 24ºC. Rooting should occur in 9 to 11 weeks. Rooted cuttings carefully transplanted into well-drained fynbos medium and grown on for 7 to 8 months. Feed with compost.
Treat this species as a typical fynbos plant; grow it in well-drained (sandy), acidic soil in a sunny position that has good air circulation. Feed with well-rotted compost and keep root disturbance to a minimum.
References
Jodamus, N. 2005. Acmadenia obtusata (Thunb.) Bartl. & H.L.Wendl. (Rutaceae). PlantZAfrica. Online. http://pza.sanbi.org/acmadenia-obtusata
Van der Walt, L. 2000. Acmadenia heterophylla P.E. Glover. (Rutaceae). PlantZAfrica. Online. http://pza.sanbi.org/acmadenia-heterophylla
Victor, J.E. 2007. Acmadenia kiwanensis I.Williams. National Assessment: Red List of South African plants version 2017.1. Accessed on 2019/08/06.
Victor, J.E. & Dold, A.P. 2003. Threatened plants of the Albany Centre of Floristic Endemism, South Africa. South African Journal of Science 99: 437–446.
Williams, I. 1978. Studies in the genera of the Diosmeae (Rutaceae): 7. Journal of South African Botany 44(4): 347–350.
Credits
Sibahle Gumede
Millennium Seed Bank Partnership
and Charlie Maimela
Kwelera National Botanical Garden
August 2019
Plant Attributes:
Plant Type: Shrub
SA Distribution: Eastern Cape
Soil type: Sandy
Flowering season: Spring, Early Summer, Late Summer, Winter
PH: Acid
Flower colour: Pink
Aspect: Full Sun
Gardening skill: Challenging
Special Features:

Fragrant

Feeds honeybees
Horticultural zones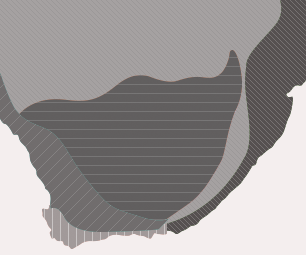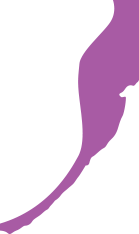 Zone 1 Coastal summer rainfall, frost free
Zone 2 Coastal winter rainfall, frost free
Google QR Code Generator