Acmadenia mundiana Ecklon and Zeyher
Family: Rutaceae
Common names: De Hoop porcelain flower (Eng.), De Hoop-boegoe (Afr.)
Introduction
This attractive shrub with grey-green foliage carries bright pink star-shaped flowers almost all year round but mainly in winter and spring.
Description
Description
Acmadenia mundiana is a densely branched, single-stemmed shrub. It grows to a height of 1.2 m and spread of 0.7 m. The shaggy-hairy leaves are 11 mm long and 4 mm wide with a prominent midrib. This evergreen shrub bears bright pink flowers, 15 mm wide, at the tips of stems almost all year round but mainly during winter and spring ( June to September). The flowers have five petals with a dark pink nectar guide on each petal leading into the flower with a closed throat.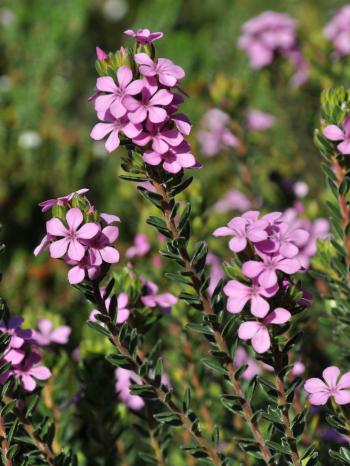 Conservation Status
Status
Rare. It occurs over an area of <200 km² and has no known threats.
Distribution and habitat
Distribution description
Acmadenia mundiana is restricted to limestone hills and outcrops between the De Hoop Nature Reserve and Potberg.
Derivation of name and historical aspects
History
The genus Acmadenia gets its name from the Greek akme meaning 'highest point' and aden meaning 'gland', referring to the glands on the anthers. This species is named after Johannes Ludwig Leopold Mund (1791-1831), Berlin born pharmacist who was sent to the Cape in about 1816 and collected plants for the Prussian government, in company with Maire.
Acmadenia mundiana belongs to the Citrus family (Rutaceae). There are 33 species in the genus Acmadenia and they are mainly found in the southern and south western Cape.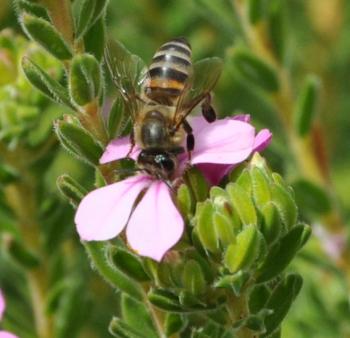 Ecology
Ecology
Acmadenia mundiana flowers are visited by bees, butterflies and other insects that feed on nectar and pollen.
Uses
Use
In this family, Rutaceae, the leaves and fruit are dotted with aromatic oil glands that produce a fragrant scent unique to each species. Acmadenia belongs to a group of genera in the Rutaceae locally referred to as buchus. Buchus are quite easily identified by the strong aromatic scent released when the leaves are crushed. The well known medicinal buchus are Agathosma betulina and A. crenulata. There are no known medicinal uses for Acmadenia mundiana. It is a rewarding ornamental garden shrub and a long-lasting cutflower.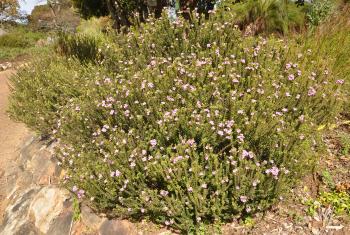 Growing Acmadenia mundiana
Grow
Acmadenia mundiana easily adapts to growing in the garden where it requires full sun and well-drained slightly acid soil. Plants respond well to a slow fertilizer such as 3:1:5 and an annual mulching with compost or a thick layer of mulch. This helps to reduce weeds and keeps the soil temperature low. Acmadenia mundiana can be used as container plant, in mix borders or in a rockery.
Buchus can be propagated from seed or cuttings. Sow fresh buchu seed in autumn in a seedtray containing a well-drained medium of equal portions of sand, loam and compost. Use some of the medium to cover the seed and water. Place in a covered area with good light and air circulation. Keep medium damp. Germination occurs in 1 to 2 months.
Prick young seedlings out into bags containing a fynbos medium when 4 true leaves have developed. Pinch out the growing tips of the seedlings to encourage bushy growth. Flowers are produced after two years.
Cuttings have the advantage of producing a larger flowering plant sooner than seedlings. Tip cuttings, 50-70 mm, are taken from the current year's growth (December to February). Prepare cuttings by making a clean cut below the node and remove the third of the foliage. Dip the base of the cutting in a rooting hormone. Place the cuttings in a medium of 50% bark and 50% polystyrene. Firm medium around cutting. Ideally these cuttings should now be placed in an well-aerated propagation unit with a bottom heat of 24-degree Celsius. Rooting occurs in 9 to 11 weeks. Carefully pot the rooted cuttings using a well-drained, humus riched fynbos potting medium (2 parts leafmould, 1 part coarse sand). Plants will be ready for planting in 7 to 8 months. Feed regularly with a well-balanced nutrient. Yellow leaves can be treated with an application of iron chelate.
Other interesting species in the genus Acmadenia are : A. heterophylla, a low spreading shrub with bright pink flowers in autumn. An ideal plant to be used in coastal gardens, A. obtusata, commonly know as the Dune Buchu or Duineboegoe, grows to a height of 70 mm and displays clusters of pink star-shaped flowers from April to November. These and other buchus including those in the genera Agathosma, Adenandra and Coleonema prove to be excellent garden plants.
References
Goldblatt, P. & Manning, J. 2000. Cape Plants. A conspectus of the Cape flora of South Africa. Strelitzia 9. National Botanical Institute, Pretoria & Missouri Botanical Garden, Missouri.
Jackson, W.P.U. 1990. Origins and meanings of names of South African plant genera. University of Cape Town.
Victor, J.E. 2004. Acmadenia mundiana Eckl. & Zeyh. National Assessment: Red List of South African Plants version 2015.1. Accessed on 2016/07/25
Credits
Norma Jodamus
Kirstenbosch National Botanical Garden
September 2002
Updated by Alice Notten, Kirstenbosch NBG, July 2016
Plant Attributes:
Plant Type: Shrub
SA Distribution: Western Cape
Soil type: Sandy, Loam
Flowering season: Winter
PH: Acid, Neutral
Flower colour: Pink
Aspect: Full Sun
Gardening skill: Average
Special Features:

Attracts butterflies

Fragrant

Good potplant

Feeds honeybees
Horticultural zones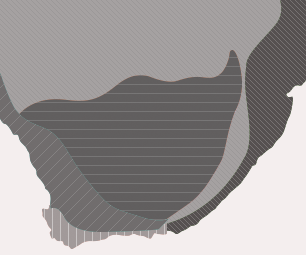 Zone 2 Coastal winter rainfall, frost free
Google QR Code Generator