Adenia gummifera (Harv.) Harms var. gummifera
Family: Passifloraceae
Common names: snake-climber, monkey rope, gummy adenia (Eng.); impinda, impindamshaye, umphindamshaya, imfulwa (isiZulu); slangklimop (Afr.)
SA Tree No: 512.6
Introduction
A large, attractive, woody geophyte which often climbs into other plants, holding on by means of tendrils. Stems are bright green, with kidney-shaped and lobed leaves. This species is commonly known impindamshaye and is a very popular plant in the muthi plant market. Although it is still relatively common in the wild, the conservation status of this species could change in future as a result of over-exploitation for medicinal use.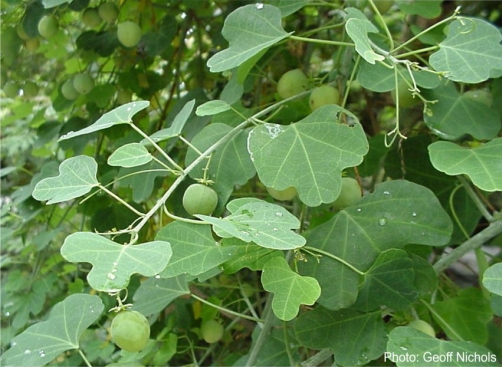 Description
Description
Adenia gummifera is a vigorous climber that can reach up to 30 m in height. Stems up to 100 mm in diameter at the base, with stripes that are bluish green, older stems are usually covered with whitish powder. Branches are drooping or climbing into the canopy by means tendrils up to 120 mm long. The leaves are simple, slightly succulent, hairless, 20-110 mm long and 20-110 mm wide, varying from kidney-shaped to deeply 3-lobed, blueish-green to greyish-green, prominently 3-veined from the base, with one pair of straight veins from the midrib ending in marginal glands. The male and female flowers are formed on separate plants, in clusters, sweetly scented, pale greenish, with male flowers often much larger and in denser clusters than female flowers. Flowering time is early summer (October to December). Fruit is an ovoid capsule, smooth, 25-45 mm long, separated into three segments, initially light green becoming yellow when ripe.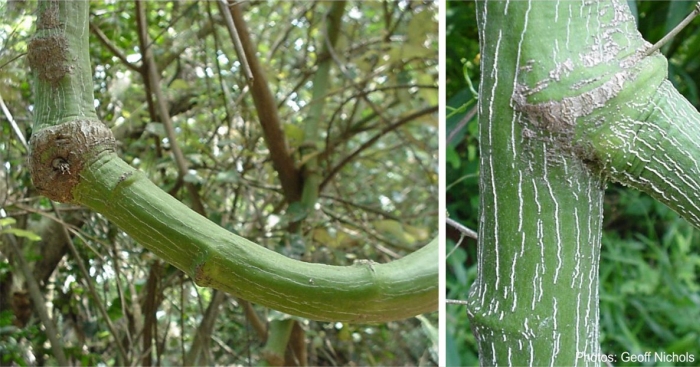 Adenia gummifera is closely related to A. cissampeloides but can be distinguished by the fact that A. gummifera has distinctive, much finer reticulation of the leaves. Furthermore, A. gummifera is geographically separated from A. cissampeloides, the latter naturally occurs in Zimbabwe, Mozambique and northwards.
Conservation Status
Status
Adenia gummifera var. gummifera is assessed as Least Concern (LC). Although this conservation status may change in future due to the fact that this species is commonly traded in medicinal markets and declines in local populations have been reported. The stems, roots and leaves are used for various traditional medicinal and magical purposes throughout its range. According to Cunningham, as quoted by Williams et al. (2016),  A. gummifera was the fourth most popular plant traded in the KwaZulu-Natal muthi markets and high volumes of plant material were sold. However, despite its long-recorded use, this species is still relatively common, and at the moment it doesn't meet the criteria for a threatened species. However, Crouch et al., as quoted by Williams et al. (2016), reported that subpopulations are small and plants have been eradicated from a few areas such as central Durban. Furthermore, A.B. Cunningham, as reported by Williams et al. (2016), noted that seed production may be declining because of harvesting, but it appears to be a resilient species.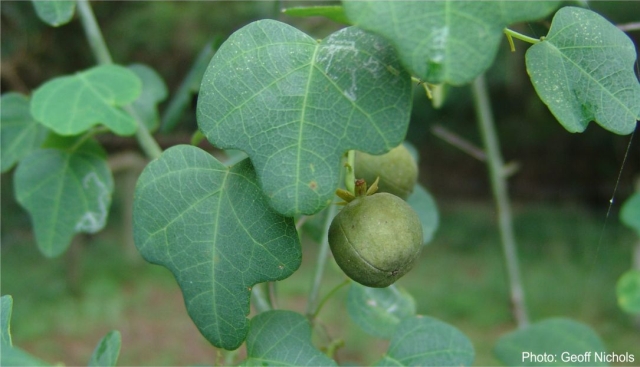 Distribution and habitat
Distribution description
Adenia gummifera grows naturally in forested ravines, forest margins, forest, scrub, woodland, savanna and dune forest, on stony slopes from sea level to altitudes of 1 800 m. In South Africa it is naturally distributed in Eastern Cape, KwaZulu-Natal, Mpumalanga and Limpopo, extending into Zimbabwe and Mozambique and across eastern Africa, into northern Africa and also occurs in Seychelles.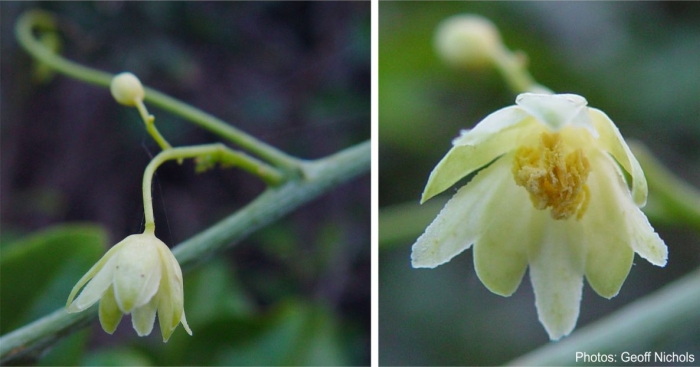 Derivation of name and historical aspects
History
The genus Adenia was founded by Forsskal on a plant collected in Arabia and which he named A. venenata. The genus is named after the city of Aden in Yemen, where Forsskal found the plant. The species name is derived from Latin, gummifera means 'producing gum', referring to the gummy and sticky substance that is produced in the flower heads.
iMpindamshaye, the common name in isiZulu, is made up of two words, phinda, which means 'repeat', and mshaye which means 'beat him', because this plant is used by the victim of witchcraft who believes that it will return the spell or evil spirit back to the sender.
The genus Adenia has about 100 species distributed worldwide, mostly in tropical and subtropical regions of Africa, Madagascar, southeast Asia, Malaysia and northern Australia. There are 10 species occurring in southern Africa. The majority are dioecious, with monoecy or polygamy rare (Crouch et al. 2010).
Adenia gummifera is a member of the Passifloraceae, commonly known as the passion vine family, a small family with about 36 genera and 930 species, members of which are usually trees, shrubs, lianas and climbing plants, and often found in tropical regions. One of the most popular member of this family is the edible passion fruit (Passiflora edulis).
Ecology
Ecology
Adenia gummifera is usually found in very arid, dry conditions which experience long periods of heat, drought and cold. Therefore, to adapt and survive in these conditions, this species has evolved a large, swollen, succulent stem which can store water during the long, dry season. Furthermore, some species of Adenia drop their leaves during dry periods to reduce transpiration.
This species is thought to be pollinated by insects, because is it dioecious (male and female flowers are formed on separate plants) and it produces sweetly scented flowers which attract bees, butterflies and other insects.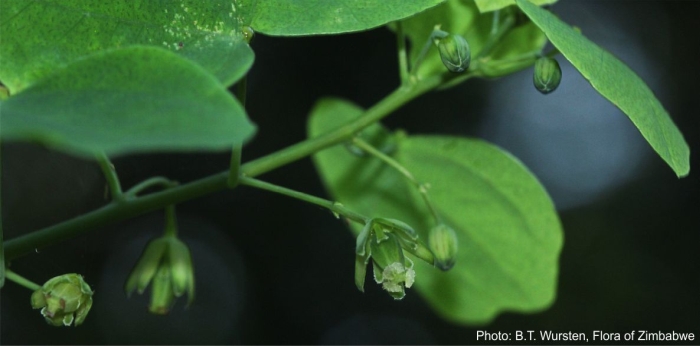 Uses
Use
Some species of Adenia are reported to be poisonous to human beings and animals and have resulted in deaths. According to Liebenberg (1939) poisoning of adults occurred as a result of the chewing of the tubers of Adenia digitata which were mistaken for that of an edible cucurbitaceous plant. A study of its poisonous principles reported that some arial parts contain hydro­cyanic acid and a toxalbumin. Furthermore, Hutchings (2016) reports that the leaves and stems of Adenia gummifera are very poisonous, and are suspected to cause liver damage in people.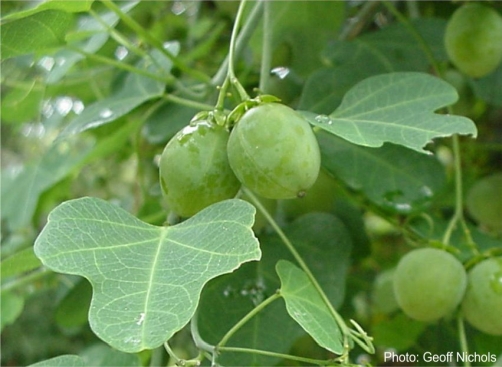 Adenia gummifera is a very popular and commonly used plant in traditional medicine. In Zulu culture an infusion of roots in boiled water is used as an emetic tonic or stimulant to treat depression caused by febrile conditions known as umkhuhlane. It is also used as a protective charm in KwaZulu Natal and is sprinkled around the homestead as protection against evil spirits, lighting and storms.
Powdered leaf and stem infusions are taken as a remedy for nausea. Vhavenda people use the roots to treat menorrhagia and infertility. In the northern part of the country, the gummy substance produced by the plant is used as a cosmetic pigment. In Mozambique roots are used to treat malaria and leprosy, and a steam bath from a leaf decoction is used to treat malaria.
Growing Adenia gummifera
Grow
Grow Adenia gummifera in a well-drained, acidic soil. It is best cultivated in a summer-rainfall region, in hot and dry conditions and it is sensitive to frost. It must be watered well in the spring and summer growing season, and kept dry during winter. It is an ideal addition for water-wise gardens as a drought-tolerant plant, and a decorative climber and bonsai.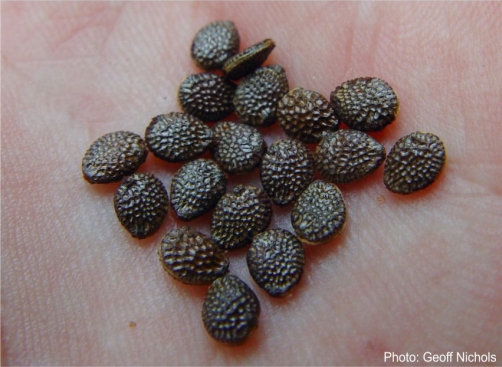 Adenia gummifera can be propagated by seed or cuttings. Stem cuttings 10-15 cm long should be taken during the growing season in early spring to early summer. Apply rooting hormone and insert in river sand. Once rooted plants can be potted. According to Nichols (2005) in winter the seedlings will need to rest and no watering or feeding should be done during the dormant period.
Sow fresh seeds in spring or early summer, in well-drained soil. The seed can be sown on a firmly tamped surface and lightly covered with soil, approximately 3 mm deep. The seed trays should be kept in a bright, warm position out of direct sunlight and keep watering until germination takes place.
References
Clarke, H. & Charters, M. 2016. The illustrated dictionary of southern African plant names. Flora & Fauna Publications Trust, Jacana, Johannesburg.
Coates Palgrave, M. 2002. Keith Coates Palgrave Trees of southern Africa, edn 3. Struik, Cape Town.
Crouch, N.R., Beaumont, A. & Smith, G.F. 2010. Passifloraceae. First description of female flowers of the dioecious Adenia fruticosa subsp. trifoliolata. Bothalia 40(1):78–81.
De Wilde, W.J.J.O. 1976. ADENIA. In: J.H. Ross (ed). Flora of southern Africa 22:104-128. National Botanical Institute, Pretoria.
Hutchings, A., Scott, A.H., Lewis, G. & Cunningham, A.B. 1996. Zulu medicinal plants: an inventory. University of Natal Press, Pietermaritzburg.
Hyde, M.A., Wursten, B.T., Ballings, P. & Coates Palgrave, M. 2023. Adenia gummifera var gummifera. Flora of Zimbabwe. https://www.zimbabweflora.co.zw/speciesdata/species.php?species_id=141030. Accessed on 2023/01/9.
Liebenberg, L.C.C. 1939. A revision of the South African species of Adenia. Bothalia 3(4):513–570.
Nichols, G. 2005. Growing rare plants: a practical handbook on propagating the threatened plants of southern Africa. Southern African Botanical Diversity Network Report No. 36.
Nkosi, N. 2021. Adenia fruticosa Burtt Davy subsp. fruticosa (Passifloraceae). PlantZAfrica. Online. https://pza.sanbi.org/adenia-fruticosa-subsp-fruticosa.
Nkuna, L.A. 2018. Adenia spinosa Burtt Davy (Passifloraceae). PlantZAfrica. Online. http://pza.sanbi.org/adenia-spinosa.
Southwest Desert Flora: Passifloraceae or passion vine family. http://southwestdesertflora.com/WebsiteFolders/Family_Species/Passifloraceae%20_Species.html. Accessed 2023/01/17
Williams, V.L., Raimondo, D., Crouch, N.R., Cunningham, A.B., Scott-Shaw, C.R., Lötter, M. & Ngwenya, A.M. 2016. Adenia gummifera (Harv.) Harms var. gummifera. National Assessment: Red List of South African Plants version 2020.1. Accessed on 2023/01/17
Credits
Lungisani Zondi & Zizo Welekazi Bunge
Walter Sisulu National Botanical Garden
January 2023
Acknowledgements: images by Geoff Nichols and B.T Wursten
Plant Attributes:
Plant Type: Climber, Scrambler, Shrub, Tree
SA Distribution: Eastern Cape, KwaZulu-Natal, Limpopo, Mpumalanga
Soil type: Sandy, Loam
Flowering season: Spring, Early Summer
PH: Acid
Flower colour: Green
Aspect: Full Sun, Morning Sun (Semi Shade), Afternoon Sun (Semi Shade)
Gardening skill: Easy
Special Features:

Attracts butterflies

Drought resistant

Feature plant

Good potplant

Poisonous

Medical plant

Useful plant
Horticultural zones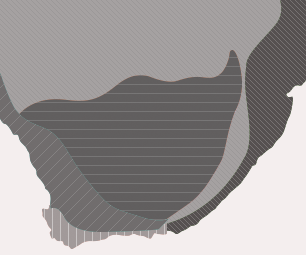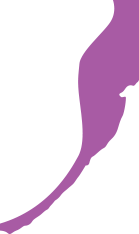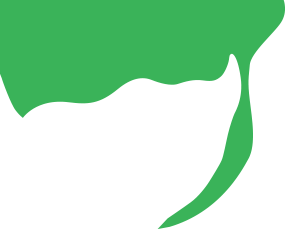 Zone 1 Coastal summer rainfall, frost free
Zone 2 Coastal winter rainfall, frost free
Zone 5 Bushveld summer rainfall, Light frost
Google QR Code Generator