Athanasia crithmifolia (L.) L.
Family: Asteraceae
Common names: samphire-leaf athanasia, thread-leaf klaas louw bush (Eng.); draadblaar-klaaslouwbos, klaaslouwbossie (Afr.)
Introduction
A fast-growing herbaceous shrub with grey-green foliage and showy bright yellow flower-heads in early to midsummer; it's easy to grow and water wise, but can also be a bit weedy.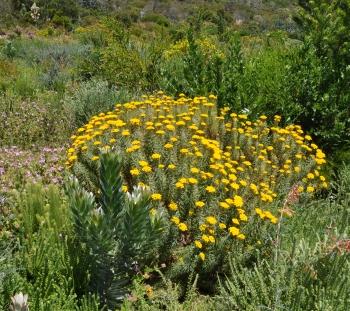 Description
Description
A dense, leafy shrub, 1.5–2.0 m tall. Leaves are grey-green, pinnatisect, usually with 3 to 5 lobes cut to the middle of the leaf, and the lobes are long and linear.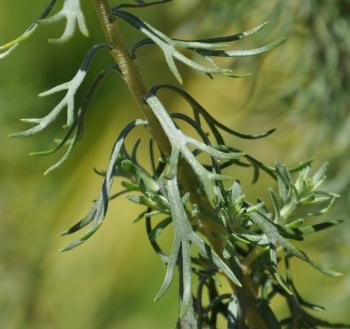 Deep yellow flowers are presented in large, showy, flat flower-heads, at branch tips, in summer (October to January). The flower-heads are made up of many small florets packed into rounded discoid heads (i.e. daisy-like flower-heads without the ray petals), that are grouped into simple or compound corymbs (a flat-topped inflorescence where the outer flowers open first).
Athanasia crithmifolia is divided into 2 subspecies, the typical subsp. crithmifolia, and subsp. palmatifida (DC.) Källersjö, which occurs in the southern part of the range and differs in having broadly linear leaf lobes that are palmately cleft in the middle, and the plant is covered in dense, soft, short silky hairs.
Athanasia crithmifolia may be confused with A. trifurcata (trifid-leaf athanasia, coulter bush, klaaslouwbos, kouterbos), and Hymenolepis crithmifolia (also called coulter bush, kouterbos), which flower at the same time.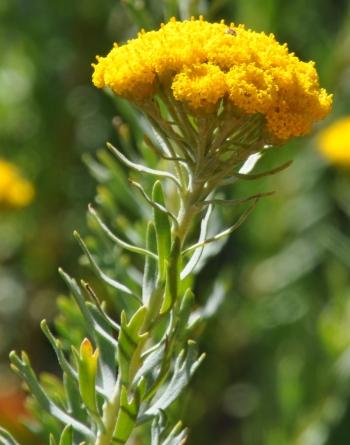 Athanasia trifurcata has cuneate, usually 3-forked leaves, that are more grey and velvety and not as long and linear as those of A. crithmifolia. It grows on flats and rocky slopes in Namaqualand, through the Western Cape to Port Elizabeth, in the Eastern Cape.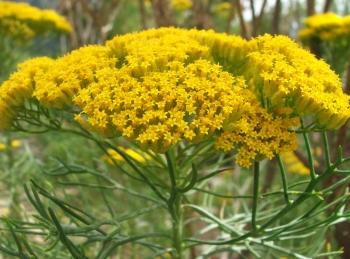 Hymenolepis crithmifolia is a taller shrub, up to 3 m, its leaves longer and more threadlike, and the discoid heads that make up its flower-heads are more loosely clustered and the smaller heads within the compound heads are not as ball-like as they are in the Athanasia heads. It grows on rocky sandstone slopes in Namaqualand and the western part of the Western Cape.
Conservation Status
Status
Least Concern (LC), neither Athanasia crithmifolia subsp. crithmifolia nor A. crithmifolia subsp. pinnatifida is threatened.
Distribution and habitat
Distribution description
Athanasia crithmifolia grows on sandy flats and slopes, often along drainage lines, in fynbos in the southwestern part of the Western Cape, from Piketberg to Hermanus and the Riviersonderend Mountains.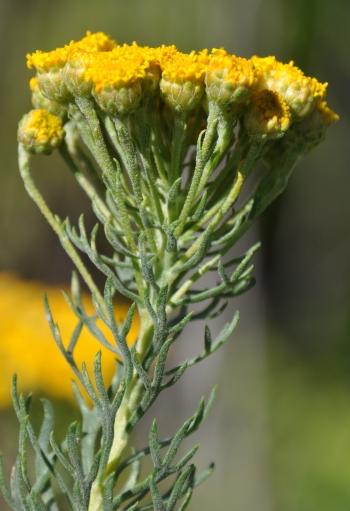 Derivation of name and historical aspects
History
The name Athanasia means 'without death', derived from the Greek a- meaning 'without' and thanatos, 'death', referring to the involucral bracts, which are hard and persist when dry. The species name crithmifolia means 'with leaves like Crithmium', commonly called samphire.
The common name klaaslouwbos or Klaas Louw bush, derives from the story that it was a certain farmer called Klaas Louw that allowed Athanasia trifurcata to spread and become weedy on his lands, and it soon spread and became a troublesome weed on neighbouring fallow lands. The name was subsequently extended to other similar species. The name kouterbos or coulter bush has a similar meaning, in that it refers to the way these plants pack up against the coulter of the plough, thus being a nuisance to farmers.
The genus Athanasia is endemic to southern Africa, containing 39 species, 4 of which have 2 subspecies, that occur in the Northern, Western and Eastern Cape, with 1 species extending into KwaZulu-Natal and 1 into Namibia.
Ecology
Ecology
In Kirstenbosh National Botanical Garden, the Athanasia crithmifolia flower-heads are very popular with honeybees and a variety of other flying insects, including monkey beetles, and various wasps and beetles, any or all of which could effect pollination.
This species dies in a fire, but regenerates well from seeds, growing fast and flowering and seeding again a year or two after the fire. It can be quite quick to move into disturbed areas, and may become weedy.
Uses
Use
Athanasia crithmifolia is not used in traditional medicine, nor is it widely grown as a garden ornamental, but it is a good bee plant and useful for water-wise or 'wild' areas in gardens, as it largely looks after itself. It is also a useful pioneer species.
Growing Athanasia crithmifolia
Grow
This plant is not often propagated and grown in the nursery at Kirstenbosch, since it grows quite happily all by itself in the Garden. However, it should be easily propagated from cuttings and is easily propagated from seeds, sown in autumn. Self-sown seedlings can be lifted, potted up and grown on in the nursery. Left to go to seed, it usually seeds itself quite freely, and gardeners should thus also be wary and not allow this plant to escape the garden and invade natural areas outside of its normal range.
It performs best in full sun or semi-shade, in well-drained soil with moderate watering in winter and spring to early summer, and it survives the summer drought typical of the winter-rainfall area, and can be used in water-wise plantings in the winter-rainfall area. It flowers in early to midsummer and is effective in groups in a shrubbery, mixed fynbos beds or in mixed borders. Pinching of the tips in young plants will result in a bushier more floriferous plant. It is not a resprouting plant, and thus should not be pruned harshly. Plants that look leggy and tired should rather be removed and replaced with youngsters.
References
Foden, W. & Potter, L. 2005. Athanasia crithmifolia (L.) L. subsp. crithmifolia. National Assessment: Red List of South African plants version 2017.1. Accessed on 2018/01/04.
Goldblatt, P. & Manning, J. 2000. Cape Plants. A conspectus of the Cape flora of South Africa. Strelitzia 9. National Botanical Institute, Pretoria & Missouri Botanical Garden, Missouri.
Harvey, W.H., 1894. Athanasia crithmifolia. Flora capensis, Vol 3. Accessed via JSTOR.
Jackson, W.P.U. 1990. Origins and meanings of names of South African plant genera. University of Cape Town.
Leistner, O.A. (ed.). 2000. Seed plants of southern Africa: families and genera. Strelitzia 10. National Botanical Institute, Pretoria.
Manning, J. 2007. Field guide to Fynbos. Struik Publishers, Cape Town.
Smith, C.A. 1966. Common names of South African plants. Memoirs of the Botanical Survey of South Africa No. 35. Government Printer, Pretoria.
Wikipedia: Crithmium. https://en.wikipedia.org/wiki/Crithmum. Accessed 4 Jan 2018.
Credits
Alice Notten
Kirstenbosch National Botanical Garden
January 2018
 
Plant Attributes:
Plant Type: Shrub
SA Distribution: Western Cape
Soil type: Sandy, Loam
Flowering season: Early Summer
PH: Acid
Flower colour: Yellow
Aspect: Full Sun
Gardening skill: Easy
Special Features:

Drought resistant

Feeds honeybees

Pioneer plant
Horticultural zones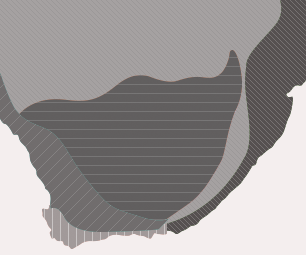 Zone 2 Coastal winter rainfall, frost free
Google QR Code Generator