Calanthe sylvatica (Thouars) Lindl.
Family: Orchidaceae
Common names: forest-dwelling calanthe (Eng.)
Introduction
A robust, terrestrial orchid with large, pale lilac or purple blooms during summer.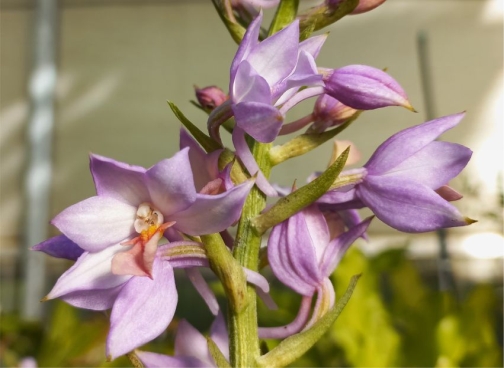 Description
Description
A terrestrial evergreen plant with pseudobulbs, that grows up to 750 mm tall. A few (3-5), simple, green, elliptic lanceolate leaves with thin tips are arranged in a basal rosette (clustered at the base). They are erect and pleated, with a stalk-like base, venation is parallel, margins are entire and scalloped at the base.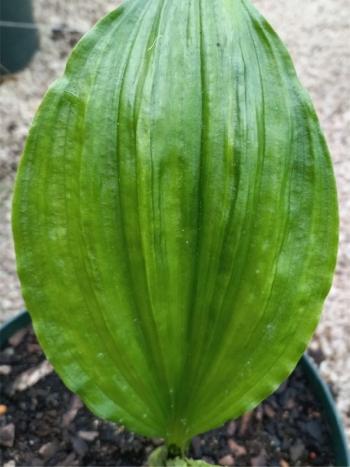 Inflorescences are 500-600 mm tall, erect and held above the leaves, covered with soft hairs, bearing multiple flowers in varying sizes. Sepals are ovate to lanceolate, acute, 19 mm long. Petals are elliptic to oblanceolate, 3-lobed at the base, with a slender S-shaped spur. Flowers are pale lilac to purple, with an orange throat, borne from late spring all through summer (Nov.-Mar.).
Conservation Status
Status
Distribution and habitat
Distribution description
Calanthe sylvatica is naturally distributed from South Africa to tropical Africa. In South Africa it is found in the Eastern Cape, KwaZulu-Natal, Limpopo, Mpumalanga, and the Western Cape provinces. Calanthe sylvatica enjoys deep shade and grows on the forest floor, on boulders and rocks, near streams, in swampy, marshy or riverine forests, at altitudes of 550-2 750 m.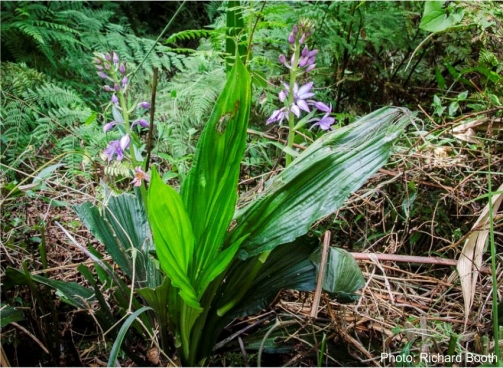 Derivation of name and historical aspects
History
The name Calanthe is a combination of two words of Greek origin, kalos, meaning 'beautiful' combined with anthos, meaning 'a flower'. The species name sylvatica is Latin and refers to its wild habitat, forests and woods.
Orchidaceae is the second largest family of flowering plants, containing 736 recognized genera. The genus Calanthe is made up of 207 plant species which are distributed throughout tropical and subtropical regions. Calanthe sylvatica is the only species in the genus that is represented in South Africa.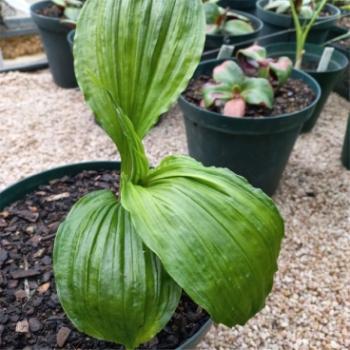 Ecology
Ecology
Calanthe sylvatica is pollinated by bees and butterflies, such as skippers. A number of orchids make use of deceptive pollination by manipulating insect behaviour, such as mating, foraging, inhabiting and oviposition whereby the insect is deceived by the plant, visits and pollinates it without receiving any reward. Calanthe sylvatica has a spur that does not contain any nectar but still attracts pollinators.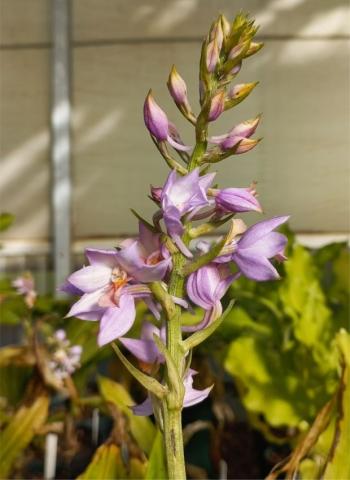 Uses
Use
Calanthe sylvatica is often used as a cut flower. In Nepal, the juice from the flowers is used to stop nose bleeds.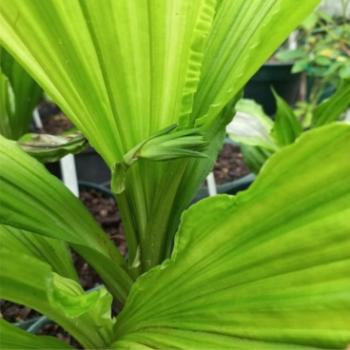 Growing Calanthe sylvatica
Grow
Calanthe sylvatica grows best in a well-drained, humus-rich medium. This medium should contain 3 parts river sand and 7 parts well-decomposed compost or leaf litter. Planting of pseudobulbs is done in spring. Propagation is by the division of pseudobulbs in early spring. Ensure that each pseudobulb has a new growing shoot, after separation, water heavily. Plastic pots of varying sizes can be used to plant the pseudobulbs. Potting up and repotting of C. sylvatica should be done in spring (late August or early September). Plants need a moist medium and regular watering in late spring, as the temperatures rise, and throughout summer. Reduce the frequency of watering in the autumn and winter months, but ensure that the medium never dries out completely between watering intervals.
In the greenhouse or when planting out in the garden, place your plants in a well-shaded position or place under benches, where not much light will reach the plant. In regions of high humidity C. sylvatica grows well in a shade house. Never leave your plants to sit in direct sunlight as this will harm the delicate leaves. Greenhouse temperatures should be between 5 and 22°C in winter and 20 to 36°C in the summer. Ensure that the plants get plenty of ventilation.
Slugs and snails feed on the leaves of C. sylvatica. These can be removed from the plants by hand, or a nontoxic form of snail bait can be added on the top layer of the growth medium. Under greenhouse conditions C. sylvatica is prone to geosporum fungus, which is common during the cooler months of the year. The use of an appropriate fungicide is recommended.
References
African Plant Database, Calanthe sylvatica (Thouars) Lindl. Online. http://www.ville-ge.ch/musinfo/bd/cjb/africa/details.php?langue=an&id=197373. Accessed 18 December 2022.
Booth, R. 2019. Observation of Calanthe sylvatica, Indlovu, KwaZulu-Natal. iNaturalist. Online. https://www.inaturalist.org/observations/64600890.
La Croix, I. & La Croix, E. 1997. African orchids in the wild and in cultivation. Timber Press, Portland.
Luo, H., Liang, Y., Xiao, H., Liu, N., Chen, Y. Wang, W., Tang, J., Xiong, D., Yang, B. & Ren, Z. 2020. Deceptive pollination of Calanthe by skippers that commonly act as nectar thieves. Entomological Science 23(1):3-9. https://doi.org/10.1111/ens.12386.
Pooley, E. 1998. A field guide to wild flowers Kwazulu-Natal and the eastern region. Natal Flora Publications Trust, Durban.
Stearn, W.T. 1992. Stearn's Dictionary of Plant Names for gardeners. A handbook on the origin and meaning of the botanical names of some cultivated plants. Cassell, UK.
Victor, J.E., McMurtry, D., Grobler, L. & Burns, S. 2005. Calanthe sylvatica (Thouars) Lindl. National Assessment: Red List of South African Plants version 2020.1. Accessed 2022/02/18.
Wodrich, K. 1997. Growing South African indigenous orchids. CRC Press.
Credits
Siphesihle Precious Sibiya
Kirstenbosch National Botanical Garden
April 2023
Acknowledgements: the author thanks Graham Duncan for his contribution towards the cultural requirements of Calanthe sylvatica.
Plant Attributes:
Plant Type: Orchid
SA Distribution: Eastern Cape, KwaZulu-Natal, Limpopo, Mpumalanga, Western Cape
Soil type: Sandy, Loam
Flowering season: Spring, Early Summer, Late Summer
PH: Acid, Neutral
Flower colour: Purple, Mauve/Lilac
Aspect: Shade
Gardening skill: Average
Special Features:

Attracts butterflies

Good potplant
Horticultural zones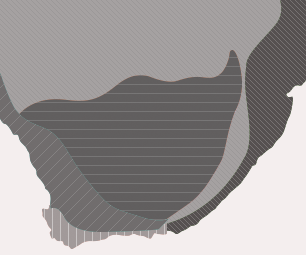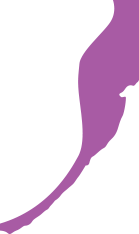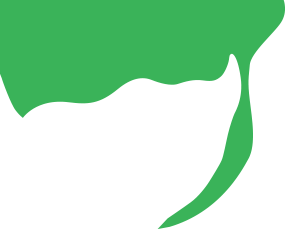 Zone 1 Coastal summer rainfall, frost free
Zone 2 Coastal winter rainfall, frost free
Zone 5 Bushveld summer rainfall, Light frost
Google QR Code Generator