Carissa bispinosa (L.) Desf. ex Brenan
Family: Apocynaceae
Common names: forest num-num (Eng.); bosnoemnoem (Afr.); isibethankunzi, isabetha (Zul.)
Introduction
The genus Carissa consists of evergreen shrubs and trees, with handsome, glossy foliage and fragrant, starry-white, jasmine-like flowers. Ornamental and edible, scarlet to crimson oval fruits are produced after flowering. Carissas are attractive, ornamental shrubs and make excellent hedges. In late summer, local inhabitants along the coastal areas of KwaZulu-Natal often sell the fruit to travellers, especially Carissa macrocarpa, big num-num (Eng.), grootnoemnoem (Afr.), amatungulu (Zulu). C. bispinosa, however, with much smaller leaves, flowers and fruit, does not have to take a back seat as far as the taste of the fruit is concerned!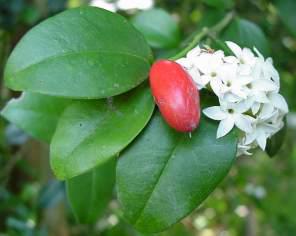 Description
Description
This species is only occasionally tree-like (up to 5 m) and is more often a dense bush or rambling shrub in wooded spots or scrub. It is evergreen and twiggy, the branches exhibiting a repeated forked pattern. The plants contain a milky sap and the branches are often hairy. Spines are once- or twice-forked, rarely single, and are sometimes even absent.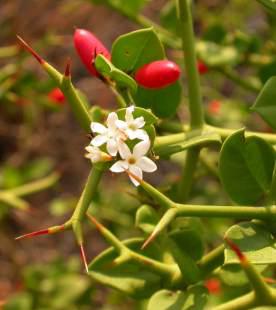 Leaves are opposite, simple, shortly petiolate, ovate, broadly ovate or ovate-elliptic, with a smooth margin, glossy dark green above, paler below, with short, thorn-like tips (heart-shaped tapering to a sharp point).
Flowers are small, white or tinged pink, with a long, slender corolla tube, sweetly scented and clustered at the tips of twigs. Fruit are small, ovoid, edible, red berries. The whole fruit, including the seed, is edible and although the skin is slightly milky, it has a delicious flavour. It is not uncommon to find fruit and flowers on the same plant.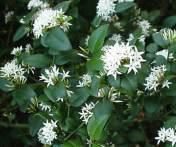 Distribution and habitat
Distribution description
Carissa bispinosa is found in wooded areas from the southwestern parts of the Western Cape along the coastal areas right through the Eastern Cape, KwaZulu-Natal into Gauteng and the northern provinces. It also occurs in the eastern Free State, Lesotho, Swaziland, Zimbabwe and Mozambique, extending westwards to Botswana and Namibia and sporadically further north as far as Kenya. The leaves and thorns, in particular, show marked variation throughout the distribution range.
Derivation of name and historical aspects
History
The name Carissa is derived from the Indian name for plants of this genus, which contain a bitter and poisonous glucoside in the bark called carrisin. The epithet bispinosa is derived from a Latin word that means two-spined, referring to the forked spines of the plants. The vernacular name num-num could either be of Khoisan origin or an example of onomatopoeia expressing the sound of pleasure at the taste of the juicy little fruit of this plant.
Currently, according to the latest revision of the genus, only Carissa bispinosa (L.) Desf. ex Brenan is accepted. Two varieties, namely C. bispinosa var. bispinosa and C. bispinosa var. acuminata (E.Mey.) Codd, were previously distinguished in South Africa, the former usually a bushveld and coastal scrub species and the latter a forest species.
Uses
Use
Plants produce attractive flowers that may attract birds, insects (especially butterflies) and even monkeys to your garden. Young plants need to be sheltered from cold for the first years as a precaution. The plants need moderate watering and grow in semi-shade to full sun. They are excellent for windy areas as the plants are wind-resistant. Plants are moderately drought-resistant but rather frost-tender and therefore best suited to the warmer parts of the interior and coastal plains as they are very tolerant of sea breezes.
Num-nums can also form a focal point with their ornamental foliage, flowers and fruit. Natural environments with frequent fire regimes result in low-growing forms. These plants have cultivation potential for use as borders in formal gardens. This species can also be used to provide neat hedges in parking areas.
Traditionally, the plants are not only used for the edible fruit but the berries are also used to make jams and jellies. The indigenous people use the roots to treat toothache. Carissa bispinosa is also used in an annual Swazi ceremony, increasing the courage and ferocity of a black bull when Swazi warriors have to be tested by killing the bull with their bare hands.
Growing Carissa bispinosa
Grow
Carissa bispinosa is a fast-growing, medium-sized, evergreen shrub. It is obtainable from local nurseries countrywide and is cultivated extensively. Plants flower mainly from October to March and produce their edible berries from March to October.
Plants should be spaced approximately a metre apart to form an impenetrable hedge - they are well armed with thorns. They can also be used as ornamental plants in an informal border. Carissa bispinosa should be planted in light, well-drained soil with the addition of plenty of compost. It can be lightly pruned to keep it neat. It can easily be cultivated from seed. These plants are of decorative value because of the contrast in leaves, flowers and fruit. The shining green leaves complemented by either bright red fruit or shimmering white flowers and a pleasant scent will be a welcome addition to any garden. They thrive near the coast or in gardens inland where winters are mild. They can be grown in gardens that have moderate frost, but the rate of growth is much slower in areas where winters are cold.
References
Coates Palgrave, M. 2002. Keith Coates Palgrave Trees of southern Africa, edn 3. Struik, Cape Town.
Codd, L.E. 1963. Apocynaceae. Flora of southern Africa 26: 250-258. Botanical Research Institute, Pretoria.
Fabian, A. & Germishuizen, G. 1997. Wildflowers of northern South Africa. Fernwood Press, Vlaeberg, Cape Town.
Glen, H.F. 2002. Cultivated plants of southern Africa. Jacana, Johannesburg.
Joffe, P. 1993. The gardener's guide to South African plants. Tafelberg, Cape Town.
Leeuwenberg, A.J.M. & Van Dilst, F.J.H. 2001. Series of revisions of Apocynaceae XLIX Carissa L. Wageningen University Papers, Blackhuys Publishers, Leiden, The Netherlands.
Palmer, E. & Pitman, N. 1972. Trees of southern Africa, vol. 3. Balkema, Cape Town.
Pienaar, K. 1992. The South African What flower is that? Struik, Cape Town.
Swart, W.J. 1982. Survival off the bush-5: The yummy num-nums. Farmer's Weekly, October 1982: 58, 59.
Van Der Spuy, U. 1971. South African shrubs and trees for the garden. Hugh Keartland, Johannesburg.
Van Wyk, B.-E. & Gericke, N. 2000. People's plants: a guide to useful plants of southern Africa. Briza, Pretoria.
Walker, J. 1996. Wildflowers of KwaZulu-Natal. Interpak, Natal. Stoffel Petrus Bester National Herbarium Pretoria March 2004
Credits
Stoffel Petrus Bester
National Herbarium Pretoria
March 2004
Plant Attributes:
Plant Type: Perennial, Shrub, Tree
SA Distribution: Eastern Cape, Gauteng, KwaZulu-Natal, Limpopo, Mpumalanga, North West, Western Cape
Soil type: Sandy, Loam
Flowering season: Spring, Early Summer, Late Summer
PH: Acid, Neutral
Flower colour: White, Pink
Aspect: Full Sun, Morning Sun (Semi Shade), Afternoon Sun (Semi Shade)
Gardening skill: Easy
Special Features:

Attracts butterflies

Drought resistant

Feature plant

Fragrant

Poisonous

Hedge/screen

Edible plant

Useful plant
Horticultural zones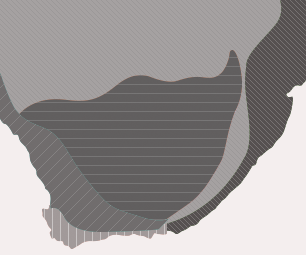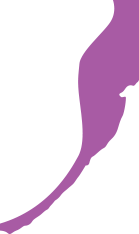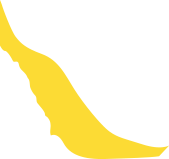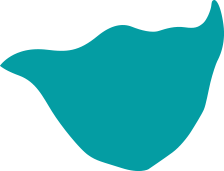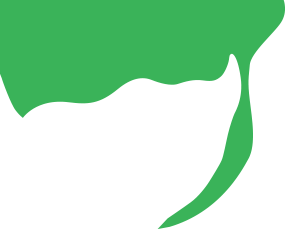 Zone 1 Coastal summer rainfall, frost free
Zone 2 Coastal winter rainfall, frost free
Zone 3 Winter rainfall Karoo, light frost
Zone 4 Summer rainfall Karoo and Highveld, Frost in winter
Zone 5 Bushveld summer rainfall, Light frost
Google QR Code Generator