Chrysocoma coma-aurea L.
Family: Asteraceae
Common names: golden heads, golden bitter bush, golden cowcud (Eng.); bitterbos (Afr.)
Introduction
This species is a showy shrub of fast growth that may be planted close together to form a good border plant, along the edges of a flower bed.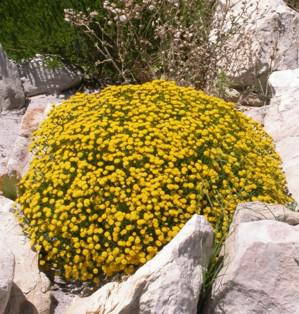 Description
Description
Chrysocoma coma-aurea is a leafy, evergreen small shrub/ shrublet, up to 500 mm tall, with sparse, thin stems and narrow, ericoid leaves, and a branched spreading crown. Throughout spring, this shrub produces a mass of bright golden, scented, button-shaped  flower heads. The main stem is straight with side branches that diverge or spread, with sessile leaves alternately arranged on the stems. Leaves are simple, needle-like, entire, hairless, 3–20 mm long, often with the tips curved upwards.  The fruit is topped with barbed bristles.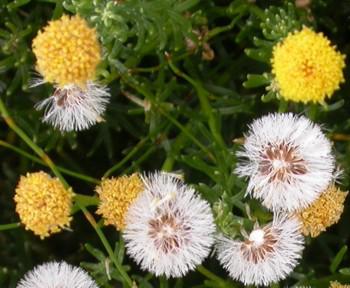 The yellow, discoid or button-like flower heads, grow singly, on stalks at the stem tips. These flower heads lack the ray florets that are found in conventional daisies. This shrub flowers from October to January.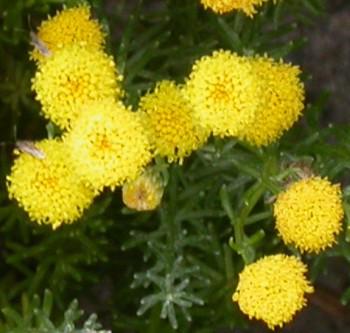 Conservation Status
Status
Chrysocoma coma-aurea is recorded as being LC (Least Concern) at present.
Distribution and habitat
Distribution description
Chrysocoma coma-aurea is endemic to the Western Cape Province, from the Cape Peninsula to Hermanus, and is found on flats and lower slopes. It is now an invasive species in Western Australia. It can tolerate salt winds, and is frost tolerant. This plant thrives in a climate with a dry summer and wet winter season.
Derivation of name and historical aspects
History
Chrysocoma is derived from the Greek, khrusos = gold, kome = hair, lock, in allusion to the. terminal, golden flower heads. Coma-aureus from the Latin, coma meaning a 'head' and aureus meaning 'yellow'.
Chrysocoma is a genus of 23 species recorded so far. Whereas Chrysocoma coma-aurea is endemic to the Western Cape, other species occur in other provinces, including the Northern Cape, the Free State, Kwa-Zulu Natal, and North West Province, and neighbouring countries, which include Malawi, Mozambique, Lesotho and Namibia.
Ecology
Ecology
When in flower, Chrysocoma coma-aurea is mostly visited by honeybees that forage for nectar and pollen. They transfer pollen from one flower to another, aiding pollination, which allows the plant to reproduce.
Uses
Use
No cultural or medicinal uses have been recorded.  The golden bitter bush can be planted on sand dunes to bind the sand together.   It is a good garden plant, suitable for coastal and sandy gardens.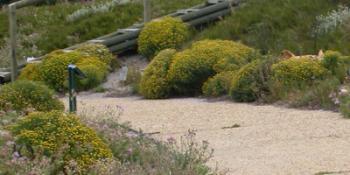 Growing Chrysocoma coma-aurea
Grow
Chrysocoma coma-aurea is a small to medium-sized shrub with a bushy growth and yellow flower heads that provides a textural contrast in the garden. Dead heading and pruning must be done after flowering, to maintain the plant's bushy shape. It requires full sun and a well-drained soil. Before planting, prepare the planting area by adding compost   and bonemeal into the planting hole and water. The golden bitter bush can be planted with a combination of species of Helichrysum, Pelargonium, Aristea and Salvia and Myrsine africana, Leonotis leonurus, Euryops abrotanifolius and Struthiola myrsinites, and other companion plants. Plant out in groups of three or five, 30 cm apart, with enough space to encourage growth.
This plant must be planted in winter during the rainy season. The rainy season allows the plants to establish themselves in the garden and to cope with drought and less water in summer. Add a layer of mulch after planting to keep the soil temperature low. Mulch retains soil moisture and helps with the suppression of the germination of weed seeds.
Chrysocoma coma-aurea can be propagated by both seeds and cuttings. The Harold Porter National Botanical Gardens nursery team have only propagated it by cuttings. Take semi-hardwood cuttings from the current year's growth (early August); cutting material must be harvested from a healthy stock plant, free of pests and diseases, in the early morning while the plant is still in its turgid phase. Meristem tip cuttings must be harvested because that is where there are less plant viruses to occur. The cuttings must be immediately placed in a bucket of water to avoid them from drying out.
Prepare the cutting by making a clean cut below the node, and remove the third bottom of the foliage to reduce the rate of transpiration. Dip the base of the cutting into a rooting hormone such as Seradix 2. Firmly place the cutting in a well-drained medium of 2 parts river sand and 1 part sieved bark. The cuttings must be sprayed with a fungicide to prevent damping-off disease; this must be done on weekly basis.
The cuttings should now be placed in a well-aerated, propagation unit with a bottom heat of between 190C and 240C. Rooting occurs from five to eight weeks. Carefully pot the rooted cuttings using a well-drained, humus-rich, fynbos mix (8 parts bark, 2 parts coarse river sand and also add agricultural lime depending on the amount of acidic level in the medium to make the medium mix a bit alkaline), and adding 5g (teaspoon) of bonemeal per plant. Plants must be placed under 40% shade net for hardening-off, for a period of four weeks. Plants will be ready for planting in seven to eight months. Feed plants regularly with an organic fertilizer.
References
Germishuizen, S., Meyer, N.L., Steenkamp, Y. & Keith, M. (eds) 2006. A checklist of South African plants. Southern African Botanical Diversity Network Report No.41. SABONET, Pretoria.
Kesting, D. 2001. Wild flowers of the Cape Peninsula, botanical names: origin and meaning. University of Cape Town Ecolab, Cape Town.
Goldblatt, P. & Manning, J. 2000. Cape Plants. A conspectus of the Cape flora of South Africa. Strelitzia 9. National Botanical Institute, Pretoria & Missouri Botanical Garden, Missouri.
Manning, J.C. & Goldblatt, P. 2013. Plants of the Greater Cape Floristic Region. 1: The Core Cape Flora. Strelitzia 29. South African National Biodiversity Institue, Pretoria.
Harris, G. & Harris, M.W. 1994. Plant identification terminology, an illustrated glossary. Spring Lake, Utah.
Jackson, W.P.U. 1990. Origins and meanings of names of South African plant genera. University of Cape Town.
Manning, J. 2007. Field guide to Fynbos. Struik Publishers, Cape Town.
Mustart, P., Cowling, R. & Albertyn, J. 1997. Southern Overberg: South African Wild Flower Guide 8. Botanical Society of South Africa, Cape Town.
Powrie, F. 1998. Grow South African Plants. A gardener's companion to indigenous plants. National Botanical Institute, Cape Town.
Privett, S. & Lutzeyer, H. 2010. Field guide to the Flora of Grootbos Nature Reserve and the Bay Walker Region. Craft Print International, Singapore.
Raimondo, D. et al. 2009. Red list of South African plants. Strelitzia 25. SANBI (South African National Biodiversity Institute), Pretoria.
Credits
Papama Tsoanyane
Harold Porter National Botanical Garden
December 2014
Plant Attributes:
Plant Type: Shrub
SA Distribution: Western Cape
Soil type: Sandy
Flowering season: Spring, Early Summer
PH: Acid, Neutral
Flower colour: Yellow
Aspect: Full Sun
Gardening skill: Average
Special Features:

Feeds honeybees
Horticultural zones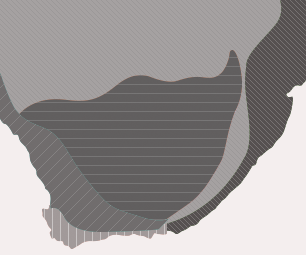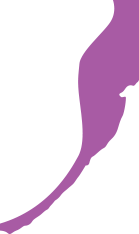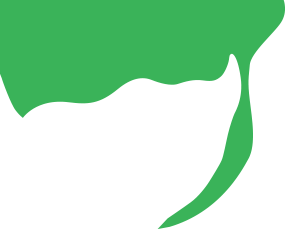 Zone 1 Coastal summer rainfall, frost free
Zone 2 Coastal winter rainfall, frost free
Zone 5 Bushveld summer rainfall, Light frost
Google QR Code Generator