Commelina benghalensis L.
Family: Commelinaceae
Common names: Benghal dayflower, tropical spiderwort, Benghal wandering Jew (Eng.); blouselblommetjie (Afr.); lala-tau, khopo-e-nyenyane, khotsoana (Sesotho); uhlotshane (isiXhosa); Idambiso, idemadema, idlebendlele, idangabane (isZulu); ndamba (Tshivenda); indabane (Ndebele)
Introduction
Commelina benghalesis is a common, widespread weed found throughout southern Africa, tropical Africa and Asia and it is difficult to eradicate in cultivated areas because of its subterranean, seed-bearing capsules. It is used medicinally by different cultures.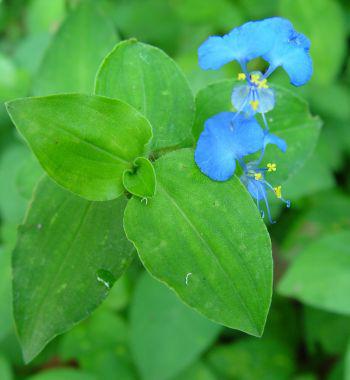 Description
Description
Commelina benghalensis is a spreading, annual herb, which is sparsely and shortly pubescent, sometimes bearing subterranean runners with self-pollinating, reduced flowers and thin roots. Its leaves are ovate, up to ±80 × 30 mm, shiny, pale apple-green, with apex that is obtuse to acute and the base abruptly narrowed into a sheathing petiole beset with long, red, or rarely colourless, several-celled setae (bristles), at the mouth.
Commelina benghalesis produces very attractive small flowers with deep ink-blue petals. Inflorescences are subsessile spathes, clustered at apices of branches, obliquely fused, triangular, 10 × 15 mm; apex short, acute. Cymes 2, the upper one often suppressed later in the season. It has 5- seeded capsules and flowers from August to June.
Conservation Status
Status
According to the Redlist of South African plants, Commelina benghalensis is not screened as a potential taxa of conservation concern, and is given an automatic status of Least Concern (LC). It is, therefore, considered not to be under any immediate risk of extinction.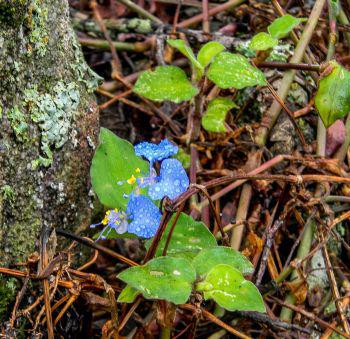 Distribution and habitat
Distribution description
Commelina benghalesis is not endemic to South Africa, and it is wildly distributed in all the provinces of South Africa. It is found throughout the warm-temperate, subtropical and tropical regions of Africa and Asia. It prefers humid regions, but is typically found in forests and grasslands. It is also naturalized in North and South America. It is a common, troublesome, widespread weed that is difficult to eradicate.
Derivation of name and historical aspects
History
The species Commelina benghalesis falls under the family of flowering plants called Commelinaceae. The genus Commelina is named after the Dutch botanist Jan Commelijn (1629–1692) and his nephew Caspar (1667/1668–1731). There are ± 170 species occurring in the warmer countries of the world, with 16 species in southern Africa. This species is named after the Benghal region of India and Bangladesh where it originates.
Ecology
Ecology
Commelina benghalesis is generally browsed by bushbuck. The major pollinators of this plant are insects, mainly ants. Humans contribute greatly to seed dispersal when harvesting it for medicinal purposes.
Uses
Use
Commelina benghalensis is used medicinally by different cultures. In Zulu culture the plant is used as a poultice and it is also taken to reduce high blood pressure. It is used by the Sotho for treating barren women. It is used to treat infertility, burns, sore throats, sore eyes, dysentery, rashes and leprosy. The mucilage from the flowering parts is used to treat infants' thrush and bruised leaves are used for burns in Tanzania. The juice is used in East Africa for ophthalmia and sore throats. It is also used in the Phillippines to bathe sore eyes and for urethral pain and in India as demulcent, refrigerant and laxative. The leaf decoctions are taken for malaria in Madagascar.
The leaves are used as animal fodder and also eaten by humans as a vegetable, like spinach.
Growing Commelina benghalensis
Grow
The plant grows very well in wet sandy soils or during good rainfall seasons. It can be propagated easily by cutting the stem nodes and by pressing them into wet, sandy soil. Commelina benghalesis can also be cultivated from the seeds. The plant makes a very attractive pot plant and it can be used for decorating a small garden. It can exceed its normal height if given more water.
References
Glen, H.F. 2004. What's in a name. Jacana, Johannesburg.
Heywood, V.H., Brummitt, R.K., Culham, A. & Seberg, O. 2007. Flowering plant families of the world. The Royal Botanic Gardens, Kew, London
Hutchings, A., Scott, A.H., Lewis, G. & Cunningham, A.B. 1996. Zulu medicinal plants: an inventory. University of Natal Press, Pietermaritzburg.
Mudau, A.C. 2007-04. Commelina africana L. (Commelinaceae). PlantZAfrica. Internet 3pp. http://pza.sanbi.org/commelina-africana
Neuwinger, H.D. 2000. African traditional medicine: a dictionary of plant use and applications. MedPharm, Scientific Publishers, Stuttgart.
Obermeyer, A.A. et.al. 1985. Flora of southern Africa. Volume 4, Part 2: 30. Botanical Research Institute, Department of Agriculture and Water Supply, Pretoria.
Pooley, E. 1998. A field guide to wild flowers Kwazulu-Natal and the eastern region. Natal Flora Publications Trust, Durban.
Credits
Aluwani Tshiila
KwaZulu-Natal Herbarium
October 2016
Plant Attributes:
Plant Type: Bi/Annual, Ground Cover
SA Distribution: Eastern Cape, Free State, Gauteng, KwaZulu-Natal, Limpopo, Mpumalanga, North West, Northern Cape, Western Cape
Soil type: Sandy, Loam
Flowering season: Sporadic/All year
PH: Acid, Neutral
Flower colour: Blue
Aspect: Full Sun, Morning Sun (Semi Shade), Afternoon Sun (Semi Shade)
Gardening skill: Easy
Special Features:

Good potplant

Edible plant

Medical plant

Useful plant

Wet sites
Horticultural zones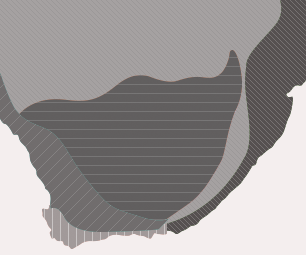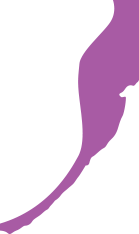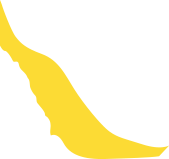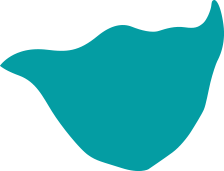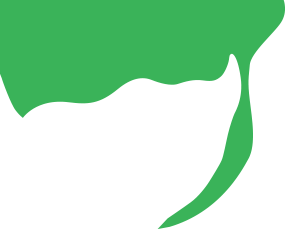 Zone 1 Coastal summer rainfall, frost free
Zone 2 Coastal winter rainfall, frost free
Zone 3 Winter rainfall Karoo, light frost
Zone 4 Summer rainfall Karoo and Highveld, Frost in winter
Zone 5 Bushveld summer rainfall, Light frost
Google QR Code Generator