Conophytum pageae (N.E.Br.) N.E.Br.
Family: Aizoaceae
Common names: lips plant, cone plant, button plant, dumplings, living pebbles (Eng.); knopies, toontjies (Afr.)
Introduction
An evergreen member of the Aizoaceae family, Conophytum pageae is a unique succulent with lips that resemble those of a human. Considering how simple it is to grow with the right care, it is a fantastic choice for novice gardeners.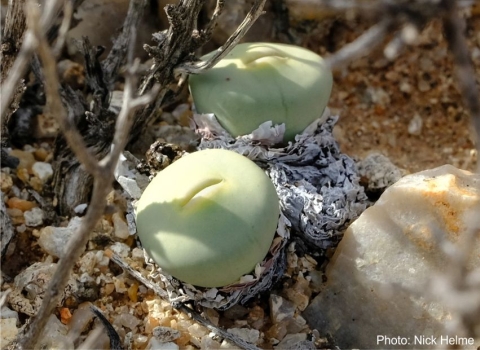 Description
Description
Conophytum pageae is a little succulent that typically forms a small mound by growing in groups of several bodies. The bodies are made up of two almost totally merged leaves, they are inversely conical, up to 25 mm tall and 35 mm in diameter. They are often wrinkled, glaucous-green to pale yellowish-green, and rarely marked. This is the species where the gap between the leaves is frequently encircled by red, elevated, and without spots. They bloom throughout the autumn season, and the blossoms are fragrant and open at night. The calyx tube can grow up to 6 mm long, with 5-6 reddish sepals up to 2 mm long; the whitish or yellow corolla tube can grow up to 10 mm long, with 2-4 series of petals that can grow up to 20 mm long in some populations, but only 3 mm long in others. The rich brown stamens range between 15 and 35, and there are 4-5 stigmas that can develop up to 3 mm long. Last but not least, the flat, egg-shaped capsule produces seeds that are between 0.70 and 0.85 mm long.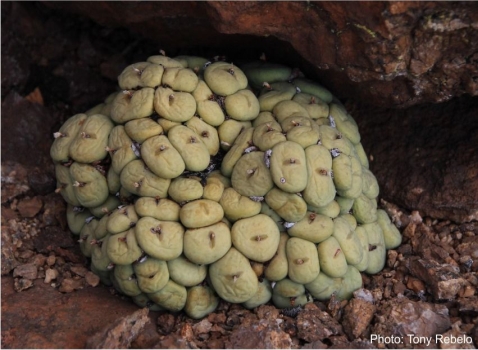 Conservation Status
Status
It was assessed as Least Concern (LC) in 2015, as it is currently listed on the SANBI Red List of South African Plants, which is still to be updated. The latest assessment, done in 2021, is published on the IUCN Redlist. Conophytum pageae is now listed as Vulnerable (VU) because this species is one the most illegally traded species within the genus Conophytum. It has been traded internationally as an ornamental succulent since 2019, approximately 100 000 mature individuals were confiscated from poachers between 2019 and 2021. This species has been one of the most highly sought-after taxa in the genus by collectors since 2019 and is very likely to remain so in future.
Conophytum pageae is the largest species in the genus Conophytum and is found in southern Namibia and the Namaqualand region of South Africa. It is widely known from more than 100 localities, but wild plants are being illegally collected in vast numbers. Even if there has been heavy harvesting, it is doubtful that more than 5% of the population has been affected. However, smaller species are being pushed to the brink of extinction and quick action is needed to stop the wholesale theft of wild plants and to meet the demand for specimens from Asian nations. Monitoring and analysis are needed to assess the effects of harvesting on wild populations.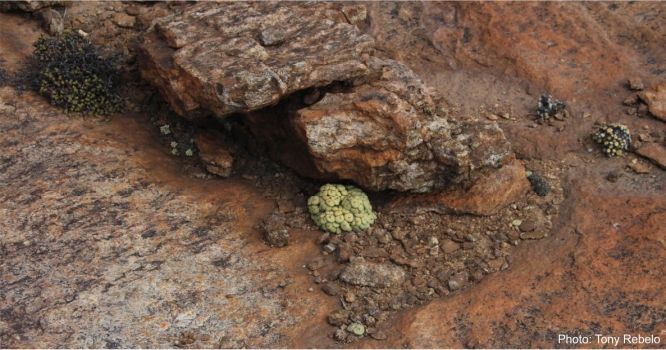 Distribution and habitat
Distribution description
Of all the Conophytum species, this one is the most widespread. It occurs in the Northern and the Western Cape provinces of South Africa. These areas receive rainfall in winter. It ranges from the southern Knersvlakte, east to Calvinia up to the southern part of Namibia.
Conophytum pageae flourishes on rocky outcrops such as cliffs, on quartz gravel plains and ridges, on gneiss, gypsum, shale, dolerite and sandstone outcrops, as well as in protected or exposed rock pockets. When near rivers, it can be tremendous.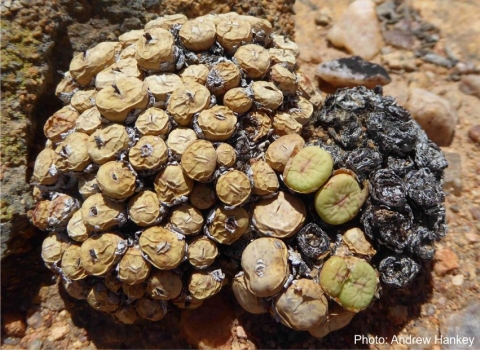 Derivation of name and historical aspects
History
The name Conophytum is a combination of the Greek word phytum, which means 'plant', and the Latin word conus, which means 'cone'. Mary Maud Page (1867-1925), an English botanist who moved to South Africa in 1911 to study the plant life, inspired the name Conophytum pageae.
Botanical specimens of Conophytum pageae were first obtained near Garies by Joseph Burke, who passed away in 1873, and Prof. Compton, Director of Kirstenbosch, sent a living specimen to Kew. This is thought to be the plant, accession no NBG 776/18, painted by Brown in June 1919. Everyone has collected Conophytum pageae and it has been introduced several times. This was probably Rawe's most well-known collection and he made a special study of it by collecting a white-coloured specimen from Klipfontein, close to Bitterfontein. Mitchell also took a lot of samples of this species.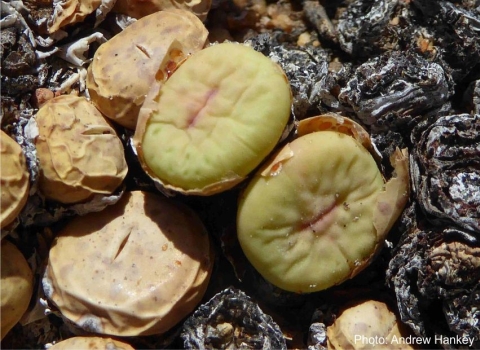 Ecology
Ecology
The Northern Cape can get scorching hot in summer, which is why the plant goes dormant. The leaves dry out and create protective sheaths for the new growth. New leaves then continue to grow throughout the rainy winter, till they go dormant again in summer. The fragrant flowers open at night and are thus pollinated by moths.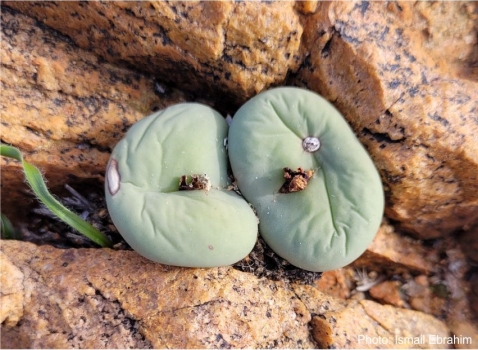 Uses
Use
It is presumed that plants within the Conophytum genus have sedative properties. Their most common use is for horticultural purposes, which is why they are heavily and illegally collected in the wild. As a result the population is decreasing at an alarming rate and it is severely fragmented. Please be sure to purchase nursery-grown plants from reputable growers.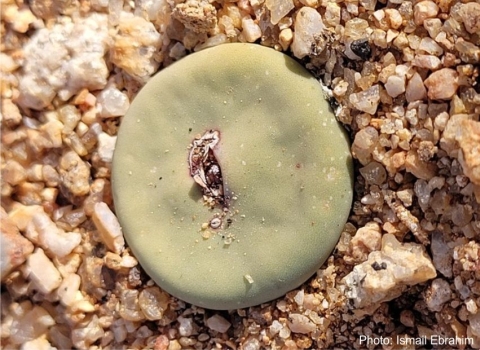 Growing Conophytum pageae
Grow
The easiest way to propagate conophytums is by dividing the mother plant. Dig out the mother plant in late summer and divide the individual bodies with roots. Plant them in a container filled with a growth medium suitable for succulent plants, add perlite or sand to increase drainage. The lips plant grows between 2-5 cm in diameter in the wild, but when in gardens they get bigger than that, which is why it is better to use containers that are 10-20 cm wide.
Conophytum pageae prefers sunny areas, but not long hours of direct afternoon sunlight as it burns the leaves. They can however take direct morning sunlight when placed on a windowsill.
They are very hardy plants and can survive temperatures as low as 1.6°C. They prefer an area with good ventilation and low to medium humidity. Add an all purpose fertiliser once a year in autumn. Water regularly during their growing season, autumn and winter. Water must run through the pot and drain out. Excess water must be emptied form the dish or tray on which the pot stands.  
Mix seeds with a teaspoon of fine sand, sow them in autumn and use the same medium used for adult plants. Keep them damp by misting them twice a week and use a fungicide to prevent damping off. They usually germinate in two to four weeks. As the seedlings harden off and take shape, reduce watering and allow the soil to slightly dry out between waterings. Propagation by cuttings can be done anytime during the growing season and no rooting hormone is needed.
Conophytums are not susceptible to many pests and diseases. The number one pest to watch out for is mealy bug. They suck out plant juices from the roots. The most effective method to combat them is to dig out the plants, wash off the soil, cut off any dead roots, soak the roots in a diluted insecticide and repot in clean soil mixed with diatomaceous earth to prevent a secondary infection. The most common cause for root rot in conophytums is due to over watering. Which is why it is important for the roots not to sit in water and to allow the soil to dry out between watering intervals.
References
Ebrahim, I. 2020-08. Observation of Conophytum pageae, locality obscured. iNaturalist. Online. https://www.inaturalist.org/observations/147259104.
Hammer, S. 1993. The genus Conophytum. Succulent Plant Publications, Pretoria.
Hammer, S. et al. C. 2002. Dumpling and his wife; new views of the genus Conophytum. EAE Creative Colour Limited.
Hankey, A. 2015-11. Observation of Conophytum pageae, locality obscured. iNaturalist. Online. https://www.inaturalist.org/observations/11212239.
Harrower, A. 2012. Conophytum obcordellum (Haw.) N.E.Br. subsp. obcordellum (Aizoaceae). PlantZAfrica. Online. https://pza.sanbi.org/conophytym-obcordellum-subsp-obcordellum.
Helme, N. 2020-08. Observation of Conophytum pageae, locality obscured. iNaturalist. Online. https://www.inaturalist.org/observations/59145211.
Maffia, N. 2023-04-29. Conophytum pageae: fascinating succulent with humanlike lips. Nature of Home. Online. https://natureofhome.com/conophytum-pageae-lips-plant-succulent/#:~:text=Conophytum%20pageae%20is%20a%20cute,if%20given%20the%20proper%20care.
Rebelo, T. 2015-10. Observation of Conophytum pageae, locality obscured. iNaturalist. https://www.inaturalist.org/observations/11096568.
World of Succulents. Conophytum pageae. https://worldofsucculents.com/conophytum-pageae/. Accessed on 2023/05/15.
Young, A.J. 2015. Conophytum pageae (N.E.Br.) N.E.Br. National Assessment: Red List of South African Plants version 2020.1. Accessed on 2023/05/5.
Young, A.J. 2022. Conophytum pageae. The IUCN Red List of Threatened Species 2022: e.T202850591A202850593. https://dx.doi.org/10.2305/IUCN.UK.2022-1.RLTS.T202850591A202850593.en.
Credits
Khotatso Baloyi and Dineo Dibakwane
Walter Sisulu National Botanical Garden
June 2023
Acknowledgements: images by Andrew Hankey, Ismail Ebrahim, Nick Helme and Tony Rebelo.
Plant Attributes:
Plant Type: Succulent
SA Distribution: Northern Cape, Western Cape
Soil type: Sandy, Loam
Flowering season: Autumn
PH: Acid, Neutral
Flower colour: Yellow
Aspect: Full Sun, Morning Sun (Semi Shade)
Gardening skill: Easy
Special Features:

Drought resistant

Fragrant

Good potplant
Indoor plant
Horticultural zones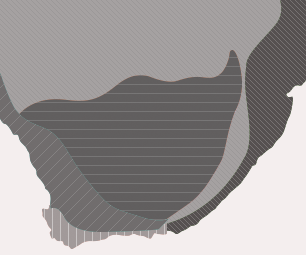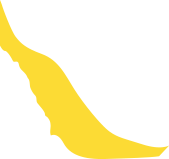 Zone 2 Coastal winter rainfall, frost free
Zone 3 Winter rainfall Karoo, light frost
Google QR Code Generator