Crassula deceptor Schönland. & Baker.f.
Family: Crassulaceae
Common names: alabaster towers (Eng.)
Introduction
Several crassulas are attractive mimicry plants, and Crassula deceptor is said to owe its name deceptor, which means impostor or pretender, to the fact that the grey-green rosettes of succulent leaves resemble small, pointed stones.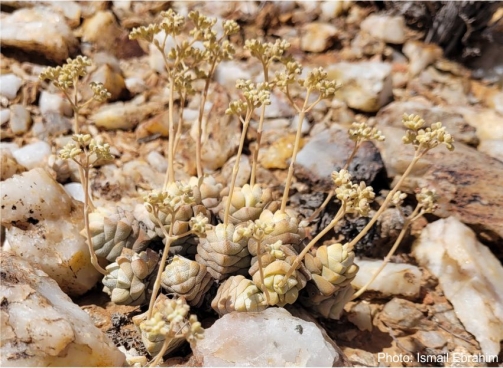 Description
Description
Crassula deceptor is a dwarf, perennial succulent which, when mature, reaches up to 80 mm tall. It is a very variable species in shape and size. Its leaves are fleshy, grey-green and are primarily ovate, without stalks and can ultimately grow up to 15 mm long and 15 mm wide. The stem has short internodes and the leaves are densely packed, resulting in compacted, 4-angled rows to a height of about 70 to 150 mm tall and 25 mm in diameter.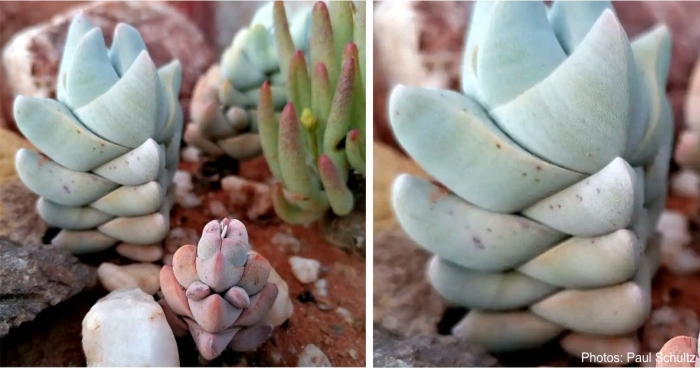 The inflorescence, with a sweet scent, is a cyme, a lax, rounded cluster of small flowers. The flower sepals have minimal hairs (cilia), are oblong to triangular and are about 1.5 mm long. The flower petals are 2-2.5 mm long, cream to pinkish, fading to brown. The stamens have brown anthers. This succulent flowers in mid to late summer (Jan. to Mar.) in habitat but in cultivation it frequently flowers in winter and it may flower at any time of the year, when the plant is provided with appropriate growing conditions.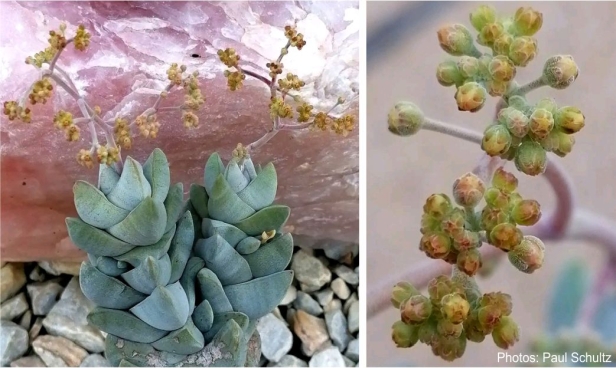 Conservation Status
Status
Distribution and habitat
Distribution description
Crassula deceptor is native to southwestern Namibia and South Africa, where it occurs in the Northern Cape province, from Bushmanland as far east as Kakamas, southwards through Namaqualand to Vanrhynsdorp. Its natural habitation is slopes or rock outcrops, often gravelly, quartz outcrops, in the Succulent Karoo Biome, which is a semi-desert natural region of southern Africa, described by extremes of heat, cold and low annual rainfall.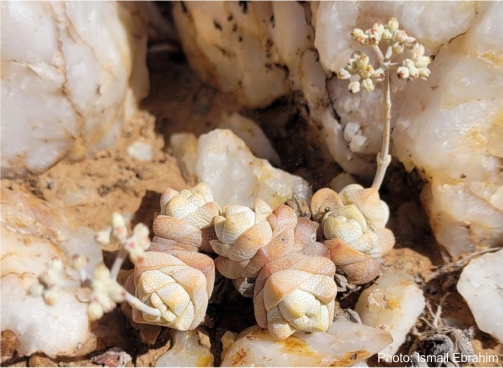 Derivation of name and historical aspects
History
This species was found in 1897 by E.G. Alston, the person after whom the species Adromischus alstonii is named, and was described by Schönland & Baker in 1902. The genus name Crassula is said to come from the Latin word crassus, which means 'fat' and all crassulas are plants with high vegetative vigour. As mentioned previously, the species name means 'impostor' or 'pretender' referring to how this species mimics rocks in its habitat.
Crassula deceptor is the starting species in the creation of various hybrids, such as Crassula cv. Dorothy, Crassula cv. Frosty and Crassula cv. Moonglow.
Ecology
Ecology
Plants that mimic stones or try to blend into their habitat are trying to avoid being seen by the creatures that would eat them; it is a defensive strategy. Their succulent leaves store water, allowing the plant to survive in its arid habitat where rainfall is scarce and infrequent. The pale coloured leaves reflect light and help keep the plant cooler, prevening heat damage from exposure to the sun.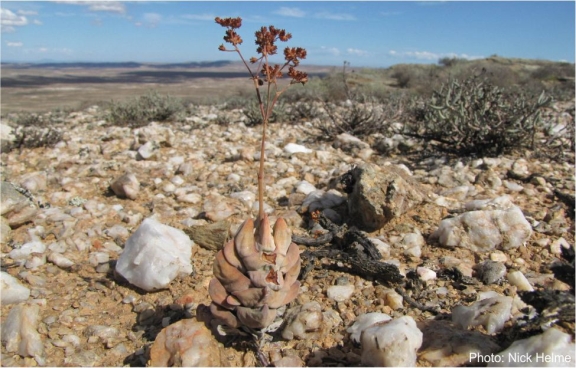 Uses
Use
Even though Crassula deceptor has a slow growth rate, it is an easy plant to grow and is a popular and rewarding potplant around the world.
Growing Crassula deceptor
Grow
Crassula deceptor can be easily propagated by stem cuttings, division of offsets, leaf cuttings and seeds.
When propagating through stem cuttings, make a cutting that is 5 to 7 cm long, plant it in a medium made up of sand and peat moss in equal measures and keep the plant at room temperature in bright light. When using leaves to propagate Crassula deceptor, it is advisable to get a healthy, entire leaf from the mother plant and replant it in well-draining soil. When replanting offsets, remove them from the mother stock plant using a sharp knife, make certain to clean off excess soil and wait until the offset is callused (hardened over the wound) and then replant it in well-draining soil.
Using seeds to propagate Crassula deceptor is not a common method because their growth rate is exceptionally minimal. Nevertheless, if one chooses to propagate Crassula deceptor using this method, seeds should be sown in autumn, in a mixture that is well-draining, and because the seeds are very tiny, mix them with fine sand and broadcast that mixture evenly over the surface of the soil.
When growing Crassula deceptor a porous and well-drained medium is preferable.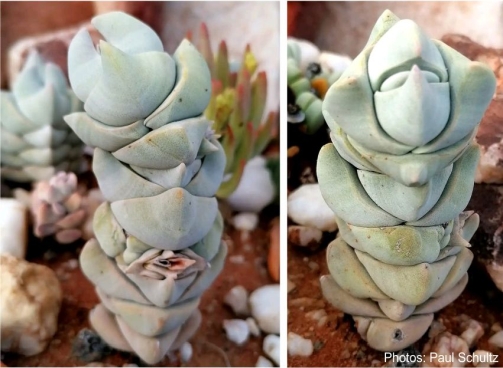 Crassula deceptor is more of an outdoor plant than an indoor one and is best grown in a full sun or a partial shade exposure. However, maximum sunlight will promote the establishment of more fully developed leaves, which boost the plant's potential attractiveness. So, it is better to position it in a bright spot but keep it away from direct exposure during the hottest hours of summer days. Occasionally, it can be grown in shade, but plants that are grown in constant full shade tend to become more weak, lose leaves, produce no flowers, and turn a paler colour.
The best way to water Crassula deceptor is by allowing the soil to become fully dry and then give it a good soaking. Crassula deceptor is a succulent and has the same watering needs as other types of succulents. It should be watered properly for it to grow well and be healthy. Nonetheless, one should take care not to overwater the plant and it must not sit in water. Water your Crassula deceptor every 2-3 days in spring and summer during the growing season. In autumn and winter, watering can be reduced or entirely stopped.
There is a very minimal need to fertilize Crassula deceptor, because fertilization can result in abundant leafy growth that can spoil the sleek, refined look of the plant that you want. Fertilization can be done once in the growing season by use of any product specific for succulents.
Crassulas are easy to grow but vulnerable to mealy bugs and fungal diseases. As with all succulents, overwatering is sure to be destructive. So, the plant would rather be dry than be too wet. Succulents should not be allowed to sit in water. If you water from beneath by letting the plant sit in a saucer of water, make sure to remove any surplus water after a few minutes.
This succulent thrives in warm climates and the perfect temperatures are said to be between 15.5°C to 24°C. In winter the temperatures should not be less than 10°C. The succulent does not do very well in cold and damp weather, and tends to lose its colour, turning mushy and yellow. If you live in an area with a cold climate, it is better to grow the succulent indoors. However, you must ensure that it receives sufficient sunlight.
References
Court, D. 2000. A revised Succulent Flora of southern Africa. Balkema, Rotterdam.
Ebrahim, I. 2022. Observation of Crassula deceptor, Namaqualand, Northern Cape. iNaturalist. Online. https://www.inaturalist.org/observations/147322342.
Eggli, U. (ed.) 2003. Illustrated handbook of succulent plants: Crassulaceae. Springer, Berlin.
Heijnsdijk, T. 2021. Crassula deceptor (guest column). Online. Enjoy Succulents. https://enjoysucculents.com/2021/11/07/crassula-deceptor/. Accessed 3 Apr 23.
Helme, N. 2010. Observation of Crassula deceptor, Knersvlakte, Northern Cape. iNaturalist. Online. https://www.inaturalist.org/observations/13211325.
Lamb, E. & Lamb, B. 1978. The Illustrated Reference on Cacti and Other Succulents. Volume 5. Blandford Press, Poole.
Llifle, The Encyclopedia of succulents, Crassula deceptor. http://www.llifle.com/Encyclopedia/SUCCULENTS/Family/Crassulaceae/12127/Crassula_deceptor. Accessed 3 Apr 23.
Manning, J. & Goldblatt, P. 2012. Plants of the Greater Cape Floristic Region 1: the Core Cape Flora. Strelitzia 29. South African National Biodiversity Institute, Pretoria.
Raimondo, D., Von Staden, L., Foden, W., Victor, J.E., Helme, N.A., Turner, R.C., Kamundi, D.A. & Manyama, P.A. (eds) 2009. Red list of South African plants. Strelitzia 25. South African National Biodiversity Institute, Pretoria.
Rauh, W. 1984 The Wonderful World of Succulents: Cultivation and Description of Selected Succulent Plants Other Than Cacti. Smithsonian Institution Press, Washington DC.
Tölken, H.R. 1985. Crassulaceae. In: O.A. Leistner (ed). Flora of southern Africa 14(1):1-244. Botanical Research Institute, Pretoria.
World of Succulents, Crassula deceptor. https://worldofsucculents.com/crassula-deceptor/. Accessed 3 Apr 23.
Credits
Sihle Nqentsu
Pretoria National Botanical Garden
April 2023
Acknowledgements: pictures by Paul Schultz, Ismail Ebrahim and Nick Helme
Plant Attributes:
Plant Type: Succulent
SA Distribution: Northern Cape
Soil type: Sandy, Loam
Flowering season: Late Summer, Sporadic/All year
PH: Acid, Neutral
Flower colour: Brown, Pink, Cream
Aspect: Full Sun
Gardening skill: Easy
Special Features:

Drought resistant

Fragrant

Good potplant
Indoor plant
Horticultural zones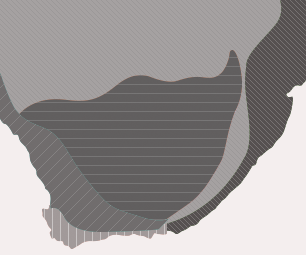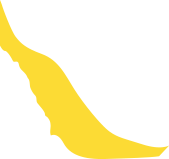 Zone 3 Winter rainfall Karoo, light frost
Google QR Code Generator